The Prodigal Son Returns: Ry Cooder And A Late-Career Classic
Full of spirit and humanity, 'The Prodigal Son' is vintage Cooder that speaks to people at risk and oppressed on all sides.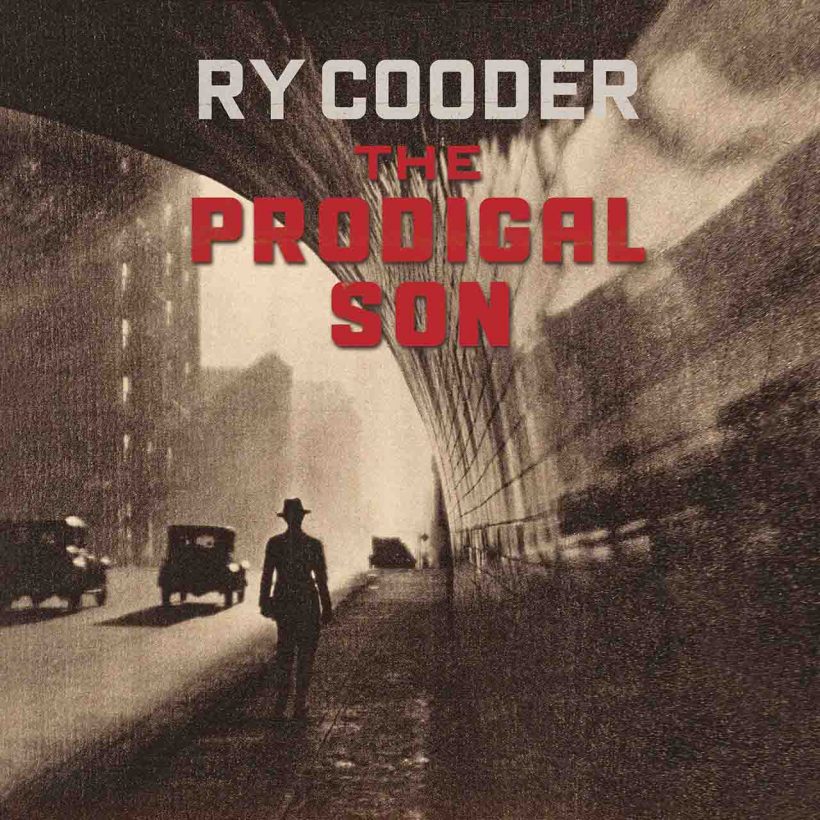 Nearly 50 years after his debut album, Ry Cooder produced another classic with The Prodigal Son, mixed and mastered by Martin Pradler, who worked with Cooder on his previous album, 2012's Election Special. On The Prodigal Son, released on Fantasy Records on May 11, 2018, the 71-year-old plays the guitar, bass, and mandolin with his usual distinctive touch and panache – "It only took six decades of trying to get good at this," he joked at the time – and wrote new compositions and selected old songs that sounded fresh and relevant.
The album's 11 tracks include three Cooder originals and a carefully curated selection of blues, gospel, and bluegrass from the early decades of the 20th century.
The guitar maestro has always had a close affinity with the music of Blind Willie Johnson, the Texas blues musician who died in 1945; Cooder recorded a seminal version of the hymn-like "Dark Was The Night, Cold was the Ground" back in 1973. On this, his 17th solo album, he brings to life two other songs from a pioneering musician he has described as "just so good that I think the guy is one of these interplanetary world musicians."
Ry Cooder - Everybody Ought to Treat a Stranger Right (Live in studio)
On The Prodigal Son, Cooder covers another of Johnson's "great songs," the pertinent social commentary "Everybody Ought to Treat A Stranger Right," which showcases his guitar skills, with Terry Evans, Arnold McCuller, and Bobby King providing neat backing vocals.
For another Johnson 20s classic, "Nobody's Fault but Mine," Cooder's son, co-producer Joachim Cooder, brings a brooding quality to his percussion work that beautifully underscores some more deft guitar work and Cooder senior's plaintive singing. He also draws from a Texan well for the song "Straight Street," which was recorded by the gospel group The Pilgrim Travelers in 1955.
Ry Cooder - Straight Street (Live in studio)
Religion runs through the album, from the biblical parable that inspired the traditional title song, to the core of spiritual tracks that are a pivotal theme on The Prodigal Son and which offer an unflinching look at modern America through the prism of morality.
Cooder has said that all the different kinds of music he plays are "the same stuff – good time music," and this is certainly true of his version of Blind Roosevelt Graves' 1936 spiritual "I'll Be Rested When The Roll Is Called," which is the most musically upbeat of the album's 11 songs. The religious theme continues with a respectful version of Carter Stanley's "Harbor Of Love."
Perhaps the highlight of the spiritual songs is "You Must Unload," which was written by Blind Alfred Reed, a bluesman discovered by Ralph Peer, who recorded Reed, along with The Carter Family and Jimmie Rodgers, at the famous 1927 Bristol Sessions.
Ry Cooder discusses The Prodigal Son
Reed's songwriting is remarkably potent (he wrote the standard "How Can A Poor Man Stand Such Times and Live?," which has been a Cooder staple for decades), and this song, from those celebrated 1927 sessions, is given a masterful makeover by Cooder. He is helped by some superb musicianship on the track, from the bass playing of Robert Francis to some angelic violin playing from Aubrey Haynie. The lyrics, a warning that greed is not the path to Heaven, was written by a forgotten craftsman of song, who died of starvation in 1956.
Cooder's own work has always been political, and his anger about the selfishness and small-mindedness of the modern world comes through loud and clear in the trio of songs he wrote and co-wrote for the album. "Shrinking Man" is a plea for decency as Cooder sings "Look as good as you can, but please don't rob your fellow man" against a bluesy shuffle rhythm. In his liner notes, the California-born musician says: "I do connect the political/economic dimensions with the inner life of people, since people are at risk and oppressed on all sides in our world today."
"Gentrification," co-written with his son, is another song about inequality (it includes references to Johnny Depp and Google), with a breezy melody that contrasts with the dark lyrics. But the bleakest of Cooder's trio is "Jesus And Woody," which namechecks classic Woody Guthrie songs such as "Vigilante Man" and "This Land is Your Land." Guthrie was a songwriter that Cooder first imitated when he was only four years old, and this song casts a cold eye on what the world does to idealists: "Now they're starting up their engine of hate/Don't it make you feel lonesome and blue?/Yes, I was a dreamer, Mr. Guthrie, and you were a dreamer too."
Composer William L Dawson, who died of pneumonia in 1990, at the age of 90, was head of the Tuskegee Institute Choir for 25 years and acclaimed for his choral arrangements of African-American folk songs. Cooder delivers a wonderful version of his song "In His Care."
Dawson said late in life, "I have never doubted the possibilities of music," and The Prodigal Son reaffirms that message of hope, despite its darkness. It is vintage Cooder, full of spirit and humanity.