She Remembers Everything Is "A Zeitgeist Moment" Says Rosanne Cash
With 'She Remembers Everything', Rosanne Cash "let some madness into my new songs", refusing to hedge her bets on an album that speaks to the times.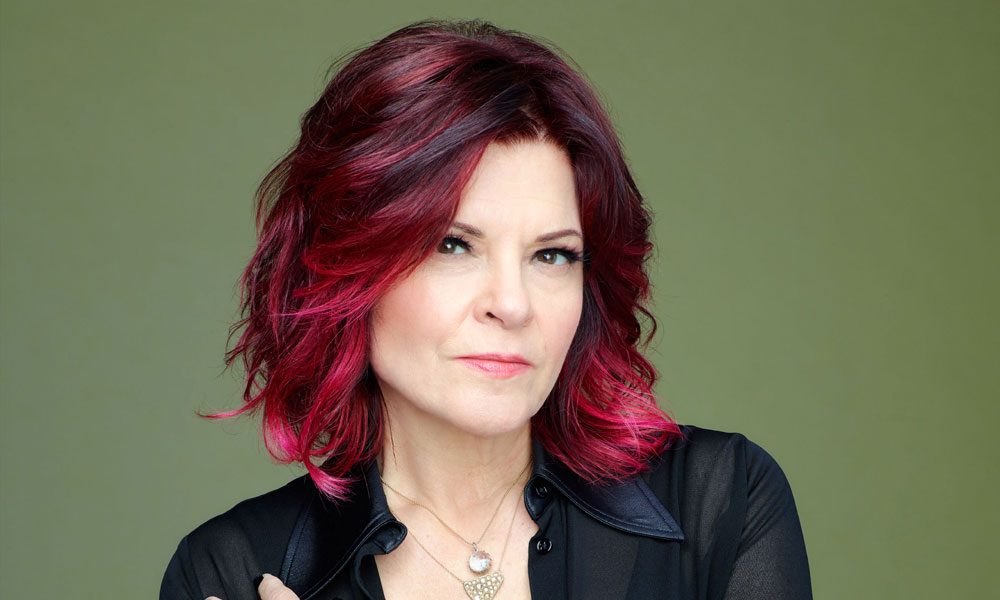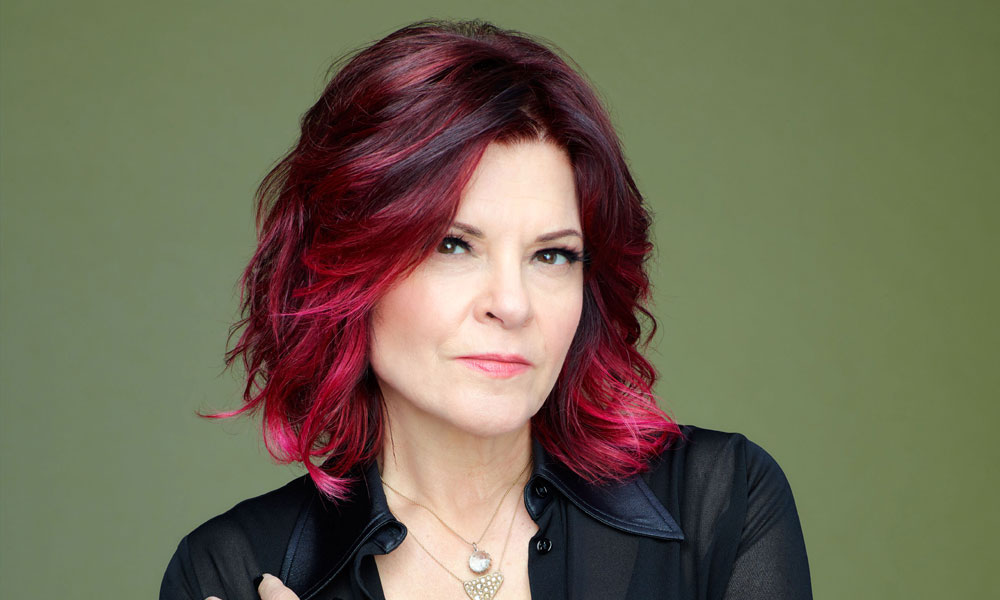 Words have been a source of inspiration and tranquillity for Rosanne Cash since she was a child. Cash has written short stories, a memoir, essays and hundreds of songs, and her gift of vividly capturing emotion shines again on her excellent new album, She Remembers Everything.
Cash, who was born in Memphis and grew up in California after her mother Vivian's separation from her father, Johnny Cash, still devours books, and she describes discovering author Laura Ingalls Wilder as one of the greatest things ever to happen to her.
Listen to She Remembers Everything on Apple Music and Spotify.
"I first read Little House On The Prairie when I was about nine and that inspired me to start writing poetry," Cash tells uDiscover Music. "Wilder had such a knack for direct writing. Her novels were full of imagery that was dramatic, simple and really cinematic. Her sister was blind, and having to read to her and describe what colours were like, and what objects looked like, heightened [Wilder's] powers of description and sense of prose. Her writing had a huge impact on me. They were simple stories from a bygone age about daily rituals, with characters tending to animals, doing laundry on Tuesdays, baking on Wednesdays. I had a very chaotic childhood and that calmness and sense of an ordered world was a real haven for me."
Powerful imagery and dramatic language flow through She Remembers Everything, an album about the modern world and its tribulations. In November, the four-time Grammy winner will be honoured with the John Lennon Real Love Award, an acknowledgement, says Yoko Ono, of Cash's "passionate voice as an artist and activist". Cash is delighted with the honour. "I am so thrilled with my Real Love Award and looking forward to that. I was a huge fan of John Lennon and The Beatles, and my favourite song was 'No Reply'. Sometimes I still think to myself, 'What would John do?'"
"Well, that's a ballsy album title"
She Remembers Everything seems eerily relevant to present times, down to the album title and lyrics such as "be careful, because she remembers everything", which were written before movements such as #MeToo took off. "After writing the song 'She Remembers Everything', I emailed Sam Phillips, who sang on [and co-wrote] the song, to tell her what I was thinking of calling the album. I remember thinking at the time, Well, that's a ballsy album title, because it kind of sounds like a threat and it also sounds like a come-on. It turned out to be a zeitgeist moment, didn't it?"
There is a prescient line in the album about "Versions of the third degree/Yours and hers and mine", which was written two years before the September 2018 Senate controversy over the confirmation of Supreme Court judge Brett Kavanaugh. "I didn't know what would be happening when I wrote those lyrics two years ago. Who knew?" says Cash. "But I have actually felt true despair lately. After the Kavanaugh confirmation I was crying on the phone with my daughters, who were crying as well. One of my daughters called me later to say, 'I have physical symptoms about this, I mean my chest is hurting.' I said, 'I hear you.' It's excruciating, to tell you the truth, to be a woman in America right now. It is shocking. I never thought this would happen. America seemed to be going in a better direction. The playing field was getting more level. I could not see this happening."
"It looks like we have fallen into the abyss"
When she received the Americana Music Awards' Spirit Of Americana award in September 2018, Cash gave a speech that has been widely praised, telling the audience, "Women are not small, inferior versions of men… We deserve respect and every kind of consideration given to men, including equal representation in government and equal pay."
Does she think current events are a backlash? "This is literally the grip of the white male patriarchy on everything from culture to politics, and now it looks like we have fallen into the abyss," says Cash. "Every day is a new insult or shock, everything is in free-fall. I could cry talking about it. I don't know that I will live to see the end of this and I just hope my daughters do. It's so painful. It's so sad."
Cash believes that a toxic culture harms everyone. "When my son was writing his application to get into college last year he had to write an essay on the question, What is the one thing in the world you would change if you could? He said 'sexism', because he said he has a mum and four sisters and can see how much it hurts them. That broke my heart. This affects young men, too."
She Remembers Everything is not a polemical album, though. It is full of deft and thought-provoking songs about the human condition. 'Rabbit Hole' – which has backing vocals from Colin Meloy of The Decemberists – was written in the wake of Cash's harrowing brain surgery. It recounts her struggle to return to the stage for the first time. 'The Undiscovered Country' is a beguiling song about the gulf between men and women, which examines what a female saviour looks like. 'Everyone But Me', a memorable song about grief, features some sparse and haunting piano work from her husband, John Leventhal, her musical collaborator of more than two decades. "John plays piano, organ, drums, mandolin – loads of things. He is one of those really awful people who can play everything," jokes Cash.
Rosanne Cash - Everyone But Me (Acoustic)
The passing of time and the fragility of life are explored in the powerful 'Not Many Miles To Go', which has a fast pace, one she describes as "the sound of James Burton country rock from the 70s". Two tracks – 'The Only Thing Worth Fighting For' and 'My Least Favourite You' – were co-written with Lera Lynn and T Bone Burnett for the HBO series True Detective. The deluxe edition of She Remembers Everything contains a bonus track, 'Every Day Feels Like A New Goodbye', which is a moving tale of a loss and devotion. "It was really lovely to write in the voice of an older man," Cash says of that song.
"I have a good antenna for who I am"
Cash is an eloquent campaigner against gun violence. Along with Lori McKenna, Sheryl Crow and Anaïs Mitchell, she recently sang on Mark Erelli's brilliant song 'By Degrees', which will raise funds for Giffords: Courage To Fight Gun Violence, the organisation founded by former Arizona congresswoman Gabby Giffords.
"I have been working around anti-gun violence for a long, long time," says Cash, who joined forces with Kris Kristofferson and Elvis Costello to write the song '8 Gods Of Harlem', which is about a mother losing a child to gun violence, and the tragic human waste of "collateral children". Both men sing on the track, too. "Elvis and I go way back as friends," says Cash. "I have known Kris even longer, since I was a teenager. He is like an older brother to me. I had an idea of us all writing a song together. I heard this woman coming out of a subway in Harlem as I was going in. I thought I heard her say 'ocho dios', and I kept thinking, She couldn't have said 'eight gods', could she? I wrote the first verse and gave it to Kris and Elvis and they wrote the rest."
At 63, Cash is a year younger than Londoner Costello, and his birthplace played a key role in her formative experiences. In 1975, after making her studio recording debut singing lead vocals on a version of Kristofferson's 'Broken Freedom Song' on her father's album The Junkie And The Juicehead Minus Me, she moved to London. "It was the first time I had lived on my own. I felt very courageous as a 20-year-old packing up and moving across the ocean by myself, without knowing anyone," recalls Cash. "I really grew up in my six months in London. It was hard but it was fantastic. I was listening to all kinds of music at that time, everyone from Ronnie Wood to Willie Nelson to some of the great 70s pop singers. I was an intern at CBS Records in the artist relations department, so I got tickets to every show that came through town. I went to The Roundhouse, Wembley, the Albert Hall, everywhere. It was fantastic and quite something to come back and play those arenas later in my career."
Cash laughs suddenly at a memory. "Life is strange, isn't it?" she says. "I went with a date to see Emmylou Harris at the Hammersmith Odeon, and Rodney Crowell was on stage. I hadn't met him yet. I was looking at this guy playing in her band and going, 'Who is that guy?' Was I securing some kind of future residence?" She laughs again. A few years later, they fell in love. She was married to Crowell from 1979 to 1992.
Britain retains real significance for the singer. One of the extra tracks on She Remembers Everything is a sweet version of the traditional folk song 'Parting Glass'. "I know that song from my Scottish DNA," says Cash. "The Cash ancestry is Scottish, where our family originated from before they came to America in the 1600s, and I am very proud of that. I sang 'Parting Glass' in Dublin with Paul Brady and Maura O'Connell for a concert to mark the 100th anniversary of the Easter Uprising. I was so moved by that song at the show that when the Appalachian Ballads Project asked for a song connected to Celtic music, I chose that and it ended up on this record."
"All the elements were perfect"
She Remembers Everything is Cash's second album for the iconic Blue Note label, following 2014's acclaimed The River & The Thread. Did her country music upbringing leave any room for jazz? "I didn't really find jazz until I was in my early 20s," Cash says. "Then I was in Munich for about five months in the late 70s and my friend took me to a lot of jazz clubs. At the beginning I went along and just sort of rolled my eyes in boredom, but then I found I was really getting into it. In my late 20s I listened to Miles Davis thousands of times. It re-routed my know-how. His recordings with John Coltrane and Cannonball Adderley were iconic, and I also loved Kind Of Blue.
"Also, I had known Bruce Lundvall, who became the head of Blue Note in 1984, since I was a teenager. He was still involved when I was signed. I always had this kind of admiration as seeing Blue Note as one of the great labels. So to get signed to Blue Note was a huge, huge thing. Then, to cap it off, the great Don Was, who had been a musician and producer for 25 years, was made president of Blue Note in 2012, so all the elements were perfect."
Cash is also a former SFJAZZ Center Resident Artistic Director and, as part of that role, she performed with Ry Cooder. "He is a cult figure, an icon. I revere Ry and so does my husband, John," says Cash. "We did a song together at an Americana convention and then we became friends. So I got this residency at the San Francisco Jazz and, after some shows with Lucinda Williams and Emmylou Harris, they wanted me to do four more.
"So the first person I thought of was Ry and I called him up to see if he was interested," Cash adds. "I told him we could make up a themed show. He said, 'You know, Rosanne, the only show to do is Johnny.' I said, 'Ry, that is exactly what I have been avoiding doing for 35 years.' Then I thought, Ry is the only person who would be right to help do a show of my father's songs. You know, it was really great and liberating for me to let all of that go. We re-imagined the songs, so they weren't anything like the way my dad had done them, and they became like new songs for us. It was a really beautiful experience."
Unsurprisingly, the shows sold out and they are doing more in December at the War Memorial Opera House in San Francisco. Cash will also be touring to promote She Remembers Everything. Does she ever get worried about appearing on stage? "I don't ever get nervous on stage but I often get a little bit nervous before I go on," says Cash. "Even when it starts building up, it dissipates once I start singing. My daughter said this great thing about if you still get nervous sometimes, then it means that you still care. When I was playing at Bob Dylan's 30th-anniversary show at Madison Square Garden, in 1992, I asked him if he was nervous and he said, 'I wish I was.' I still like performing, though I have seen enough airports to last me two lifetimes."
"I didn't hedge my bets on this new album"
There are great musicians on She Remembers Everything – including singer Sam Phillips, drummer Dan Reiser, guitarists Tim Young and Sebastian Steinberg, and keyboardist Rob Burger, along with co-producer Tucker Martine.
Rosanne Cash - She Remembers Everything (Acoustic)
She Remembers Everything is also notable for its highly original album art. But you have to look carefully to see what is going on with the cover photograph. "I got obsessed with the artist Portia Munson, who does very strong, unapologetically female, feminist art, some of which is gothic and really disturbing," says Cash. "I saw a piece she had done in 2015 called Knife Tree Elbow. Red petals are made into the shape of a tree, with a dagger in the middle as the trunk. The handle of the dagger is an elbow bone. It is so intense. I asked if she would be interested in doing an album cover with me. Though she had never done one, she said, 'Yeah, sure.'
"So I shared my record," adds Cash, "and asked if she would deconstruct Knife Tree Elbow for a cover with me on it. The knife isn't about violence, it's about success and power. Am I pretending to catch the dagger or letting it go into the heavens?" she says, without revealing which. She showed the album artwork to her husband and laughs as she recalls his reaction. "My husband physically stepped back when he saw it, and said, 'Oh, my god.'"
Cash is active on social media and believes it is important to offer "a counter voice" to prevailing prejudices. "I have a good antenna for who I am. It is not as if I am putting on a costume, because this is how I actually feel," she says. "I get plenty of s__t for it but I just don't care. I am just too old to care. You can say any mean thing you want, but I have a very active block button."
It would be missing the point to see Cash as someone on a mission. She loves nothing more than reading a great book, and recently enjoyed Natalia Ginzburg's The Little Virtues. "It is so beautiful, an essential book for any writer to read," says Cash. "I keep thinking about quotes from the book. I still read a lot, but my days are so full now that I read more slowly, even though I love nothing more than the thrill of finding a great book."
Her own gift for language shines through on She Remembers Everything. "I did exactly what I wanted to do with She Remembers Everything, says Cash. "I didn't endeavour to fulfil anyone's expectations or to repeat The River & The Thread just because it was successful. I let some madness into my new songs. She Remembers Everything has fury, old and new. I didn't hedge my bets on this album, and that's what I am most proud about."
She Remembers Everything can be bought here.
Format:
UK English