'Desert Rose': The Story Behind Sting's Genre-Defying Hit
A phenomenon upon release, 'Desert Rose' was an inspired fusion of Algerian folk music and contemporary electronica that became a high-water mark for Sting.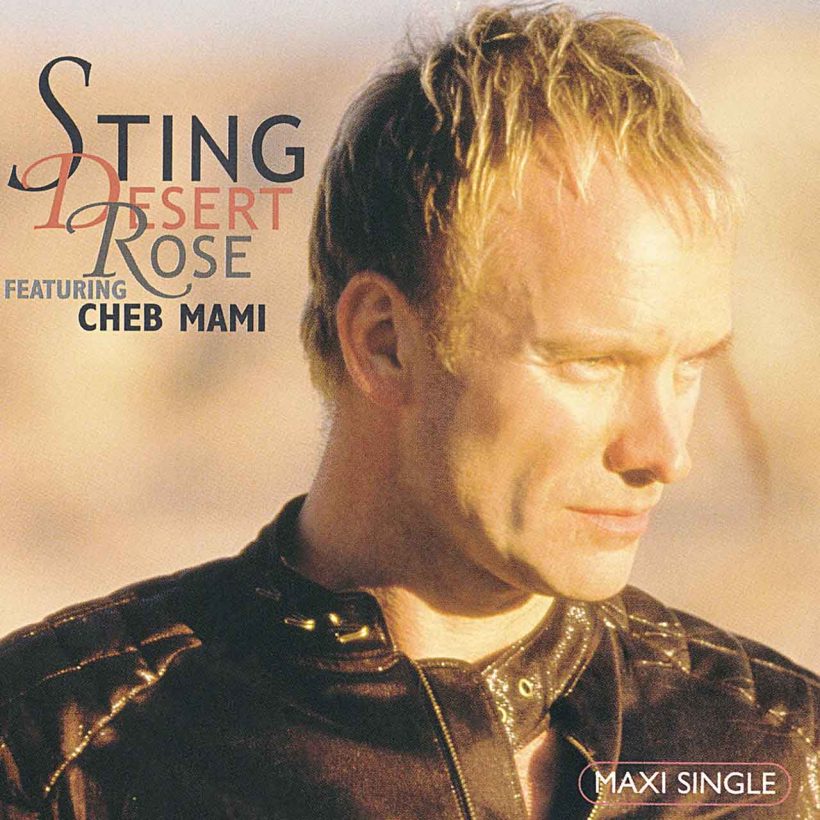 Alluring and sensual, Sting's 2000 hit "Desert Rose" represents a high-water mark in the artist's illustrious career. A global smash that undoubtedly contributed to the multi-platinum success of its parent album, Brand New Day, the song's beguiling, yet stylistically elusive qualities were widely praised, though Sting himself was less comfortable with critics referring to it as his take on "world music."
Defying categorization
"I'd rather say that my ambition is to defy the titles that people make for you," Sting reflected in a 1999 interview. "I don't do world music or reggae, I do whatever I do. But it's true that 'Desert Rose' has a definite Arabic, North African flavor." The song's backing track came from Sting and his band simply jamming ideas, which Sting described as "a song about longing, a kind of Sufi [Islam] idea – romantic love as an analog for the greater love of God."
Ultimately, though, "Desert Rose"s tangibly North African feel was realized through an inspired collaboration with Cheb Mami, a proponent of the Algerian folk music style known as Raï. In effect, a potent form of African folk-blues with origins reputedly dating back to the early 20th Century, Raï initially appealed to young people seeking to modernize traditional Islamic values and attitudes, but it enjoyed global recognition during the late 80s.
Different languages, a similar emotion
For his part, Sting was smitten by Cheb Mami's music during the period leading up to the recording of Brand New Day. After seeing Mami perform at Paris' Bercy Arena with an orchestra and legendary prog-rock guitarist Steve Hillage, the singer-songwriter was keen to collaborate with the Algerian performer possessed of a "swooping voice that just mesmerizes."
Encouraged to improvise in Arabic, Cheb Mami created a remarkable counterpoint to the vocal melody Sting had already devised. His subsequent performance floored all concerned. "The amazing thing is, he didn't understand a word I was singing," Sting revealed. "But the lyric he improvised was almost the same as mine – it had to do with lost love and longing – which goes to show how the music suggested the exact same emotion to us individually. Whether you're Arabic or Western European or Japanese or African, music is the universal tongue."
A phenomenon on its own terms
Released as a single on January 17, 2000, four months after its initial appearance on Brand New Day, "Desert Rose"'s across-the-board appeal yielded success across the globe, with the song entering the Top 20 in the UK and scoring Top 10 positions in numerous territories. It became a fixture of Sting's live set during the world tour in support of Brand New Day and – as Victor Calderone's contemporaneous techno remix and the new, electronica-tinged version from Sting's My Songs album demonstrate – this beguiling song is no slouch on the dancefloor either.
Sting - Desert Rose (Audio)
In the US, "Desert Rose" also became a phenomenon on its own terms. Sting performed it for an audience of millions during the 2001 Super Bowl pregame show, while the song's striking music video (shot in California's Mojave Desert and featuring Sting being driven in a Jaguar S-Type by a masked female chauffeur) led to Jaguar featuring the video in their TV adverts during 2000.
The song's ability to suit almost any mood or match the need of any occasion lived up to Billboard's assertion that "Desert Rose" was a "royal flush." They praised Sting's "ability to ever expand his vision" while remaining "a voice of sanity and sophistication" in the modern era. For longtime Sting fans, however, that's just par for the course.
Listen to the best of Sting on Apple Music and Spotify.