'Born This Way': The Story Behind Lady Gaga's Equality Anthem
One of the great pop singles of 2011, Lady Gaga's liberating 'Born This Way' single cemented her icon status.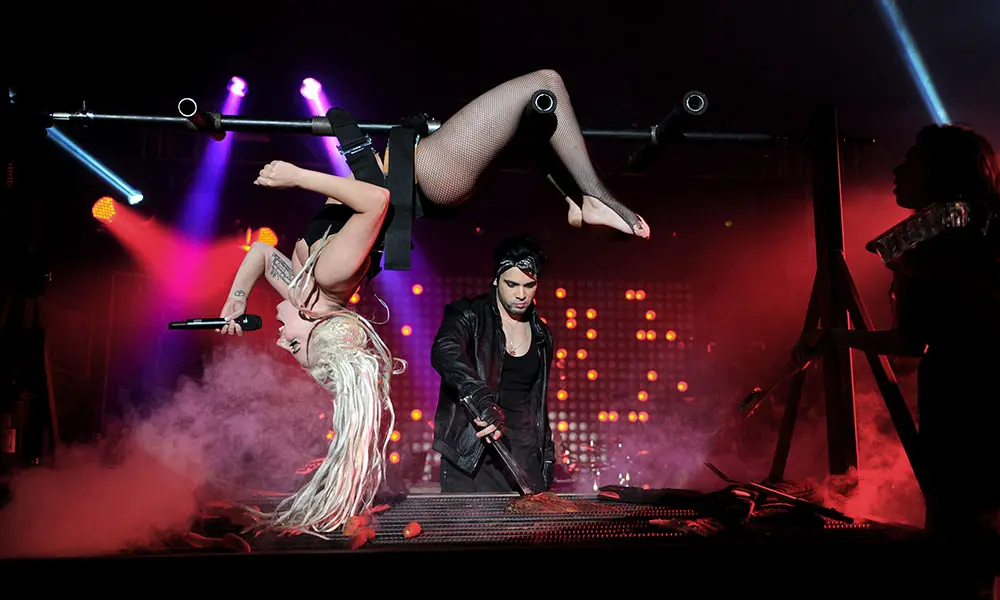 After years of singing in local New York City clubs, Lady Gaga officially emerged with 2008's debut album The Fame. Featuring chart-topping hits "Just Dance" and "Poker Face," the singer re-energized the pop scene with her quirky outfits and ear for catchy dance melodies. But it was in 2011 that Lady Gaga transitioned from showstopping pop star to burgeoning pop culture icon – thanks to her sophomore album Born This Way. Gaga's love for dance-pop remained at the album's core, but she pushed boundaries by incorporating themes of religion, feminism, and sexuality. Borrowing inspiration from acts like Bruce Springsteen, Madonna, Whitney Houston, Iron Maiden, and KISS, she put a modern spin on the fearlessness of 80s glam metal, pop, and house music.
There are a handful of special moments on Born This Way, from the autobiographical "Marry The Night" to the honky-tonk love ballad "You and I." But the album's pillar is its eponymous lead single. Lady Gaga has been an LGBTQ+ advocate since the beginning of her career, and "Born This Way" was further proof.
Listen to Lady Gaga's "Born This Way" now.
"I want to write my this-is-who-the-fuck-I-am anthem, but I don't want it to be hidden in poetic wizardry and metaphors. I want it to be an attack, an assault on the issue because I think, especially in today's music, everything gets kind of washy sometimes and the message gets hidden in the lyrical play," Gaga told Billboard in 2011. "Harkening back to the early 90s, when Madonna, En Vogue, Whitney Houston, and TLC were making very empowering music for women and the gay community and all kind of disenfranchised communities, the lyrics and the melodies were very poignant and very gospel and very spiritual and I said, 'That's the kind of record I need to make. That's the record that's going to shake up the industry.'"
Lady Gaga - Born This Way (Official Music Video)
It was a sentiment that was sorely needed. The LGBTQ+ community continues to fight for fundamental human rights to this day, but they had an even tougher fight back in 2011. Same-sex marriage was still banned at the time, only becoming legal country-wide in 2015. And the simple acknowledgment of the transgender community in a major pop song was nearly unheard of as well.
The song courted controversy for different reasons, though. "Born This Way"'s similarities to Madonna's 1989 hit "Express Yourself" were immediately pointed out. Madonna called Gaga's track "reductive" and performed a cheeky mash-up of the two during 2012's MDNA tour.
Nonetheless, "Born This Way" has grown into an unshakable anthem for Lady Gaga. The single's resonance reflected on the charts: it debuted at No. 1 on the Billboard Hot 100 and made history as the fastest-selling song on iTunes at the time. It also took home Best Female Video and Best Video With a Message at the MTV VMAs and Best Video and Best Song at the MTV Europe Music Awards. The Born This Way album, meanwhile, scored three Grammy nominations: Album of the Year, Best Pop Vocal Album, and Best Pop Solo Performance for "You and I."
Since "Born This Way," Gaga has, of course, released plenty of music. She's also transitioned into acting, winning a Golden Globe Award for Best Actress for her role in 2015's American Horror Story: Hotel and starred alongside Bradley Cooper in 2018's A Star Is Born. Their "Shallow" duet from the film's soundtrack won an Oscar, Grammy, BAFTA, and Golden Globe Award.
In 2021, West Hollywood Mayor Lindsey P. Horvath declared May 23 (the album's release date) as Born This Way Day and granted Lady Gaga a key to the city. "Born This Way, my song and album, were inspired by Carl Bean, a gay black religious activist who preached, sung, and wrote about being 'Born This Way.' Notably, his early work was in 1975, 11 years before I was born," Gaga explained. "Thank you for decades of relentless love, bravery, and a reason to sing. So we can all feel joy, because we deserve joy. Because we deserve the right to inspire tolerance, acceptance, and freedom for all."
Lady Gaga's "Born This Way" appeared on 2018's Now That's What I Call Music 20th Anniversary, alongside other pop smashes like Beyoncé's "Single Ladies" and Katy Perry's "Firework". Looking for more stories behind music's biggest hits? Check out the Now! That's What I Call Music page.