They Nearly Made It – The Poets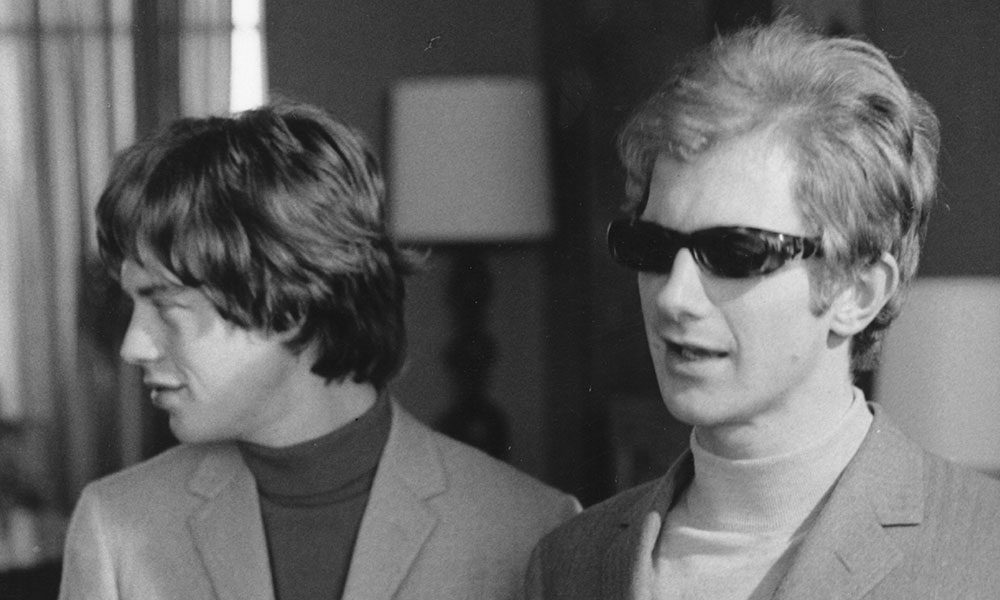 With just one hit and five weeks on the UK singles chart, you'll be forgiven for not knowing or have heard anything by the Poets. Their story, at least the bit where they become slightly famous, starts with Rolling Stones manager Andrew Loog Oldham en route to Gretna Green to marry his girlfriend, without her parent's blessing. He was, it's said, attracted by a photograph of a quaintly dressed group on the front of 'Beat News'. Complete with black corduroy suits, velvet collars and cuffs, ruffled lace fronted shirts, high-heeled boots and Robbie Burn's hairstyles, the Glasgow quartet successfully auditioned for him at one of their regular venues the Flamingo Ballroom. This was The Poets.
Originally formed in 1961, the line up at the time of their debut single was Hume Paton, from Bothwell, Lanarkshire on guitar; Tony Myles born in Douglas, Isle of Man also on guitar; Glaswegians, George Gallacher on vocals and John Dawson on bass along with Alan Weir who hailed from Garcoch, Lanarkshire on drums.
Their first release was originally titled 'We're Through' but was changed to 'Now We're Thru' to avoid confusion with the Hollies single of the same name. It became their only hit, reaching No.31 in November 1964. They released two singles during 1965, 'That's The Way It's Got To Be' and 'I Am So Blue', but neither made the charts and as the latter was released, Myles left the group to be replaced by Fraser Watson, from another Scottish group – The Arrows. For their fourth single 'Call Again', Oldham switched them from Decca to his new label Immediate but neither that nor the follow up on the same label, a cover of Marvin Gaye's 'Baby Don't You Do It' were successful. The latter's failure was probably due to the fact that Oldham let Ready Steady Go! floor manager Paul Raven remix the track, which he did rather disastrously. Raven later mutated into Gary Glitter.
By the end of 1966 Paton, Dawson and Weir had left the group, with Andi Mulvey being weaned as a replacement for Gallacher who left to play with the Alex Harvey Band. With new manager Bob Shaw, they returned to Decca to release 'Wooden Spoon 'in 1967, the line up then being Mulvey and Watson, with new boys Jim Breakey, drums and guitarist Norrie Maclean and lan McMillan. 'Wooden Spoon' was written by their manager Eric Woolfson, who would later find fame and fortune as the writer behind The Alan Parsons Project, and Unit 4 + 2's Tommy Moeller.
After the failure of the single, Mulvey quit, Breakey left to join Studio Six and Watson joined the Pathfinders, who subsequently became White Trash – they signed to the Apple label. After several more personnel changes, Hugh Nicholson had emerged as the frontman by the summer of 1968, flanked by McMillan, Johnny Martin on organ and Dougie Henderson on drums. The line up lasted until 1971 when Nicholson replaced Junior Campbell in Marmalade and McMillan joined Cody. Led by Henderson, the Poets' final single 'Heyla Hola', a track to promote Strike cola and produced by Radio Scotland DJ Tony Meehan – not the Shadows drummer – proved to be their swan song.
Nicholson and McMillan formed Blue, but despite a lot of promise, they had just one hit 'Gonna Capture Your Heart' in 1977. In 1087, Nicholson's writing talents and Gary Numan's voice yielded a couple of hits for Numan as Radio Heart. In the mid-1980s, George Gallacher and Fraser Watson were working together in the Dead Loss Band. As recently as May 2008 Gallacher and Watson were occasionally gigging as "The Nearlymen" at the Scotia Bar, Stockwell Street, Glasgow. George Gallacher passed away in 2012
Format:
UK English