The Revolution Will Be Televised Pt.2: The Best Of US Music TV
From 'American Bandstand' to Elvis Costello's 'Spectacle', US music TV has caught the winds of change in pop and rock. We revisit some classic performances.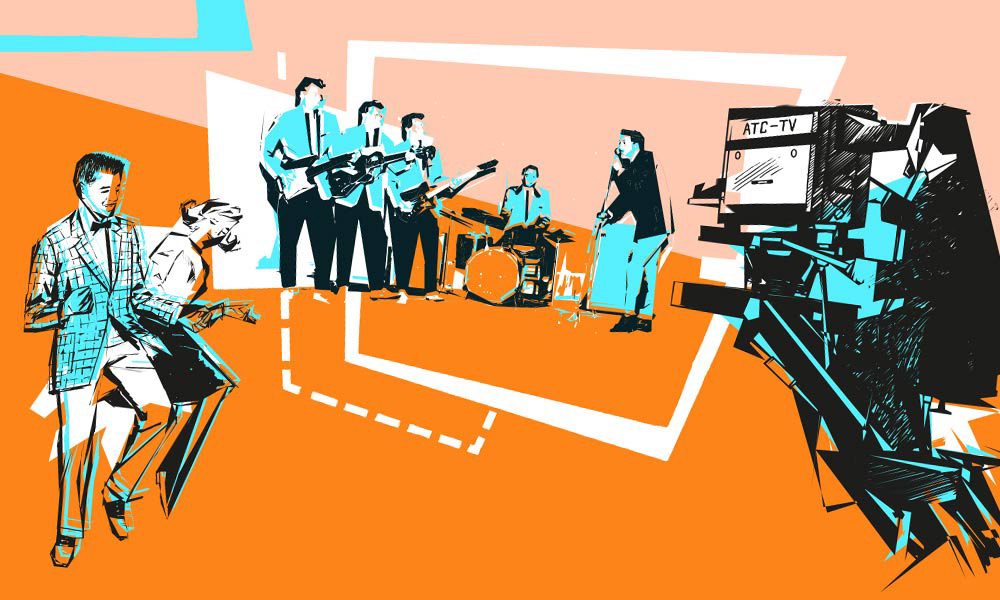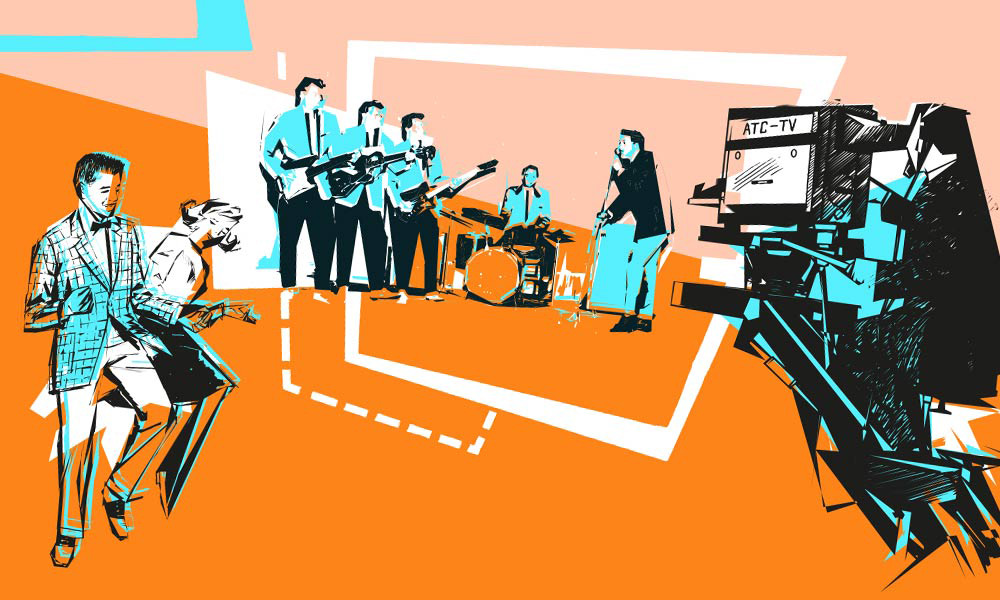 America has a rich history of classic pop TV shows. American Bandstand, hosted by Dick Clark, ran from 1952 to 1989 and introduced the public-voting segment 'Rate-A-Record'. Jack Good's Shindig! was a bit cooler. They had a house band including Glen Campbell, Billy Preston and Delaney Bramlett (just in case the featured acts weren't up to scratch) and they also broadcast from London on occasion. The Ed Sullivan Show, which everyone knows introduced The Beatles to the States on prime time Sunday night in 1964, had more of a variety vibe – it had the mouse puppet Topo Gigio (awwww) and remained so popular that even The Doors and Jefferson Airplane clocked in. The much-loved Hullabaloo, Soul Train, Shivaree and Chicago's Soundstage are important too, as is Austin City Limits and the whole MTV shebang – especially their Unplugged series.
The evolution of the US TV show with music – a journey from The Louisiana Hayride to The Late Late Show With James Corden and the infamous Carpool Karaoke (featuring genuine superstars the likes of Adele, Britney Spears, Red Hot Chili Peppers, Sia, Stevie Wonder, etc) – mirrors our progression into supposedly more sophisticated times. The golden age of rock'n'roll (the 50s) became the new pop of the 60s – which mutated into the rock-heavy 70s, by which time go-go girls in cages could only be viewed ironically. Humour was the key ingredient in Saturday Night Live, which that gave us the talents who shaped Spinal Tap and The Blues Brothers, and had always sent up pop culture with a knowing wink.
All bets were off once David Bowie appeared on Bing Crosby's Merrie Olde Christmas, duetting on 'The Little Drummer Boy' in 1977, but public taste for dedicated pop music programming had long since altered.
A change had come via star programming hosted by such luminaries as Johnny Cash, Glen Campbell and Andy Williams (who helped break both Jackson 5 and The Osmonds). Country musicians were especially well served by Hee Haw and Grand Ole Opry, while that genre's most successful contemporary strand is Austin City Limits (still going strong after 40 years), which has showcased an impressive roster ranging from Willie Nelson to Mumford & Sons, and exercises a liberal attitude to its guests so that one might catch anyone from Leonard Cohen and David Byrne to Beck, Björk or The Flaming Lips. A very high-class operation all round.
Since the demise of standard pop formatting (MTV notwithstanding), rock stars were also far more eager to appear on prime-time ratings-grabbing chat shows hosted by Johnny Carson, his successor David Letterman (who regularly featured Grateful Dead), Arsenio Hall, Jay Leno and Jimmy Fallon, who uses The Roots as his house band.
Freestylin' with The Roots: Apple Picking and Game Day Rituals
The much-admired series Spectacle: Elvis Costello With… ran between 2008 and 2010, and was shown by CTV in Canada and Channel 4 in the UK. Intimate interviews and collaborative performances featuring Costello with such stars as Bruce Springsteen, Bono, Sir Elton John (an executive producer of the show), Tony Bennett, James Taylor, Levon Helm, Allen Toussaint, Ron Sexsmith and many more put some spin on the music-meets-TV concept. A highlight was Costello and his house band performing 'Femme Fatale' by The Velvet Underground, before an unusually jovial Lou Reed duetted with Costello on 'Perfect Day' and 'Set The Twilight Reeling'.
In a way, that was no more surprising than Springsteen's appearance on Letterman 13 years earlier, performing 'Youngstown' from his imminent The Ghost Of Tom Joad album. The fact is that while "pop music" will never be an archaic term, the chance to see it has aged up. It's all in the demographics…
Here are some highlights from US music TV over the years:
The Beatles: 'Twist And Shout' (The Ed Sullivan Show)
Many acts spend years trying to break America, but The Beatles did it overnight with their iconic debut performance on The Ed Sullivan Show. Making it look easy, the boys were broadcast on the show three weeks in a row, by which time their worldwide fame was secure.
The Beatles - Twist & Shout - Performed Live On The Ed Sullivan Show 2/23/64
Willie Nelson: 'Hit Medley' (Grand Ole Opry)
Willie Nelson's debut album … And Then I Wrote gave us 'Hello Walls', 'Funny How Time Slips Away', 'Night Life' and the matchless 'Crazy', though Faron Young, Billy Walker, Ray Price and Patsy Cline had the hits with them. Nelson did 'em best of course – still does. This is from 1965, so he's in a lesser-spotted suit and tie.
The Rolling Stones: '(I Can't Get No) Satisfaction' (The Ed Sullivan Show)
The Stones first followed The Beatles onto Sullivan's stage in October '64, performing Chuck Berry's 'Around And Around'. By the time of this colour broadcast from February 1966, they were firing on all cylinders with their own 'Satisfaction', Jagger working the camera to perfection.
ROLLING STONES "(I Can't Get No) Satisfaction" on The Ed Sullivan Show
The Doors: 'Break On Through' (promo video)
Elektra staffer Marc Abramson shot this amazing video for use on US TV shows since label boss Jac Holzman didn't think Jim Morrison could be trusted with the go-go dancers on Hullabaloo and American Bandstand. The line "She gets high" had to be censored, though when The Doors performed it on Ed Sullivan, Morrison dared to sing "You know we couldn't get much higher" – and civilisation didn't collapse.
Buffalo Springfield: 'For What It's Worth' (Hollywood Palace)
The Man was inducing a deep paranoia when the Springfield nailed the mood in 1967 on Stephen Stills' riot-on-the-strip classic. Fantastic views of Stills and his Stetson, and also a seated Neil Young wearing what looks like a hippie's version of the Christmas jumper. Marvellous.
Jefferson Airplane: 'Somebody To Love' (American Bandstand)
The ever beauteous Grace Slick appears to have dressed up as a naughty nun for this anthemic lip sync, though Marty Balin seems distinctly underwhelmed stuck at the back on a keyboard. Like so many appearances from this era, it's worth watching for the clothes and the chance to remember these bands when they were young and naïve.
Martha And The Vandellas: 'Nowhere To Run' (Shindig)
Not the best-sounding version, but significant in its depiction of a bad relationship – a Holland-Dozier-Holland trope when writing for their female Motown stars. This song, 'Heat Wave' and 'Dancing In The Street' were de rigeur listening for self-respecting soul fans.
Otis Redding: 'Respect' (Upbeat)
Allegedly recorded the day before he died in a plane crash, this December 1969 performance on local Cleveland television has the most charismatic soul singer on earth crunching through the gears in a pair of very tight slacks. Often copied but never bettered, Redding truly was a force of nature.
Harry Nilsson: 'Without You'/'If Only' (The Ghost & Mrs Muir)
Ultra-rare glimpses of the late, great Harry playing acoustic guitar on a very odd romantic TV show that featured pop stars in a most random manner, integrating them (just) into the storyline while the cast sit around looking anachronistic. Harry did something similar with Peggy March for French TV and also made the weirdest possible BBC specials.
Louis Armstrong And Johnny Cash: 'Standing On The Corner (Blue Yodel No.9)' (The Johnny Cash Show)
Louis Armstrong played uncredited trumpet on Jimmie Rodgers' 1930 original, but he gets no less than equal billing on this 1970 duet on The Man In Black's own TV show.
Johnny Cash & Louis Armstrong - Standing on the Corner (Blue Yodel No. 9)
Jackson 5: 'I Want You Back'/'ABC' (American Bandstand)
The very precocious Michael Jackson (Marlon's not much bigger) and his siblings conquer American living rooms with a hit and a premiere. Compere Dick Clark towers above wee Jacko but it's all rather sweet and happy-go-lucky. Bubblegum soul at its best. Never knew Michael was a Blood, Sweat & Tears fan? You do now.
James Brown: 'Hot Pants'/'Get Up (I Feel Like Being A) Sex Machine'/'Get On The Good Foot' (Soul Train)
Don Cornelius presents America's No.1 Soul Brother in his early 70s pomp. This has everything: the natty threads, the drop-down-dead dancing and the sheer and utter funk that made Brown and his troupe so dynamic. Get up…
David Bowie: 'Young Americans' (The Dick Cavett Show)
Bowie embraced US TV with glee, especially during his Young Americans period, when he crossed over from the white glam rock market to the full-on soul experience. Here he's magnificent as per, rocking a brown suit and backed by Luther Vandross and David Sanborn on the alto – Bowie's fave reed.
George Harrison And Paul Simon: 'Homeward Bound' (Saturday Night Live)
Paul Simon was guest host for the episode on which he performed this exquisite duet with George Harrison. It might have been Simon's song, but Harrison's lead vocal on the second verse embodies its yearning.
Steely Dan: 'Reelin' In The Years' (Midnight Special)
From 1973, when David Palmer was still on board for their third single – and boy could they play. Jeff "Skunk" Baxter rips his solos off and Denny Dias puts his rhythm four square behind Donald Fagen and Walter Becker's hip collegiate number from their Can't Buy A Thrill album.
Prince: 'Nothing Compares To You' (Ellen)
From 2003, when he first appeared on Ellen DeGeneres' phenomenally popular TV show. You can never get enough great footage of Prince on TV, but even so, this is excellent. A true legend and, like Bowie, taken from us far too young.
Tom Petty: 'American Girl' (Fridays)
Petty and The Heartbreakers on the ABC late-night live comedy show reprise their first major hit, the song that became the American answer to new wave (though the lyric was inspired by the 1963 Francis Ford Coppola horror thriller film, Dementia 13).
Tom Petty Performs "American Girl" (Live) - Fridays
Elvis Costello With Bruce Springsteen: 'Radio Soul'/'Oh, Pretty Woman' (Spectacle)
Rock star joshing featured on Costello's Spectacle series on US TV. Here he fools around and falls in love with Bruce, fessing up to having ripped The Boss off for 'Radio Soul' before they revisit Roy Orbison's jaunty paean to his wife Claudette. Excellent tomfoolery.
What was going on across the pond? Discover more about the best UK music TV.
Format:
UK English