The Revolution Will Be Televised Pt.1: The Best UK Music TV
From hip 60s shows such as 'Ready Steady Go!' to the iconic 'Top Of The Pops' and anarchic mayhem of 'The Tube', UK music TV has a rich history.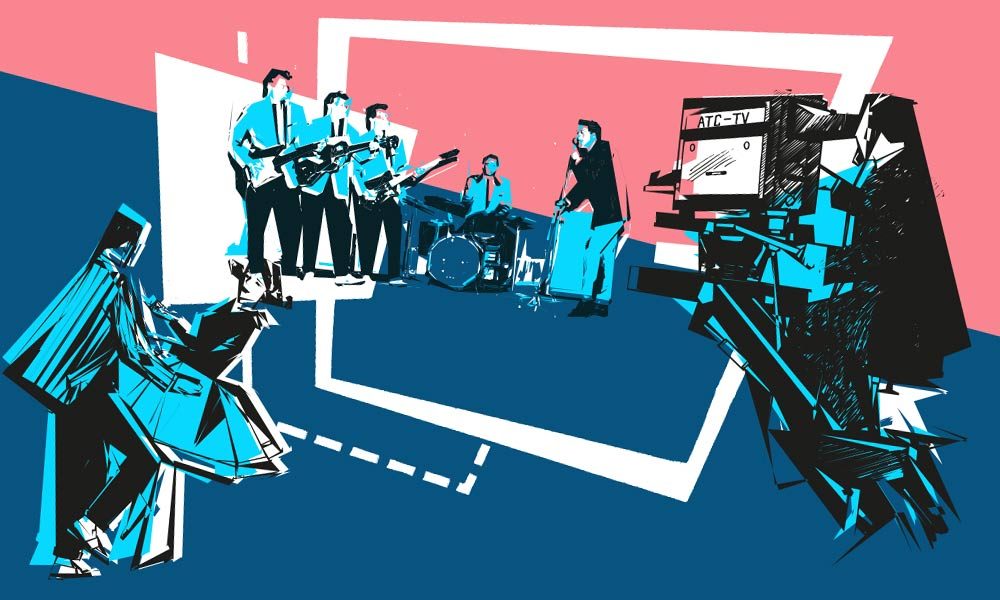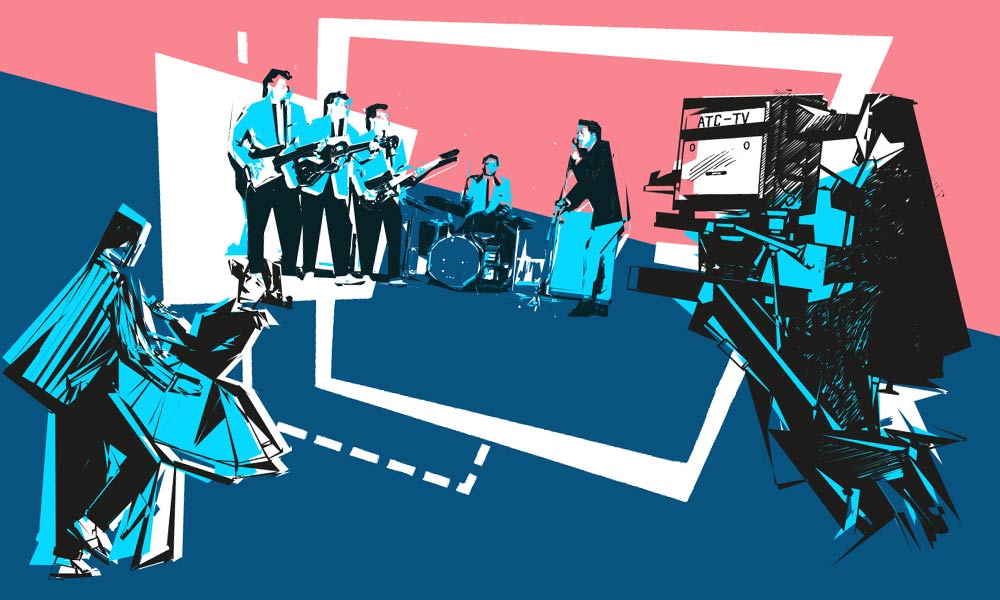 It's hard to credit in an age where music and film can be accessed via computers and smartphones, but only a few decades ago, rock and pop was in short supply on television. Until the late 60s, color TV sets were rare in the UK, and until the early 80s, domestic viewers had just three terrestrial channels to choose from. Yet despite these limitations, a wealth of great music still managed to light up the small screen. Here we salute 20 of the most memorable, innovative, and sometimes revolutionary music shows broadcast on UK music TV.
Six-Five Special
First airing in February '57, Six-Five Special was the BBC's first fully-fledged attempt at a live UK music TV show, and it went out at (you guessed it) five past six on Saturday evenings. Its presenters were Josephine Douglas and (initially) disc jockey Pete Murray, who uttered the immortal catchline: "Time to jive on the old six-five." Though it seems impossibly old hat now, Six-Five Special was a future-shaping jamboree which welcomed not only rising musical stars such as Tommy Steele and skiffle icon Lonnie Donegan, but also comedians including the anarchic Spike Milligan.
Oh Boy!
Rock'n'roll may have been Six-Five Special's primary currency, but it also included sport and public-service-related content, something which frustrated the program's original producer, Jack Good, so much that he resigned. The ITV-controlled ABC Network, however, gave Good the green light to make two episodes of a new all-music show, broadcast only in the Midlands. Christened Oh Boy!, the one-offs were so successful that the show was granted a full national ITV slot on Saturday evenings. Oh Boy!'s fast-paced, all-musical content ensured it soon swept ahead of the Beeb's Six-Five Special in the ratings, and during its 1958-59 heyday the show included numerous appearances from rising UK popsters including Cliff Richard and Marty Wilde, alongside quality US imports such as The Inkspots and Brenda Lee.
Juke Box Jury
Running from June 1959 to December '67, the BBC's Juke Box Jury was a highly popular panel show hosted by David Jacobs. Each week, four different celebrities (known as "The Jurors") listened to newly released records on the studio's resident jukebox and forecasted whether they would be a "Hit" or a "Miss". Mostly, the guests were drawn from the pop world (all four Beatles, for instance, made up the panel on 7 December 1963), though jurors as diverse as director Alfred Hitchcock and actor David McCallum also appeared. By 1962, Juke Box Jury boasted a weekly audience of over 12 million, and while it was pulled from the schedules in 1967, it was later briefly revived in 1979 and again in 1989-90.
Thank Your Lucky Stars
Mandatory UK music TV viewing for millions of British teenagers between 1961 and '66, ITV's Thank Your Lucky Stars featured both up-and-coming British pop acts and American guest stars. Primarily, bands on the bill mimed just their latest 45, though bigger names such as The Beatles and The Rolling Stones were permitted to perform up to four numbers. The program's most notable presenter was arguably the BBC's Brian Mathew, though audience participation was also a major part of the show. Featuring 17-year-old Black Country-born presenter Janice Nicholls (famous for her heavily accented catchphrase "Oi'll give it foive!"), the show's 'Spin-A-Disc' section, where a guest DJ and three teenagers reviewed singles, is still fondly remembered.
Ready Steady Go!
Equally essential, but significantly more cutting edge, Ready Steady Go! went out on ITV every Friday from August 1963 until December '66. Directed by several hip names, including future Let It Be director Michael Lindsay-Hogg, RSG! was initially presented by Dusty Springfield, but the show is usually associated with its long-term hosts Keith Fordyce and teen heartthrob Cathy McGowan. Early on, bands on the bill mimed but, by the spring of '65, all of the program's in-studio performances went out live. Responsible for showcasing virtually all the big names of the era, from The Who to Otis Redding and Burt Bacharach, as well as bagging Jimi Hendrix's first-ever British TV appearance, RSG! arguably remains the daddy of UK music TV shows from the 60s.
Top Of The Pops
We'd need far more space than we have here to examine the minutiae of why Top Of The Pops is surely the greatest UK music TV institution of them all. Suffice to say that (with the possible exception of The Clash, who flatly refused to mime) TOTP was the Top 20 (later Top 40) show every band wanted to be on in order to prove they'd made it. First created by BBC producer Johnnie Stewart in 1964, the show relentlessly shrugged off changes in style, fashion, and miming-versus-live performance issues, and ran weekly until 2006, when it finally folded after a whopping 2,259 episodes. (Even then it refused to go quietly, as its spin-off Christmas special continued.) The show's many legendary performances included The Pogues' frontman Shane MacGowan's drunken rendition of the Christmas hit "Fairytale Of New York' and Nirvana's Kurt Cobain infamously performing his band's hit "Smells Like Teen Spirit" in a voice an octave lower than usual, allegedly as a homage to Morrissey.
60s Variety Shows
The 60s were rife with variety shows impossible to narrow down to one specific show or appearance. Yet while it's easy to dismiss them as light entertainment, it's important to remember that variety shows captured some of the era's most seismic rock'n'roll performances. Several of the best examples from British TV include The Beatles' landmark November 1963 Royal Variety Show performance of "Twist And Shout"; The Rolling Stones blasting through "I Wanna Be Your Man" on the The Arthur Haynes Show in 1964; and Jimi Hendrix's chaotic slot on It's Lulu from January 1969, after which he was told he'd never work at the BBC again.
Once More With Felix
Reputedly the first folk singer ever to fill London's Royal Albert Hall, Californian-born, British-based singer-songwriter Julie Felix once dated Paul McCartney and was a long-time girlfriend of TV presenter David Frost, on whose show, The Frost Report, she became the resident singer in 1966. By 1968, she was hosting BBC Two's Once More With Felix, one of the Beeb's first color series, which eventually moved to prime time on BBC One due to its huge success. Once More With Felix featured critically acclaimed performances from artists as diverse as The Kinks, Leonard Cohen, and Led Zeppelin's Jimmy Page, the latter performing "White Summer" and "Black Mountain Side" as solo guitar pieces. It was succeeded by The Julie Felix Show in 1970, the same year that Felix scored a UK Top 20 hit with "If I Could (El Condor Pasa").
Scott
After a brush with Beatlemania-esque stardom fronting The Walker Brothers, Scott Walker embarked on a remarkable late 60s solo career which resulted in a quartet of exquisite, existential, and nigh-on unassailable orchestrally assisted LPs upon which his reputation still largely rests. Over six consecutive Tuesday nights in the spring of 1969, he also hosted his own personal UK music TV show, Scott, during which he performed covers of songs previously recorded by the likes of Frank Sinatra and Tony Bennett. Though the artist again soon ducked the attentions of the mainstream, Scott has since attracted cult status as the BBC allegedly wiped the analog tapes of his show and it's never seen an official posthumous release. Reputedly loathed by the singer himself, Philips' spin-off LP Scott Sings Songs From His TV Series also remains stubbornly hard to source.
The Old Grey Whistle Test
In 1969, albums officially began to outsell singles for the first time, and instead of disposable "pop" shows, TV networks began to devise programs which respected the era's critically acclaimed rock acts by offering them the chance to play substantial live sets in studio. 1968's Colour Me Pop was the BBC's first attempt to showcase half-hour sets by the period's leading names, but the format really took flight when The Old Grey Whistle Test debuted in 1971. Initially presented by disc jockey "Whispering" Bob Harris, and later by hosts including Annie Nightingale, Mark Ellen, David Hepworth, and Richard Skinner, the program's emphasis was predominantly on live music and, over its 17 years, showcased seminal performances including the first British appearance by reggae giants Bob Marley And The Wailers and influential glam rockers New York Dolls, plus iconic slots from Roxy Music.
Roxy Music - Ladytron (Old Grey Whistle Test, 1972)
So It Goes
Adopting its name from an oft-repeated phrase in Kurt Vonnegut's novel Slaughterhouse 5, Granada TV's So It Goes was presented by future Factory Records boss Tony Wilson and ran for two series between the summer of 1976 and December 1977. Though it also welcomed guests such as journalist Clive James and comedian Peter Cook, the show is usually recalled for its vigor in showcasing the nascent punk and new wave scene. Aside from granting Buzzcocks, Blondie, and Elvis Costello initial UK TV exposure, So It Goes historically broadcast Sex Pistols' first televised slot, during which the London punks performed a suitably spleen-venting version of "Anarchy In The UK," on August 28, 1976.
Something Else
Transmitted on BBC Two on Saturday evenings between 1978 and '82, Something Else was a magazine-style UK music TV show very specifically targeted at a youth audience. Radically, it featured young, untrained presenters with undisguised regional accents, and its live performances were interspersed with (apparently unscripted) discussions relating to issues, both personal and political, which directly affected young people. Perhaps more significantly, the program also captured some truly incendiary live performances from Joy Division, The Specials, Siouxsie & The Banshees, The Jam, and The Clash.
Marc
It only ran for six episodes during the late summer and autumn of 1977 and was produced on a very limited budget, yet Marc, the UK music TV show hosted by T.Rex's legendary frontman, Marc Bolan, nonetheless had an otherworldly, lo-fi charm. Bolan lip-synched at least three of his own songs each week, but also championed up-and-coming punk/new wave acts including The Jam, Generation X, and Eddie & The Hot Rods. Broadcast days after Bolan's premature death, the memorable final episode featured Marc duetting with old friend David Bowie on "Heroes" before he tripped over a microphone cable and fell offstage.
Marc Bolan and David Bowie Marc Show 1977
Revolver
Another diverting punk-era show sponsored by ITV and lasting for just one season, Revolver was produced by Mickie Most, who envisaged it as the anarchic antithesis of a "family" show such as Top Of The Pops. Mickie achieved that aim by hiring Peter Cook, who played the manager of the fictitious ballroom where the show was supposedly taking place, and made disparaging – sometimes outrageous – comments about the acts on that night's bill. Cook's scabrous invective aside, the likes of XTC, Tom Robinson Band, and Siouxsie & The Banshees all showed up and made some glorious noise.
Rock Goes To College
Running between 1978-81, the BBC-sponsored Rock Goes To College showcased a diverse range of up-and-coming bands playing 40- to 50-minute live sets from small university or polytechnic halls which were broadcast simultaneously on UK music TV and radio. Of particular historical interest are the spirited shows performed by future megastars U2 and The Police. Controversy also reigned during one show when The Stranglers furiously quit the stage during their soiree at Guildford's University Of Surrey after discovering an agreement to make tickets available outside the college hadn't been honored.
The Tube
Arguably the most successful – and certainly the hippest – major UK music TV show of its day, Tyne Tees TV's The Tube ran for five series from 1982 to '87 and contained interviews, fashion items, and alternative comedy, plus live sets from three or four bands each week. Mirroring Ready Steady Go!'s achievements during the 60s, it attracted just about every contemporary act of note, in addition to presenting high-profile performances from megastars such as U2 and Robert Plant. Aside from helping to launch the careers of acts as disparate as The Proclaimers and Frankie Goes To Hollywood, this landmark program also made household names of its two main presenters, the flirtatious Paula Yates and garrulous Jools Holland.
Snub TV
The collective brainchild of ex-Rough Trade Records pair Brenda Kelly and Peter Fowler, Snub TV was broadcast on BBC from 1989-1991 and enthusiastically championed the best in independent music from across the spectrum. Though produced on a shoestring, the show was always vibrant and engaging, with the live performances and promo videos interspersed with interview segments. Among the most revealing of these were The Stone Roses, Napalm Death, and New Order, whose irreverent backstage chat included Barney Sumner immortally referring to U2's Bono as "that Bongo guy".
The Hitman And Her
They were often ridiculed by rock fans, but the Stock Aitken Waterman team was nonetheless a commercial force to be reckoned with in the late 80s. The trio's leading light, DJ and producer Pete Waterman, was drawn to the fledgling acid house scene in its infancy, and The Hitman And Her, the show he presented alongside Michaela Strachan for Granada TV from 1988-92, became a staple of late-night UK music TV. Arguably the only mainstream show to home in on the club culture of the era, the program featured the dancefloor hits of the day, alongside party games and occasional celebrity performances, and shows were filmed in a variety of nightclubs in provincial northern towns and cities, including Manchester and Warrington.
The Word
Initially broadcast in The Tube's old time slot of 6 pm, Channel 4's The Word really found its metier when it was shifted to a late-night time slot in November 1990. Helmed by a variety of different presenters, including comedian Mark Lamarr and Mancunian radio DJ Terry Christian, its magazine format included interviews, live music, and game shows, and the late-night format meant that guests were encouraged to be controversial. Among the show's legendary rock'n'roll coups were Oasis' TV debut (they played first single, "Supersonic") and Nirvana's international television debut performance of "Smells Like Teen Spirit."
Nirvana - Smells Like Teen Spirit (The Word 1991 - full version)
Later… With Jools Holland
Though originally a spin-off from BBC Two's The Late Show, Later… With Jools Holland has been going strong since 1992 and is arguably one of the last bastions for live music on mainstream UK music TV. In effect a refinement of both The Old Grey Whistle Test and The Tube, the program features a diverse range of rock, pop, and world music styles, in addition to intimate interview segments, while compere/bandleader Jools Holland frequently sits in with his guests on piano. Having attracted a huge international following, the show has also spawned critically acclaimed spin-offs, including the annual New Year bash Jools Holland's Hootenanny and special editions showcasing individual artists such as R.E.M. and The Verve.
What was going on across the pond? Discover more about the best US music TV.