Rebels With A Cause: Adding Up 40 Years of Violent Femmes
Four decades ago, the Violent Femmes started turning alt-rock inside out, embodying the rampaging id of American youth in all its angsty, hormonal glory.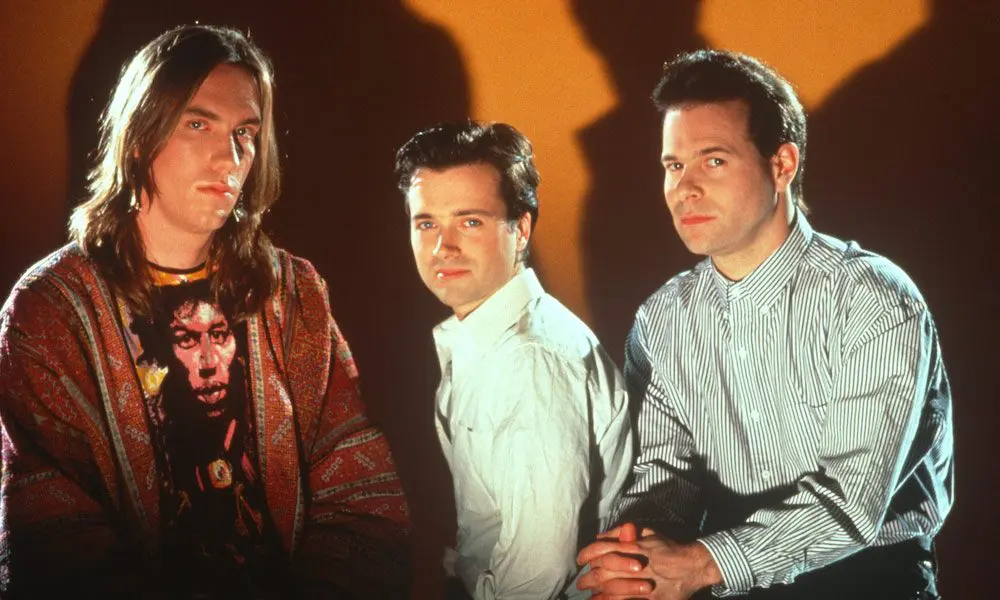 Violent Femmes singer Gordon Gano was the teenage son of a Milwaukee preacher, and his hedonistic and holy sides waged a bloody war against each other in the songs he played with partners in crime Victor DeLorenzo and Brian Ritchie. Together they gave those transgressive tunes a scrappy, streetwise sound mixing punk's edginess and the homegrown, unplugged feel of folk music. The Femmes revolutionized the college-rock/New Wave world by scaling things down without softening their hyperintensity one iota.
Explore the best of the Violent Femmes on their newly reissued compilation Add It Up (1981-1993).
Growing Up Gordon
You'd never guess from the iconoclastic songs on Violent Femmes' classic, self-titled debut album that Gordon Gano came from a devoutly religious household. His dad, Rev. Norman Gano, was a priest of the American Baptist Church who led multiple congregations over the course of his career. Gordon grew up entranced by the sermons and hymns he would hear in church.
But Rev. Gano had other passions besides the priesthood – he was heavily involved in theater as an actor, director, and teacher, establishing nearly as many theater companies as congregations. Gordon was bitten by the theater bug at a young age, appearing in his father's productions and likely developing ideas about dramatic presence that would serve him well as a singer.
Crucially, the Reverend was also a music lover and guitar player. Gordon grew up on his dad's collection of classic country records, and the sounds of everybody from Hank Williams and The Carter Family to Roger Miller and Kris Kristofferson influenced his songwriting. "Those people could write some amazing songs," he told Bozeman Magazine, "and with such a range of emotion, and storytelling, very funny, or very sad and tragic, or all mixed up."
Maybe Gano would have ended up an actor or a country singer (or both, like Kristofferson) if an older brother hadn't taken him to see Johnny Thunders' Heartbreakers during a trip to New York. Gano's teenage discovery of bands like The Ramones and The Velvet Underground along the way sealed his fate as a rocker.
Coming Together
Before hooking up with Gano, Brian Ritchie had played with psychedelic garage-rock revivalists Plasticland, who went on to become cult heroes. Victor DeLorenzo had theater experience in common with Gano but had also been a jazz drummer. Ritchie and DeLorenzo had already begun playing together and laying the groundwork for what would become one of alt rock's most innovative rhythm sections.
Years later, DeLorenzo told Modern Drummer, "We were really into what was happening with the early Gene Vincent & The Blue Caps recordings. The drummer in that band played a very small drum set, and sometimes he would just play a snare drum. That was the sound we wanted to go after, something very small yet powerful. And Brian was into the acoustic mariachi bass guitar."
Instead of simply replicating Blue Caps drummer Dickie "Be-Bop" Harrell's setup, DeLorenzo went a step further. He wanted a minimalist, stand-up drum kit, so he went as minimal as possible by inventing what he called a "tranceophone." It was basically a floor tom with a metal bucket on top of it, mounted on a snare stand, and played with brushes.
Meanwhile, Gano had been spending a good portion of his high school years writing the songs that would fill the Femmes' early albums, establishing his signature sacred/profane duality from an early age. Some of his songs were straight-up expressions of his faith, while others conveyed the raging hormonal riot of your average American teen. Ritchie and DeLorenzo saw him play and heard something that sounded like their destiny in his songs.
Femmes in full effect
The trio's combination of rock'n'roll energy and acoustic axes – partly inspired by Jonathan Richman's Modern Lovers – was the perfect vehicle for blending Gano's rootsier influences and the punky sounds the whole band adored. With Gano on acoustic guitar, Ritchie playing his "mariachi" bass, and DeLorenzo on tranceophone, the unplugged Violent Femmes took to busking on the streets of Milwaukee. Not only did it help develop their sound, it gave their career a huge boost. In 1981 they were playing in front of Milwaukee's Oriental Theatre, where The Pretenders were to perform that night. The band heard them and invited them to play an ad hoc opening set.
By the next year, the Femmes had a deal with punk-savvy tastemakers Slash Records. With a loan from DeLorenzo's dad, they recorded Violent Femmes, making the most of their small-scale, street-tested sound. Profiled by Cary Baker for New Wave bible Trouser Press, they assessed the effect of their stripped-down approach, with Ritchie reckoning, "It got us in touch with really playing instead of hiding behind a shroud of electricity. Besides, none of the clubs wanted to book us at the beginning."
Looking back today, Baker recalls, "When I first heard them busk in Milwaukee and then heard their debut LP, I heard a bit of Lou Reed and the Velvet Underground, a bit of Jonathan Richman – who'd absorbed the VU himself – and maybe a bit of the Fugs and Country Joe & the Fish… Here was folk-punk: high-voltage lyrics with low-voltage instruments."
Voice of a generation
Violent Femmes was released on April 13, 1983. It received no mainstream airplay and barely snuck into the lower rungs of the album charts. But in keeping with the Femmes' street-level style, the band became a college radio phenomenon. It became a dorm room staple for years to come, alongside The Smiths, R.E.M., and Talking Heads.
The hyperactive riff and drumbeat that kick off the album's opening cut and first single, "Blister in the Sun," would have been irresistible in a conventional electrified setting. But Ritchie's acoustic bass guitar and DeLorenzo's homemade contraption had something alt-rock fans had never heard before. The song's intro would serve as the band's introduction to the wider world and it became one of the most iconic moments in 80s rock.
In decades to come, when movies or TV wanted to evoke the era, the beginning of "Blister in the Sun" was a good bet to get the point across immediately, whether it was on the Grosse Point Blank soundtrack or a Foster's Lager commercial.
Ironically, not only did the song never crack the charts, it was never even released as a single. That said, the album's actual single, "Gone Daddy Gone," didn't enter the charts either. Even though Gano shifted to electric guitar for the track, Ritchie's manic xylophone solo helped it stand out from the rest of the New Wave pack by a mile, and it would achieve its own ubiquity in short order. Both songs are classic encapsulations of teen angst, teeming with frustration, confusion, anger, and lust.
"Add It Up," meanwhile, is the Iliad, War and Peace, and Apocalypse Now of youthful malaise, all rolled into one. Either portraying multiple characters or a single story from several perspectives, Gano starts out the song as a quintessential hormone-addled teenager crying out, "Why can't I get just one kiss/screw/f__k." After seemingly threatening suicide, he switches to third person describing a boy walking around town with a gun. Suddenly he's pleading with the armed outcast, "Don't shoot shoot shoot that thing at me." Before it's all over, the lust has taken a darker, Oedipal turn as our narrator faces a reckoning.
All this madness is framed by an urgent, incantatory performance that pulls you into the singer's world and forces you to lurch along with his mood swings. The whole thing was enough to make Morrissey and Robert Smith seem well-adjusted.
Roots and rebellion
The Violent Femmes' first album only represented one side of the band. From the beginning, Gano had written earnest songs of faith alongside his more hedonistic/prurient expressions. Possessing an opposing outlook, Ritchie had initially refused to play them. By the time the band started thinking about its second album, though, those tunes began to grow on him, and finally found their way onto the agenda.
At the same time, another element of Gano's makeup became part of the mix: musical Americana. At the time, that term was mostly applied to the likes of Aaron Copland, and the New Wave world hardly ever crossed paths with rootsier realms. But Hallowed Ground introduced blues, country, and gospel flavors into the Femmes' folk-punk menu, long before alt-country or Americana became genres unto themselves.
This leads to the quaintly, creepy folk-country murder ballad "Country Death Song," with banjo from progressive bluegrass pioneer Tony Trischka, alongside the full-on gospel stomp "Jesus Walking on the Water." Representing the Femmes' sex-crazed side, "Black Girls" is an unsubtle slice of randiness taken into left field by an unexpected jam with avant-jazz sax legend John Zorn.
The band edged away from rootsy sounds in favor of revved-up rock with a political heart on 1986's The Blind Leading the Naked, produced by Talking Heads' Jerry Harrison. The half-minute hardcore punk blast of "Old Mother Reagan" was in tune with the times, its impact amplified by the pacifist plea of "No Killing" and the funk-inflected take on T. Rex's glam-rock crusher "Children of the Revolution."
"Lies" from 1988's confusingly titled 3 (the Femmes' fourth album) carried over the won't-get-fooled-again political sentiments mated with an insanely catchy chorus. But on the original lineup's last stand, 1991's Why Do Birds Sing, they were turning out deceptively peppy tunes about self-hatred (their biggest-ever chart hit, "American Music") and suicide (the unnervingly infectious "Out the Window").
The Long View
Long after many of their peers have bitten the dust, Violent Femmes are still blazing away. Since DeLorenzo's 1993 departure they've continued with different drummers (plus a spell with a returning Victor), making new records and touring with undiminished vigor. Their debut album, which finally went platinum in 1991, remains at the core of the American alt-rock legacy. It got another big boost when Gnarls Barkley covered "Gone Daddy Gone" on the same album as the 2006 blockbuster smash "Crazy."
"People are still finding out about it as if it was just released," Gano told the L.A. Times. "I just picked up a nice copy of The Portrait of Dorian Gray. There may be things in there about my life. As I get older, the people listening to my music keep getting younger."
Commemorating Violent Femmes' 10th anniversary, the crucial compilation Add It Up was released in 1993, containing the band's key tracks alongside a bounty of rare live and studio recordings. The collection's 2021 vinyl and digital reissue underlines the band's staying power and stands ready to satiate a new generation of Femmes fans.
Talking to The Village Voice in 2013 about the Femmes' continued appeal, Ritchie described their recent Coachella performance. "There are a number of different stages," he explained, "and as soon as we started out the set with 'Blister in the Sun,' when that riff hit, it was like a swarm of insects coming towards our stage. They all started running from the other stages. When you can get that kind of reaction – I guess it would be like if the Rolling Stones started playing 'Satisfaction' —it really never gets old."