When Knopfler & Atkins Were Neck & Neck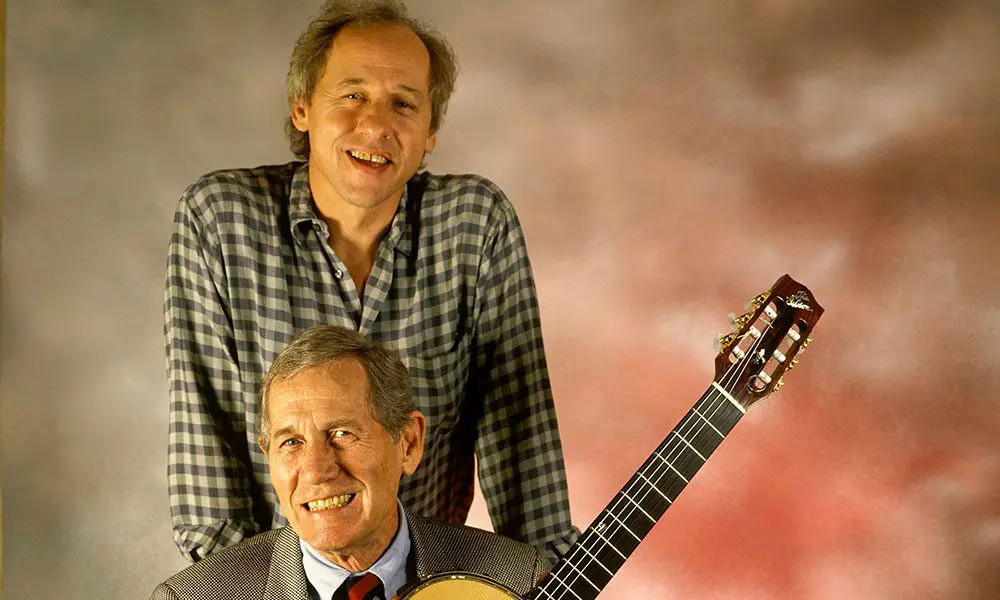 The relationship between Mark Knopfler and his late fellow guitar great Chet Atkins was one of great mutual admiration. That was manifesting itself on record around this time in 1990, with the delightful album they made together, the Grammy-winning Neck and Neck.
The pair had performed together in 1987 at the comedy charity fundraiser The Secret Policeman's Third Ball, where they performed 'I'll See You In My Dreams,' a number that became part of the album recording sessions in Nashville. Later still, the charming Isham Jones/Gus Kahn composition became closely associated with George Harrison, at whose memorial concert it was played by his close friend Joe Brown.
Check out Mark and Chet's performance, and a version of John Lennon's 'Imagine,' here, and enjoy the easy-going chemistry between them:
Mark Knopfler & Chet Atkins - Instrumental Medley
In the Billboard issue for 1 December, 1990, Neck and Neck peaked at No. 127 on the pop album chart, while continuing its run in the top 50 of the country countdown. Knopfler, who had been listening to Atkins' records as a young and hopeful guitarist, said in an interview at the time of the album's release: "For guitar players, Chet Atkins was always way out there, he was always something else."
Chet, for his part, said of Mark: "He's a finger-picker, but he's self-taught, I don't think he's ever really copied anyone. He kind of figured it out for himself, and that's the guy that comes up with something different, usually, the fella that doesn't know any better. Wonderful player."
When Neck and Neck was released in October 1990, critics praised the engaging chemistry between the two players, and a clever choice of material that was beautifully suited to their respective mellifluous styles. 'There'll Be Some Changes Made' has long been a favourite of ours at uDiscover, with a wonderfully live feel as the pair trade both guitar licks and relaxed wisecracks back and forth.
The album also included versions of two numbers written by country great Don Gibson, 'Just One Time' and the classic ballad 'Sweet Dreams,' famously recorded by Patsy Cline among others. There was a perfect update of Stephane Grappelli and Django Reinhardt's 'Tears' and one new Knopfler composition to close the disc, 'The Next Time I'm In Town.'
Explore our dedicated Mark Knopfler Artist Page
Format:
UK English