An Oral History Of Young Jeezy's 'The Recession'
Producers behind Young Jeezy's 2008 record, 'The Recession,' detail how the album came to fruition.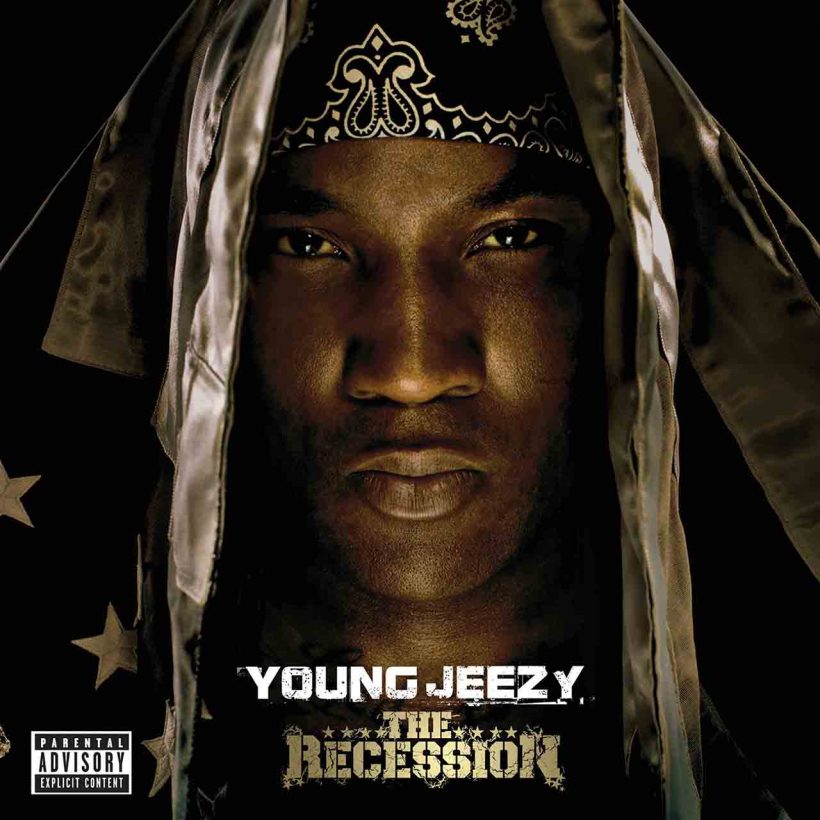 In September 2008, a hip-hop star from Georgia dropped an album that captured the raw emotions of a generation looking for change. Jay "Jeezy" Jenkins's third album, The Recession, combined the gritty Southern anthems he was known for with the social commentary of a primetime news show. After two platinum albums and the co-sign of industry heavyweights like JAY-Z, Jeezy became a bonafide star. But a historic economic recession meant that many other Americans weren't living nearly as well. The housing bubble burst in 2008, leading to countless people losing homes and property. In 2008 and 2009, 8.9 million Americans lost their jobs, the worst job contraction since the Great Depression.
Listen to Young Jeezy's The Recession now.
No stranger to struggles, Jeezy made a soundtrack for anyone trying to see past the harsh realities of a recession. With songs like the triumphant "Put On" and inspirational "My President Is Black," he did just that – and more. Erik "Rook" Ortiz of the Grammy Award-winning production team J.U.S.T.I.C.E. League remembers how focused Jeezy was on making something to reflect current events. "Working with Jeezy in the studio at the time, he always had the news on, like the sound would be off but it would be on," Rook says. "Something might flash on the screen and he would be like, 'Yo, this is crazy. We're about to have a Black president.' He was really in tune with politics, with pop culture, and we just fed off of that energy."
The power of production
Like his collaborator JAY-Z, Jeezy has an ear for great production, and the list of producers he recruited for The Recession reflects that. From Southern hitmakers like Drumma Boy to Grammy Award-winning producers J.U.S.T.I.C.E. League, the musically rich sounds of The Recession helped make Jeezy's inspirational message even more impactful.
Drumma Boy: "Jeezy always kept a solid foundation to the street, always trying to motivate his fans of the trap influence. I think his records got bigger and he always wanted to deliver something different. So an 'Amazin'' or 'Put On,' it was a different time period, just as far as delivery of music. I saw a growth as an actual person, from the actual trap, from the mindframe of a trapper to a businessman. And being able to witness that, 'I'ma make sure I get Kanye, I'm going to get these particular artists, going to shoot my visuals like this,' I feel like he knew exactly what he wanted to do and how he wanted to do it."
Kevin "Colione" Crowe, J.U.S.T.I.C.E League: "I remember working with Jeezy from the very beginning before his first album even came out, when he was with Boyz N Da Hood, and when he was with Jazze Pha, that's when we first started working with Jeezy. He came into the studio and we did like five songs, and he showed us five songs he had done, and a lot of those records got leaked before the album came out way back in the day. I remember we went to the store and there it was right there, someone said, 'Do you want to buy Jeezy's new album?' and I was like 'What?' We get it and listen, sure enough there are records that leaked from Patchwerk Studios. Apparently an engineer in there leaked the records. This was 2005.
"We would do everything live and bring in everything live. That song 'Don't Get Caught,' everything on that song was live. It was really different. Jeezy cheered us on to go live. He wanted us to bring all of the instruments in the studio to create music. He was doing such different music with other producers. I would hear songs from Shawty Redd and then Drumma Boy, and what they were doing at the time with Jeezy was totally different from what he was doing with us. It's not just rap with him, he knows music and knows what he's doing."
Drumma Boy: "I just remember pulling up on Jeezy/ Jeezy was like, 'I need another 'plate.'' I call my shit gumbo because I put so much different shit in it, like I might put a pinch of salt, a pinch of country, a pinch of trap, with a little pinch of Memphis, with a little pinch of Atlanta in that thing, a little pinch of bass, some bounce, with a little pinch of hi-hats, so much shit you put in a pot that it's good… certain restaurants feed you a certain way and you get fed and it sticks to you? You're going to go back. Hands down. With me and Jeezy, we call everything we reference a plate, a meal. 'Yo, what you got for me? I need a quarter piece. What you got for me? I need a nine-piece, I need a ten-piece. What's up man? It's time to eat. What you got for me? What you cooking?' Everybody really looks at me like a chef. I'm a real music chef. I cook for the people and deliver to people and they keep coming back for seconds, thirds. I want you to cater for this mix, I want you to cater for my wedding. That's why I feel like a chef, in addition to a therapist, to deliver to the artist what's needed. I listen to your mix, I listen to your album and then come in and slam dunk that shit with your single.
With Jeezy's musical tastes in mind, the various producers worked to their strengths to create an entire album of anthems including "Put On," a huge hit that became a staple in both Jeezy and Drumma Boy's catalogs.
Drumma Boy: "A lot of times I hear producers say, 'How did you get that thing out of your head, how did you get that sound, that particular beat?' and a lot of times, transferring what you have in your head into an actual score requires a little musicianship. It requires a little theory. Because you can hear something, but being able to play those notes, those chords and transferring it into a masterpiece as big as you want it to be, as opposed to a bunch of one note chords. It's like a seven key chord or a diminished chord that might pull that feeling out as opposed to one note. To me, some producers are not really capable of that and some are better than others, so if you're not capable, just hire a keyboard player. Hire the church keyboard player, and now you have to share some of your publishing up front, but at least you are getting that business side as well as that musical side, and creating that sound you want. In my instance, I was capable of doing this myself. I remember listening to warm-up music. I used to always love when they would turn up the lights in the Chicago Bulls stadium. I'm going to make 'Put On For My City' like that. Not the same beat, I'm going to create my own melody. If you listen to 'Put On,' it reminds you of that Chicago Bulls anthem. The lights cut off when this shit comes on. I did 'Ambitionz' and 'Amazin'' right after 'Put On.'"
Erik "Rook" Ortiz, J.U.S.T.I.C.E. League: "We heard 'Put On' for the first time without Kanye's verse and it was already crazy."
Drumma Boy: "I gave Jeezy the beat so I never even heard 'Put On' until it came out on the radio. I didn't know he was going to get Kanye, and this was like the first time we heard Kanye with auto-tune, the first time you heard Kanye on a down South beat. Kanye on some trap shit. So for me, to be able to deliver that to the people first. That shit was classic man."
Rook: "I remember just listening to all of the songs [Jeezy] was making, like Drumma Boy's 'Put On.' Every time I see Drumma Boy I'm like, 'I wish we did that fucking track! [Laughs] That shit was a fucking game changer."
Like Drumma Boy, production team J.U.S.T.I.C.E. League had worked alongside Jeezy since his first album and made sure their contributions for "Word Play" and the bonus track "Done It" met his high standards.
Rook: "I think he always looked at us as the 'meat and potatoes' in terms of sound. He was always impressed that we used the live instruments and all that but we could always switch it up and do the trap shit and all of that too. He was always impressed by our diversity. He would call us and be like, 'I got this idea for a flute, I got an idea for a saxophone' and he knows he could call us up and we can get it done."
Colione: "The sound we come out with [working] with Jeezy is a classic sound. He never really turned to us for trap music, he turned to us for something different. The track 'Fame' he did with T.I. was so different that you wouldn't even think Jeezy would use that music. He took a chance with us to do different things."
Rook: "I remember that being the first time being in the studio with Jeezy that we had string players come in. It was funny because we had the sheet music and the original title was 'Bird Play,' and it was funny to have the sheet music and it said 'Bird Play' on top. We had the lyrics in there on the sheet music and we see all of the gangsta lyrics on the sheet music. Everything we've done with Jeezy was on the spot. We didn't play beats, we just did everything from scratch on the spot."
Colione: "You never know what you can learn from someone coming up, because everyone has different ways of creating. Our mentality of thinking is that it's a joint effort, so these younger producers look like geniuses in terms of the game. I think it's our duty to set standards and raise the bar higher in music. We do sound creation and we do different things for up-and-coming producers."
Rook: "I remember back in the day it wasn't really big on collaboration. Producers didn't really collab much. Back in the day, Neptunes, that was a Neptunes beat, Timbaland, that was a Timbaland beat. Dre, that was a Dr. Dre beat. Dre had some things, like Daz but it would usually be one person. Nowadays, you'll hear a track and it'll be multiple people on there. Different people did the melody, different people did the drums. Now I look at the list of credits and it's pretty large. Some of the hits now have at least five producers on there. It's like how songwriting used to be, where songs would have five writers but now it's like both ways."
Rook: "We know music evolves and sound evolves, so we're definitely all about staying relevant and staying in the game, which is kind of cool because we've been around a long time and we're still relevant. [Laughs]
As a DJ and A&R – who later became VP of A&R at Def Jam Recordings – longtime Jeezy collaborator and Philadelphia native Don Cannon provided the insight to help The Recession move from concept to execution.
Don Cannon: "Usually when me and Jeezy come together, it's an overall look. It's not just Jeezy coming to me for a beat. We just sit down and say, 'What space are we going to attack on this record? What is hurting us in the hood, what is hurting us in music? How can we develop these?' The whole spirit of what we started was motivation. I think that motivational period was like, 'Let's not be sad about it. Let's uplift the people to keep fighting and getting at what they do, and being able to keep that aggression in the music with the beats and instruments that make you want to exercise within the recession through the bad times. That's what we were targeting.
"That was our thought process, and through my digging of records and finding different beats for him from other producers as well, I think my responsibility was to set the tone for the album and I set the tone with 'Circulate,' because it hit the nail right on the head when we were talking about what was going on. We were making more money circulate. After we did that record, we moved around and saw different pieces of records come together, like 'Crazy World' and 'Welcome Back.' There were all superhero-sounding records, you know? That was pretty much where we were coming from with it.
"Philly International and Curtis Mayfield were two places where I absorbed soulful energy. I go to those places to get that bone-chilling feel with the message still. And Curtis Mayfield, if you've ever listened to any of his music, it was a lot of uplifting in his music. Philly International did a lot of records where there's some uplifting messages. I feel like you ought to know and have to study your sampling if you want to get to those topics. It's crazy because midway of me making the beat, I heard other people's renditions of it. I heard Jay Dilla's rendition of it. But it was him speaking as a rapper and producer and I don't know how many people noticed that. It wasn't left open for a rapper to be on that beat, you know what I mean?
"My job as an artist was to figure out how to make that work, and make it able to be rapped on. I played the actual ['Circulate'] sample (Billy Paul, 'Let The Dollars Circulate') for Jeezy and there were things missing. I wanted live instruments, so I had to call in certain people because I wanted to feel like Robin Hood from the hood from his perspective, and from my perspective, I wanted to feel like I was the marching band behind the superhero that is saving the world. Philly was known for a lot of live instrumentation, it was known for soul. Midway after we were doing the record, doing post production, that's when the Philly side came out and it was crazy that I was able to go back home and get that out.
"People always say never give your formula away but I don't mind it because it's needed. I watched TV in the '90s and I listened to music back in the day, there was one thing they both have in common: you can watch The Fresh Prince of Bel-Air and get a message out of something being funny. It wasn't so harsh that it made you depressed to get the message. The same thing with music: Public Enemy had '911 Is A Joke,' 'Shut 'Em Down,' and 'Bring The Noise,' but there were still in party style. You could go to a club in those days and hear '911 Is A Joke' and it was like Flavor Flav was lighting it up with the message still.
"When we're making these messages, it shouldn't make people upset and put them in a different space of their life. There are fun people that still need messages. There are activists that still need fun in their messages. I feel like when we were making that album, I wanted it to be fun, so when you hear the beats – they're not depressed, you hear the messages and how we're getting it across. Even with 'Circulate,' when you start off the record, he says, 'I'ma start off so-so, they love me in DC just like go-go.' That's just him getting into the idea of, 'Let's party now and then we can get into the message.' I feel like that's needed in music today. It's so one-sided when you say, 'Oh, he's a conscious rapper.' I feel like that's the wrong thing to say about an artist now, because conscious can be fun. Sometimes we have to bring the fun into being conscious."
From the trap to The White House
One song on The Recession had an added level of relevance: "My President Is Black," featuring a special guest verse from legendary rapper Nas with production by Tha Bizness. "My President Is Black" became synonymous with Barack Obama, the 2008 Black presidential candidate who captured the hearts in a way that perhaps no presidential candidate had since the late John F. Kennedy. Obama would eventually become the 44th president of the United States and the first Black president in American history.
Young Jeezy - My President (Official Music Video) ft. Nas
Justin "Henny" Henderson: "We had done a lot of stuff when we lived in LA. Back then, I had just gotten married and I wanted to move to Atlanta to get property and get a new change of pace because we had been living out in LA for the past five or six years. At the same time, we had already done a deal with G-Unit, but the stuff we did with 50 Cent and G-Unit, the whole Unit was just kind of simmering. We came to Atlanta and really had to start learning how to get through the 808 trap bass sound. So we hit the clubs to try to understand the sonics of what made people love the music. Coming from the West Coast, we had a different type of bounce.
"My man Dow [Jones, production partner] was in a lot of sessions hooking up with cats like the J.U.S.T.I.C.E. League and we got the chance to meet up with Jeezy and play him some tracks. When we played him some tracks, he was very surprised because he thought we were basically G-Unit producers and would have that New York sound because that's what he heard from us. He said, 'Put these in a folder and I'll get back to y'all.' That was probably early 2008. From there, he called us in about June 2008 and he told us that we needed to hold this track because he was about to get Nas on this record that would be crazy for his album and we just held it.
"To be completely transparent, we were working with R. Kelly at the time. We did a deal with R. Kelly to do some music for an album that he was coming out with called 12 Play 4th Quarter. Never came out. It leaked online but it never came out. We were excited about that and had the first single called 'Hair Braider.' We started making a bunch of tracks for that project and one of those tracks was the track we did for 'My President.' It was just very sonically dope and it was crazy because at the same time we did some things for Lil Wayne that ended up the same way. Climate-wise, just politically what was going on, the possibility of having the first Black president was an amazing thing that was brewing around the city. But we had no idea that it would become the urban theme song for the president. It took on a mind of its own. We were just really creating to be real. We had no idea what was going to happen."
Rook, J.U.S.T.I.C.E. League: "Lyrically, Jeezy was on some shit. It was inspirational as fuck. The Recession was a commentary on what was going on at the time, especially seeing the end of the Bush era going into the Obama era. It was real street commentary."
Colione, J.U.S.T.I.C.E. League: "Jeezy is a legacy act. To me, when he came out with TM101, that shit to me was like The Chronic of the South, he's talking about what's going on, he's really looking for a change, too. He's actually looking for a positive scenario out of what was going on. With The Recession, he was saying what people needed to hear, especially with the people he focuses his music on."
Henny: "People have asked what are some of my proudest records I've done in my career so far, and I always go back to that record. You think about life and you think about the moments and you can listen when a song came on or when a song made so much impact on your life. I just remember being at my brother's house we were all over there watching the recording, filming the moment of Barack becoming president. When I tell you when CNN said, 'Now projecting Barack Obama, the 44th president!' Everybody lost their mind.
"Around the entire community we just heard the music of 'My President' being played. You start driving around Peachtree [in Atlanta] and everybody is just cheering and excited and everyone was playing the song. "We got excited and said, 'We're going to the inauguration.'"Before the inauguration, we went to Club Love in D.C. just to kick it, not knowing Jeezy was going to bring out JAY-Z to do the remix live there for the first time. I'm standing in the crowd and all of a sudden Jeezy brings JAY-Z out to perform the remix. My mind is just blown because I'm in the crowd and didn't even know that they were there. You talk about moments where you're rushed into a whole other thing, and JAY-Z became the featured remix on the song. It just took on a mind of its own.
"When I was 18, my father was big in the political scene in Seattle where we're from, and they had this big initiative to abolish Affirmative Action in Seattle. He was telling me when I first getting started making beats for my group in high school, he said, 'You guys need to write this song so you can help stop the abolishment of affirmative action in Seattle.' That song went from some song we did in our basement to the NAACP flying us out to perform to give notice to the youth about going out and voting. To think, 10 years later is the time I'm helping the entire nation be inspired with a record, it's been part of my journey the entire time. It's weird to think about it now because this is the first time I've really said that out in a story form, but I think it's been there all along – through my Dad trying to really let me know my message and that music can go beyond just the club hits."
Life after a recession
From its production to its message, The Recession continues to captivate listeners 10 years later. Producer and A&R Don Cannon noted that working with Jeezy on The Recession changed how he looks at classic records. "You go to Coachella and you hear how these records like [Lil' Uzi Vert's] 'Sauce It Up' or 'XO Tour Life' change lives, change the world, and it starts changing your thinking on what a classic record is," he says. "Making [The Recession] with Jeezy helped me turn around my thought process." Few projects in recent history have combined the raw energy of the streets and an intelligent analysis of national politics against a backdrop of lush, stirring music.
Drumma Boy: "Seeing guys cut back on jewelry, seeing guys focus more on family, I think it was a lot of humble creation involved in The Recession. It was an evaluation of the current times, but it was also like – shit, for most of the people in the music industry, we couldn't tell it was a recession. So, the mentality of preparing and being more disciplined kicked in, but we still did what we wanted to do. It was about being strategic. As opposed to me balling out in the club and spending my own money – $3 to 4,000 dollars for 15 to 20 bottles, I'm making the club pay for that shit. If you want me in the club, you got to give me 15 to 20 bottles. It's still giving you the look, but you're being a smarter businessman because you're asking, 'How can I get the same look without buying 15 to 20 bottles with my money?'
"It was a time when it was like [Sings Drake lyrics] "We got money to blow, getting it in, letting these bills fly." So how do you keep that same look without blowing your own money? Because if you're blowing your own money, you're going broke. The average cat ain't Drake. Everyone listens to the No. 1 rapper and wants to have their lifestyle, but you have to be realistic with yourself, because I've seen a lot of n—-s running out of money. It's about being smart at that point in time. That's one thing that during the recession, we all took into consideration our bad times but understanding how to have that look, be effective, and not spend as much of your own money. So it's about O.P.M. – other people's money."
Young Jeezy - Crazy World
Don Cannon: "When Jeezy came and added some aggression and made you want to change different parts of the song, do different things with the 808s, make the hi-hats more intricate, I think that plays a lot into the level of trap music that's being made today. Back then, it was a four-bar loop or a straight hi-hat and one 808 with one tone. Now you have people playing 808's like pianos in so many different octaves and tones. The same thing with snares, there was a basic TR-808 clap/snare. We've changed those and through ears, we've trained people to have more than one snare – there's 10 classic trap snares that you can use that everyone uses today. That's with the help of Shawty Redd and Drumma Boy and people like that. With the album that we did, we transformed the basic trap into what's the next level of trap now, and that's really important."
Henny: "For us, it was an exciting time and it wasn't a depressing time because when the markets crashed, the housing became so affordable. You could get houses down here in Atlanta for cheap. That was one of the reasons we moved, to get a new kind of life as opposed to living in these super expensive apartments in LA. It was a time of motivation. It was a time of taking your career to that next step. For us, it was how do we create this sound that will be synonymous not just with what we did in LA but with Atlanta culture, with the Atlanta music scene, and really make sure we weren't just some West Coast cats trying to perpetrate Southern music. We really got in and really built great relationships with people like DJ Toomp, the J.U.S.T.I.C.E. League, people like Fatboi, a lot of guys who were here in Atlanta making waves in the music scene and really just understanding the sonics of Southern hip-hop music. It was an exciting time for us, to be honest."
Colione: "I really wanted to be a part of [The Recession]. Jeezy was at the height of his career, I was like, 'I got to do whatever it takes.' We have a chemistry with Jeezy. Our chemistry with Jeezy goes way back, like careers starting for him and us at the same time. Jeezy is a real hard worker, he'll have you in the studio 24 hours a day. He's one of the hardest workers I've ever seen. Over the years we've built a great catalog with him and have been blessed to be a part of some classic albums. 'The Recession is one of my favorite albums of all time.
Listen to Young Jeezy's The Recession now.
Editor's note: This article was originally published in 2018.