See The Forthcoming Rush Hologram Disc Here
The extensive '12 Months of Rush' 40th anniversary celebrations for the Canadian rock giants will now feature a special vinyl hologram edition of their famed '2112' album, released on March 16 (and a day later in North America).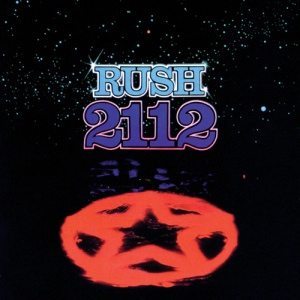 The band's fourth album, '2112' was originally released to great acclaim in 1976. This special edition will also contain a free download card for the high resolution digital audio version. You can watch the video demonstration of the test pressing here, and pre-order your copy of the hologram version here.
Pressed on high fidelity 200gram vinyl, the vinyl disc has a custom, hand-drawn hologram of the "Red Star of the Federation" in the album's dead wax runout of side two. To reveal the spinning hologram, fans can use any focused source of light, such as the LED flashlight on a smartphone, directly above the turntable while playing.
Universal Music Enterprises (UMe) is releasing high-quality vinyl editions of their Mercury Records catalogue throughout 2015. The series began with 'Fly By Night' on January 26, just ahead of the 40th anniversary of its first release in February, 1975. The next in the series, 'Caress of Steel,' is out today (February 23); March 16 will see the release of not only the '2112' edition but also 'All The World's A Stage.'
Each album in the series will have a download card and will also be available in high resolution Digital Audio editions. Three of the titles, 'Fly By Night,' 'A Farewell To Kings' and 'Signals,' will also come in Blu-Ray Pure Audio. The remaining titles in the series are:
April 20: 'A Farewell to Kings'
May 18: 'Hemisheres'
June 15: 'Permanent Waves'
July 20: 'Moving Pictures' and 'Exit…Stage Left'
August 17: ' Signals'
September 14: 'Grace Under Pressure'
October 19: 'Power Windows'
November 16: 'Hold Your Fire'
November 30: 'A Show of Hands'
Pre-order your copy of the Hologram Edition of '2112' in uDiscover's Deluxe Audio Store
Buy special editions of other Rush albums in the Deluxe Audio Store
Explore our dedicated Rush Artist Page