Nazareth
The Scottish hard rock band have charted an impressive fifty-year-plus career that includes their hit cover of "Love Hurts."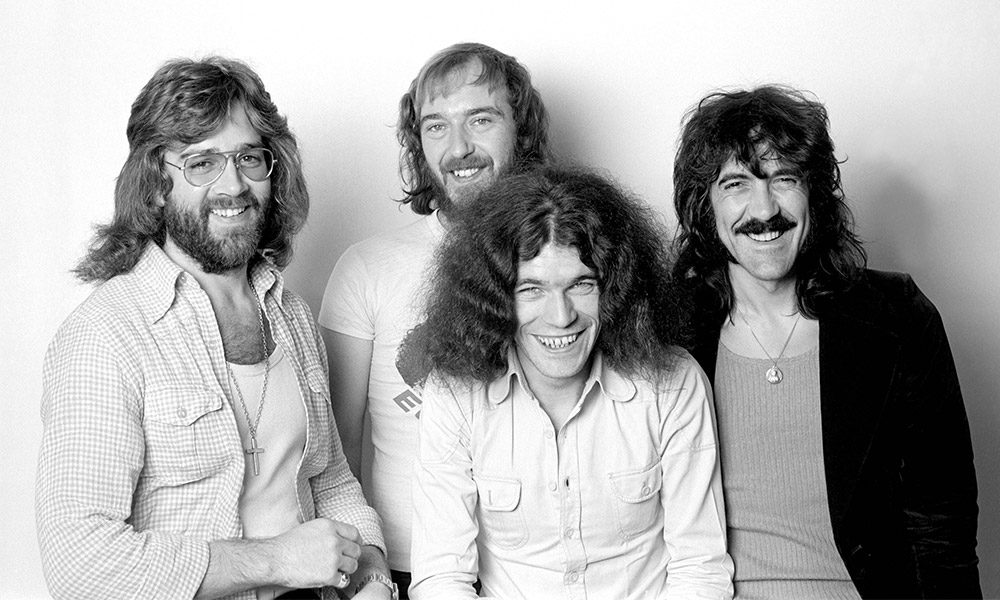 Survivors to the core, Scottish hard rockers Nazareth have defied fad, fashion and even fatalities during the course of an astonishing 45-year career which still has plenty of distance left to run. Consummate professionals, the band's dedication has won them a devoted global fanbase and earned them a copious array of silver, gold and platinum discs, yet they're still hungry and – as ever – they're in their element when they're treading the boards.
Though they've been known as Nazareth since 1970, the band's roots actually go a lot deeper, as the core members of the "classic" line-up – Dan McCafferty (vocals), Manny Charlton (guitar), Pete Agnew (bass) and the late Darrell Sweet (drums) – all cut their teeth during the 60s while playing in The Shadettes: a Showband-style outfit often sporting matching yellow suits who played Top 30 covers in local Dunfermline venues such as The Belleville Hotel and Kinema Ballroom.
The band's schedule was demanding, but they learnt their craft well, adroitly mastering different styles of music and developing their harmonising skills while playing covers of both the pop hits of the day and soul numbers originally recorded by legendary figures such as Sam & Dave, Bob & Earl and The Temptations. However, personnel reshuffles regularly took place within the band and, by 1970, they were sick of simply playing covers and wanted the chance to make it on their own terms – preferably through writing and recording their own material.
The first thing the band changed was their name. Having tired of their cheesy Shadettes moniker, the quartet were discussing possible new names in a local hotel bar one day in 1970, when The Band's song 'The Weight' began playing on the in-house sound system. The song's first line features the lyric, "I pulled into Nazareth, feelin' 'bout half past dead," and it immediately struck Pete Agnew, who suggested "Nazareth" as the band's new name. His comrades agreed and, from then on, Nazareth they became.
Unlike most young bands seeking fame and fortune, however, Nazareth were already married men with wives and children, and, while they were ready to go to London and build their reputation, they needed to make a living from the word go. Yet they did have a secret weapon – in the shape of their original manager Bill Fehilly. Another Dunfermline native (who later sadly perished in a plane crash), Fehilly had made his fortune through bingo halls and was prepared to bankroll the band while they got off the ground.
With true believer Fehilly's help and guidance, Nazareth gigged solidly and signed with Pegasus Records, who released their self-titled debut LP in November 1971. Though not a big seller, Nazareth was nonetheless a fine – if diverse – debut which featured country-tinged ballads ('Country Girl'; 'I Had A Dream') as well more traditional heavy rockers such as 'Witchdoctor Woman' and an eerily effective cover of Tim Rose's folk classic, 'Morning Dew'. Edited down to three and a half minutes, the latter became a cult hit in Germany, while another of the LP's highlights, 'Dear John', went to No.3 in France.
The band consolidated on this early success, touring heavily in Europe in 1972 and releasing a second LP, Exercises. Produced by Roy Thomas Baker (who later worked with Queen, Foreigner and Alice Cooper), the LP was quite a radical, folk-flavoured departure from Nazareth's normal crowd-pleasing, blues-rock sound, proffering songs featuring acoustic instrumentation, string arrangements and even Badfinger-esque soft pop ballads such as 'Madeleine' and 'In My Time'.
Exercises again missed the charts, but the band's fortunes changed rapidly with their third LP, May 1973's Razamanaz! Produced by Deep Purple bassist Roger Glover, the LP was an unashamed hard rock record full of heavy, hook-stuffed anthems such as 'Night Woman' and 'Alcatraz'. The band's first LP to make serious commercial headway, Razamanaz! climbed to No.11 in the UK Top 40, cracked the Canadian Top 40 (where it was eventually certified platinum) and also spawned two UK Top 10 hits in 'Bad Bad Boy' and the country-flavoured 'Broken Down Angel'.
Released by Charisma Records subsidiary Mooncrest, Nazareth's fourth LP, Loud' N' Proud followed a mere six months later. The title might suggest a cash-in live LP on the back of the successful Razamanaz! but, in reality, Loud 'N' Proud was another fully-fledged studio LP produced by Roger Glover.
Harder and more aggressive than ever before, this LP featured furious self-penned rockers such as the adrenalised 'Go Down Fighting', along with several dramatic covers including Little Feat's 'Teenage Nervous Breakdown', a feedback-drenched reworking of Bob Dylan's 'The Ballad Of Hollis Brown' and – perhaps most memorably – a stunning, metallic recasting of 'This Flight Tonight' (originally a wistful folk-flecked song from Joni Mitchell's 1971 LP Blue). With help from 'This Flight Tonight' – which went to No.1 in Germany and entered the UK Top 10 as a single – Loud 'N' Proud also performed admirably in the marketplace, reaching the British Top 10 and earning the band a second platinum disc in Canada.
Another finely wrought collection of tough, ballsy rockers ('Silver Dollar Forger'; near-hit 'Shanghai'd In Shanghai') and country-tinged ballads ('Glad When You're Gone'), Nazareth's next LP, May 1974's Rampant, notched up another UK Top 20 hit and a further gold disc in Canada. However, it was 1975's Hair Of The Dog that brokered their promotion to rock's premier league.
Arguably one of the 70s hard rock albums, Hair Of The Dog included stellar highlights such as the doomy, Black Sabbath-esque 'Miss Misery's the pulverising titular song and the epic, synth-assisted 'Please Don't Judas Me', while the American edition on A&M (now part of Universal Music) also featured the band's memorable power ballad-style version of The Everly Brothers' 'Love Hurts'. This latter sold by the truckload as a standalone single, reaching No.15 in the UK, topping the charts in Canada and even reaching No.8 on the US singles chart. Hair Of The Dog then continued on where 'Love Hurts' left off, reaching the UK and US Billboard 200 Top 20s and selling over two million copies worldwide.
The band earned a further UK silver disc for 1975's self-explanatory, rush-released Greatest Hits, but, after punk began to break through in 1976, their domestic popularity temporarily declined somewhat. No matter, though, for Nazareth were becoming very big news on the North American continent, where '76's Close Enough For Rock'n'Roll cruised up to No.24 on the US Billboard chart and again went gold in Canada: a trend that continued with November 1976's Play 'N' The Game, which also helped break the band in South America for the first time.
Though released at the height of punk, 1977's Expect No Mercy was an unashamed, old-school hard rock LP featuring edgy anthems such as 'Revenge Is Sweet' and 'Gimme What's Mine', as well as a full-blooded, rocked-up remake of Harlan Howard's country standard 'Busted' and Manny Charlton's Fleetwood Mac-esque 'Shot Me Down'.
During 1978, ex-Sensational Alex Harvey guitarist Zal Cleminson joined Nazareth as their second guitarist. His arrival immediately brought about a reversal of fortune for the band back home, where 1979's No Mean City – a gutsy, straight-ahead rock LP featuring the infectious Top 30 single 'May The Sunshine' – cracked the Top 40 LP chart, as well as chalking up another gold disc in Canada.
The band's 11th studio album, February 1980's Malice In Wonderland, however, was a more mainstream-sounding rock album produced by Jeff 'Skunk' Baxter, whose credits also included The Doobie Brothers and Steely Dan. Among the LP's best moments were the reggae-tinged 'Big Boys' as well as two radio-friendly singles, 'Hearts Grown Cold' and 'Holiday' – the second of which reached the Canadian Top 30 and secured significant airplay for the band in the US.
Cleminson departed to form a new band, Tandoori Cassette before Nazareth recorded 1981's The Fool Circle, their first LP for Patrick Meehan's NEMS label. Another respectable seller, it made the Top 75 in both the US and UK, and again earned the band a gold certification in Canada. Stylistically adventurous, both the sinewy 'Let Me Be Your Leader' and a choice cover of JJ Cale's 'Cocaine' flirted with reggae, while Dan McCafferty even threw a little unlikely social commentary into the pot on the then topical nuclear disaster scenario, 'Pop The Silo'.
Young Glaswegian guitarist Billy Rankin was recruited alongside keyboardist John Locke to tour The Fool Circle; both appear on the exuberant live LP 'Snaz!, recorded in Vancouver in May 1981, and the following year's 2XS. This album featured the rock radio hit 'Love Leads To Madness' and the popular 'Dream On', which charted in several European Top 20s including Germany, Austria and Switzerland. Nazareth then cut another consistently strong collection, 1983's MCA debut, Sound Elixir, before Locke and Rankin departed (the latter pursuing a solo career that yielded two solo LPs, Crankin' and Growing Up Too Fast, the latter of which included the US Top 40 single 'Baby Come Back').
Having slimmed down to their original line-up, Nazareth signed a new deal with Vertigo saw out the 80s with several highly respectable LPs. 1986's Cinema was arguably their hardest rocking set since No Mean City, while 1989's Snakes And Ladders again brimmed over with quality. Original lead guitarist Manny Charlton, however, bowed out after Snakes And Ladders, and Billy Rankin returned for a second stint, in time for extensive touring in Europe, America and the late Glasnost-era Soviet Union.
Despite grunge holding sway commercially, 1991's No Jive was another well-executed hard rock set that still sold well and benefitted from the band's first bout of UK gigs in eight years. During 1994, McCafferty, Agnew and Rankin played two well-received MTV Unplugged-style UK tours, performing stripped-back versions of Nazareth's hits, though Rankin left for a second time before the band recorded their next LP, 1995's solid Move Me, which featured contributions from new guitarist Jimmy Murrison. Also picking up new keyboardist Ronnie Leahy, Nazareth undertook one of their most extensive tours in order to promote Move Me, playing in the US, Canada, Brazil and Europe, while also touching down twice in Russia.
Their first LP for new their label, SPV, the band's critically acclaimed 20th release, Boogaloo, was issued in 1998, but what should have been another triumphant world tour to promote it ended in tragedy when drummer Darrell Sweet died suddenly from a major heart attack while the band were just starting out on the dates. Devastated, the remaining band members cancelled the tour and returned home, but, after much soul-searching, decided to carry on, with Pete Agnew's eldest son Lee (who had previously been Darrell's drum tech on occasion) settling in behind the kit.
Happily, the band's staunch supporters took to Lee straight away – yet while no new records would appear for the next eight years, Nazareth toured regularly, releasing a live LP and DVD (Homecoming), which was filmed and recorded in front of a sold-out crowd at Glasgow's Garage, in October 2001, and spending most of 2004 and '05 on tour, playing to packed houses in territories such as Israel, Russia, the US and Europe.
When the band did finally re-emerge on record, they did so with one of their strongest sets for years, 2008's The Newz. A fresh and vibrant record featuring exhilarating new tracks such as 'Warning', 'Road Trip' and the 'Nutbush City Limits'-esque 'Keep On Travellin', the album recalled the band at their vintage 70s best, but it also burned with contemporary energy. The record sold well in Europe and received a batch of critical plaudits – a cycle that has continued with Nazareth's two most recent LPs, 2011 Big Dogz and 2014's Rock'n'Roll Telephone.
Sadly, this latter set proved to Dan McCafferty's final LP with the band, as he was diagnosed with COPD during 2013: an affliction which made it increasingly hard for him to breathe on stage. Despite these difficulties, Dan nonetheless turned in some truly faultless vocal performances on Rock'n'Roll Telephone. Though he has since retired from live performance, he will always be revered as one of the most charismatic frontmen in rock.
He's recently been replaced in Nazareth by Carl Sentance, a highly respected frontman in his own right, who previously served his apprenticeship fronting the solo bands for Black Sabbath's Geezer Butler and Deep Purple's Don Airey's. Undaunted by stepping into such big shoes, Sentance has proved a live hit with the band's long-term fans. With a new album in the works for 2016, it seems that Nazareth's remarkable renaissance can only continue apace.
Tim Peacock