Sly & Robbie
The Jamaican rhythm duo of drummer Sly Dunbar and bassist Robbie Shakespeare are renowned for their solo catalog as well as their collaborations with other artists.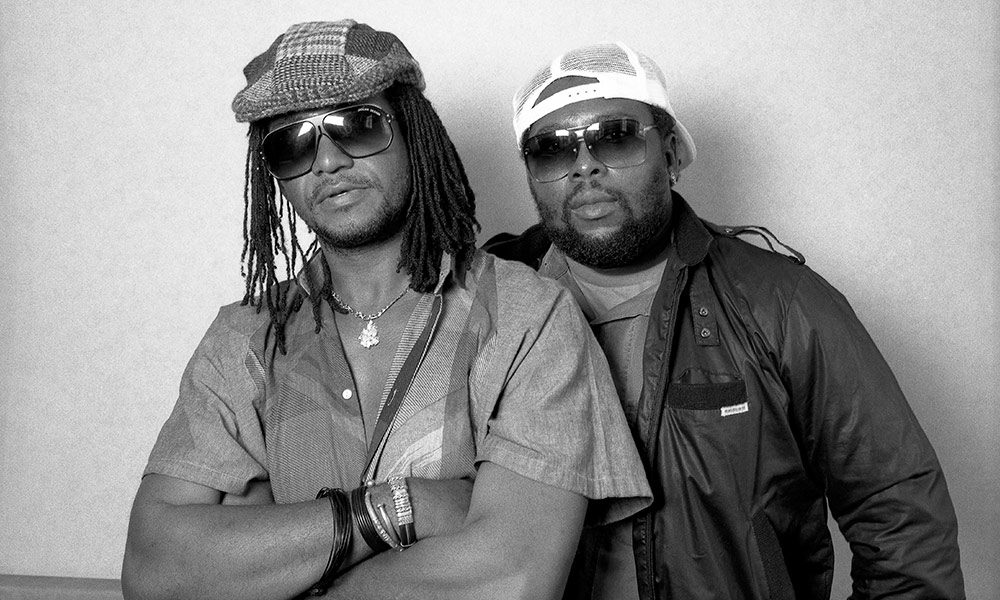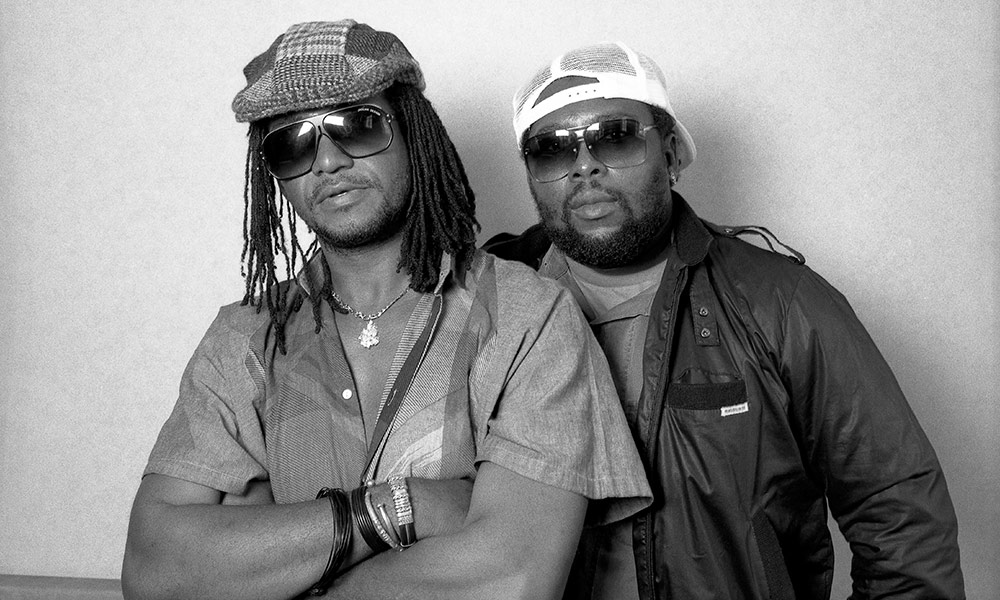 Drummer Sly Dunbar and bass playing Robbie Shakespeare began their careers as a rhythm section before becoming producers, label owners and, it's estimated, session musicians on several thousand records. Numerous artists, knowing they bring something special to music, have utilized their unique rhythmic talents outside of pure reggae.
It's the innovative fusing of their musical loves, which include Motown, Stax, country music, dance and Latin rhythms into the overall context of reggae that has helped to make their approach unique. They have helped Reggae to develop as a distinct musical genre through their innovative skills and as such their records and their work as producers make them essential listening. Their record Present The Taxi Gang – Hail Up The Taxi that features their work as producers and musicians for their own label is a good place to start.
Their discography as producers as well as musicians includes just about everyone that has ever made a Reggae record and their own label, Taxi Records has released many wonderful recordings by among many others Black Uhuru, Gregory Isaacs, who can be heard on Sly & Robbie Present Taxi, and Dennis Brown. Away from Reggae the duo have worked with many other artists including Bob Dylan, Joe Cocker, Ian Dury, and The Rolling Stones.
Dunbar and Shakespeare joined forces in 1975, but they were already established figures on the Jamaican scene. Lowell Charles Dunbar was nicknamed Sly for his adoration of Sly Stone, and in his teens had begun his career in the late '60s playing in studio bands. For a while, he was a member of the RHT Invincibles, a group led by Father Good'un that included such talents as Lloyd Parks, Bertram McLean, and Ansell Collins. The group cut several singles, but none were particularly successful. Dunbar would have better luck with his studio work and made his recorded debut with the Upsetters on the single "Night Doctor."
Producer Lee Perry was obviously impressed with the young drummer and consistently used him in the studio. Even so, Dunbar continued with his outside interests, joining Skin, Flesh & Bones, a group led by Al Brown that boasted the drummer's old compatriot Lloyd Parks. In 1974, the drummer and fellow band member Ranchie McLean launched a short-lived label, Taxi, which focused mainly on the group's and its members' own material. Meanwhile, Shakespeare was also making a name for himself. He too had launched his career as a session man in his teens and by the early '70s was a member of producer Bunny Lee's house band the Aggrovators.
Inevitably, the two youths had crossed paths during this period — both were born and bred in Kingston and were only a year apart in age (Dunbar is the elder). Over time, both had worked with virtually every artist on the island. It was producer JoJo Hookim who eventually brought them together when the two separately joined his studio band the Revolutionaries in 1975. Their partnership grew slowly and their first work together was on Jimmy Cliff's Follow My Mind that same year. In an unusual request, the duo was asked to produce an album called, Aux Armes et Cætera for legendary French singer Serge Gainsbourg in 1975; against the odds, it all went so well that the duo not only produced his next album but agreed to accompany him on his French tour.
1976 was even more dramatic. Sly & Robbie oversaw Culture's seminal Two Sevens Clash album, one of the greatest albums of the roots age. The pair's productions were slowly beginning to gain international acclaim, and joining superstar DJ U-Roy's backing band for his U.K. tour brought them further recognition. Before the year was out, the duo had also appeared on Peter Tosh's Natty Rebel album, inaugurating a four-year relationship that saw them accompany the former Wailer on tours around the States and Europe. Meanwhile, their session work back in Jamaica with Hookim continued apace, while Shakespeare also continued playing with the Aggrovators. However, their rising prominence is made clear by Leroy Smart's 1977 Super Star album, whose musician credits proudly boast Robbie Shakespeare & the Aggrovators and Sly Dunbar & the Revolutionaries. The Heartbeat label has released two compilations that feature the Revolutionaries' phenomenal work for Hookim's Channel One label. 1989's Hitbound! The Revolutionary Sound of Channel One features some of their most legendary work, with artists like Horace Andy, Junior Byles, the Mighty Diamonds, the Meditations, and Black Uhuru. The Mighty Two, ostensibly a compilation of Errol Thompson's and Joe Gibbs' greatest productions, also features the group at their best, backing the likes of Peter Tosh, Dennis Brown, Prince Far I, Culture, and many more. 1978 brought the legendary One Love Peace Festival, where the Revolutionaries accompanied Tosh's electrifying performance. The set was recorded for posterity and released in 2000 by the JAD label.
Having worked ceaselessly over the last couple of years, Sly & Robbie had carefully put aside every penny they could. Now they finally had enough to open their own label, Taxi, the name nicked from Dunbar's long-defunct first co-effort. A studio needs a house band, and the men built it logically enough around members of the Revolutionaries. The Taxi All-Stars (aka the Roots Radics) included guitarist Rad Bryan, percussionist Sticky Thompson, and keyboardists Ansel Collins and Winston Wright. The label was inaugurated with Black Uhuru's "Observe Life," the start of another crucial relationship. Taxi quickly garnered its first chart hit with Gregory Isaacs' classic "Soon Forward." From thereon, Taxi was an unstoppable force on the Jamaican scene. The Island compilation Present Taxi showcases a dozen of the label's early singles and includes Junior Delgado's masterpiece "Fort Augustus" and the hit "Merry Go Round" as well as the Wailing Souls' "Sweet Sugar Plum" and "Old Broom," alongside crucial cuts from Dennis Brown, Gregory Isaacs, the Tamlins, former Unique Jimmy Riley, DJ General Echo, and more.
Sly & Robbie weren't content to merely produce other artist's work, however, and the pair continued their outside session work. Before the decade was out, the Riddim Twins, as they were now being called, were providing the pulsing rhythms for albums from such legendary vocalists as Bunny Wailer, the Mighty Diamonds, Jacob Miller, and myriad DJ stars including General Echo, Ranking Dread, and Barrington Levy. And this still wasn't enough for Dunbar, who also released several solo singles and a pair of solo albums, Simple Sly Man and Sly, Wicked and Slick. However, their most crucial work was in conjunction with Black Uhuru, who, throughout this period, had recorded a stream of seminal singles for Taxi — "Shine Eye Girl" and "Plastic Smile" among them — which would be gathered up for the group's Showcase album. Across the group's powerful albums — Sinsemilla, Red, and Tear It Up — Dunbar's heavy beats and Shakespeare's sinuous bass, the heart and soul of the Revolutionaries' sound, lie at the core of Black Uhuru's music, while the duo's throbbing, deeply dread production perfectly twined round the group's own phenomenal vocal performance. This partnership reached an epiphany on 1982's Chill Out, the album that rocketed the Riddim Twins to international renown and took them on a tour opening for the Rolling Stones as part of Black Uhuru's backing band.
Meanwhile, as the new decade had dawned, Sly & Robbie inked a Taxi distribution deal with the Island label. Island head Chris Blackwell then hired the Jamaicans to work with avant-garde singer Grace Jones. The results — a sparse, funky, dubby, but robotic sound, led by Dunbar's fascination with the new Syndrums — set fire to dance clubs around the world and impacted across the new wave scene. The pair's fascination with dub was also growing, with their first excursions into the genre appearing on the flip sides of singles released in 1981. The following year's Crucial Reggae: Driven by Sly & Robbie compiled an album's worth of instrumentals and deadly dubs onto one convenient disc. This was followed in 1985 by the equally devastating A Dub Experience, another bundle of earth-shattering rhythms. Across the early part of the decade, Sly & Robbie worked with a dizzying array of artists, including the cream of the DJ crowd. Frankie Paul, Sugar Minott, Charlie Chaplin, and Half Pint all released seminal cuts overseen by the duo, while their work on Johnny Osbourne's 1983 Osbourne in Dub is of particular note.
In 1984, the U.K. CSA label brought together this set with Black Uhuru's Love Crisis dub companion, and Jammy's In Lion Dub Style, which was also remixed by the duo. Even the re-formed Skatalites came knocking at their door and the end result was The Skatalites with Sly and Robbie and the Taxi Gang. Sounds of Taxi, Vol. 1 arrived in 1984, a label sampler of Taxi singles, B-sides, and dubs; a second and third volume would follow over the next two years. The Heartbeat label would later release the Taxi Fare compilation, an excellent entry into the world of Sly & Robbie, while Sonic Sounds' Many Moods Of focuses the spotlight on the duo's dubs from this period. The pair's close connection to the dancehalls and their ever more experimental electronic sounds, coupled with Dunbar's virtual desertion of his drum kit for Syndrums, foreshadowed the rise of ragga, and in reality, Sly & Robbie's productions provided the blueprint for the eventual rise of ragga and the digital revolution. This was particularly evident on the pair's own instrumentals, credited to either Sly & Robbie or the Taxi Gang and often titled in reference to Taxi itself — "Unmetered Taxi," "Taxi Connection," "Maxi Taxi," and the witty "Rent a Car." Here the pair show off their genius, perfectly welding together rocksteady tempos to a totally contemporary sound. Dunbar's mechanized beats were so far afield from what others were creating as to be off the map entirely, while Shakespeare's sinuous bass adds a rich organic feel to the sound. Together the two created a style utterly unique, with rhythms taut and menacing enough to rampage through the dancehalls, but still so organic as to hold the roots crowd in its thrall.
The duo was quick to champion upcoming talent, notably Ini Kamoze, and was there to assist producer Bobby Digital's rise to stardom. Their generosity also helped launch George Phang to fame, for in return for a favour the Riddim Twins gifted the producer with a clutch of their own rhythms. With them, Phang would create such hits as Barrington Levy's "Money Move," Sugar Minott's "Rydim," Frankie Paul's "Winsome," and many more. Sly & Robbie threw their weight and rhythms behind many more producers during the latter part of the '80s. Gussie Clarke, Phil "Fatis" Burris, Clive Jarrett and Beswick "Bebo" Phillips, and Myrie Lewis and Erroll Marshall all owe much of their success to the duo's deadly rhythms, which helped their releases to flood the dancehalls and the charts. However, the pair continued to garner the attention of vocalists. Sly & Robbie were an integral element of Toots Hibbert's Toots in Memphis album and, with Bunny Wailer, co-produced Marcia Griffiths' "Fever" single. But their attention was not focused exclusively on Jamaicans, and over the years Sly & Robbie have consistently worked with artists far removed from the reggae scene. The duo has employed their talents with such unlikely artists as Joe Cocker, Joan Armatrading, Ian Dury, Bob Dylan, Robert Palmer, the Rolling Stones, and Herbie Hancock. The breadth of their productions and playing seemingly knows no boundaries. Arguably the best showcase for this diversity can be found on the Hip-O label's compilation Sly & Robbie in Good Company, part of the label's Ultimate Collection series. The album boasts 17 tracks that hit virtually all the pair's poles, from roots to dancehall, DJs to veteran vocalists, and on to their more unusual assignments over the years.
Meanwhile, even as the ragga scene gained steam, Dunbar continued to play live drums, but not for much longer. 1988's The Summit was the last album from the duo to do so. This was just one of a long line of albums of Sly & Robbie's own work that had spilt forth since the beginning of the decade. The duo's debut, Sixties, Seventies + Eighties = Taxi, appeared back in 1981. As its title slyly suggests, the album boasted a surprisingly eclectic batch of covers from the earlier two decades. Sly-Go-Ville and Kings of Reggae followed swiftly on its heels over the next two years. Both were excellent albums, but 1985's Language Barrier was a more acquired taste. Overseen by Bill Laswell, Sly & Robbie's integral rhythms clash unhappily with Laswell's creative productions, which offer little sympathy for beats.
Better were The Sting and Electro Reggae, which followed Language over 1986 and 1987. The following year Sly & Robbie joined forces once again with Laswell in another masochistic studio exercise, which resulted in the very aptly titled Rhythm Killers. Much more entertaining was Taxi Connection Live in London, which arrived that same year. 1988 brought the aforementioned The Summit, overseen by Fattis Burrell, a game plan for the electronic revolution that was about to shake the entire dancehall scene. The next year's Silent Assassin was equally prescient, a deadly dub-rap hybrid that featured a guest appearance from hip-hop heroine Queen Latifah.
The new decade opened with DJ Riot, a title that accurately summed up the album's intent. In 1992, Dunbar formed a new production team with Peter Turner and Maureen Sheridan and a second one with Bedrose & Malvo. With the former pair, he would oversee such artists as Junior Reid and Sabre, while the latter grouping would work with the likes of such up-and-coming DJ stars as Spragga Benz, Mad Cobra, and Snagga Puss. In a very different vein, Dunbar would also oversee a clutch of revivalist religious recordings. But even with all this outside activity, Dunbar and Shakespeare's relationship remained solid and extremely active. The pair has produced some of dancehall's leading lights, overseeing hit singles and albums by Shabba Ranks, Chaka Demus & Pliers, Beenie Man, and Luciano, among many, many more. 1996's Hail Up the Taxi conveniently bundles up the best of the pair's productions and session work from the first half of the decade. Their own recordings have remained equally strong. Perhaps as a brief respite from the dancehalls, in 1992 the pair released Remember Precious Times, a sublime album of covers of roots and reggae classics. Still, under the spell of Laswell, Sly & Robbie joined him yet again for Mysteries of Creation, but for those who have yet to acquire a taste for the producer, the mystery remains why the pair continue recording with him.
A flood of albums appeared during the rest of the decade: The Punishers, Mambo Taxi, Babylon I Rebel, Reggae Dancehall, Friends, and Present Taxi Christmas were all released between 1996 and 1998, as Sly & Robbie took on movie and TV themes, dub, and dancehall, brought their mates into the studio and celebrated Christmas to boot. In 1999, they entered a strip club videocam in hand for Strip to the Bone, which married striptease to devastating dub. Dub was also the point of entry for Massive and Dub Fire. From there it was into jazz when the pair collaborated with Monty Alexander for the Monty Meets Sly & Robbie album. The Riddim Twins have also continued to record on a regular basis, both as the crucial bottom end for others' work as well as their own music. Another slew of Sly & Robbie releases followed in the early 2000s, culminating with 2006's Rhythm Doubles, which was nominated for a Best Reggae Album Grammy. The rest of the decade was collaboration-heavy, seeing the duo working with reggae tenets like Horace Andy as well as fits as odd as Britney Spears or Paul McCartney. In the early part of 2012, Sly & Robbie returned with Blackwood Dub, their first traditional dub album in years. Recorded in 2011 and produced in collaboration with Alberto Blackwood and Gilroy Stewart the album was marketed with the slogan "Strictly dub – no vocals".
Format:
UK English