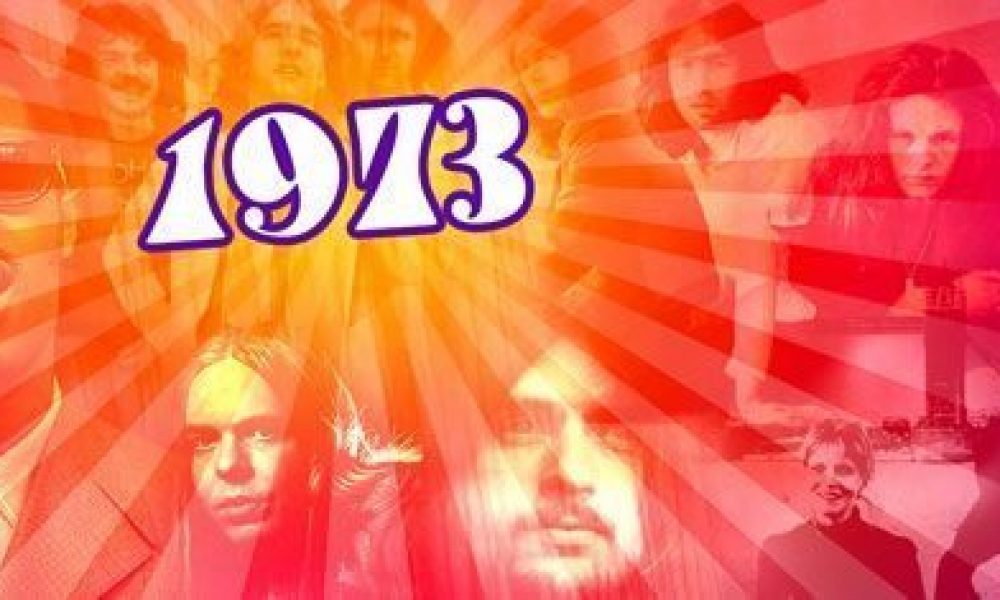 There are some that when asked if 1973 was a vintage year in music, will say, certainly not. Forty years on they have been lulled into this false conclusion by studying the UK singles charts that had more than its fair share of novelty records of the Lieutenant Pigeon variety, and in America, it was not much better. It was, in reality, a year that saw more than its fair share of wonderful albums from some of the most successful artists of the last forty years. There were an astounding number of truly great and significant releases that ensures that 1973 really is a year worth remembering.
During the twelve months, a number of established artists produced albums that rank among their very best. It was also a year that saw new artists breaking through along with others that were intent on breaking from their past to explore new directions. The Beatles, three years after their break-up, continued to capture everyone's imagination with the brilliantly conceived Red and Blue double compilation albums that came out in March. There were other well established artists that included The Stones who came up with Goat's Head Soup and Elton John who released two classics in Don't Shoot Me I'm Only The Piano Player and Goodbye Yellow Brick Road. There were newer artists too; Roxy Music emerged as a major album act with For Your Pleasure, Peter Frampton fresh from Humble Pie released his second solo album, while Bob Marley's Catch A Fire was his first album for Island Records.
Another artist to go solo was Rick Wakeman; fresh from Yes, who released one of the most ambitious rock albums of the decade. In the ambition stakes, there was no one more aspiring than Mike Oldfield who recorded Tubular Bells, largely on his own and in the process helping to redefine multi-instrumentalist. As some people were embarking on new careers Free's was coming to an end but it ended on a high with Heartbreaker. The Early 1970s has been called the era of the singer-songwriter and one of the reasons it has is because of the enormous success on both sides of the Atlantic of Cat Stevens. His Foreigner album became his third top-three album in succession in Britain. In America Stevie Wonder's Innervisions established his reputation as a singer-songwriter and in so doing helped take black music in a new direction. 'Whisky in the Jar' by Thin Lizzy became their first hit single and it was also the year in which their third album Vagabonds of the Western World had its release. To conclude this year of exceptional releases Paul McCartney and Wings put out Band On The Run, one of the truly great pop albums of the 20th century.
Today it is inconceivable that an artist will release two albums in a year but then, such was the creativity that among those that did was John Martyn with what are now widely regarded as classics – Solid Air and Inside Out. Another was Elton John whose, Don't Shoot Me I'm Only The Piano Player came out in January and contained the hit singles 'Daniel' and 'Crocodile Rock' and became his first chart-topping album in the UK, his second in America after Honky Chateau. Then in October came not just another album, but a double album – Goodbye Yellow Brick Road, his second UK No.1 and third in the America, where its stayed at No.1 for two months and spent two years on the Billboard album chart. It's not surprising as it featured the singles that included the title track, 'Bennie & The Jets' that was a US No.1, 'Candle In The Wind', and 'Saturday Night's Alright For Fighting' and the opening opus, 'Funeral For a Friend/Love Lies Bleeding' – for many the pinnacle in Elton's early career and yet there are many contenders. On the back of his success, he started his own label – Rocket Records.
January is not generally considered to be the ideal time to release an album but besides Elton John, Rick Wakeman put out The Six Wives of Henry VIII, his A&M Records debut as a solo artist after leaving Yes. Wakeman's star shone brightly and the fact that an instrumental album, with classical overtones, could do so well clearly shows the power of Prog. He came up with the idea while touring with Yes in America the previous year having read a book about the king who introduced us to 'divine right'. The album features interpretations of the musical characteristics of the Tudor king's six wives on which Rick plays a variety of keyboard instruments including piano, Mini Moog synthesizer, Mellotron, harpsichord and organ. It also features musicians from both Yes and Strawbs – Rick had been a member of the latter band before joining the former.
The third new-year release was Free's Heartbreaker that also marked the end of the road for the band. This was the band's sixth studio album and by way of a proverbial swansong it includes one of their best and most successful singles – 'Wishing Well'. Heartbreaker was recorded in late 1972 after bassist Andy Fraser had left the band and while guitarist Paul Kossoff was not in the best of shape. Tetsu Yamauchi was brought in to replace Fraser, while John "Rabbit" Bundrick became the band's keyboard player to compensate for Kossoff, whose battles with both drink and drugs were having their effect. Both Yamauchi and Bundrick had played with Kossoff and drummer Simon Kirke on the album Kossoff, Kirke, Tetsu & Rabbit during 1971 when the band had temporarily broken up.
April saw the release of Bob Marley and The Wailers' Catch A Fire album, his debut for Island Records and it's a great place to start exploring Marley's catalogue of great recordings. Although Bob Marley was the main voice, every member of the Wailers made valuable contributions and they were never more united in their vision and sound. The album includes the wonderful 'Stir It Up'.
In May one of the most amazing albums of the 1970s, as well as the most enduring debut of the year, had its release – the extraordinary 'Tubular Bells', a 50-minute instrumental opus from Mike Oldfield on the newly-launched Virgin Records label that became so successful it virtually laid the foundation for Richard Branson's business empire. Oldfield had been one half of a folk-duo, Sallyangie, with his sister, then sat in with Kevin Ayers' Whole World as bassist before embarking on the solo project that changed his life and made The Exorcist an even creepier film than it might have been. May's other significant release was Peter Frampton's Frampton's Camel, which at the time had people a little confused with the wonderful prog band, Camel, but there was no connection. This was his second studio album and includes two of the tracks that featured on the multi-platinum selling, Frampton Comes Alive – 'Lines On My Face' and the monumental 'Do You Feel Like We Do'.
In high summer along came Cat Steven's seventh studio album, the beautifully crafted Foreigner. Recorded in March in both Kingston Jamaica and New York, Cat had decided to write and produce this album himself as he felt he was in a kind of creative rut. The whole of side one of the album is the 18-minute long 'Foreigner Suite' that is a tour de force and quite different from anything he had done before. One of the artists that had inspired Cat was Stevie Wonder who a month later released his own tour de force, the superbly eclectic, Innervisions. Having released Music of My Mind and Talking Book during the previous year it was as though all of Stevie's creativity had been fermenting towards this moment. Amazingly this was already Stevie's sixteenth studio album and the nine tracks of Innervisions have a range of themes and issues: from drug abuse in 'Too High,' to social issues in 'Living for the City', to the beautiful love song 'All in Love is Fair'. It all helps to make this a perfect album from one of the 20th century's genuine musical geniuses – to prove the point Stevie played almost all of the instruments on most of the album.
In 1972 Stevie Wonder had toured America as the opening act for the Rolling Stones and their album Goats Head Soup also came out in August. It also became their third No.1 album in a row, on both sides of the Atlantic, staying at the top in America for a month where it spent nine months on the chart. The album included 'Angie', another classic Stones ballad that was inspired by David Bowie's wife, which after its release as a single became their seventh No.1 record in America; strangely it only made No.5 in Britain. The early work on the album was done at Dynamic Sound in Jamaica, where co-incidentally Cat Steven recorded Foreigner, with later sessions at Village Recorders in Los Angeles, Olympic and Island Studios in London.
Vagabonds of the Western World by Thin Lizzy came along in September after their first hit single, 'Whisky in the Jar' made No.6 in Britain at the start of the year. Vagabonds is their third studio album and the last with original guitarist Eric Bell. Later CD reissues included their debut-hit single and it also includes what's been called their first bone fide classic, 'The Rocker'. September also saw the release of Status Quo's sixth studio album, Hello! that became the first of four Quo albums to top the UK Albums Chart, as well as their first album on which the band wrote all the tracks. Bob Young, who co-wrote the classic 'Caroline' with Francis Rossi, as well as several other tracks, was the group's roadie and harmonica player.
To round out the year along came one of the truly great albums of the 20th century, Paul McCartney and Wings, Band on the Run. This was Wings' third album that also became 1974's top-selling studio album in the United Kingdom. Paul was fed up with recording in Britain so he decided to decamp to Lagos in Nigeria with guitarist and pianist Denny Laine and wife Linda, along with former Beatles engineer Geoff Emerick; lead guitarist Henry McCullough and drummer Denny Seiwell decided to quit the band on the eve of the band departing for West Africa. The studio they used, located in Apapa a Lagos suburb, was underequipped with a faulty control desk and just one tape machine, so it was a miracle that they even made the album. Having completed the recording they flew back to England on 23 September 1973 to complete final overdubs and the orchestral tracks that Tony Visconti had arranged at George Martin's AIR Studios. In 1974 'Jet' was the lead single from the album and it went top 10 in America before the title track topped the Billboard charts – how could it only make No.3 in Britain? Chaotic it may have been but it proved to be a fitting climax for a year of amazing records. Let's not forget that Wings, like Elton John managed to release two albums in this year. The other was Red Rose Speedway in March that included the US No.1 'My Love', one of Paul's best ballads.
1973 finally shut the door on the idealistic climate of the sixties – the era, not the decade. On a hopeful note, a ceasefire was signed to end the war in Vietnam and the bombing of Cambodia was halted, but then the Watergate scandal unfolded amidst a blizzard of recriminations and US politics was once again dragged through the mud. Britain joined the EEC (later to become the European Union) and the oil crisis affected the supply of vinyl needed to press all of these wonderful records.
The Grim Reaper claimed a number of notable characters from the world of music – country-rock icon Gram Parsons, Jim Croce, Verve recording star and drummer extraordinaire, Gene Krupa as well as singer Bobby Darin. But into the world, and eventually into our hearts, came Rufus Wainwright, Damien Rice, Caroline Corr, a certain American President's friend, Monica Lewinsky and Peter Andre.
Format:
UK English