Hip Hop Heroes: The Golden Age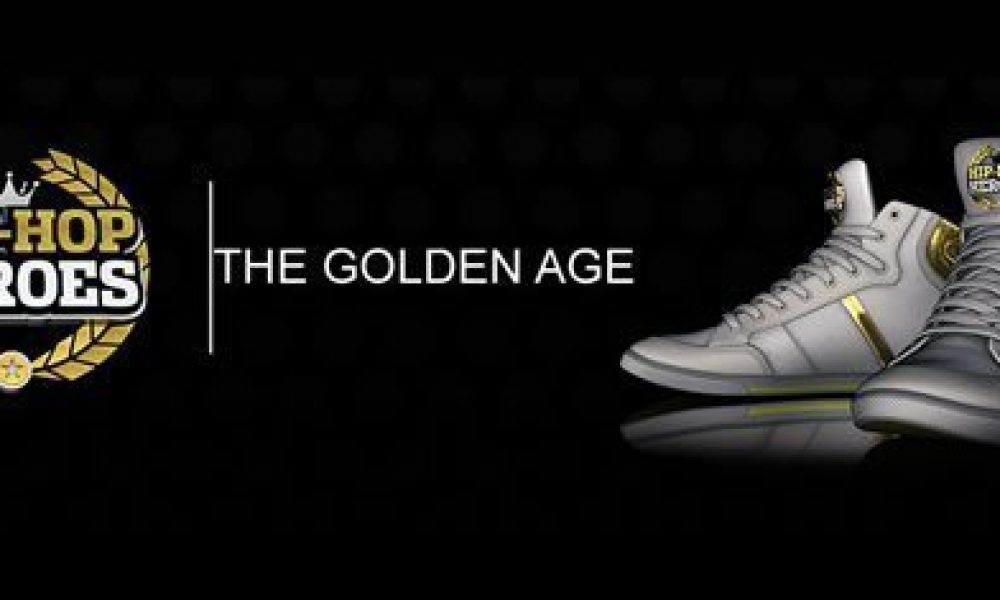 From the moment Run DMC released rap's first million selling album (King Of Rock) in 1985, Hip Hop had us hooked. With the likes of DMX, Dr. Dre, Eminem, Nelly, and 2Pac all selling albums in their tens of millions, Hip Hop became a game changer, one of the most popular styles in modern music and revolutionized youth culture.
From conception, it may have taken Hip Hop a little while to get there, but when it did it was a transformation of epic proportions. While the likes of Kool Herc, Grandmaster Flash and Afrika Bambaataa are some of the key figures and originators of Hip Hop culture, it spread around the world during what is now known as the Golden Age.
It's generally accepted that the Golden Age occurred from the mid '80s and mid '90s; it was then that all the elements of the culture – breaking, graffiti art and DJing – broke cover to enter the mainstream. LL Cool J, N.W.A., Eric B. & Rakim, Nas, Public Enemy and the Beastie Boys allowed rap music to become the culture's crowning glory.
It wasn't just the music though. Complete with gold chains and pumps, Hip Hop fashion met the mainstream. Following this, sneaker culture then became a thing. Street slang, later known as ebonics, crossed over to the point that certain words – bling being one of them – were added to the Oxford English Dictionary. Hip Hop culture is now a part of everyday life. And to think, it all started when a party was thrown by Kool Herc in a tiny apartment on Sedgwick Avenue in the Bronx.
Aligning a way of life with a new way of communicating thoughts, expressing hardships and telling stories, Hip Hop was a phenomenon that had been bubbling under the surface for quite some time just waiting for its chance to shine.
So after its initial introduction – which included the Sugarhill Gang in 1980 peaking at No.36 on Billboard's Top 40 with a little rap record by the name of 'Rapper's Delight' – a hungry breed of MCs were soon to swoop in like superheroes and lead the charge in getting this newfound art form out into the open.
"No rapper can rap quite like I can / I'll take a musclebound man and put his face in the sand." – LL Cool J 'I'm Bad'
Beginning as a braggadocios teen with mountains of confidence, LL Cool J (Ladies Love Cool James) is often regarded as rap's first superstar. Releasing his first single, 'I Need A Beat', in 1984 at the age of 16 through Def Jam Records – regarded as one of the most important record labels in Hip Hop history – his persistence and skill set have led him to having a very successful career; not only behind the mic but also on the big screen.
Bridging the gap early on between lyricist and sex symbol, from his signature Kangol and chiseled physique to his 5 'Mic' classic debut album Radio – as rated by "Hip Hop Bible" The Source – and career-ending battles, LL is exempt from the generalisation that rap is famed for its short careers. Mama Said Knock You Out and Mr. Smith stand as two of the rapper's finest releases.
Speaking of Def Jam, or the house that Rick [Rubin] and Russell [Simmons] built, Simmons made it clear from the off what his and Rubin's intentions were with regards to the label and the culture. "Disco was black music made simple," he quoted in the book The Men Behind Def Jam: The Radical Rise of Russell Simmons and Rick Rubin. "It was watered down. It was made by the industry for the people and not made by the people for the people. Our response to disco was Hip Hop."
Offering up a different style all together, another act on the Def Jam roster taking early responsibility for promoting Hip Hop were the Beastie Boys. Consisting of Mike D, Ad-Rock and MCA, the New York trio began with a transition of their own. Originally a four-piece punk outfit, and way before Run DMC's famous collaboration with Aerosmith, they were about to introduce rap to rock for the very first time.
As the first successful white rap act in a culture dominated by those of African/American decent, questions about their authenticity were bound to be raised. Often accused of cultural pirating, after thinking about it, the do-it-yourself principles of Hip Hop and punk weren't really all that far apart. And once the frat boy tomfoolery and obnoxious rantings were gradually lessened, the boys and their fusion of rock and rap were taken a little more seriously.
Charting with Hip Hop's first ever number one album, 1986's Licensed To Ill, the diversity, innovation, quality and influence that the golden age fed upon was never more evident than on this album. It didn't stop there either. Besides the albums Check Your Head, Ill Communication, and Paul's Boutique, Beastie Boys shows soon became the talk of the town. Besides putting on an incredibly entertaining [and sometimes controversial] show that not only featured such eye-popping spectacles as scantily clad women gyrating in cages and inflatable penises, they were known to cause a riot or two – the Liverpool, Royal Court Theatre leg of their 1987 Licensed To Ill tour erupted into a riot just ten minutes after the trio hit the stage, which eventually resulted in Ad-Rock being arrested on assault charges.
"Cause to me, MC means move the crowd" – Rakim on 'Eric B. Is President'
During one of the most exciting times in Hip Hop, sub-genres were making themselves more and more apparent as time went on. Entering the era of gold chains and knuckle duster ring sets, superior rhyme skills and the potent tales of street life in Hip Hop fell upon the God MC, Rakim. Delivering reality rap whilst spitting unprecedented amounts of raw material, Rakim was a living example of street life in human form.
As part of top-ranking MC/DJ collective Eric B. & Rakim, Rakim was, and still is, considered one of the most technically gifted lyricists to have ever breathed on a mic. Aggressive when attacking every single syllable, the man who many – including Nas and Eminem – consider to be a huge influence is the true definition of the word lyricist.
With enormous rope chains hanging around their necks like winners medals, the combination of James Brown samples and lyrical excellence – which saw Rakim's wordplay and delivery leap forward a few decades as far as complexity and skill is concerned – not only aided Hip Hop in finding itself but gave albums such as Paid In Full, Follow The Leader and Let The Rhythm Hit 'Em a license to be a blueprint for future rappers to use as research material.
Moving on to another sub-genre, has there ever been such a thing as revolutionary rap? If so, Chuck D and Public Enemy were definitely at the forefront of such a movement. Taking aggression and turning it into a politically charged message with hope and new opportunities, PE were leaders of the people. Rapping, "Elvis was a hero to most but he never meant shit to me/ Straight up racist that sucker was, simple and plain," on their 1989 song 'Fight The Power', Chuck and PE went head to head with the system and gave those tired of the spoon-fed government policies and beliefs a new format to follow.
Starting as a DJ at student radio station WBAU – which is where he met Bomb Squad co-founder Hank Shocklee – Chuck D was initially uninterested in signing a record deal. This soon changed once he developed the concept to form a revolutionary Hip Hop collective driven by sonically extreme backdrops and politically revolutionary messages.
Public Enemy were social activists using rap as a way to educate the masses. With an alternate take on Hip Hop, they inspired a generation to celebrate Afrocentric themes while addressing social issues – this helped KRS One's Stop The Violence movement come to life. Essentially, Public Enemy rewrote the rulebook. Replacing gold chains with Africa medallions, breaking boundaries on tracks like 'Don't Believe The Hype' and 'Welcome To The Terrordome', PE challenged the way in which artists made music and the way fans listened to it.
Inspired by Run DMC's street-influenced beats and Boogie Down Productions' proto-gangsta rapping, as well as their individual policies and opinions, Public Enemy moved Hip Hop forward. Delivering social sermons over the sensational Bomb Squad backdrops, two culturally important albums, It Takes A Nation Of Millions To Hold Us Back and Fear Of A Black Planet, made it impossible not to endorse Chuck D, Flava Flav and the rest of Public Enemy as important figureheads in the growing culture of Hip Hop.
Switching coasts from east to west – the geographical location might have been different but the social frustrations remained the same. However, in L.A. (Compton to be exact) they preferred to do things a little differently.
"F**k the police, coming straight from the underground" – Ice Cube on 'F**k The Police'
With pop-rap dominating the airwaves as the '80s drew to a close, it took a controversial fivesome collectively known as N.W.A. (Niggaz With Attitudes) to usher in yet another extension of the Hip Hop culture. Simply labelled gangsta rap, an outlet was created to voice the opinions of those witnessing tension during life's many everyday struggles. Regarded as the world's most dangerous crew, and with lyrics that disrespected women and glorified guns, drugs and crime, it really came as no surprise that Dr. Dre, Ice Cube, Eazy-E, MC Ren and DJ Yella were banned from many mainstream radio stations at the time.
More Malcolm X than Martin Luther King Jr., the group weren't afraid to get lyrically physical when it came to addressing police brutality and racial profiling on their classic LP Straight Outta Compton. Unapologetically voicing their distaste for both law enforcement and government officials, N.W.A. became the underground heroes for those without a platform to express their anger and frustrations.
With the apple not falling too far from the tree, Ice Cube, who left N.W.A. citing financial disputes, then released his debut album AmeriKKKa's Most Wanted. With funky bass-driven beats that were both sophisticated and incredibly busy, courtesy of the legendary Bomb Squad, the first person portrayals of gang life that were integrated with social issues – with a middle finger for added effect – were a marvel.
His next two releases, Death Certificate and The Predator, both followed suit with just as much energy and message-driven dominance. Courting controversy at every opportunity, if it wasn't his back and forth war of words with his former crew, it was the hate he received [from many moral watchdogs] for his often violent, homophobic and misogynist lyrical content. Regardless, Ice Cube went on to be one of the most respected emcees in Hip Hop, thanks in part to his articulate approach to gangsta life.
Flying back east, Hip Hop as a whole had begun to develop its own character/stereotype. With Erick Sermon and Parrish Smith (of EPMD) decked out in gold, rocking sweatsuits whilst sitting on the hoods of expensive cars – see the cover of their album Unfinished Business – their material stepped away from the social issues of the world and instead offered up a manhood swinging type of rap music, of which Sermon was once quoted as saying, "[Rap] has always been about bullshit; my shit is better than yours, your shit sucks."
Adding a dash of euphoric hardcore into the mix, Gang Starr's Guru (Gifted Unlimited Rhymes Universal) and DJ Premier – another DJ/MC duo admired as one of the culture's best (see Step In The Arena andDaily Operation for proof) – were more focused on straight-up rhyming over a beat than anything else. Guru's distinctive rhyme schemes boasted copious amounts of worldly knowledge while his partner on the decks laced his words with jazz enthused Hip Hop instrumentation with a signature scratch still easily identifiable as his own to this day.
It was at this point that the marriage between rap music and fashion seemed solidified. With clothing labels and jewelry stores jumping at the opportunity to partner with a rapper or a DJ, the likes of Pete Rock & CL Smooth, Big Daddy Kane, and Slick Rick were as easily recognisable as say a Frank Sinatra or a Mick Jagger. Hip Hop's mainstream potential was beginning to captivate middle America.
Revisiting N.W.A., production extraordinaire Dr. Dre went on to become quite possibly the most sought after producer of all time. Not only that, he might just be the most successful artist mentor in Hip Hop, period. With a list that speaks for itself – giving fans Snoop Dogg, Eminem, 50 Cent, and Kendrick Lamar – there's no questioning his ear for talent. His importance as far as helping to move the culture on is second to none. While there are indeed other moguls who put their two pence to good use – Diddy, Master P, and Baby – none are as respected as the good doctor.
The early '90s saw him release the gangsta rap classic The Chronic via Death Row Records. Introducing a circle of new artists – soon-to-be-superstar Snoop [Doggy] Dogg, Tha Dogg Pound (Daz and Kurupt), Nate Dogg and The D.O.C. – his merging of G-funk and gangsta rap, which resulted in deep mid-tempo bass licks and obvious George Clinton influences mashed together with an array of hardcore "hood" stories, started yet another chapter for rap. His 2000 performance alongside protégé Eminem at London's Brixton Academy, which was his first-ever in the UK, had everything to satisfy a gangsta rap fanatic's dreams. And with less than a handful of albums to his name he proved that quality always outweighs quantity.
Still as influential today as he was back then, his Beats By Dr. Dre headphones have dramatically changed the sonic landscape for music on the go whilst at the same time becoming one of today's biggest, must-have fashion accessories. With that said, who'd have thought that a young entertainer, starting out as a DJ for the World Class Wreckin' Cru, would today be the world's most respected voice on everything music and everything Hip Hop? A techno-wizard, his business mind has not only aided him in having the most identifiable headphone brand on the market, but it's also helped him acquire, according to many, the saviour of Hip Hop (Kendrick Lamar) to his label.
Entering on Dre's coattails – yet hopping off of them to fend for himself very quickly – Snoop Dogg continued to fly the flag for gangsta rap and set the Hip Hop world on fire with his debut album Doggystyle. Quite possibly one of the most anticipated albums in Hip Hop history, the Dre produced west coast classic – which featured hits such as 'Gin And Juice' and 'Who Am I (What's My Name)?' – made Death Row Records an untouchable powerhouse that then kickstarted the careers of many Death Row "inmates". Blurring the line between reality and fiction on his first two releases – his sophomore release was 1996's Tha Doggfather – his style unified two divergent styles, funk and rap, into a singular sound that resulted in a beautiful pairing not excessively experimented with previously.
Taking a step closer to the mid-'90s, Hip Hop had become a dominating force as far as music and culture were concerned. New Jack Swing, with its funky backdrops and sexually explicit vocals, had moved in. Acts such as Bobby Brown, Mary J. Blige and Teddy Riley groups Guy and Blackstreet were leading the love movement. And, while not only pushing things forward musically, Heavy D, who during the '90s had a consistent run of platinum plus selling albums – Big Tyme, Peaceful Journey and Blue Funk – challenged society's viewpoints and opinions by making big sexy.
While all the aforementioned artists and sub-genres were adding further strings to Hip Hop's burgeoning bow, the culture was still yet to witness its first true icon. It had heroes, but no icon. This was all about to change when a New York native became a west coast don.
"I hear the doctor standing over me, screaming I can make it/ Got a body full of bullet holes laying here naked/ Still I can't breathe, something's evil in my IV" – 2Pac on 'Only God Can Judge Me'
Changing the game by being an accepted walking contradiction, one minute Tupac Amaru Shakur (2Pac) was spitting caring rhymes about loving one's mother ('Dear Mama') and embracing the strength of the female sex ('Keep Ya Head Up'), and the next he was assassinating another rapper's character ('Hit 'Em Up') and lyrically beating on a government official ('Last Wordz'). And while, to some, he was a poetic prophet with a likable character, there were times when his antagonistic troublemaking side got the better of him – his famous beef with The Notorious B.I.G. being one of them.
Regardless, as the son of a Black Panther, his flaws were in actuality his brilliance. It made him a smarter individual. Predicting his own murder right up until the moment it happened, he was a strong individual who helped other rappers see that they could vary their approach to creativity by including a more vulnerable side without jeopardising their credibility. With over 75 million record sales worldwide – Me Against The World, All Eyez On Me and The Don Killuminati: The 7 Day Theory a flawless trio -'Pac proved to be an MC prophet well ahead of his time.
Caught in the crossfire of the 'Pac and B.I.G. face-off, two rising New York MCs decorated in co-signs were next up to bat. Walking the culture into the new millennium, Jay Z and Nas took lyricism to new heights.
Set to the backdrop of the New York skyline, each artist took a bite out of the American dream and projected real-life situations on to the world's big screen. While Mobb Deep and Onyx were getting gritty, Nas and Jay unlocked the balance that saw dark intricacies and street anthems earn commercial acceptance, which would eventually further not only their own but rap's popularity also.
Rocking combat boots and fatigues, Nas appeared to be the second coming of Rakim with Langston Hughes descriptive capabilities. Jay Z, on the other hand, was the shy protégé of The Notorious B.I.G. with ties to both Big Daddy Kane and Big L, and whose tales of hustler life were soon to be the object of all listeners' fictional desires. Each emcee had an intellect like no one else out at the time. Quick. Witty. Educational. Powerful. These are just some of the words that could be used to describe both Nas and Jay.
Proclaimed the poet laureate from Queens, Nas blew up overnight thanks to the release of his debut album Illmatic. Jay Z's first offering however, Reasonable Doubt, was a slow burner that eventually spawned the underground hits 'Can't Knock The Hustle' and 'Dead Presidents II'. Now both regarded as "top five emcees", Nas is often referred to as the all-around authentic emcee while Jay Z is the poster child for the hustle. From selling drugs to shaking hands with the President, there's no faulting his game.
Both as equally responsible for pushing Hip Hop to new heights, their own personal fall out, which spawned the hits 'Takeover' and 'Ether', actually reintroduced the battle element – made famous during the golden age – to the main stage. Conversations about the "beef" were happening everywhere, and in turn, record sales and radio interest peaked. Happily conversing today, Jay Z is currently on his 13th number one album, while Nas is still releasing thought-provoking material to much critical acclaim – and he said [in 2006] that Hip Hop was dead.
Making way for the "jiggy" era, musically the golden age was so expansive that listeners were spoilt for choice. Fashions were aplenty, trends were remixed daily, and the music spoke for itself. From doorknocker earrings to shell-toe Adidas. From revolutionary standpoints to street life. From pop-rap to gangsta rap. As a movement, nothing this side of the early '90s has ever come close to rivalling it. With the likes of Joey Bada$$, Mac Miller and Kendrick Lamar today paying homage to the golden age by incorporating the same sounds and introducing the same rules to their music, the era that started it all has returned, and, quoting Keith Murray, it's "the most beautifullest thing in this world."
Find out about the artists that carried Hip Hip through into the 2000s by checking out our Hip Hop Heroes: Rap's New Millenium feature…
Format:
UK English