Singled Out: The God-Like Freddie Mercury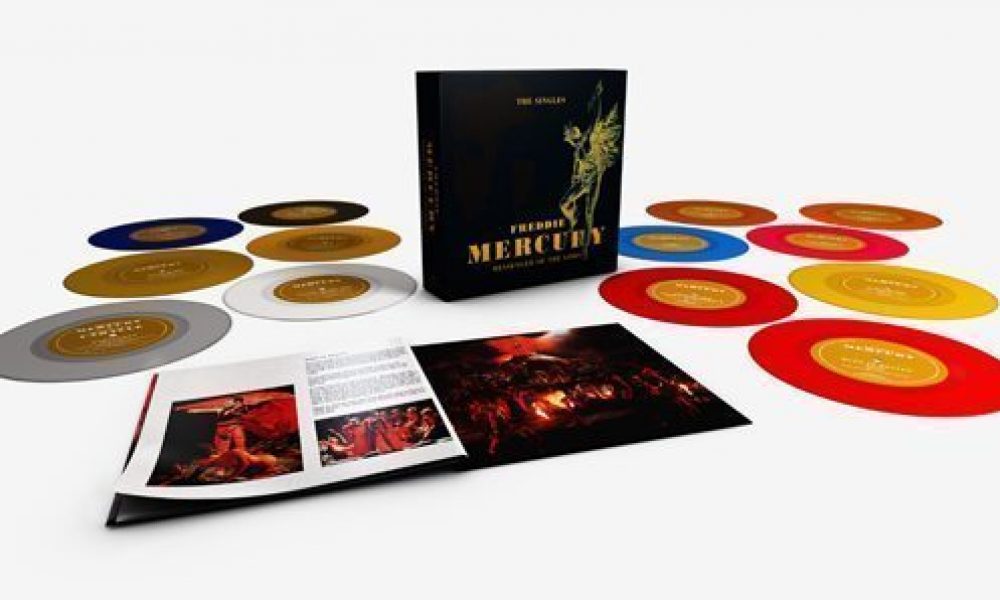 Freddie Mercury made his name as the frontman of rock gods Queen, but before they embarked on their journey to the top of rock's Mount Olympus, he released an obscure (and now much-sought) solo single, 'I Can Hear Music'/'Going' Back', under the pseudonym of Larry Lurex. A cover of the classic 60s pop tune penned by Ellie Greenwich and Jeff Barry (and produced by Phil Spector), it was the first inkling that Mercury had a far wider-ranging persona than his rock god status suggested.
Now, for the first time ever, his solo singles are collected in a 7" box set, Messenger Of The Gods: The Singles, a 13-disc coloured-vinyl collection which (along with a 2CD edition) reveals the full extent of Mercury's wide-ranging musical talents.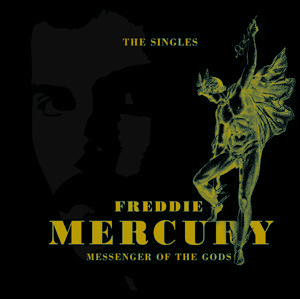 As Queen followed a more disco-inflected sound in the early 80s, Mercury fully embraced the dancefloor, issuing a string of solo singles – this time under his own name – that took him into the upper echelons of the charts. Recorded for Giorgio Moroder's 1984 update of the classic 1927 silent movie Metropolis, 'Love Kills', a collaboration with the pioneering dance producer, entered the UK Top 10. Following in the same vein, Mercury's first solo album, Mr Bad Guy, would tap into New York's mid-80s club scene and spawned four singles, helping to make the album a No.6 hit in the UK.
Yet Mercury remained a restlessly creative spirit who refused to stay put. Just a few years later, he trained his sights on classical and opera music – no less roof-raisingly euphoric, and perhaps a fitting new direction for such a theatrical showman. With Spanish soprano Monserrat Caballé, he recorded 'Barcelona', the epic title track from what would become the pair's crossover 1988 release. Such was its impact, four years later it became the official song for the 1992 Olympics, held in Spain's capital, though Mercury would pass away before fulfilling his chance of performing the duet with Caballé at the opening ceremony.
Posthumous singles 'In My Defence' and 'Living On My Own' once again took Mercury into the Top 10 of the UK charts – further evidence of his everlasting appeal, and a sad reminder that the world never got to learn where Mercury's muse would lead him next.
The great pretender? One of the world's greatest artistic talents, more like.
Read the full Messenger Of The Gods: The Singles tracklisting below and can be ordered the box set here:
Disc 1 (blue)
'I Can Hear Music'/'Goin' Back' (as Larry Lurex, 1973)
Disc 2 (orange)
'Love Kills' (1984)
Disc 3 (yellow)
'I Was Born To Love You'/'Stop All The Fighting' (1985)
Disc 4 (red)
'Made In Heaven'/'She Blows Hot And Cold' (1985)
Disc 5 (white)
'Living On My Own'/'My Love Is Dangerous' (1985)
Disc 6 (red)
'Love Me Like There's No Tomorrow'/'Let's Turn It On' (1985)
Disc 7 (cyan)
'Time'/'Time (Instrumental)' (1986)
Disc 8 (orange)
'The Great Pretender'/'Exercises In Free Love (Freddie's Vocal)' (1987)
Disc 9 (clear)
'Barcelona'/'Exercises In Free Love (Montserrat's Vocal)' (with Monserrat Caballé, 1987)
Disc 10 (gold)
'The Golden Boy'/'The Fallen Priest' (with Monserrat Caballé, 1988)
Disc 11 (green)
'How Can I Go On'/'Overture Piccante' (with Monserrat Caballé, 1989)
Disc 12 (neon pink)
'In My Defence (Ron Nevison Remix)'/'Love Kills (Wolf Euro Mix)' (1992)
Disc 13 (yellow)
'Living On My Own (No More Brothers Radio Mix)'/'Living On My Own (Julian Raymond Album Mix)' (1993)
Format:
UK English