George Benson Selects Vintage Montreux Show For DVD And CD Release
The DVD in the set was released in 2005, but the double CD configuration is previously unavailable.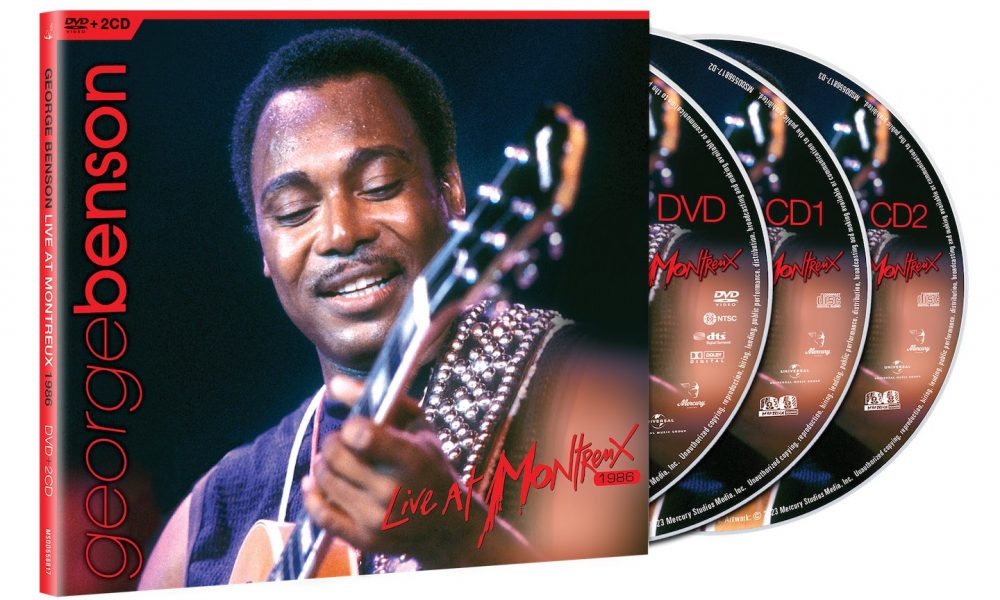 A vintage performance at the Montreux Jazz Festival by George Benson will be available via Mercury Studios from July 14. George Benson Live At Montreux 1986 is a DVD+2CD set, of which the DVD was released in 2005, but the double CD configuration is previously unavailable.
The virtuoso jazz guitarist, vocalist, and songwriter, has been a frequent guest of the celebrated festival over many years, and has personally chosen this performance as his first from Montreux to be released as a live set. It shows Benson at the height of his mid-1980s powers, in his element on tracks that capture his enormous appeal on hits to that point in his career such as "On Broadway," "Lady Love Me (One More Time)," "In Your Eyes," "Love X Love," and "20/20."
Other hits from Benson's long run of bestselling pop and soul singles in the set include "Never Give Up On A Good Thing," "Turn Your Love Around," and his huge ballad success "The Greatest Love Of All." The set also embraces some of his favorite covers to play live, such as an opening version of Roberta Flack's 1974 pop and R&B No.1 "Feel Like Making Love," Bobby Darin's "Beyond The Sea," and L.T.D.'s first hit and 1976 No.1 "Love Ballad", which Benson turned into his own No.3 hit on Billboard's R&B chart (and Top 20 pop crossover) in 1979.
But Benson also stays true to his jazz roots in the set, playing such tracks as the title track from his Weekend In L.A. album, the infectious "My Latin Brother" (from 1974's Bad Benson), and "Affirmation," from his multi-platinum 1976 album Breezin'.
Benson's busy modern-day touring schedule continues this month, with his next show at the Los Angeles County Fair on May 20. Other forthcoming dates include New Jersey Arts Center on June 2, Capital Jazz Fest 2023 in Columbia, MD on June 3, and a show presented by Toronto Jazz Fest on June 27.
Buy or stream George Benson Live At Montreux 1986.
The full tracklist is:
CD1
1. Feel Like Making Love
2. Off Broadway
3. Weekend In L.A.
4. Lady Love Me (One More Time)
5. Love Ballad
6. Beyond The Sea
7. Affirmation
8. My Latin Brother
CD2
1. Love x Love
2. In Your Eyes
3. The Greatest Love Of All
4. 20/20
5. Never Give Up On A Good Thing
6. Turn Your Love Around
7. On Broadway