Gibson Firebird Played At Wembley Stadium By Chuck Berry Up For Auction
The guitar is expected to attract bids of between £10,000 and £20,000.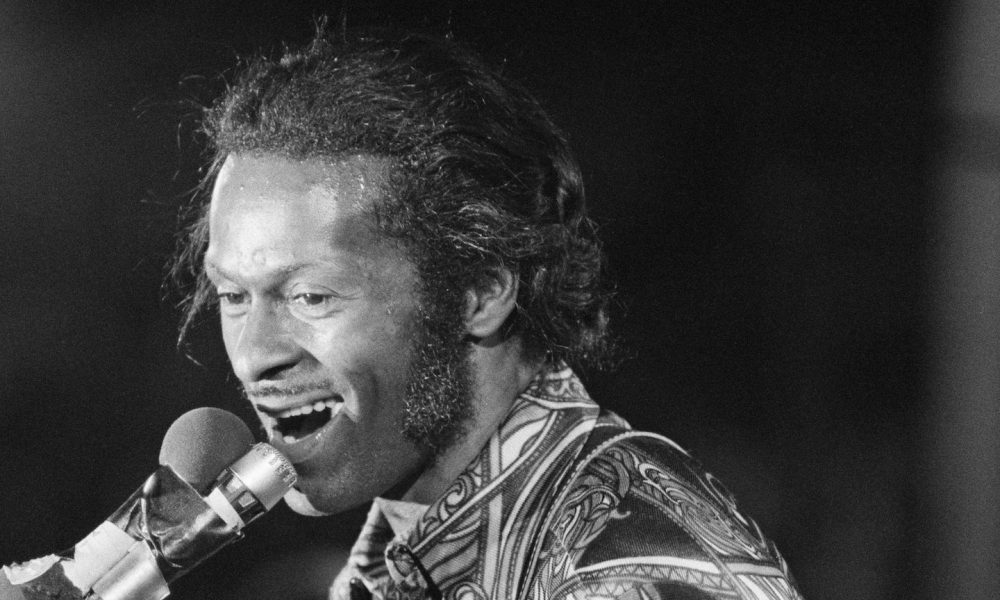 A guitar played by Chuck Berry at the seminal London Rock And Roll Show at Wembley Stadium in 1972 is up for auction on Thursday (9), when it is expected to attract bids of between £10,000 and £20,000.
Shop the best of Chuck Berry's discography on vinyl and more.
Auctioneers Gardiner Houlgate, a leading guitar auction house based in the south-west of England, will stage the sale as part of the second day of its three-day event. The 1964 Gibson Firebird V was given to Berry by backing guitarist Terry Gibson [real name Terry Clemson] to play at the famous rock'n'roll revival show when he broke a string on his own guitar, during his closing version of "Reelin' & Rockin'".
Clemson also played with Gene Vincent, Bo Diddley, and as an original member of well-remembered British R&B outfit the Downliners Sect. He bought the guitar in 1964, when it had its original sunburst finish, before it was refinished in black, and played it in its first form with Vincent in the late 1960s. Clemson played on stage with several other artists at the August 1972 show, including Diddley, the Houseshakers, and Screaming Lord Sutch. He died in 2020.
Reelin' And Rockin' (Live At The Lancaster Arts Festival/1972)
The guitar is being sold by a private collector who bought it from Gibson's family. It will be auctioned along with the guitar strap which, it's believed, Berry wore at the concert. BBC News reports that Gardiner Houlgate auctioneer Luke Hobbs says: "I've been auctioning guitars for over 15 years but this is only the second time I've seen a Chuck Berry instrument come up for sale. They're exceptionally rare.
"Even though Berry used our guitar for a single night," continues Hobbs, "the London Rock And Roll Show was a landmark event and is fully documented on film." The concert, also starring Jerry Lee Lewis, Bill Haley and His Comets, Joe Brown, Heinz, Emile Ford & the Checkmates, and others, was made into a film directed by Peter Clifton in 1973. Gardiner Houlgate's Bespoke Guitar Auctions take place on a quarterly basis and offer over 2,000 guitars, amplifiers and associated items annually. More information can be read here.
Listen to uDiscover Music's Chuck Berry Best Of playlist.