John Fogerty Returns To London Stage With Undimmed, Inspiring Potency
Our review of an unforgettable show in which the former Creedence frontman celebrated regaining his song catalog with unstoppable and infectious energy.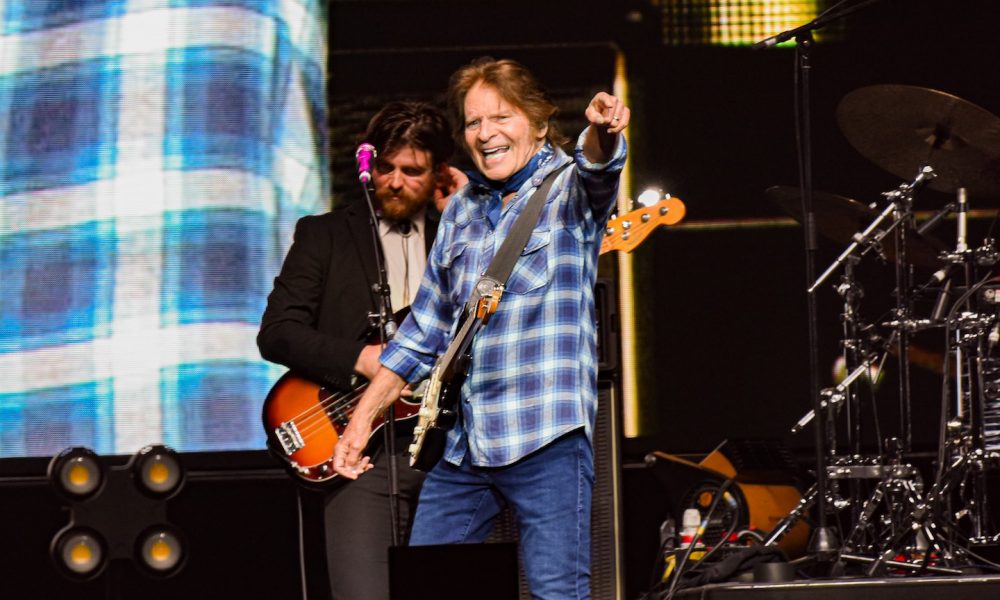 The slightly wistful nostalgia for lost times that often accompanies a latter-day performance by a classic rock artist was singularly not the driving factor of John Fogerty's magnificent return to the London stage last night (29). His scintillating show had the same high octane count and vital, boyish enthusiasm that he was exuding as Creedence Clearwater Revival's reign began 55 years ago.
Shop the best of Creedence Clearwater Revival's discography on vinyl and more.
Celebration was not only in the air at the O2 Arena, but gave its name to the current tour, during which, almost impossibly, he reached his 78th birthday the day before. And who would deny him the infectious ebullience that drove this 90-minute recap of everything that makes him one of America's most enduring and relevant rock figureheads.  Selflessly, he thanked the audience not for keeping him a star, but for holding this formidable catalog in their hearts in the meantime.
Creedence Clearwater Revival - Green River (Official Lyric Video)
Fogerty's sons Shane and Tyler opened the show with their own band, Hearty Har, before taking their place in their dad's, as part of a powerhouse line-up that perfectly augmented his astonishingly nimble and expressive lead lines. A video resumé of some of his landmark creations was followed by their exhilarating recreation, wit an opening salvo of "Up Around The Bend," "Green River," and "Born On The Bayou" that sealed the unbreakable connection between his Californian heritage and the southern swampland that contributed to his unique sound.
Switching guitars after almost every song, he soon recounted the tale of how he had inexplicably given away the beloved Rickenbacker he had played at Woodstock, before welcoming it back into his arms and his stage show, now to star on the next in this relay of anthems, "Who Will Stop The Rain."
Creedence Clearwater Revival - Have You Ever Seen The Rain
The setlist was a benign bombardment of songs for the ages, each as potent as when we first unwrapped them, and each linked by Fogerty's genial demeanour. From "Have You Ever Seen The Rain" and "Bad Moon Rising" to "Travelin' Band" and "Down On The Corner," the jukebox never stopped, usually in sub-three-minute powerhouse versions recreating the original 45s. But light and shade moments included a touching audio-visual tribute to his wife of 30-plus years, Julie, who watched from the wings.
After a blistering "Fortunate Son," which still spits sparks of social relevance with the forcefulness of yore, there was a triumphant encore of "Rockin' All Over The World" and "Proud Mary," the latter naturally dedicated to Tina Turner. Thus ended a joyous masterclass in how to grow older in rock'n'roll with humble potency and undimmed relevance.
Listen to the best of John Fogerty on Apple Music and Spotify.