Kenny Rogers' Song Cycle 'Life Is Like A Song' To Feature New And Rare Material
The unique album tells the story of the love, life, loss, and faith between Rogers and his family.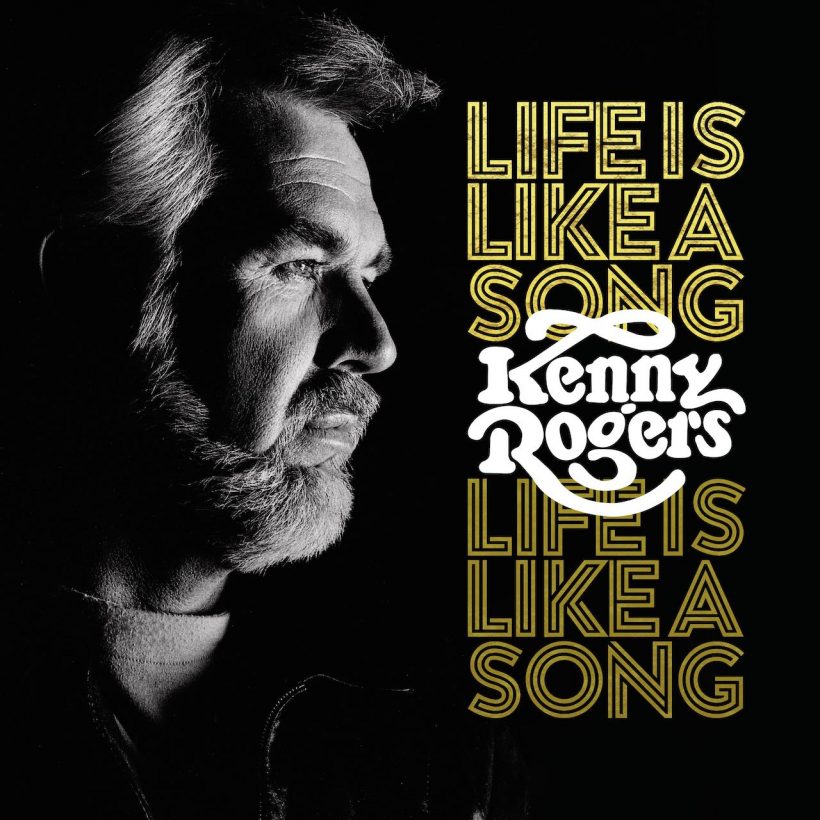 The new "song cycle" Life Is Like A Song, featuring previously unreleased tracks and sought-after rarities by Kenny Rogers, will be released by UMe on June 2. The unique album tells the story of the love, life, loss, and faith between Rogers and his family, and features songs from his archives of particular personal significance.
The set will be released on CD and vinyl as well as digitally, and will be the first new non-Christmas studio album in ten years by Country Music Hall of Fame inductee, who died in 2020. It's also his only non-compilation full-length album, aside from reissues, to be released on vinyl since 1991.
Life Is Like A Song has been curated and executive-produced by the star's widow Wanda Rogers, and includes eight never-before-heard recordings from between 2008 and 2011. Rogers' range and versatility are displayed throughout a collection of original material and covers, which include interpretations of Eric Clapton's "Wonderful Tonight" and Lionel Richie's "Goodbye," plus his much sought-after duet with Dolly Parton, "Tell Me That You Love Me."
The digital deluxe edition of the album will include two bonus tracks, a cover of the Mack Gordon/Henry Warren standard, "At Last," most closely associated with Etta James, and the original "Say Hello to Heaven," written by Buddy Hyatt.
"I think the record is fabulous, and it is going to make Kenny so proud," said Wanda Rogers. "These songs are such a beautiful reminder of his love 'for the feelings a song can make' for a person. He would often say that he wanted his songs to be 'what every man wants to say, and every woman wants to hear.' I think there are a lot of those moments on this album.
"This is a very special record to me and our family because it really tells the story of our life together," she continues, "and I feel his fans will also relate to it in a big way because it walks the listener through the seasons of life that we all experience in one way or another. There is joy, there is love, there is family, there is uncertainty, there is pain, there is faith… it's emotional and real. This is the kind of music Kenny loved to make."
Two selections from the album are available to stream from today. The album opener "Love Is A Drug" is set to become a hard-driving country rock anthem, co-written by Rogers' longtime musical partner and former bandmate in the New Christy Minstrels, Kim Carnes. The second is the Temptations' Motown classic of 1967, "I Wish It Would Rain," written by Norman Whitfield, Barrett Strong, and Rodger Penzabene. Rogers' version features new instrumentation by the celebrated producer Kyle Lehning and in-demand musician and producer Viktor Krauss, who together oversaw Rogers' recording.
The centerpiece of Life Is Like A Song is the unreleased "Catchin' Grasshoppers," a highly personal ode to Rogers' twin sons with his wife Wanda, Justin and Jordan. The song was composed by Laura McCall Torno and Earl Torno, with production work by Rogers and Randy Dorman, a member of his band, Bloodline, since the 1970s. The lyrics have Rogers reveling in quiet and precious memories made with his young children, now aged 18. "Years from now I won't remember this day," he sings. "I won't recall the field/But I'll remember my children's eyes/Lighting up like stars when they were five/Yes, I'll remember/Catchin' grasshoppers."
The album's "Straight Into Love," on which he duets with Australian country star Jamie O'Neal, is helmed by award-winning producer Brent Maher, who has previous credits with Rogers including writing his "Somewhere Between Lovers and Friends" with Randy Goodrum. The duet with his longtime friend, collaborator and fellow superstar Parton continues a recording relationship that began with 1983's indelible "Islands In the Stream." Their "Tell Me That You Love Me" was captured in the mid-2000s and helmed by esteemed Nashville producer and executive Tony Brown (George Strait, Vince Gill, Reba McEntire). The song, long unavailable, was originally on a 2009 compilation and will now appear on an unreleased, remixed version on digital platforms and vinyl for the first time, and on CD for the first time in this form.
Kenny Rogers - Goodbye (Lyric Video)
Also from the sessions with Brown comes Rogers' rendition of "Goodbye," written by Richie, another good friend and frequent collaborator. It's been a favorite with fans since first appearing on the aforementioned 2009 anthology, all the more so since a touching lyric video for the song was played at Rogers' memorial in 2022.
His take on Clapton's "Wonderful Tonight" contains a newly-recorded music bed, courtesy of Lehning, whose credits for Rogers go back more than 40 years, and Krauss. Singing to acoustic guitar, Rogers owns the ballad, while Lehning and Krauss supply gentle orchestration. Larry Keith and Jim Hurt's "Am I Too Late" was, Rogers said, one of his all-time favorite songs, originally recorded for his 1977 hit album Daytime Friends. It's now reimagined as a duet with Kim Keyes, whose vocal credits include work with Billy Joel, Amy Grant, and Peter Cetera.
"That's Love To Me," written by Gary Burr and Jim Photoglo, stands as a quintessential Rogers love song, while the cinematic Legrand/Demy/Gimbel composition "I Will Wait For You," features such lyrics as "Forevermore, I will wait for you/The clock will tick away the hours, one by one/Then the time will come when all the waiting's done/The time when you return and find me here and run straight to my waiting arms."
Producers and co-producers on the album include Rogers himself, Brown, Krauss, Lehning, and Maher, as well as members of Bloodline: Randy Dorman, Steve Glassmeyer (on the deluxe edition), Warren Hartman, and Chuck Jacobs. The album was executive-produced by Wanda Rogers, Ken Levitan, and Jason Henke.
Pre-order Life Is Like A Song, which is released on June 2.
The full tracklist of the CD edition is:
1. Love Is A Drug
2. I Wish It Would Rain
3. Am I Too Late (with Kim Keyes)
4. Tell Me That You Love Me (with Dolly Parton)
5. Straight Into Love (with Jamie O'Neal)
6. Wonderful Tonight
7. Catchin' Grasshoppers
8. That's Love To Me
9. I Will Wait For You
10. Goodbye