'Long Story Short: Willie Nelson 90' Set To Hit Cinemas
The concert film will premiere in theaters on Sunday, June 11, with special encore presentations on June 13 and 14.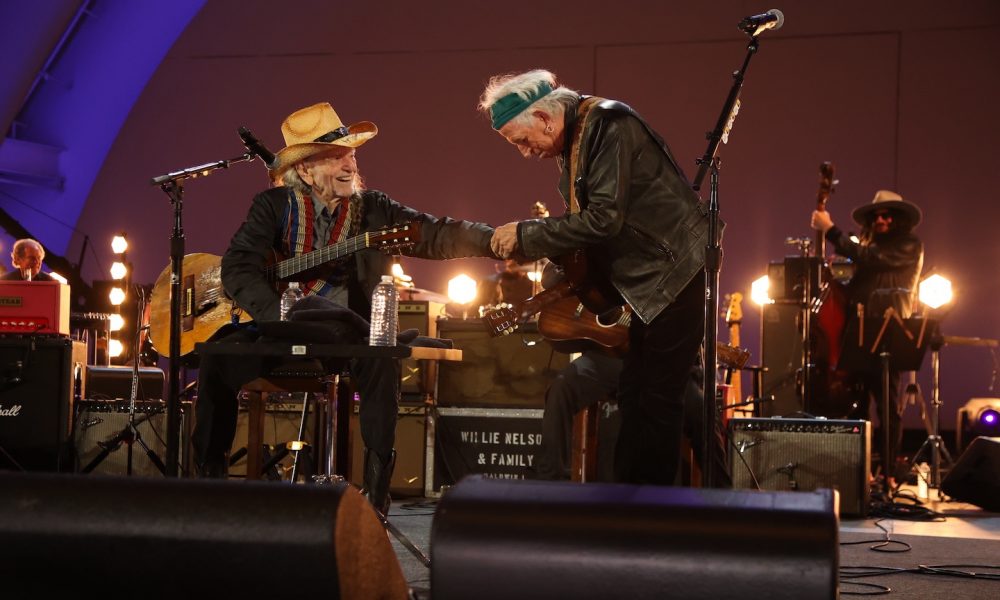 Willie Nelson, Blackbird Presents, Mark Rothbaum, and Joe Hand Promotions have announced that Long Story Short: Willie Nelson 90 will be coming to cinemas.
The limited theatrical release will feature a selection of the most memorable moments and unforgettable collaborations from the star-studded two-day concert event celebrating Willie Nelson's milestone 90th birthday. This historic concert film, recorded live on April 29 and 30 before a sold-out crowd at the legendary Hollywood Bowl in Los Angeles, California, includes once-in-a-lifetime performances by Willie Nelson, Keith Richards, Snoop Dogg, George Strait, Chris Stapleton, Miranda Lambert, Dave Matthews, Neil Young, The Lumineers, Gary Clark Jr., Sheryl Crow, Jack Johnson, Billy Strings, and many more. The show will premiere in theaters on Sunday, June 11, with a special encore presentation on June 13 and 14.
The two-hour-plus limited release film will give fans the opportunity to re-live or experience for the first time this epic event described by USA Today as "headed for the concert history books." Honoring the legacy of 12-time Grammy Award-winner, the scene at the Hollywood Bowl transcended genres, with Associated Press remarking "The parade of partners illustrated one of the night's themes: Willie brings people together."
Earlier this week it was announced that a new book in which Willie Nelson talks about the background and inspiration for his best-loved songs, and lesser-known gems, will be published in late October. Energy Follows Thought: The Stories Behind My Songs is written by Nelson with celebrated biographer David Ritz and award-winning musician Mickey Raphael.
The publication will arrive on October 31, just before Nelson's induction into the Rock and Roll Hall of Fame, as celebrations of his recent 90th birthday continue. It features no fewer than 160 songs from his epic career, from his earliest work in the 1950s to the modern day.
It will offer stories about moments Nelson shared with Patsy Cline, Dolly Parton, Merle Haggard, Ray Charles, and other friends and collaborators, and memories of his guitar, fondly known as Trigger. The book is to be published in hardcover, e-book and audiobook formats by the HarperCollins imprint William Morrow.
Listen to the best of Willie Nelson on Apple Music and Spotify.