Metallica's 'M72 World Tour Live From Arlington' Coming To Cinemas
The new concert film will screen on Friday, August 18 and Sunday, August 20.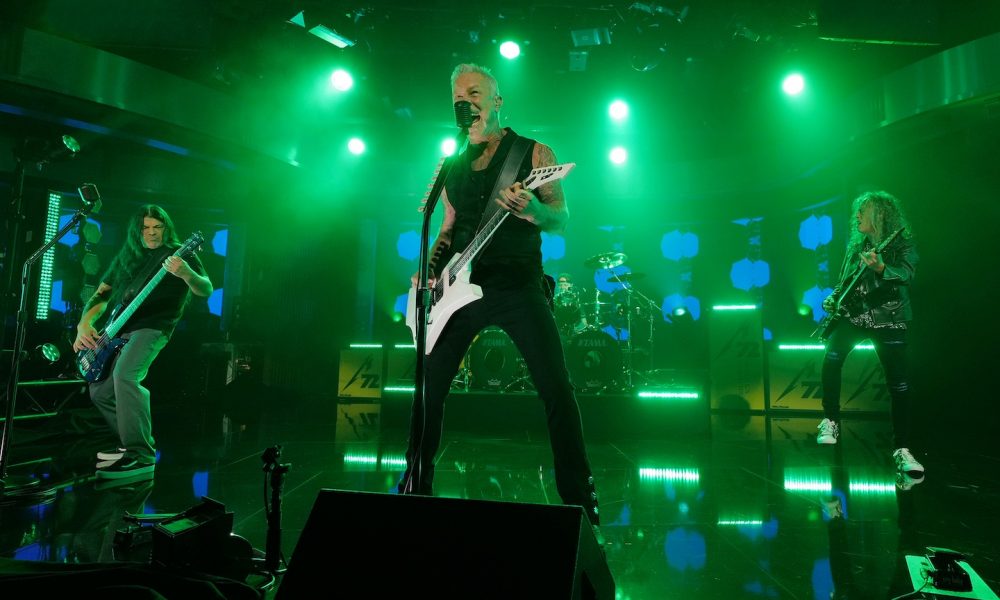 Metallica: 72 Seasons – Global Premiere recently debuted in movie theaters across New Zealand and attendees were the first to learn that Metallica's M72 World Tour is set to burst on to the big screen, live from AT&T Stadium in Arlington, Texas, in theaters worldwide on Friday, August 18 and Sunday, August 20.
Titled Metallica: M72 World Tour Live From Arlington, TX – A Two Night Event, this anticipated theatrical event will see the band playing two nights with two completely different setlists, with songs spanning the group's almost-half-century long career. Reportedly, the band won't play a single song twice, making for a total of more than 30 songs across both nights.
Last month, the band and Trafalgar Releasing's announced a worldwide listening party for 72 Seasons. The event, for one night only, is already underway and will continue throughout the day (April 13). 72 Seasons will play exclusively for cinema audiences worldwide—with every one of the new songs featuring its own music video and exclusive commentary from the band.
Fans can also experience Metallica like never before in Dolby Atmos, an audio experience that will immerse listeners inside each song to reveal details with unparalleled clarity and depth.
The band has been teasing music from 72 Seasons for quite some time. On March 1, the group shared "If Darkness Had a Son." Prior to the song's release, the heavy metal icons invited fans on TikTok to duet with them on the new track. They captioned a clip of the four band members rocking out to the tune on Tuesday (28.02.23): "#duet with @metallica #IfDarknessHadASon out tomorrow. #72seasons #metallica #duetchain (sic)."
Produced by Greg Fidelman with Hetfield & Ulrich, and clocking in at over 77 minutes, the 12-track 72 Seasons is Metallica's first full length collection of new material since 2016's Hardwired…To Self-Destruct.
The album will be released in 2LP 140g black vinyl and limited-edition variants, CD digital, and in Dolby Atmos (streaming where available).