Peggy Lee's 'I'm A Woman' Turns 60 With New Digital Expanded Edition
Out now through Capitol Records/UMe, the collection features newly remastered audio and eight bonus tracks.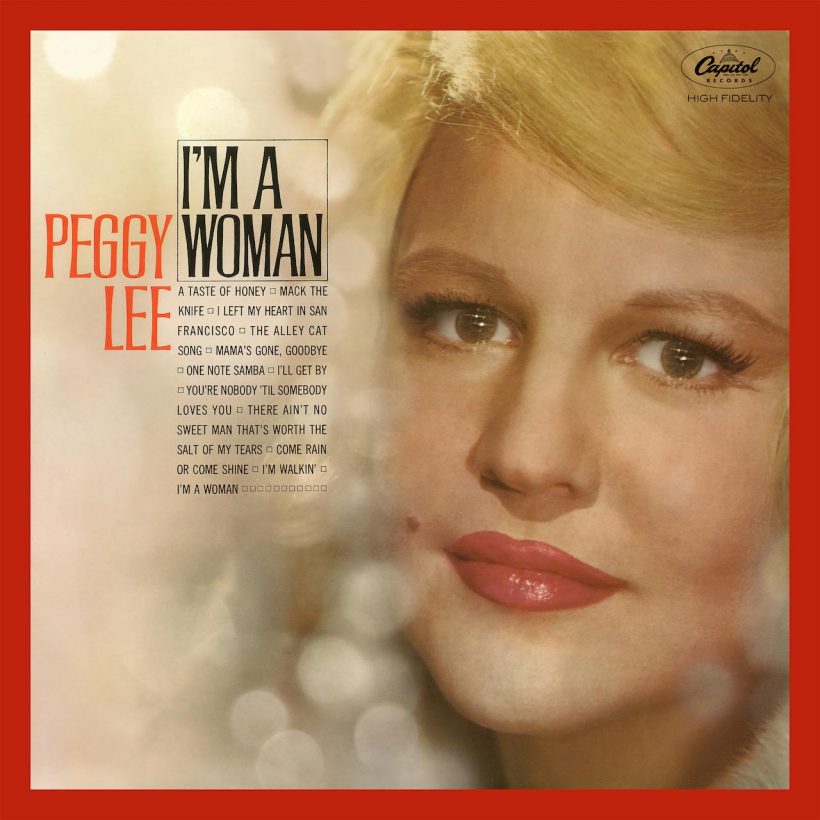 In celebration of its 60th anniversary, Capitol Records and Universal Music Enterprises (UMe), in conjunction with Peggy Lee Associates, announce the release of a digital expanded edition of Peggy Lee's I'm A Woman.
Available at all digital service providers, the newly remastered expanded edition features the 12 original album tracks, including the Leiber and Stoller-penned title track, plus "Come Rain or Come Shine" and "I Left My Heart in San Francisco." Culled from the Capitol vaults, five of the eight bonus tracks are previously unreleased alternate recordings and session outtakes. Liner notes for the 60th-anniversary release, written by archivist Iván Santiago, are available at the official Peggy Lee website from today.
Shop the best of Peggy Lee's discography on vinyl and more.
The bonus tracks include the first take of "I'm A Woman" with a never-before-heard verse; "Jealous," a previously unreleased collaboration with Bobby Darin with Lee singing back up and a playful exchange between the vocalists; "Please Don't Rush Me," "Little Boat (O Barquinho)" and "Try A Little Tenderness" not included in the album's original release; a session outtake of "Close Your Eyes"; and alternate takes of "I'm Walkin'" and "A Taste Of Honey."
Peggy Lee "I'm A Woman" on The Ed Sullivan Show
Originally released in March 1963, I'm A Woman spent 26 weeks on the Billboard album chart. Now perennially associated with Peggy Lee, the title track and album's first single, "I'm A Woman," spent nine weeks on Billboard's Hot 100 and garnered Lee a sixth consecutive Grammy nomination for Best Vocal Performance, Female.
First published in 1989, a new edition of Miss Peggy Lee: An Autobiography was published in 2022 and features her never-before-released book of poetry, Softly With Feeling; a new cover; an epilogue by jazz and music writer Will Friedwald; a comprehensive discography and recommended listening section compiled by archivist Iván Santiago; and a new foreword by Peggy's granddaughter, Holly Foster Wells.
Following Lee's 2020 centennial, the celebrations for this extraordinary jazz legend continue, including a Grammy Museum exhibit, "100 Years of Peggy Lee," which runs through May 2023; a CBS Sunday Morning profile tracing "Peggy Lee and her cool power" back to her beginnings in North Dakota; and a Hollywood Bowl tribute to Peggy Lee and Frank Sinatra with the Count Basie Orchestra, featuring special guests Billie Eilish, Debbie Harry, Dianne Reeves, Brian Stokes Mitchell, and Seth MacFarlane, among others.
Coined "the female Frank Sinatra" by Tony Bennett, Lee did something few of her male counterparts attempted: she wrote songs. As one of the first contemporary singer-songwriters, Lee ranks among the most successful female singer-songwriters in the annals of American popular music. Over her remarkable seven-decade career, she wrote over 270 songs and recorded over 1,100 masters.
Born Norma Deloris Egstrom in Jamestown, North Dakota, she was christened Peggy Lee in 1937 by a local North Dakota DJ, Ken Kennedy. With her captivating voice and sultry style, Lee helped redefine what it meant to be a female singer and artist, breaking barriers and blazing trails for generations of artists who have followed.