Watch '2012: Queen + Adam Lambert – The First Gig', Episode 46 In 'The Greatest' Series
The band's first show together saw Adam face an audience over 350,000 and compete with an opening first half performed by Elton John.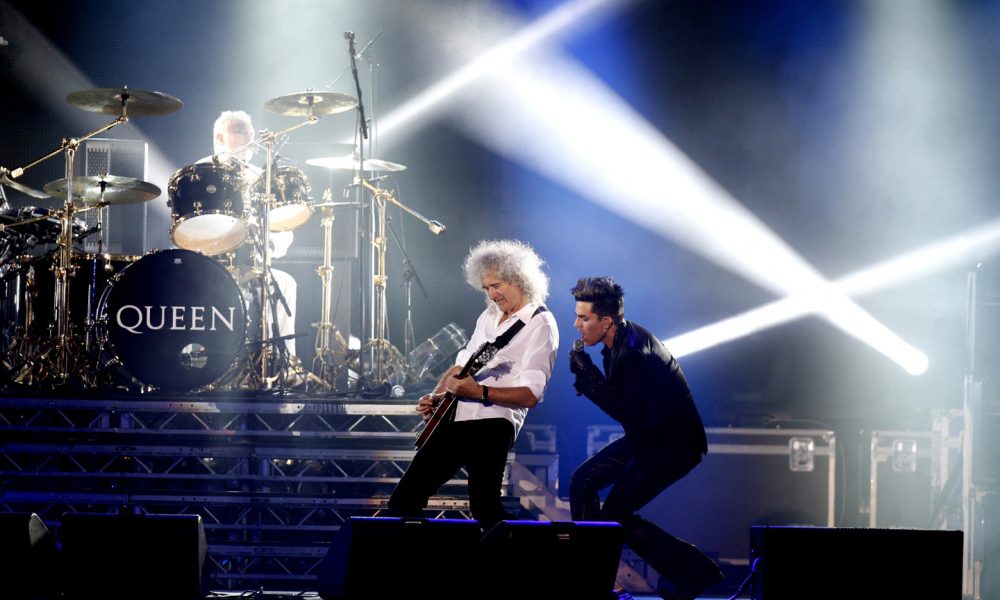 This week, Episode 46 in Queen's 'The Greatest' series looks back at Brian May, Roger Taylor and Adam Lambert's very first full live show together which saw Adam face an audience over 350,000 and compete with an opening first half performed by Elton John. You can watch the full "First gig" episode in full below.
By 2012, Brian and Roger had already performed with the sensational Adam Lambert on the 2009 American Idol season final, and an eight-minute medley at the 2011 MTV European Music Awards at which Queen received their Global Icon Award. The reaction to both was phenomenal, and so their thoughts turned to the idea of staging a full Queen + Adam Lambert live show.
This is the story of their First Gig – a massive 'Let's Stop AIDS Together' awareness concert performed on Kiev, Ukraine's, Independence Square and TV broadcast live to millions – as recalled by Brian, Roger, Adam and Queen music director and keyboard player Spike Edney.
Adam Lambert: "All of us sat down and we had a drink, and there was a sense of camaraderie in that moment about 'Look what we just did. This feels good. I like you. I like you. You like me.' It was an instant sense of sort of comfort and ease that we all had with each other. We all sort of got a kick out of each other and felt like the right fit, it felt good."
Brian May: "With Adam, by the time we got together, we kind of knew, yeah, because we'd seen enough of him and we thought, 'Yeah, this is going to work.' You know, Adam comes with a certain amount of pedigree because he's done his solo stuff with a lot of success. So then we sat down together and said, 'Well, what could we do?' We could do a little bit of a tour. We could try something here, try something there. And it gradually took shape. And before we knew it, we were operating with Adam."
Queen + Adam Lambert 2012: The First Gig (Episode 46)
Roger Taylor: "We had some shows about six shows, I think, in Europe – the first gig was a massive show in Kiev."
Brian May: "I think it must have been the most terrifying moment for Adam. He didn't look like it was terrifying. He looked like he did this every day."
Adam Lambert: "I definitely was intimidated by the idea of singing somebody else's songs, especially from such a beloved band."
Adam Lambert: "In the back of my head, I was like, 'Oh God, I hope this is the right idea'. You know, I'm so excited to sing these songs, but I don't know how it's going to be received."
Brian May: "It was a tall order, and I think we all knew it, and that gig was put in at the front of the tour to enormous numbers of people."
Spike Edney: "I think it was more than 350,000 and it was live TV as well."
Roger Taylor: "Well it was free, wasn't it? Let's say it was a million."
Roger Taylor: "Elton John was on before us and I remember as Elton was rolling out hit, after hit, after hit. I remember thinking, 'Oh, I hope we're up to this'"
Adam Lambert: "I had a lot of help. Spike, who was on keys, I kept looking at over and over again, like, 'am I supposed to come in here? How long is the guitar solo? Is it my turn?'"
Spike Edney: "Because of his stage training, he was quite happy to take cues. He used to just check in with me and I'd give him a 'yes', and 'no' if it was wrong, meaning wait."
Adam Lambert: "Just a lot of me being like…"
Spike Edney: "He looks at me…I went 'no, not that, don't sing that bit'."
Adam Lambert: "It was fun and it was thrilling, and it was what I love the most about being a vocalist, the adrenaline. It's the thrill of something that could possibly go wrong. I like that. I like the danger in that."
Roger Taylor: "I had no doubts he could do it. It was good, you know, the feeling was good."
Brian May: "He's out there, putting it out there, you know, and he sang great and interacted great, and it was a big success. An incredible thing for a new member of a group to step on stage and do that. I took my hat off to him at the time. And of course, the rest was easy after that."
The 'rest', as Brian refers to, amounts to a total of 218 shows performed together the world over to an audience in excess of 3.6 million.
The band's twice COVID delayed 36-date UK and Europe 'Rhapsody Tour' is due to resume in late May.
Watch every episode of 'The Greatest' on Queen's official YouTube channel.