Queen Slays Fans With 'Dragon Attack,' Episode 19 Of 'The Greatest Live'
This week's episode catches the band in scintillating live form at the Milton Keynes Bowl in 1982.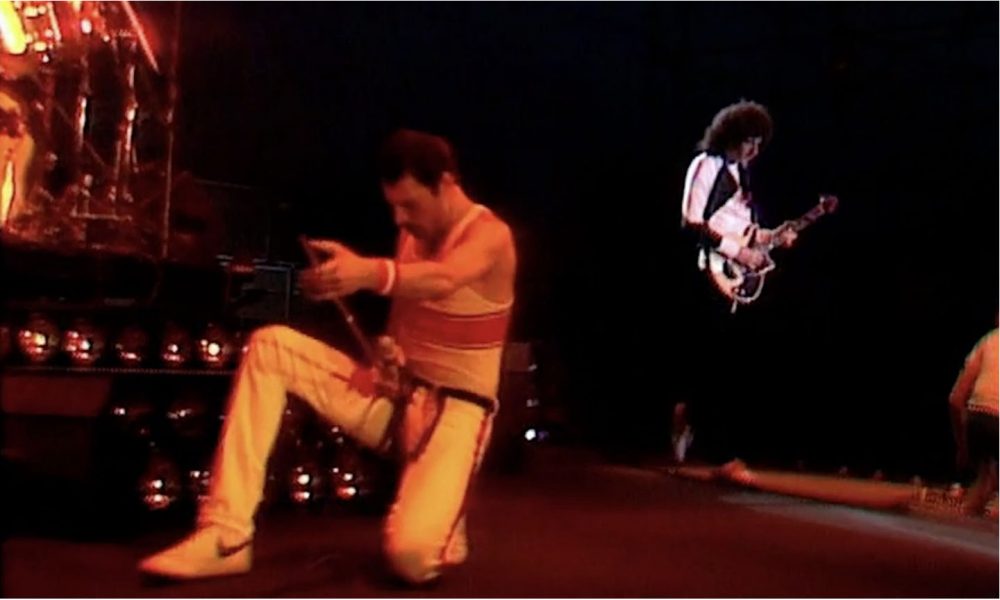 Queen has countless hit songs to choose from, but when it comes to building the setlist, the band has always stirred in a few surprises to keep the audience on their toes. In this latest episode of the band's yearlong 'The Greatest Live' series, we revisit a pulsating performance of "Dragon Attack" that unexpectedly segues into a crowd-pleasing classic.
Some songs are simply non-negotiable on a Queen setlist. A concert without quintessential anthems as "Another One Bites The Dust," "Radio Ga Ga" and "We Will Rock You" – to name but three – would be unthinkable. But with a vast discography and wealth of deeper cuts at their disposal, the band have always thrown a few curveballs for the hardcore Queen faithful – often segueing effortlessly between numbers in the heat of the moment.
In this latest episode of 'The Greatest Live' we catch up with the band at the Milton Keynes Bowl, Buckinghamshire, UK  on June 5, 1982, on their 'Hot Space' tour – a legendary show that saw Brian May's jaw-dropping guitar showcase "Dragon Attack" transformed on a (silver) sixpence into a second crowd-pleaser. You can watch the new episode in full below.
Queen The Greatest Live: Dragon Attack (Episode 19)
Issued on the flipside of the "Another One Bites The Dust" single – and a highlight of 1980's The Game album – "Dragon Attack"s fiery, funky fretwork was flavoured by the long nights the lineup spent at Munich's downtown discotheque Sugar Shack while recording at Musicland Studios. The club is even referenced in the Dragon Attack lyric ("Take me to the room where the black's all white and the white's all black/Take me back to the Shack," sings Freddie Mercury).
Brain says of the recording "It was done very late one night, or early one morning, probably very drunk." Yet perhaps Dragon Attack was always most suited to the stage, with the song performed consistently between 1980 and 1985, and its elastic format often thrillingly jammed out by the band.
For this particularly memorable performance – and to the delight of the Milton Keynes crowd –"Dragon Attack" suddenly flows into a reprise of fan-favourite anthem "Now I'm Here," from 1974's Sheer Heart Attack. The eagle-eyed viewer will also notice the moment right at the start when Brian breaks a guitar string on his Red Special – but switches to a spare and soldiers on. You can watch all the action and be amazed in 'Dragon Attack' above.
Watch every episode of Queen 'The Greatest Live' on the band's official YouTube channel.