Rihanna Talks Super Bowl Halftime Show And New Music In 'British Vogue' Interview
The superstar also reflected on the reasons she chose to do her Super Bowl performance.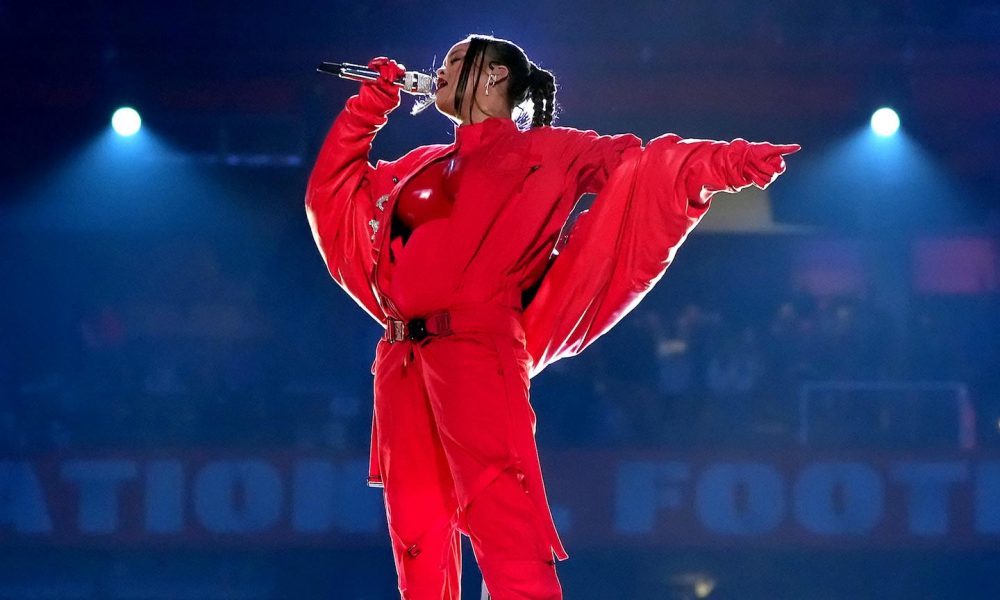 Just days after Rihanna's return to the stage with her massive Super Bowl LVII halftime show performance, a British Vogue cover featuring the superstar singer, mogul, and new mother has been released.
Shop the best of Rihanna's discography on vinyl.
In the cover story, she speaks about everything from her nine-month-old son to the Super Bowl to, yes, the new music that fans are desperately waiting for. The interviewer, Giles Hattersley, recalls being a bit anxious to bring up the subject, but Rihanna was eager to talk about it: "You can ask!"
Diving further, she explains, "When you come off of an album like Anti… in hindsight, it really is my most brilliant album. I say that because in the moment, I didn't realize it. But it always felt like the most cohesive album I've ever made. When you break it down and you realize this album goes from 'Work' to 'Kiss It Better' to 'Needed Me' to 'Love on the Brain' to 'Sex with Me' to 'Desperado'… And somehow it all fits and not for a second did you glitch?"
Since then, she acknowledges that she's had a "toxic" mindset towards making music, worrying that making an album wouldn't be worth it if it couldn't stack up to Anti. Her attitude is shifting though, as seen when she reflects, "It's not the right way to look at music because music is an outlet and a space to create, and you can create whatever. It doesn't have to even be on any scale. It just has to be something that feels good. It could just be a song that I like. It literally could be that simple."
When it came to the big question of timing, Rihanna had a comment on that too: "I want it to be this year," she says. "Like, honestly, it'd be ridiculous if it's not this year. But I just want to have fun. I just want to make music and make videos." However, the writer notes that this was before Rihanna was aware she was pregnant with her second child, so we will have to wait and see what the future holds.