Rihanna Delivers Stunning, Career-Spanning Super Bowl Halftime Show
The star also confirmed her second pregnancy at the event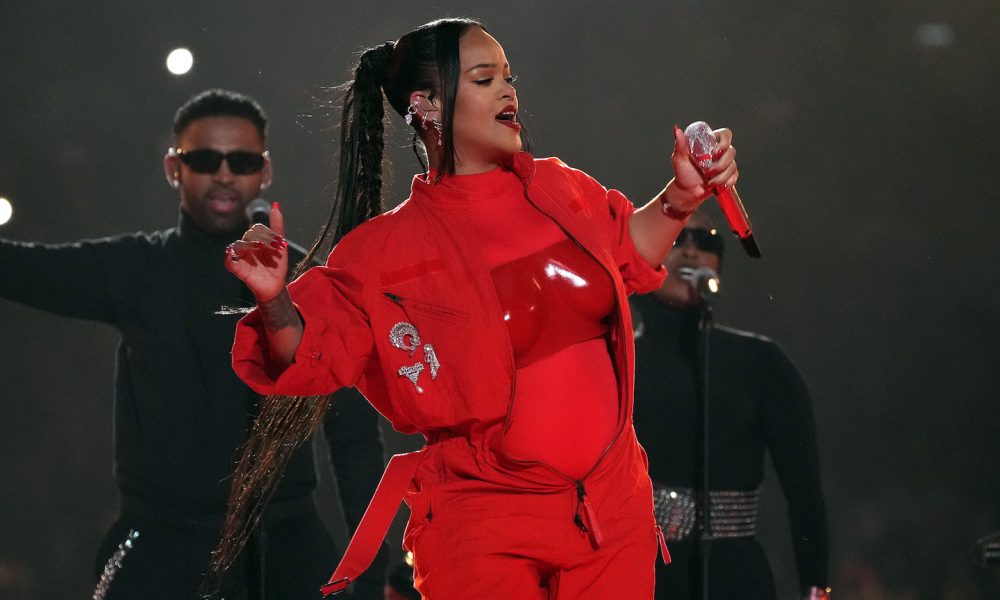 Rihanna delivered a stunning Super Bowl Halftime Show during the game between the Philadelphia Eagles and the Kansas City Chiefs last night (February 12).
The star took to the stage during the biggest American football game of the year to give her first live performance in five years.
Rihanna started her 13-minute set on a moving platform that hovered high above the stage on the pitch below. She kicked off the setlist with a version of her single "Bitch Better Have My Money," before airing "Where Have You Been," which also featured elements of "Cockiness (I Love It)" mixed into the track.
Her platform lowered to the stage for "We Found Love," which led into a choreography-featuring rendition of "Rude Boy." "Work," which appeared on her last album Anti, put Rihanna in the position of conductor to her dancers, the white-clad figures bending, bowing, and crawling in line with her own gestures.
After airing her DJ Khaled collaboration "Wild Thoughts," the singer performed "Pour It Up" from her 2012 album Unapologetic before rounding out the set with some of her biggest hits and team-ups. The performance closed out with snippets of Kanye West's "All Of The Lights," Jay-Z's "Run This Town," and Rihanna's own "Umbrella" and "Diamonds." Watch Rihanna's Super Bowl Halftime Show in full here.
Rihanna sparked much speculation during the performance that she was pregnant with her second child after rubbing her stomach and, at times, seeming to dance gingerly. A representative for the star later confirmed the news to be true.
Days before the Super Bowl, Rihanna shared details of her performance at an Apple Music press conference. She jokingly said that she was relying on her Fenty beauty line – which made a cameo during the performance – to stay looking sharp and also revealed that she had gone through 39 iterations of a setlist for the show.
A trailer was also shared at the event, which featured a young child at home on Rihanna Way in Barbados. The girl stole her mother's sunglasses before strutting down the street, soundtracked by "Run This Town." At the end of the video, the young girl flew a kite above a cemetery before a quote from Rihanna floated across the screen. It read: "My whole life was shaped on this very road. I was just a little girl flying kites in the cemetery…But I had big dreams."
Listen to the best of Rihanna on Apple Music and Spotify.