Snoop Dogg, Mary J. Blige, Dr. Dre, Eminem, & Kendrick Lamar To Headline 2022 Super Bowl Halftime Show
'This will introduce the next saga of my career… Bigger and Better than Ever!!!,' said Dre.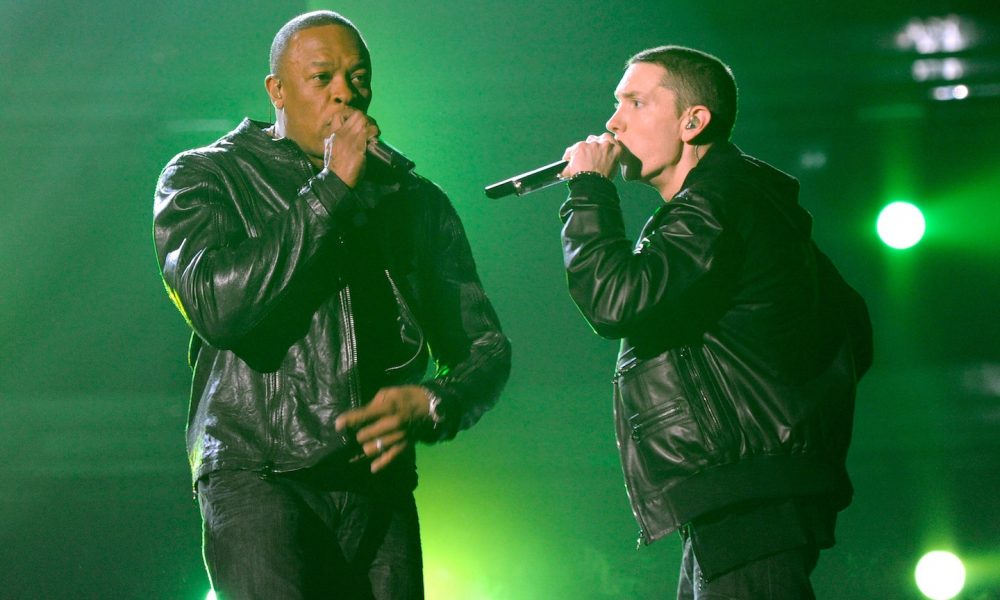 Dr. Dre took to Instagram today to drop some massive news. Dre Day will be taking place on February 13, 2022 at SoFi Stadium Stadium in Inglewood, California. Dre, Snoop Dogg, Mary J. Blige, Eminem, and Kendrick Lamar will be performing at the 2022 Super Bowl LVI.
The show is set to be produced by Jay-Z's Roc Nation and is presented by Pepsi in conjunction with the NFL and NBC. Regarding the huge announcement, Dre said, "I'm extremely excited to share the stage with my friends for the #PepsiHalftime Show. This will introduce the next saga of my career… Bigger and Better than Ever!!!"
The news comes at an exciting time for Dre. Back in June, it was revealed that Warner Bros signed on to distribute What's Going On, a biopic of legendary soul singer Marvin Gaye that Allen Hughes will direct, and produce with Dre, Jimmy Iovine and Andrew Lazar.
The news also coincides with an exciting announcement from Eminem, who teamed up with Chicago rapper Polo G, his frequent collaborator Skylar Grey, and Sacramento artist Mozzy on his latest single, "Last One Standing," for the new Venom: Let There Be Carnage soundtrack. The track arrives today, on the same day as the Marvel film – the sequel to 2018's Venom – lands in cinemas.
Snoop has also been hinting at new music. He went on The Tonight Show earlier this week (September 28) to reveal two new albums: Algorithm and an untitled kids album. Algorithm is set to arrive in November, and it's "featuring a lot of big-name acts," Snoop told Fallon.
Back in June, Mary J. Blige released a documentary titled My Life which chronicled her deeply personal and critically acclaimed 1994 album.
"My Life is the album that really bonded me with my fans who have since been along for what turned out to be a crazy ride," Blige, 50, said in a statement to PEOPLE. "Going back and reliving that time and that music felt like an out-of-body experience, but one I'm so humbled by."
Kendrick Lamar has been teasing new music as well, though in typical Kendrick fashion, the message has been enticingly cryptic. Last month, the MC re-emerged and shared a new website for something called "Oklama," which Kendrick confirmed is the title of his new album.
The minimal, bare-bones website features a folder titled "nu thoughts," which reveals a written statement from the MC announcing his next studio album, signed as "oklama." Among other revelations, Lamar also refers to it as his "final TDE album," referring to his fruitful partnership with LA-based Top Dawg Entertainment.
Listen to the best of Kendrick Lamar on Apple Music and Spotify.