Britfunk: 20 UK Acts That Defined A Unique UK Dancefloor Sound
From pulsating big band funk to throbbing electro-soul jams and sizzling acid jazz grooves, Britfunk showed how British Black music reshaped its American influences.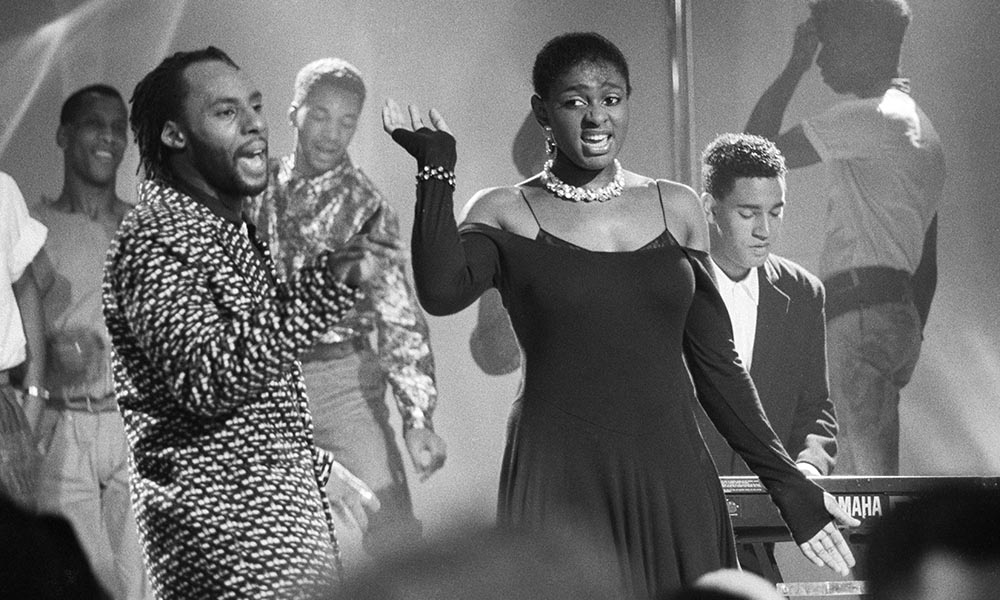 While punk and New Wave grabbed the UK headlines during the late 70s, in the nightclubs of London and southeast Britain, American funk music was all the rage, championed by influential DJs like Steven "DJ Froggy" Howlett, Robbie Vincent, and Chris Hill. Venues such as London's the 100 Club and Canvey Island's Goldmine became the crucibles where the sound of Britfunk was nurtured; an ethnically inclusive scene where a passion for the music brought people together. Inspired by their love for US funk, many young Black British musicians formed their own bands, though they never copied their idols or sang with a faux American accent; and because many of them were of Caribbean descent, the music often had a looser, dub-tinged feel, which gave it a distinctive flavor.
Order the career-spanning Incognito compilation Always There: 1981-2021 (40 years & still groovin') here.
With the chart success of pioneering bands like Hi-Tension and Light Of The World, Britfunk's influence rapidly seeped into mainstream pop, impacting the music of Haircut 100, ABC, and Wham! while also influencing avant-garde bands like the Pop Group, 23 Skidoo, and Clock DVA. Though the first wave of Britfunk had fizzled out by 1982, the mid-'80s saw the emergence of a new generation of technologically savvy bands like Loose Ends and 52nd Street, whose sound was defined by synthesizers and drum machines. Later, as the 80s rolled into the 90s, the UK's rare groove scene – which championed vintage US jazz and funk records – helped spawn the more organic acid jazz movement, which gave rise to the groundbreaking bands Brand New Heavies, Incognito, and Jamiroquai.
Here's our salute to the 20 artists that put Britfunk on the map and showed that home-grown UK funk acts could compete with the best that the United States had to offer.
20: Total Contrast
From Soft Cell to the Eurhythmics and Wham! to Erasure, British duos dominated the 1980s pop landscape. There weren't many home-grown R&B twosomes, though, apart from London's Total Contrast, consisting of singer/keyboardist Robin Achampong and bassist Delroy Murray. Combining slick, machine-tooled electronic grooves with soulful vocals, the pair released two well-received Britfunk albums (1985's Total Contrast and 87's Beat To Beat), tasting moderate success in both the UK and US.
Key Track: "Takes A Little Time"
19: Atmosfear
Leading the initial Britfunk charge, this London sextet co-founded by bassist and vocalist Lester J. Batchelor and drummer Ray Johnson were one-hit-wonders whose percussive interstellar disco groove "Dancing In Space" – released via their guitarist Andy Sojka's Elite label – rocketed to No. 47 in the UK charts during 1979. In 1981, the group inked a deal with MCA and unleashed their debut LP, En Trance. Atmosfear recorded a second album in 1983 but dissolved shortly afterwards. As well as being sampled by the Chemical Brothers and Madlib, in recent times the group's music has been revived via remixes by Master At Work and Dmitri of Paris. Batchelor and Johnson resurrected the band in 2020 under the name Atmosfear 2
Key Track: "Dancing In Space"
18: Shakatak
With 33 studio albums to their name, this long-running group – whose name references a London music store called the Record Shack – are still going strong. With a sound defined by Bill Sharpe's crystalline acoustic piano filigrees and Jill Saward's alluring siren-like vocals, the group patented an infectious and danceable jazz-funk style that was the forerunner to smooth jazz. Between 1980 and 1987 Shakatak notched up fourteen UK hit singles and earned a gold disc for their classic 1982 album, Night Birds, whose title song was a Top 10 British smash.
Key Track: "Night Birds"
17: I-Level
A London-based trio consisting of singer Sam Jones and multi-instrumentalists Joe Dworniak and Duncan Bridgeman, I Level's electro-funk aesthetic was symptomatic of R&B's embrace of state-of-the-art technology in the early 80s. Augmenting synths and drum machines with real horns and bass, they started brightly, scoring two UK hit singles in 1983 – "Minefield" and "Teacher," both catchy and eminently danceable – as well as a charting self-titled debut album but were unable to match that success with their second album, 1985's Shake, whose blend of soul, Britfunk, pop, and hip-hop failed to find a receptive audience.
Key Track: "Minefield"
16: Young Disciples
Though their time in the spotlight was brief, one-album-wonder Young Disciples reflected the vibrant zeitgeist of London's early 1990s acid jazz scene with music that blended samples, hip-hop style beats and real instruments to create a sound that simultaneously was classic and cutting-edge. Consisting of Londoners Marco Nelson and Femi Williams and bonafide American funk royalty in the shape of gospel-reared singer Carleen Anderson – the daughter of James Brown associates Bobby Byrd and Vicki Anderson – the group were signed to DJ Gilles Peterson's Talkin' Loud label. Their only album, 1991's Road To Freedom, included the UK hits "Get Yourself Together" and "Apparently Nothin'." The group split when Anderson left to pursue a solo career.
Key Track: "Apparently Nothin'"
Apparently Nothin' (12" Mix)
15: Junior
One of the most dynamic young new vocalists to emerge as part of the first Britfunk wave, this London-born singer sang backing vocals with Linx before launching a solo career. His first single, a disco-funk indie label release called "Get Up & Dance," was issued in 1981 under his real name – Norman Giscombe, Jr. – but after signing to Mercury later the same year, he was simply billed as "Junior." His Mercury debut, the driving dance track, "Mama Used To Say," was a resounding transatlantic smash, rising to No. 7 in the UK and No. 2 in the US R&B chart. Junior continued to enjoy varying degrees of chart success on both sides of the Atlantic into the early 1990s.
Key Track: "Mama Used To Say"
14: 52nd Street
This Manchester quartet fronted by the sweetly soulful vocals of Diane Charlemagne proved that Britfunk wasn't confined to London. Melding sophisticated soul grooves with cutting-edge electro-funk, the outfit made their debut for a local indie label in 1982, the now iconic Factory Records – best known for introducing the world to Joy Division and New Order – before signing to MCA three years later. They ventured to Philadelphia to work with hot shot producer Nick Martinelli, who helmed their debut long player, Children Of The Night, which yielded the minor UK hits, "You're My Last Chance" and "Tell Me (How It Feels)"; the latter also peaked at No. 8 in the US R&B chart in 1986. By 1990, the group were no more, but Charlemagne went on to work with Urban Cookie Collective and the drum and bass maven Goldie.
Key Track: "Tell Me (How It Feels)"
13: Imagination
Consisting of flamboyant lead singer Leee John, bassist Ashley Ingram, and drummer Erroll Kennedy, Imagination were one of the UK's biggest soul and funk acts of the 1980s. Despite their penchant for skimpy clothing and a playful, tongue-in-cheek campiness, they were serious musicians who were skilled at creating erotic ambiences with their rubbery bass lines and slinky bedroom grooves. The group hit the UK Top 5 in the early 80s with their anthemic singles "Body Talk," "Just An Illusion," and "Music And Lights" but were unable to duplicate their success in America.
Key Track: "Just An Illusion"
12: Central Line
Taking their name from a route on the London Underground, Central Line began as a jazz-funk sextet in 1978; they signed with Mercury Records a year later, debuting with the propulsive disco single "Wot We Got (It's Hot)." It didn't chart but the band's fortunes changed for the better in 1981 when they hooked up with producer Roy Carter, who had been in the pioneering Britfunk band Heatwave. Under Carter's supervision, the group – which had slimmed down to a quartet by then – updated their sound with synthesisers and put six singles into the UK singles chart between 1981 and 1983, the most successful being a radical electro-funk revamp of the jazz standard "Nature Boy." The group split in 1984.
Key Track: "Walking Into Sunshine"
11: Freeez
Founded and fronted by singer-songwriter, percussionist, and producer John Rocca in North London during 1978, Freeez included future Incognito guitarist "Bluey" Maunick in its earliest incarnation. They released their first single, a bass-driven jazz-funk instrumental called "Keep In Touch," two years later via the indie label Calibre. It made No. 49 in the UK singles chart and its success got them signed to a bigger label, Beggars Banquet, which released the group's first Top 10 UK hit, "Southern Freeez," in 1981. Rocca then abandoned organic jazz-funk, turning his attention to the nascent electro sound infiltrating dance music by teaming up with New York producer Arthur Baker in 1983 to helm the synth-powered "I.O.U.," a Top 20 US R&B hit.
Key Track: "I. O. U."
10: Level 42
Hailing from the Isle Of Wight, a large island in the English Channel, Level 42 began as an instrumental quartet in 1979 and after relocating to London, aligned themselves with the UK's burgeoning jazz-funk movement. They initially signed to Elite, a small indie label where they released some club-friendly 12″ singles, before joining Polydor. The group's early releases, like the instrumental "Sandstorm," defined by its lithe, sinewy bass line – courtesy of Mark King, who was also their lead singer – were decidedly jazz-funk in nature but as the group evolved, their sound and material became more pop and rock-oriented. Though they have witnessed several personnel changes during the four decades, King and singer/keyboardist Mike Lindup remain the heart of the band.
Key Track: "Love Games"
Love Games (Full Length Version)
9: Linx
Starting out as a quintet in 1980, Linx brought a fresh-faced vibrancy and buoyant joie de vivre to the UK's soul and funk scene. After their debut single, they slimmed down to a dynamic duo consisting of singer David Grant and bassist "Sketch" (real name, Peter Martin) and patented a distinctive sound that blended funk and soul with pop and even tinges of rock. They racked up six UK and three US hits for Chrysalis Records between 1981 and 1983, the biggest of which was "Intuition," a bright, sunny, Caribbean-inflected dance number which rose to No. 7 on the British pop charts. The duo, who were nominated in the Best Newcomer category at the 1982 Brit Awards, released three albums before splitting up in 1983. Sketch subsequently joined the avant-funk group 23 Skidoo while Grant enjoyed a successful solo career during the remainder of the 80s (he later became a vocal coach on the British TV show Fame Academy).
Key Track: "Intuition"
8: Light Of The World
Helping to set in motion Britfunk's first wave, London's Light Of The World were an energetic eight-piece band with horns who took their name from the title of the 1974 Kool & The Gang LP Light Of The Worlds. Led by singer/percussionist Gee Bello and guitarist Nat Augustin, the group also featured future Incognito members Bluey Maunick and keyboardist Peter Hinds, and were snapped up by Ensign Records in 1979 after the label's influential A&R exec, the legendary tastemaker DJ Chris Hill, was bowled over by the group's demo tape. The group's debut single, "Swingin'," driven by Augustin's choppy funk guitar, dented the UK Top 50, as did the evocative "London Town," a stylish amalgam of funk and jazz. By 1982, the group – as had Britfunk – had run out of steam. The group's horn section briefly enjoyed a life of its own under the name Beggar & Co in the early 80s.
Key Track: "Swingin'"
7: Heatwave
Some contend that Britfunk's Big Bang moment came when this London-based group dropped their infectious third single, "Boogie Nights," in 1976, which exploded in the pop charts and discotheques around the world. Taking their stylistic cue from US groups like Kool & The Gang, the group blended raw syncopated funk with the svelte sophistication of jazz. The fact that the group were truly cosmopolitan in nature – its members came from the UK, the USA, Switzerland, Czechoslovakia, and Jamaica – was instrumental in imbuing their music with a unique sonic flavor. More big international hits followed, including "The Groove Line" and the lush romantic ballad "Always & Forever," but the group lost commercial momentum when their keyboard player and main songwriter Rod Temperton quit in 1979, moved to the USA and began writing material for Michael Jackson. Heatwave reunited briefly in the late 80s before drifting into obscurity.
Key Track: "Boogie Nights"
6: Jamiroquai
Fronted by the magnetic frontman and singer/songwriter Jay Kay, Jamiroquai formed in 1992, initially as an acid jazz group inspired by a mixture of old school jazz-funk, early 70s Steve Wonder albums, and hip-hop. Making their debut on the Acid Jazz label with the single, "When You Gonna Learn," they quickly became a hot commodity and signed a major label deal in 1993, resulting in their prescient, ecology-focused debut album, Emergency On Planet Earth. As the years and albums passed, the group evolved, adding disco, electronica, and Latin music elements to their immediately recognizable sonic template. Several of their singles topped the US Dance Club chart, including "Space Cowboy" in 1995 and "Canned Heat" four years later.
Key Track: "Virtual Insanity"
5: Hi-Tension
Although their time in the spotlight was brief, this accomplished North London octet made enough of an impact at the end of the 70s to encourage other aspiring British funkateers to follow their lead. Fronted by singer and keyboardist David Joseph, they signed to Island Records in 1978 and hit the UK Top 20 with the single "Hi Tension," whose rhythmic currents bubbled with tinges of Afrobeat and Jamaican dub as well as American soul and funk. Its follow-up, the anthemic dance track "British Hustle" did even better, breaking into the UK Top 10 while the group's eponymous debut LP peaked at No. 74. Despite their encouraging success in Britain, the group didn't fare well overseas and broke up soon after their album hit the streets. The group briefly reformed in 1984 without Joseph, who was by then enjoying moderate success as a solo performer.
Key Track: "British Hustle"
4: Soul II Soul
Beresford Romeo is better known as Jazzie B, the self-styled "Funki Dredd" and DJ who was the mastermind behind this legendary UK soul and funk collective that began life as a Jamaican-style sound system that played every Sunday night at London's Africa Centre. Soul II Soul, who coined the motto "A happy face, a thumpin' bass, for a lovin' race!," began releasing their own music, a union of classic soul and jazz elements with contemporary beats, in 1988 using several different vocalists, including Rose Windross and Caron Wheeler. Their debut album Club Classics Volume 1 (re-titled Keep On Movin' for the US market) went platinum while the single "Back To Life" topped the charts in both the UK and USA and won the Grammy for Best R&B Performance By A Duo Or Group With Vocal. The group is still going today.
Key Track: "Back To Life"
3: Brand New Heavies
Noted for their organic, old school-style approach to funk that saw them heavily sampled by several hip-hop producers, this London group was built around the nucleus of guitarist Simon Bartholomew, bassist Andrew Levy, and drummer Jan Kincaid. They first emerged in 1988 on the dance label Cooltempo but made more of an impact after switching to the rising Acid Jazz imprint and in the early 90s witnessed mainstream success after they brought in American singer N'Dea Davenport, whose dynamic vocals helped propel the group into both the UK and US charts. After Davenport quit the group in 1996, her replacements have included fellow Americans Siedah Garrett and Carleen Anderson as well as a varied series of guest vocalists.
Key Track: "Stay This Way"
2: Loose Ends
Not since Heatwave in the late 70s had a British-based soul and funk act made such a concerted assault on the US R&B charts as Loose Ends did between 1985 and 1991. Consisting of singer Jane Eugene and multi-instrumentalists Carl McIntosh and Steve Nichol, the trio signed to Virgin Records in 1981 but didn't taste success until they hooked up with Philly producer Nick Martinelli three years later. By blending bubbling drum machine grooves with futuristic synth textures and real orchestral strings, the group patented a unique sound. Eugene and Nichol left the group in 1990, leaving McIntosh to take the reins and form a new lineup, which lasted for one album.
Key Track: "Hangin' On A String (Contemplating)"
1: Incognito
Topping our list of best Britfunk acts is this long-established London collective formed by songwriter, guitarist, and producer Jean-Paul "Bluey" Maunick in 1979 after he left the band Light Of The World. Inspired by big American groups like Earth, Wind & Fire, Incognito blended brassy funk, soul and Latin music into an intoxicating brew and rode in just as the first wave of Britfunk was losing momentum, hitting the UK charts in 1981 with their first single "Parisienne Girl" taken from their debut LP, Jazz Funk. Soon after, the band went into a long hibernation but returned bigger and better in the 1990s on DJ Gilles Peterson's Talkin' Loud label, releasing a succession of outstanding singles and albums which established them as the standard-bearers of the UK's acid jazz scene. The group's music also went down well in clubs, thanks to remixers like Masters At Work and David Morales, who were able to translate the group's slick big band arrangements into addictive dance floor grooves.
Key Track: "Always There"
Order the career-spanning Incognito compilation Always There: 1981-2021 (40 years & still groovin') here.