'The Most Incredible Person I Ever Knew': Bruce Sudano On Donna Summer
'We didn't want to make a Wikipedia documentary,' says Sudano of the new film 'Love To Love You, Donna Summer.'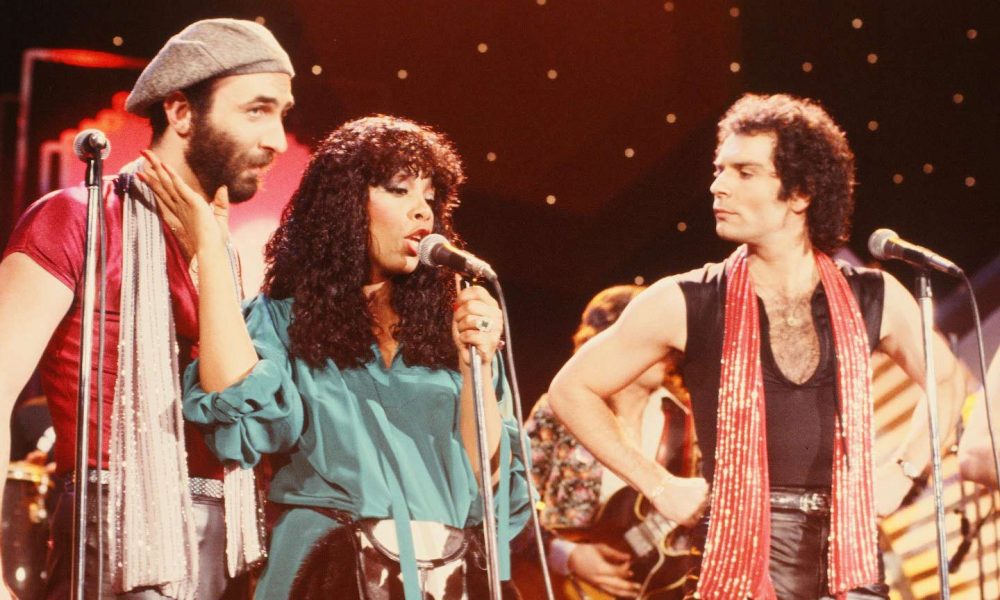 Sometimes harrowing, but ultimately beautiful. Those are two of the adjectives that Bruce Sudano uses to describe the process of being involved in the new documentary about his late wife, Love To Love You, Donna Summer, now screening on HBO Max and co-directed by the couple's daughter Brooklyn, about whom he feels nothing but pride.
"Anytime you take on that type of a project, yeah, it's difficult and harrowing at times, but the satisfaction at the end is really a beautiful thing," says the singer-songwriter, who with Summer and his fellow members of the band Brooklyn Dreams, co-wrote the two-million-selling title song for the best-selling album of her career, 1979's Bad Girls, and "On My Honor" from the same set. "I feel so much gratitude for all the people that worked on it and cared so much, and took a vision that my daughter Brooklyn had. Roger [Ross Williams, her co-director] and her saw the same thing.
"We didn't want to make a Wikipedia documentary," he says of the film's highly personal and intimate approach to telling the life and times of a woman who was so much more than a so-called "disco diva." "It was like Brooklyn saying 'Lots of people can do that, but only we can do this detailed story,'" notes Sudano.
"So there'll be people that are frustrated for one reason or another, you can't please everybody, but all you can do is your best and tell the story best way you can tell it with the tools that you have. I'm so proud of Brooklyn, because she did it. She bounced things off me, obviously, but she did the hard work, from zero to 100. It was impressive."
The documentary has indeed won praise for its unique and personal insights into a widely-loved, but not always completely understood, figurehead of disco and pop music. It bravely opens a window onto her wider creativity, humor, and vulnerabilities, and Bruce has been delighted with the response.
"I went to a few of the screenings," he says, "and [it's great] just to sit in the back row and watch people fully engaged the whole time," says Sudano. "Obviously the fans know everything and [say] 'Why didn't you say this, or this,' but [some] of the assistants that work for the agency or the management, they're like 'I have a whole new respect for her, I had no idea.'
"Donna was so amazing, she was the most incredible person I ever knew on so many levels," says Sudano, "and for me to be able to share just those special moments, where she talks about singing, or her art, or the difficulty of being a recording artist…you can see her mind working and how she interpreted things. Those are precious gems that I think will influence a lot of people for a long time."
A native New Yorker, Sudano pinpoints the day that he and Summer met. "We don't discuss it in the film, but I can give you the exact date, it was March 13, 1977. I was with my partners, Joe 'Bean' Esposito and Eddie Hokenson from Brooklyn Dreams, we were at Donna's manager's apartment on Benedict Canyon, Donna Munao, who grew up in the same neighbourhood [as me] in Brooklyn.
"Donna was going out for a driving lesson that day, in a two-seater Mercedes convertible that the record company had bought her," he goes on. "We met, we started writing immediately, and basically we spent the next week together, just writing and hanging.
"The other point that we really tried to make with the documentary, was to say she was an artist on multiple levels," stresses Sudano. "She had a great sense of melody, of poetry and lyric, she was an amazing painter, she could do unbelievable sketches and design her stage outfits. She was a very funny person, and she used her sense of humour frequently to break the spell, because her charisma was big and strong. If she walked in a room, you felt it, and she was aware of that. She would make the situation 'Hey, I'm just a human like you are.'"
Eleven years after his wife's untimely death from lung cancer at the age of 63, Sudano divides his time between Milan and Los Angeles, and will spend the summer in California preparing for the release of his next solo album, to be titled Talkin' Ugly Truth, Tellin' Pretty Lies and made with producer Ken Lewis. "I'm really excited about it, I think it's the best record I've made to date," he says.
Zombies tour, Valerie Simpson collaboration
In an especially busy 2023, he has toured internationally opening for the Zombies, released his own single "Make The World Go Away" and released "Two Bleeding Hearts." The latter is an admirable collaboration, complete with video, with venerated songwriter Valerie Simpson, whose distinguished songbook includes so many Motown classics written with her late husband Nick Ashford, also her erstwhile recording partner.
"I wouldn't say we know each other well," says Sudano, "but we've known each other a long time, and every number of years our paths would somehow cross, or people who know both of us would pass along a hello. I wrote this song, I felt like it needed to be a duet and I didn't know who the duet partner would be. Cindy, my manager, was like 'Who do you know? Think outside the box!' And I came up with Valerie. I sent her the song, and she said 'I love it, let's do it.'"
A mature take on the challenging nature of long-term relationships, the song exemplifies Sudano's eclectic tastes as a writer. "If I look at my history, where I came from, a kid growing up in the '60s and '70s in Brooklyn…I've spent some time trying to analyze this myself recently. I wasn't in the doo-wop era, but I came out of that, and aspiring to be a Brill Building [writer], Carole King, Neil Diamond and Leiber & Stoller, these were the influences.
Hooked on rock'n'roll at nine
"As a nine-year-old, going to the Brooklyn Fox Theater and seeing a Murray the K rock'n'roll show, and all of these things, and the Temptations and Motown. I loved Bob Dylan. As for most songwriters he's the benchmark. I don't think I've ever talked about this, but Fred Ebb, the lyricist of [musicals and movie songwriters] Kander & Ebb – my mother ran this health club in Manhattan and he went there, right around the late '60s and early '70s when I first started having a little bit of success.
"He was somebody that took me under his wing and coached me about lyric writing," he goes on. "There've been so many generous people that I had early on, Tommy James [of Tommy James and the Shondells] being another. He was the first guy to bring me to a real recording studio, just to see how he built his records, 'cos when I was a kid I had no way to record my songs." In 1969, not yet 21, Sudano had a co-write on James' Top 20 US hit "Ball of Fire."
A lifetime later, and with Summer's memory never absent, he maintains the inquisitive appetite of that Brooklyn kid. "I don't know how to categorize myself," he says. "I'm basically a pop songwriter. I continue to evolve and refine what I do as a songwriter and live life and respond to things."
Stream Love To Love You, Donna Summer on HBO Max.