Cass Tech High School: Detroit's Unsung Bastion of Music Education
The Detroit school was the home to Diana Ross, Big Sean, Ron Carter, Alice Coltrane, and countless other music greats.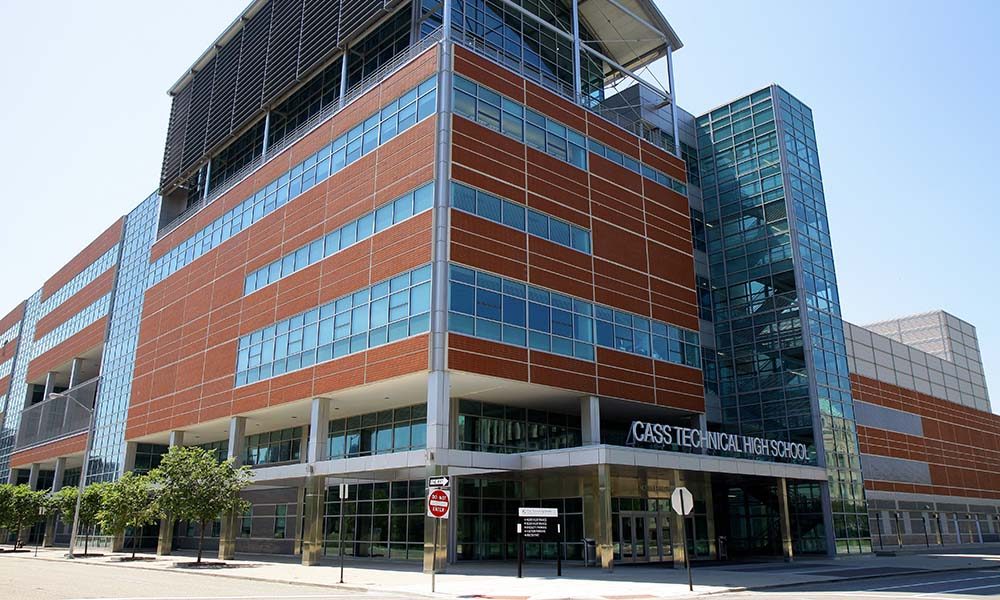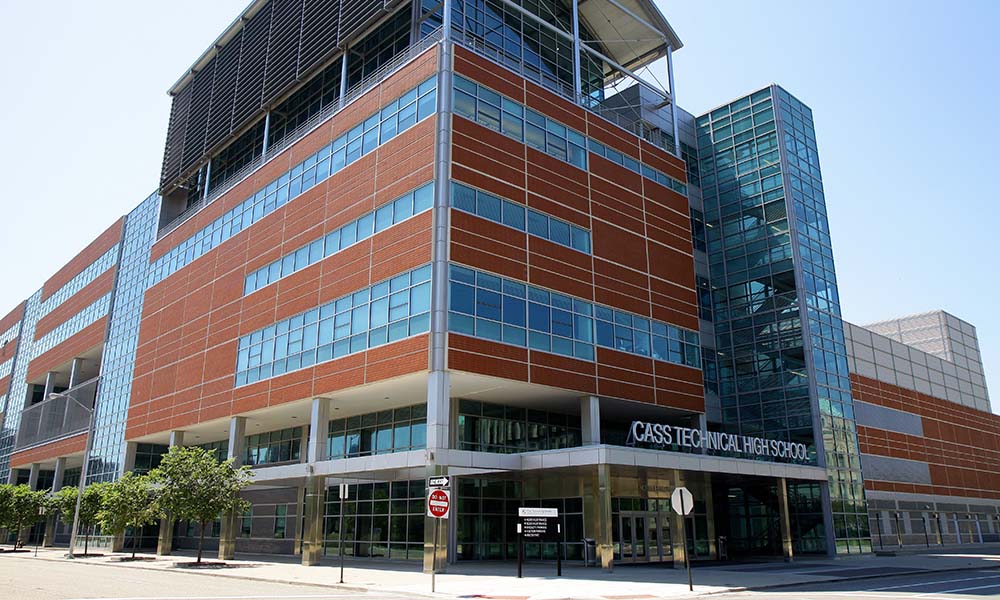 Cass Technical High School is world-renowned for its music and arts programs, but don't compare it to Fame – the popular 80s movie and TV drama set in New York's Laguardia High School of Performing Arts, where students danced on tables declaring that their dreams would live forever. First and foremost, Cass is a school focused on academic excellence, but music may be its legacy.
Cass, which has the largest student body in Detroit, is a college preparatory school with a college entrance rate of over 98%. In the last five years, the school also launched a STEM Education Project promoting science, technology, engineering, and math opportunities. But since 1925, the school has cultivated a legendary music program which nurtured some of the most prolific artists to come out of Detroit; artists who also had a historic influence on all of music and culture. Cass Tech isn't the top-rated school in the city. That honor belongs to Renaissance High, an incredible institution that has sent hundreds to Ivy League colleges. Indeed, many of Detroit's luminaries sent their children to Renaissance, and it was home to some of the smartest kids in the city. But the cool kids? The cool kids went to Cass.
More than 50,000 students have graduated from Cass, including this writer. I majored in Vocational Music at Cass Tech and can confirm first-hand that the program was rigorous. My primary instrument was the cello, but like all vocational music majors, I had to also master a second instrument. I chose the trumpet. I no longer play either instrument, but my music education taught me leadership as a section leader and "big sis" to a group of young cellists, we called ourselves, "The Low Key Queens." Playing in front of huge audiences at Detroit's beloved Fox Theatre taught me courage, and winning competitions after weeks of practice taught me diligence. The school was and still is intensely competitive, a place where "steel sharpens steel."
Academics at Cass Tech are rooted in vocational education. From 9th grade, students choose a "major" which creates and directs their study, preparing them for a specific field. The most popular are arts and communication, and business management and marketing. The city's natural penchant for entrepreneurship and entertainment has influenced generations of aspiring business and community leaders.
The high school's legacy is divided into two eras. The original Cass Technical High School was built in 1922, and for over 80 years, the drab, antiquated eight-story structure was full of thousands of secondary school students. Unfortunately, it was also full of asbestos, and would ultimately be demolished. The new building is a smaller five-story structure that opened in 2005 outfitted with beautiful glass atriums and modern upgrades. The buildings would come to be known as "Old Cass" and "New Cass," as different in culture as they are in appearance. Throughout the years, as Detroit's demographics evolved, so did Cass, reflecting the city's mostly-Black demographic. The glistening new structure is raising a millennial generation of leaders who stand on the shoulders of the giants that passed through the old one.
Giants including Greg Phillinganes, a session musician and keyboardist who graduated from Cass Tech after learning piano as a child from Detroit Symphony Orchestra pianist Misha Kotler. He was only 19 years old when he joined Stevie Wonder's band in 1975, and went on to work with Eric Clapton and serve as Michael Jackson's musical director.
Grammy-nominated rapper Big Sean is a product of "New Cass." He graduated with a 3.7 grade point average, but during his latter years in high school also built relationships with his classmates that landed him a spot as a regular on the city's 105.9 FM weekly Friday Cipher rap battles. That time at the radio station earned him a chance to meet Kanye West, who later signed him to his G.O.O.D. Music imprint. The Sean Anderson Studio of Infinite Possibilities built in 2015 in partnership with Adidas Originals "attracts music producers and talent scouts" who help train music and drama department students.
Big Sean - Marvin & Chardonnay (Clean Version) ft. Kanye West, Roscoe Dash
White Stripes rocker Jack White told NPR that "going to [Cass] at age 14 was all of a sudden like you were going to Harvard," and admitted to The Guardian that he felt like the odd man out as part of a white family living in a Hispanic neighborhood and attending a Black school. White played the drums and trombone in the school band, and even learned the marimba. Throughout his career, White has remained supportive of Cass, and the community around it.
As the Detroit Historical Society wrote in 2011, "the Cass Tech music program helped put Detroit on the map in the world of jazz, and the city's Motown music empire wouldn't have been the same without it." Diana Ross, one of many Motown artists and musicians who passed through Cass's halls, majored in home economics, which was the closest she could get to fashion design. A popular student who was voted "Best Dressed" by her senior class, Ross showed off her sewing skills in the 1975 film Mahogany, directed by fellow Detroiter Berry Gordy.
Theme From Mahogany (Do You Know Where You're Going To)
Before famously marrying jazz legend John Coltrane, Alice Coltrane (née Alice McLeod) – a jazz legend in her own right – honed her skills as a member of the Cass Tech Harp and Vocal Ensemble. The ensemble was the school's first dedicated music program, launched in 1925, and remains the only public school ensemble of its kind in America. The same program groomed jazz harpist Dorothy Ashby, and was instrumental in the careers of mezzo-soprano Muriel Costa-Greenspon and soprano Delores Ivory Davis. The school also touts revered musicians like Eli Fountain Sr., Paul Riser, and Andrew "Mike" Terry.
Cass Tech's instrumental jazz program was developed by world-renowned conductor Dr. Harry Begian, who started his career leading the school's concert band program from 1947 through 1964. A strict disciplinarian, Begian believed that a band itself could be "a refined musical instrument." Dr. Begian's students included jazz trumpeter Donald Byrd, known for his innovative forays into funk and soul.
Under Begian's instruction, the program gained national recognition, and the recordings from his years are now in the Library of Congress. As a conductor, Dr. Begian's presence and legacy was typified in his successors and helped to attract other jazz students including bassists Paul Chambers, Ron Carter, Major Holley, Al McKibbon, and Doug Watkins, as well as jazz violinist Regina Carter who was so talented she would charge her classmates for the pleasure to watch her practice.
Angela Kee, the choir director at Detroit Academy of the Arts and Sciences, attended Cass with Regina Carter. Kee has continued her school's legacy of accomplishment as well: she won a Michigan Emmy in 2020 for her student's viral commercial covering the Parliament classic "One Nation Under a Groove," and she has guided her students to performances on Ellen, The Today Show, and for the Obama Administration. She credits her education at Cass for the many lessons that she teaches today – and that "New Cass" students will learn and showcase for future generations.
"Cass Tech created artists who are a musician's musician," she says, "To be the one that stars call on requires a superior level of education.
"Cass Tech left an imprint on my life," Kee recounts wistfully. "The school demanded excellence, and I do the same for my students. When I present my kids in public, that's that Cass Tech shine. You are about to be entertained by the best."
Black Music Reframed is an ongoing editorial series on uDiscover Music that seeks to encourage a different lens, a wider lens, a new lens, when considering Black music; one not defined by genre parameters or labels, but by the creators. Sales and charts and firsts and rarities are important. But artists, music, and moments that shape culture aren't always best-sellers, chart-toppers, or immediate successes. This series, which centers Black writers writing about Black music, takes a new look at music and moments that have previously either been overlooked or not had their stories told with the proper context.