Time After Time: The Lasting Legacy Of Chet Baker
The iconic poster boy for the West Coast cool school, Chet Baker left a profound mark on jazz in his 40-year career.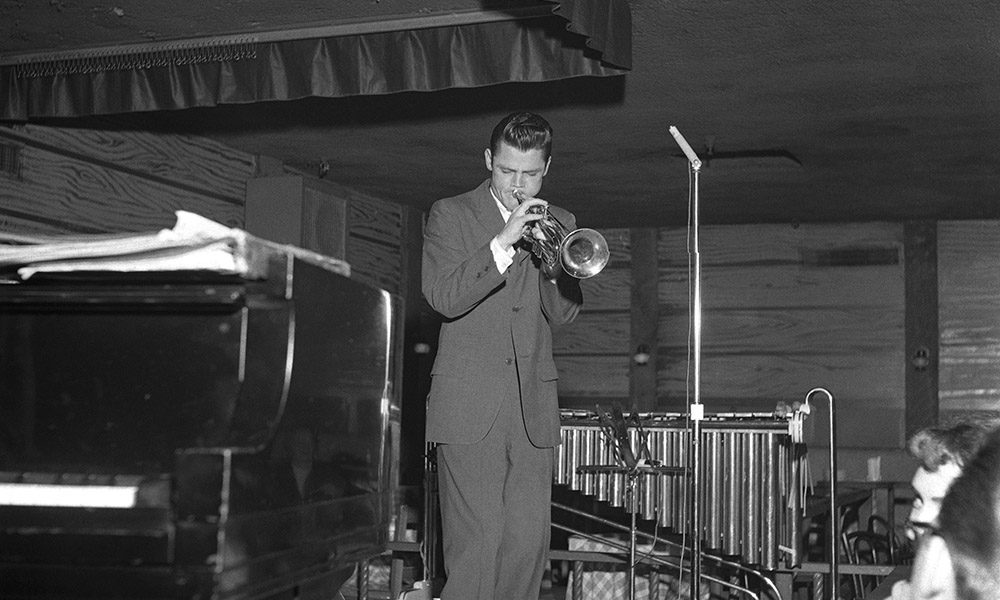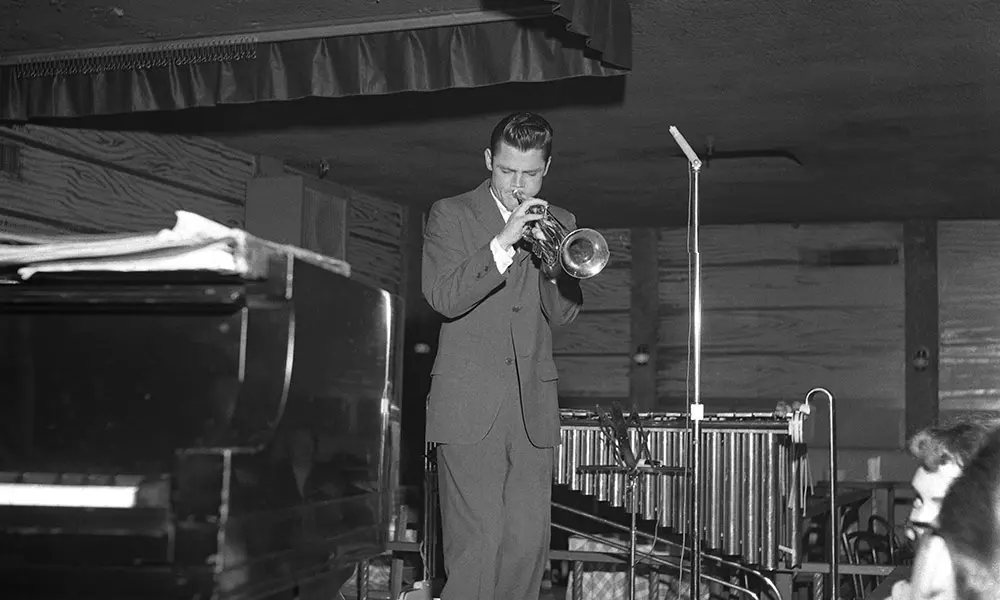 When the body of Chet Baker was found, crumpled and bloodied, on an Amsterdam pavement on Friday, 13 May 1988, beneath the third-floor window of the hotel where he was staying, at first no one recognized him. Years of drugs and alcohol abuse had rendered the 58-year-old unrecognizable from the clean-cut young man who, in the early 50s, with his chiselled good looks, was perceived as the iconic poster boy for West Coast cool jazz. Though Baker's death was officially deemed to have been a tragic accident that resulted from him falling from his hotel window, the singing trumpeter's demise was an ignominious one for a jazz musician whose career had begun so spectacularly.
Listen to the best of Chet Baker on Apple Music and Spotify.
Early years
Let's rewind. Born Chesney Henry Baker, on December 23, 1929, in Yale, Oklahoma, Baker was drawn to music at a young age, aided by the fact that he was born into a musical family (his father had once been a professional guitarist and his mother played piano). A Jack Teagarden fan, his dad bought 14-year-old "Chetty" (as his mum called him) a trombone to play, but it proved too unwieldy for the young man so he swapped it for a trumpet, discovering a natural affinity with the instrument.
In 1946, when he was 16, Baker joined the US Army, where he honed his horn skills playing in military bands. On leaving the army, in 1951, he set up camp in Los Angeles and started playing in jazz clubs on the West Coast. He soon started to make a name for himself with a lyrical trumpet sound influenced by Miles Davis and which proved the perfect foil for the more effusive style of saxophonists Stan Getz and Charlie Parker, with whom Baker played in the early 50s.
Finding fame
Baker's big breakthrough was joining baritone saxophonist Gerry Mulligan's quartet in 1952 – an outfit deemed revolutionary at the time because it had no pianist. The unorthodox set up allowed its two horn players more harmonic freedom, however, and prompted them to play intertwining contrapuntal melodies. The group's gigs attracted huge interest, which led to them recording for Dick Bock's Pacific Jazz label, where they scored a hit with an instrumental rendition of the jazz standard 'My Funny Valentine'.
Unlike most of the beboppers, who played fast and furious, Baker's hallmark was a minimalist eloquence. Like fellow trumpeter Miles Davis, he could communicate in a few choice notes what other musicians couldn't express if they had a hundred at their disposal.
Chet Baker Live Belgium 1964) Time After Time - YouTube
Going solo
Baker went solo when Mulligan was incarcerated for narcotics offenses, and quickly made his mark as a vocalist as well as trumpeter, releasing Chet Baker Sings in 1954. His mellow voice possessed a languorous, dreamy quality, and it helped to further his appeal with the wider public. He recorded a slew of albums for Pacific Jazz – among them 1957's superior Chet Baker & Crew – and, during a tour of Europe, he made recordings for the French label Barclay.
An instinctive horn player who was musically illiterate and played mostly by ear, Baker nevertheless regularly topped the best trumpeter jazz polls, beating the likes of Dizzy Gillespie and Miles Davis, both of whom had taken formal tuition.
Thanks to his photogenic, matinee-idol looks, Baker became a heartthrob figure and, recognizing this, Hollywood came calling. Seeing his potential as a bankable movie star, they cast Baker as a trumpet-playing character called Jockey in a movie set during the Korean War, Hell's Horizon. Yet even with Baker's presence – intended to add star sparkle to what was in reality a B-movie – the film flopped. Though he was offered more roles, the trumpeter resisted the temptation to make further movies, preferring his life as a musician.
Personal troubles
But being a jazz musician had its perils and, by this time, hard drugs began to play a major part in the trumpeter's life. Like many jazz musicians from that period, Chet Baker had been seduced by narcotics, perhaps believing that drugs could aid his creativity. Instead, though, they started to wreck his life.
Baker left the US for Europe in the late 50s, seeking refuge from persecution by the American authorities over his drug use (he spent several months in the notorious Riker's Island prison during 1959). Europe proved far from a safe haven, however, as, in 1960, he was incarcerated in Italy for possessing heroin and was later kicked out of the UK and Germany for his drug problem.
Back in the US, Baker continued to make music for a variety of labels in the early 60s, but in 1966, his career took a turn for the worse when he had his teeth knocked out during a fight. The assault damaged his embouchure and made it impossible for him to play the trumpet – so much so that he took on a job as a pump attendant at a petrol station. It was only after having dentures fitted that he was able to return to the trumpet.
Later resurgence
In the 70s, Baker started rebuilding his career. A move to New York saw him recording again, joining the roster at producer Creed Taylor's influential CTI label, and reuniting with Gerry Mulligan. But tastes were changing in the 70s, with bebop and straight-ahead jazz being eclipsed by the more popular fusion and jazz-rock. By the end of the decade, Baker had joined A&M's Horizon jazz imprint and contemporized his sound with the electric, funk-infused album You Can't Go Home Again, which even had a hint of disco.
Chasing trends, though, didn't reboot Baker's waning career, and in 1978 he moved to Europe, where he was feted like a returning hero. He remained there until his death in 1988.
Lasting legacy
Since then, interest in Baker's life and music has never diminished. He's been the subject of two films – 2015's Born To Be Blue, in which Ethan Hawke played Baker; and Bruce Weber's 1988 documentary, Let's Get Lost – and had several books written about him, including James Gavin's revelatory, warts'n'all biography, Deep in a Dream: The Long Night Of Chet Baker. And, of course, his music continues to interest people all over the world. It's also been heavily sampled, most notably by R&B singer Mariah Carey and trip-hop MC Tricky.
Somewhat curiously, Chet Baker has been dubbed by some as "The James Dean Of Jazz," though, in truth, it's an odd and ill-fitting description. For one, the singer/trumpeter's career was much longer and more productive than that of the doomed actor, who died at 24. Perhaps the comparison has come about due to the largely erroneous notion that Baker didn't fulfill the initial promise he showed as a young man. But as harrowing as some of his life experiences had undoubtedly been, Chet Baker, unlike Dean, didn't die before his time. In fact, he was a prolific recording artist (he recorded over 100 albums during his lifetime) and made a profound mark on jazz, helping to shape its course during a career that lasted almost 40 years.
Three decades after his death, the world's fascination with Chet Baker is as strong as ever. When he was at his best, the music he made with his horn was pure poetry, and that's why it continues to resonate with listeners, both young and old, today.
The Legendary Riverside Albums can be bought here.
Format:
UK English