Best Chuck Berry Songs: 20 Motorvatin' Classics From A True Pioneer
To celebrate the unique brilliance of a rock'n'roll original, here's a collection of the best Chuck Berry songs that capture his unparalleled career.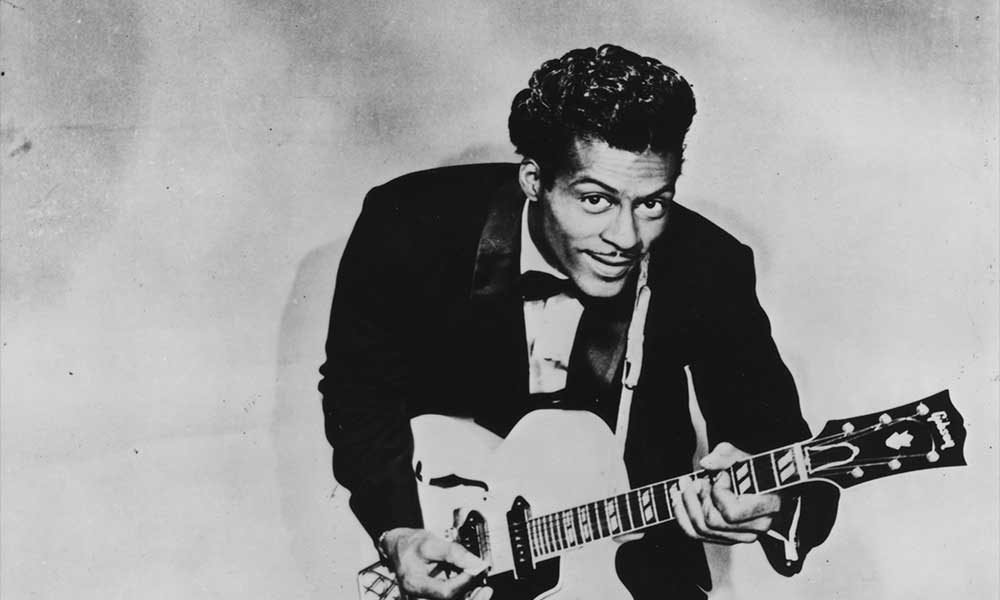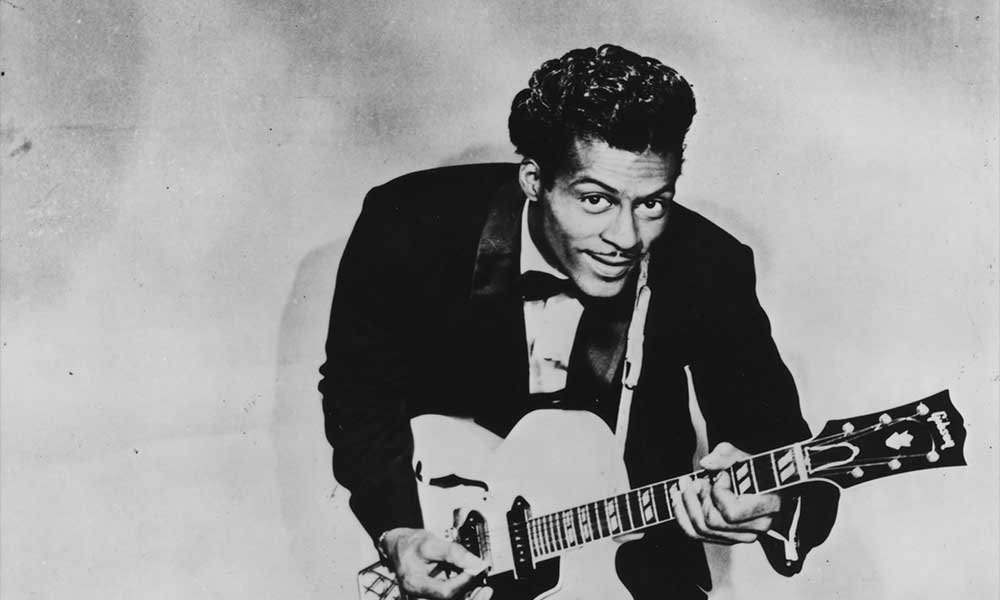 Narrowing down the Chuck Berry songs that encapsulate the unique brilliance of a rock'n'roll original is a daunting challenge, but one that's also great fun. Whether you're just beginning to explore his discography or you're a longtime fan, this 20-track tribute highlights many of the defining moments of the pioneering singer, songwriter and guitarist from St. Louis, Missouri, born on October 18, 1926.
Early Essentials
Maybellene
We start the only way we could, with a trip back to the summer of 1955 and the song that introduced Chuck to America and the world. As he later explained, it evolved from a song he heard on the radio in the early 1950s (on St.Louis country station KMOX, to be precise). Once Leonard Chess of Chess Records asked Berry to change the lyrics and make it his own, there was no stopping him.
Too Much Monkey Business
September 1956 brought one of several early Chuck singles that mysteriously failed to make the American bestsellers. Chess catalog number 1635 featured "Brown Eyed Handsome Man" and, as the top side, the irresistible "Too Much Monkey Business," another early example of his sparking wordplay. It's essentially a list of all the things in his life that are cramping his style, but in his hands, that's an eloquent inventory of his woes in love, at school, at work, even in the army.
School Day (Ring Ring Goes The Bell)
Berry's genius was to tap into the aspirations and anxieties of teenage life, even as he was already moving into his 30s when he became a star. "School Day" was one of numerous staples to describe the struggles of studying hard and hoping to pass when all you really wanted to do was listen to great music. Drop the coin right into the slot…
Sweet Little Sixteen
Based, like just about all of Chuck's superbly-described scenarios, on a true story. He once saw a teenage girl running around backstage at a multi-artist rock'n'roll bill he was on, collecting autographs like her life depended on it. He was also smart enough to know that the more cities you mention in a lyric, the more likely you were to get played in those towns. Step forward Boston, Philadelphia, New Orleans, and, of course, St. Louis.
Lyrical Page-Turners
Memphis, Tennessee
Never a US hit in its own right, tucked away on the B-side of 1959's "Back in the U.S.A.," "Memphis, Tennessee" is a song with a gripping narrative and surprise punchline, but also an astute observation about marital strife and broken homes. "When I wrote 'Memphis,'" he said, "I had known couples who had divorced and the tragedies of the children."
No Particular Place To Go
A natural humorist, Chuck knew how to reel 'em in with his rocking rhythms and mesmerizing guitar licks, and keep 'em waiting until the end to find out what happened in the storyline. On this occasion, a romantic scene on a moonlit night runs into trouble with a stubborn safety belt. Teen angst again, and pure genius.
Little Queenie
To other writers, it would just be another boy-sees-girl story, but with Chuck in charge, we're hanging on every word. At the tail-end of the 1950s, he was still going strong with engrossing story songs such as this one about the girl standing by the record machine. The sheer rhythm and rhyming brilliance of the verses ("She's in the mood, no need to break it. I got the chance, I oughtta take it. She can dance, we can make it. Come on Queenie, let's shake it") is nothing less than proto-rap of its day.
You Never Can Tell
Scene: a teenage wedding of Pierre and his mademoiselle. In less than three minutes, Chuck tells their whole story, right down to the Roebuck sale from which they furnished their apartment to the records on their hi-fi and the 1953 "souped-up jitney" they drive to Orleans for their anniversary. It was pure pop poetry.
Nadine (Is It You)
In a 2020 interview, Chuck's son Charles Berry marveled at his dad's way with words. "His ability to communicate a message was just outstanding," he said. "That really comes from the background that my dad was first and foremost a poet, and he learned his poetry skills from his father. So he was able to adapt his poetry, which really required the cadence and his articulation of the words to convey a message." The often-admired verse in "Nadine" is another perfect example, where the narrator walks towards a "coffee-colored Cadillac… campaign shouting like a southern diplomat."
Inspiring The Beatles, The Stones…And Millions Of Others
Roll Over Beethoven
As Beatlemania gripped the planet, the next generation of teenagers heard Chuck for the first time, already some seven or eight years after he had helped create the rock'n'roll template. John, Paul, George and Ringo always wore their love of Chuck on their sleeve, first giving "Roll Over Beethoven" back to the world as Track 1, Side 2 of their second LP With The Beatles.
Rock & Roll Music
Chuck was back on the group's playlist late in 1964 for their fourth UK LP, Beatles For Sale, as they reprised another of his numbers they'd honed in Hamburg, at the Cavern and elsewhere. The Beach Boys would also memorably rekindle their love of his early catalog (and his direct influence on Brian Wilson as a songwriter) with a version on 1976's 15 Big Ones.
Johnny B. Goode
It's easier to say who didn't cover Chuck's songs, but in addition to those two studio tributes from their early LPs, The Beatles performed from his repertoire endlessly, both in those formative club years and, as their fame grew, on radio sessions. "Johnny B. Goode" was another example, a 1958 US Top 10 hit for Berry that featured on Saturday Club in 1964 and was part of the Liverpool lads' Live At The BBC collection 30 years later.
Carol
The Rolling Stones' very debut on disc came with a Chuck song, when they released his "Come On" as their first Decca 45 in the UK in 1963. When their opening LP followed in the spring of 1964, it featured his US hit of six years earlier, "Carol," one of the Stones' early live staples. His influence has rolled throughout their storied career from then on.
Changing The Pace
Wee Wee Hours
As he showed from the start, Berry was so much more than a flat-out rocker. The bluesy, late-night sway of "Wee Wee Hours" was the B-side of that very first Chess hit, "Maybellene," and showed another side of Chuck while putting a spotlight on the wonderful, ever-present piano of Johnnie Johnson.
Havana Moon
This atmospheric piece was "only" the B-side of 1957's "You Can't Catch Me," but also an essential part of that year's seminal After School Session LP. Its persuasive echo was still to be heard decades later, not least when Mick Jagger pulled it out of his memory to make it the title of the Stones' concert film of their free concert in Havana in 2016.
Deep Feeling
Right after the ringing of the bell for the rollicking "School Day" on that After School Session, you get the subtle surprise of this supremely textured instrumental, also the B-side of that hit. This time it's a steel guitar that Chuck twangs and bends while Johnson and drummer Fred Below keep time and Hubert Sumlin plays further guitar.
Later Rock Ripples
Promised Land
One of Chuck's peerless travelogs celebrating the States, this was a later echo of "Back In The U.S.A." with its depiction of his breathless journey through the American outdoors, from Norfolk, Virginia to Houston town. There are countless great versions of almost every song Chuck ever wrote, but the cajun-flavored reading of "Promised Land" by Johnnie Allen is a particular gem worth uncovering.
My Ding-A-Ling (Live)
Berry's biggest worldwide hit is the most "novelty" of his career, a composition by New Orleans figurehead Dave Bartholomew that the rocking frontman had been performing live for years. This version was recorded at the Lanchester Arts Festival in Coventry, England, in 1972. Incongruously, the musicians who rose to the always-daunting task of following his instructions as a bandleader included later members of the Average White Band. The single became Chuck's only No.1, on both sides of the Atlantic.
Reelin' & Rockin'
From the same English show, a lively and playful update from the now-46-year-old star of one of his late 1950s numbers, which had been covered by the Stones, Gerry and the Pacemakers, the Dave Clark 5 et al. During the first wave of nostalgia of the early 1970s for the formative days of rock'n'roll and its creators, it added to a new momentum in Chuck's epic career.
A Nonogenarian Farewell
Big Boys
The lead single from Berry's final record, Chuck, was released in the week of his death on March 18, 2017, at the age of 90. He had been making the album on and off for many years, and even if it walked largely well-trodden ground under the guise of new compositions such as this one, it was gladdening to see and hear a final hurrah by one of music's inarguable masters.
All of the best Chuck Berry songs are now available on the Great Twenty-Eight: Super Deluxe Edition, a lavishly expanded box set version of the compilation released in 1982, which can be bought here.