'Ask The Lonely': The Four Tops' Elegant Motown Salute To The Lovelorn
The single featured fabulous instrumentation by the Funk Brothers and the Detroit Symphony Orchestra, and the fervent lead lines of Levi Stubbs.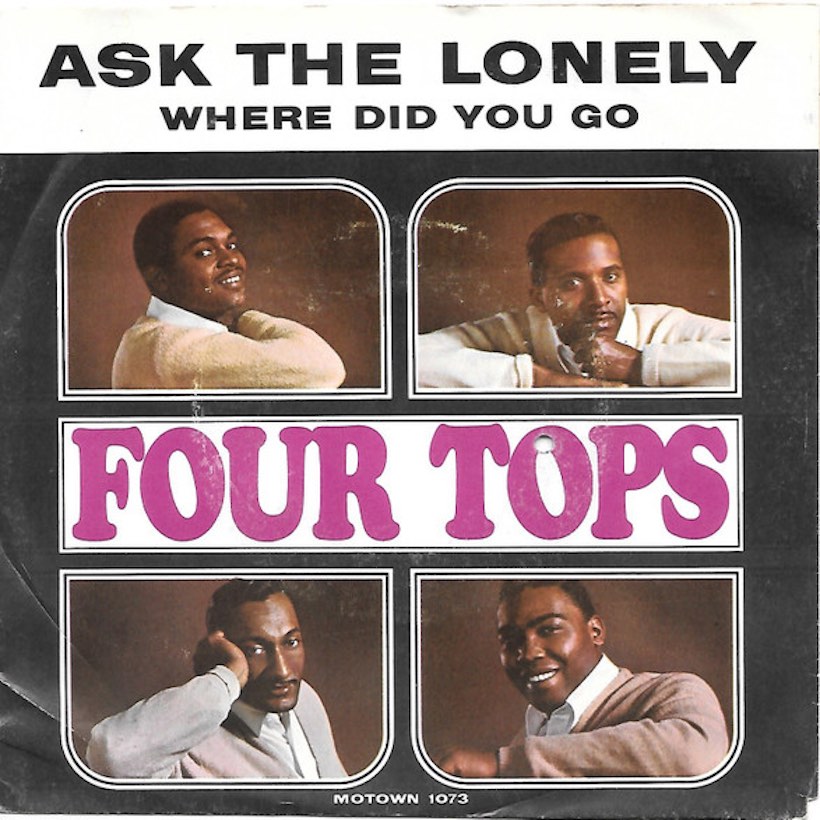 The Four Tops had hits that were bigger than "Ask The Lonely," but few that were better. The composition by Ivy Jo Hunter and William "Mickey" Stevenson was the quartet's third Motown single, its elegantly heartbroken sentiment magnificently illustrated with the Tops' trademark harmonies, further vocal backing by the Andantes, fabulous instrumentation by the Funk Brothers and the Detroit Symphony Orchestra, and, of course, the fervent lead lines of the irreplaceable Levi Stubbs.
Speaking in the notes for The Complete Motown Singles Volume 5, Hunter revealed that this timelessly soulful entry in the group's body of work came to life in no time. "A lot of people could identify with it, even though it wasn't a chart-burner," he said, recalling of the session: "I hadn't finished the lyrics, and everyone was downstairs in the studio. I wrote it in about 15 minutes, 'cause I had to get downstairs for the dub-in."
The song wasn't even originally intended for the Four Tops, having first been assigned to fleeting Hitsville signing Tommy Good. The backing track was recorded in June 1964, with that Tops dub-in that Ivy Jo talked about taking place in August.
The single was released, as the follow-up to the only modestly successful "Without The One You Love (Life's Not Worth While)," on January 5, 1965. R&B DJs making it an early pick included Paul (Fat Daddy) Johnson on WSID, Baltimore, and the splendidly-named Chatty Hatty at WGIV, Charlotte.
"Tamla/Motown, "Hot With Singles," proclaimed a trade advertisement, adding its own slash symbol between the words. The new Tops release was one of those in the spotlight, along with the Temptations' "My Girl" and Jr. Walker and the All Stars' "Shotgun." Directly below that, the company proclaimed itself "Hot With Albums" too, announcing releases by Marvin Gaye, the Supremes, and, indeed, the self-titled debut of the Four Tops, which featured that new single. "Hits Are Our Business," concluded the ad.
"Ask The Lonely" made its debut on both the Hot 100 and the R&B chart, at Nos.75 and 33 respectively, in the Billboard issue of February 6. On the pop side, it topped out at No.24, but it did become the Tops' second Top 10 soul success (after their initial "Baby I Need Your Loving"), peaking at No.9. The smash-in-waiting "I Can't Help Myself" was just around the corner, but this graceful depiction of the lovelorn stands as one of the Tops' finest moments.
Buy or stream "Ask The Lonely" on the Four Tops' Ultimate Collection.