Frank Zappa's Surprising Collaborations
The musical maverick collaborated with a staggering array of musical talent, from outsider artists to soul divas.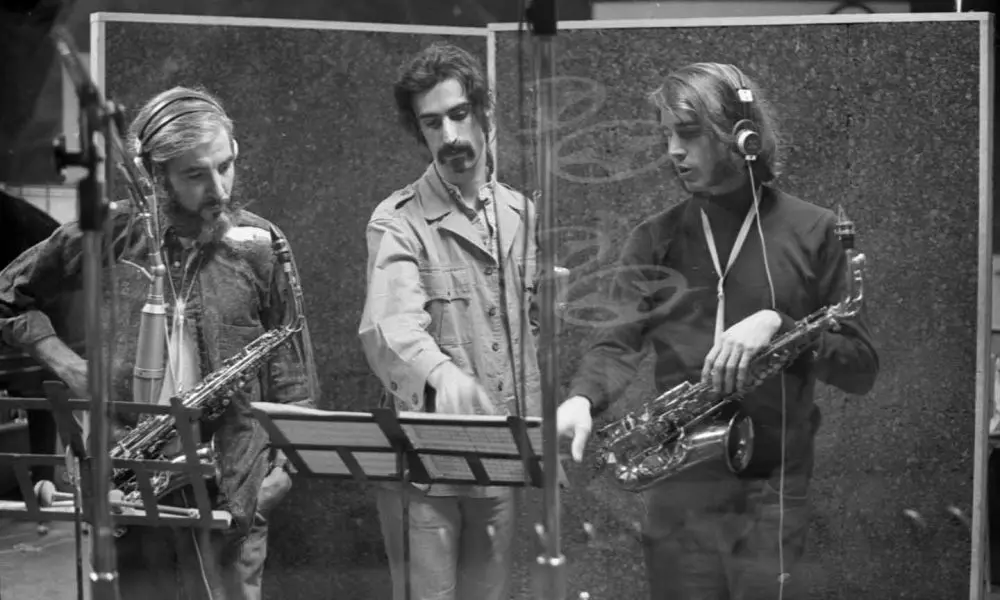 Though many musical greats passed through the ranks of Frank Zappa's ever-shifting backing bands (Lowell George, George Duke, and Don Preston to name just a few), the musical maverick also collaborated with a staggering array of musical talent, from outsider artists to soul divas. Here we take a look at some of Zappa's most significant non-Mothers musical meetings.
Listen to the best of Frank Zappa on Apple Music and Spotify.
Captain Beefheart
Frank Zappa and Captain Beefheart (or Don Van Vliet, as he was known back then) met when they were both attending Antelope Valley High School in Lancaster, California. The pair made their first musical steps together in the late 50s and their careers were intertwined from that point on.
Zappa produced Beefheart's wild masterpiece, 1969's Trout Mask Replica, and released it on his own label, Straight Records. Beefheart can be found on numerous Zappa albums – notably "Willie The Pimp" (Hot Rats, 1969) and Bongo Fury, the live album documenting the Spring 1975 tour that saw Beefheart join the Mothers on stage. The pair surely had their differences, but they were put aside when Van Vliet heard about Zappa's prostate diagnosis, after which the two counter-cultural icons would share a weekly phone call, playing records they'd loved as teenagers down the line to one another.
Simon & Garfunkel
This collaboration was totally down to chance: Zappa and Paul Simon met in Manny's Music Store in New York. According to Zappa, the meeting happened in 1967, but evidence points to it being 1969. Simon invited Zappa to dinner at his house, and the evening got off to an unusual start according to The Real Frank Zappa Book, "As I walked in the door, Paul was on his hands and knees in front of what appeared to be a Magnavox stereo… He had his ear right up to the speaker, listening to a Django Reinhardt record." When Art Garfunkel arrived, the pair began reminiscing about their early days touring as Tom & Jerry and saying they missed playing live. Zappa had a plan, "I said, 'Well, I can understand your desire to experience the joys of touring once again, and so I'll make you this offer… we're playing in Buffalo tomorrow night. Why don't you guys come up there and open for us as Tom & Jerry? I won't tell anybody. Just get your stuff and go out there and just play only your old stuff, no Simon & Garfunkel tunes.' They loved the idea and said they would do it." Audiences in Buffalo were shocked, especially when the superstar duo performed an Everly Brothers-inspired take on "The Sound Of Silence."
John Lennon and Yoko Ono
While John Lennon had publicly praised Zappa's fearlessness in his work, Zappa seemed ambivalent about The Beatles in interviews. Still, a meeting led to Lennon and Yoko Ono performing with Zappa at the Fillmore East in 1971. Zappa later recalled how they got together: "A journalist in New York City woke me up – knocked on the door and is standing there with a tape recorder and goes, 'Frank, I'd like to introduce you to John Lennon,' you know, waiting for me to gasp and fall on the floor. And I said, 'Well, OK. Come on in.' And we sat around and talked, and I think the first thing he said to me was, 'You're not as ugly as I thought you would be.' So anyway, I thought he had a pretty good sense of humor, so I invited him to come down and jam with us at the Fillmore East." The result was a June 6th show that finally saw its full release via Zappa on The Mothers 1971 box set.
Well (Live At Fillmore East, NYC, 1971)
Wild Man Fischer
Larry Fischer was a singer-songwriter who led a difficult life. His bipolar disorder, auditory hallucinations, paranoid schizophrenia, and manic depression led to behavioral problems, and he was committed to a public psychiatric hospital in 1963. A year later, he was released and began performing in local talent shows. Solomon Burke discovered Fischer and took him on tour, giving him the nickname "Wild Man." After more hospital stays, Fischer became a street performer on the Sunset Strip, and word of his unique a cappella songs spread.
Zappa was especially taken with Fischer and recorded him in late summer 1968 on the street, in the Zappa family basement, and at LA's Sunset Sound studio. The result was the double album An Evening With Wild Man Fischer, released in April 1968 on Zappa's Bizarre record label. Zappa and the Mothers backed Fischer on "The Taster (Fancy Version)," while Zappa played all the instruments on "Circle" and produced the whole album. The album became a cult favorite, and Fischer went on to record more, though he struggled with mental health problems until his death in 2004.
Pink Floyd
While Zappa flat-out denied ever playing with prog titans Pink Floyd in a 1990 interview with fan magazine Society Pages, video evidence of the composer jamming with the band on an extended version of The Piper At The Gates Of Dawn track "Interstellar Overdrive" suggests otherwise. It happened in October 1969 at Actuel Festival in Amougies, Belgium. Artists billed included the Floyd, Captain Beefheart, and Yes, but not Zappa – the Mothers had recently disbanded. Still, the organizers of the festival were keen on Zappa being involved and asked him to compere the festival. Inevitably, Zappa couldn't resist joining in with some of the acts, and over the course of the weekend, he sat in with Aynsley Dunbar ("Retaliation: Improvisation"), Caravan ("If I Could Do It All Over Again, I'd Do It All Over You"), Sam Apple Pie ("Moonlight Man"), Blossom Toes (an improvised jam) and Pink Floyd, as well as a jam with Philly Joe Jones, Earl Freeman, Louis Maholo, John Dyani, Grachan Moncur III, and Archie Shepp. While Zappa claimed not to remember playing with Pink Floyd, drummer Nick Mason praised his playing in a 1973 interview, "Zappa is really one of those rare musicians that can play with us. The little he did in Amougies was terribly correct."
Tina Turner
Tina Turner's work with Frank Zappa went uncredited and under the radar of many rock fans. In 1970 the soul great opened the state-of-the-art Bolic Sound studios complex in Inglewood, California, with her then-husband, Ike. Zappa used the studio to record Over-Nite Sensation (1972) and Apostrophe (1974). He'd later explain how he came to work with Tina and the legendary backing singers, The Ikettes, "I wanted to put some back-up singers on the thing, and the road manager who was with us at the time checked into it and said, 'well, why don't you just use the Ikettes?'… But you know what the gimmick was? We had to agree, Ike Turner insisted, that we pay these girls no more than $25 per song, because that's what he paid them… including Tina. It was so difficult, that one part in the middle of the song 'Montana,' that the three girls rehearsed it for a couple of days. Just that one section."
Tina was proud of her work with Zappa, as he recalled, "Tina was so pleased that she was able to sing this thing that she went into the next studio where Ike was working and dragged him into the studio to hear the result of her labor. He listened to the tape, and he goes, 'what is this shit?' and walked out. I don't know how she managed to stick with that guy for so long. He treated her terribly, and she's a really nice lady."
Frank Zappa, The Mothers Of Invention - Montana (Visualizer)
Jack Bruce
The title track of Zappa's Apostrophe was the result of an all-night jam session at Electric Lady Studios, New York City, on November 8, 1972. The song was credited to the three soloists – former Cream bassist Jack Bruce, Zappa, and drummer Jim Gordon. Bruce was then touring with West, Bruce, And Laing – his virtuoso, attacking style made for a thrilling listen and clearly placed Zappa outside of his comfort zone, as he told Guitar Player in 1977, "[It] was just a jam thing that happened because [Bruce] was a friend of Jim Gordon. I found it very difficult to play with him; he's too busy. He doesn't really want to play the bass in terms of root functions; I think he has other things on his mind. But that's the way jam sessions go." Bruce later recalled that Zappa had originally wanted him to play the cello on the track, but the instrument that was hired for the session was so bad it couldn't be played.
Frank Zappa, Jack Bruce, Jim Gordon - Apostrophe' (Visualizer)
Alice Cooper
Though Alice Cooper became one of the biggest rock acts in the US in the 70s, back in the late 60s the original line-up of lead vocalist Vincent Damon Furnier (known these days as Alice Cooper), lead guitarist Glen Buxton, rhythm guitarist Michael Bruce, bassist Dennis Dunaway, and drummer Neal Smith were struggling. According to legend, at a LA gig in the early 70s they managed to (nearly) clear the club in just 10 minutes. Luckily, Zappa was in attendance. Cooper later said, "We scared the hell out of these people. They were all on acid, we looked like we'd just come up out of the ground, and we didn't mind a little violence onstage. That audience couldn't get out of the room fast enough. It was like somebody yelled 'FIRE!' There were three people left standing: Frank Zappa, my manager Shep Gordon, and one of The GTOs. Frank said, 'Anybody that can clear a room that quick, I've got to sign.'" Alice Cooper recorded their debut album Pretties For You (1969) on Zappa's Bizarre Records label (1969). Their second album, Easy Action (1970), was recorded on Zappa's Straight label. And the rest was history.
Grand Funk Railroad
Come the mid-70s, the arena-packing rockers Grand Funk Railroad were on the ropes. Band relationships had soured thanks to burnout, musical differences, and personal issues, and when January 1976's Born To Die became their lowest-selling album to date, the writing appeared to be on the wall. Salvation came in the unlikely form of Frank Zappa, for many the musical antithesis of GFR's straightforward, good-time rock. Ever the contrarian, Zappa was a fan, and had a plan when it came to producing their next album, Good Singin', Good Playin', as he later revealed, "All I did was, in a documentary way, make a record which tells you exactly what they really sound like. For the first time on record, you can hear Grand Funk Railroad … and they're fantastic, fan-tastic with an 'F' three times taller than you."
Drummer Don Brewer told Classic Rock in 2021, "During [Good Singin', Good Playin'], Grand Funk was in the process of breaking up. Of course, Frank knew. He could pick up on the tension and all of that kind of stuff. There was a point when I had had it. I was going to leave the session and [frontman Mark] Farner had had it. Frank, unfortunately, was in the position of getting us both together and trying to salvage it and get us through the album – and he did. I give him complete credit for that. He got us through that record." Zappa also ventured from behind the production desk, playing guitar on "Out To Get You" and singing backing vocals on "Rubberneck."
Archie Shepp
Jazz great Archie Shepp and Zappa's paths often crossed. The Mothers included a Shepp composition ("Archie's Home") in their repertoire, the two musicians were photographed together for a September issue of Jazz & Pop magazine, and as previously mentioned, they jammed together at the Actuel Festival in 1969. A Shepp recording of "The Shadow Of Your Smile" also inspired the title of one of Zappa's greatest albums, Hot Rats, as revealed in a recording of Zappa included on 2019's The Hot Rats Sessions, "He played this solo that sounded to me like an army of pre-heated rats screaming out of his saxophone," Zappa says on the set. The relationship lasted through the decades, at a October 28, 1984 gig, Shepp guested with The Mothers, playing tenor sax, a recording later released on You Can't Do That On Stage Anymore Vol. 4.
Sting
Another seemingly unlikely collaboration that works. Zappa had happened to meet Sting in the lobby of the hotel both artists were staying at prior to the former's March 3, 1988, Chicago show. The ex-Police man joined Zappa on stage that evening. After Zappa politely introduced Sting as "Mr. Sting," the English singer responded, "It's not in my nature to kick a man when he's down. When I saw the first part of the show, I realized I had to come up here and tell you something. Well, four years ago Jimmy Swaggart [prominent TV evangelist of the time] said this about me: He said, 'this here song by The Police, 'Murder By Numbers,' was written by SATAN! Performed by the sons of SATAN! BEELZEBUB! LUCIFER! THE HORNED ONE! I wrote the f—in' song, alright?" With that, Zappa's group shimmied into Oliver Nelson's "Stolen Moments," over which Sting sang the lyrics to "Murder By Numbers."
Many singers would've been overwhelmed by the prospect of sharing a stage with Zappa, but Sting goes for broke, stepping up the intensity levels as Zappa launches into a fluid, exploratory solo. Zappa brought Sting back out for the encore of the show, the two of them miming the horn parts of "Stairway To Heaven."
The Chieftains
Perhaps the most unlikely of Zappa's musical meetings was with long-running Irish traditional folk group The Chieftains. And yet, his enthusiasm for their music speaks of the musical curiosity and respect for expertise Zappa had. "We play together here nearly every time they're in town, and I love the sounds these guys make," Zappa said in a 1993 interview with RCD. "Each member of the group is an expert on his instrument, not just in terms of technique, but in terms of the concept they have of what the final ensemble product is supposed to sound like. That is something you are only going to get with a group that has been together 30 years… The Chieftains are their own culture, and I hear traces of not only Celtic history but global history in their work, echoing back to the beginning of time."
After their relationship was bolstered by members of The Chieftains playing at jam sessions at the Zappa residence in 1993, the band recorded five songs for their 1993 album The Celtic Harp at Zappa's Utility Muffin Research Kitchen home studio, an uncredited Zappa also played on the album, along with 1995's The Long Black Veil. "The Green Fields Of America" was especially significant for Zappa. According to Zappa biographer Barry Miles, it was the last song Zappa listened to. In fact, he played it exclusively for the last two weeks of his life, and it was played at his funeral.
Gene Simmons
While Gene Simmons was working on his second solo album in the early 00s, the KISS singer remembered an encounter with Zappa, which led him to think about the plethora of unreleased material in the vaults. Simmons later recounted, "I've always admired Frank Zappa. He invited me over to his house right before he, unfortunately, passed away. We had a real heart-to-heart. He said some very kind things to me and showed me his library of tapes, things that had never been released. After his death, it struck me that a lot of material wasn't going to see the light of day. So I called up his wife, Gail Zappa. I told her about my album and said, 'Are there any bits of songs that Frank never finished? I would be honored to write a brand new song around a theme of some kind.' His son, Dweezil, got involved early on, and he played me about ten different pieces."
"I was immediately struck by this piece, it's a sample of Frank talking ("Alright kids, here's a real rock and roll song") and then the descending riff is the basis of the song, which was ironically called 'Black Tongue.' Almost the entire Zappa family – Gail, Dweezil, Ahmet, and Moon – and I sang the background vocals on the chorus. Dweezil found some guitar solo bits that his father had done and was able to extract that. So the song actually has some lead guitar playing by Frank as well as talking in the song." The lascivious blues rock stomp marked a surprise collaboration from beyond the grave, the sort of contrary move that Frank himself might've been amused by.
Listen to the best of Frank Zappa on Apple Music and Spotify.