Ollie And The Nightingales' Self-Titled Album: A Landmark Stax Recording
Full of soul and songs of love, Ollie And The Nightingales' self-titled album came at a time when soul music was changing fast, but it held its own.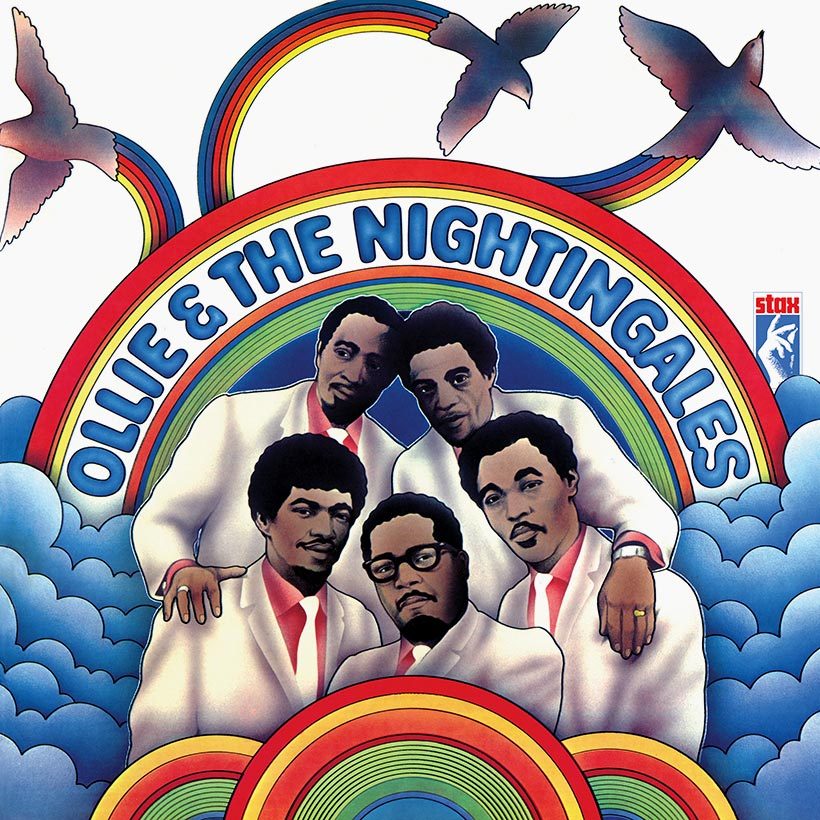 Being one of Stax's greatest vocal groups did not necessarily make you one of the most famous. Ollie And The Nightingales started as a Memphis gospel group, The Dixie Nightingales, their name styled after The Dixie Hummingbirds, though their musical approach was somewhat different. They began recording in the late 50s and turned up on Stax's gospel subsidiary, Chalice, in the mid-60s, notably recording the beautiful lament "Assassination" in tribute to John F. Kennedy.
The group had already seen one early member find secular fame when David Ruffin became one of The Temptations' two lead singers, so the call to sing about more earthly matters would have been strong. Plus, Stax was seeking new artists in the wake of the 1968 collapse of its distribution deal with Atlantic, and who better to help rebuild their catalogue than this brilliant group already working at the company?
Listen to Ollie And The Nightingales' self-titled album now.
Full of soul and songs of love
Rebranded as Ollie And The Nightingales and with one change in personnel, the quintet cut several singles, in which the hoarse, amiable voice of Ollie Hoskins sold the songs perfectly. Their self-titled album followed in 1969, wrapped in a whimsical artwork typical of its era – but one which also had a slightly heavenly look to it, as if the group were seeking to bring their gospel audience with them. Produced by Booker T. Jones, Isaac Hayes, and his writing partner, David Porter, it was a fine record, full of soul and songs of love, desire and downright common sense that anyone could identify with. It wasn't, however, packed with hits, though three singles were drawn from it.
The chunky, steady "You'll Never Do Wrong," which kicks proceedings off, is in the advisory mode of soul: look after your baby and you won't regret it. "Don't Make The Good Suffer" opens like it's heading for "I Can't Help Myself" territory in its intro, but once the song proper kicks in, you can feel a touch of the church in this tale of relationship troubles. The first of four Hayes/Porter compositions, "Don't Do What I Did" sounds like the sort of song they would have given to Sam And Dave before Atlantic snatched the duo from the Stax stable, though The Nightingales' approach is less sock-it-to-'em and more melodic: the high harmonies are utterly delicious.
A subtle delight
"You're Leaving Me" is a subtle delight, strings and brass warming up a downbeat tale of impending loss penned by Eddie Floyd, Booker T., and Stax boss Al Bell – musically, we're in William Bell territory here: soft and soulful. Two further Hayes and Porter compositions are among the highlights: "A-B-C-D" is a "what my woman has done for me" story delivered perfectly by Ollie Hoskins; "Mellow Way You Treat Your Man" handles a similar topic in a completely different way, with further glorious support singing and a tempo that would have had Memphis bar patrons doing the stroll when the single was played on the jukebox.
Elsewhere, the uplifting "Girl You Make My Heart Sing" positively drives along on blasts of organ from Booker T., giving it a strong MGs feel, and the best-known song here, the much-recorded "I've Never Found A Girl," benefits from a tender, sunny approach influenced by The Young Rascals' "Groovin'," which The MGs had covered. The album closes with the shuffling "Showered With Love," its gleaming horn section fitting Ollie and his harmonizers perfectly.
Ollie flew from The Nightingales in 1970 in order to begin a long career as Ollie Nightingale, while the group continued with Tommy Tate, a great lead vocalist who'd become a successful solo act in the mid-70s. But Ollie And The Nightingales was the band's sole album – a great record, but lacking that big hit it needed. Their best-selling single, "I Got A Sure Thing," isn't here, apparently trapped beyond Stax's reach in the wrangle with Atlantic. The album was also hampered a little by being "traditional" soul in '69, a time when the music was changing fast – Isaac Hayes was about to pioneer the new symphonic soul sound, and Motown was scoring with psychedelic-influenced grooves. Over 50 years on, that doesn't matter: Ollie And The Nightingales' self-titled album is a nostalgic delight, and few, if any, could deliver a record like this today.
Ollie And The Nightingales' self-titled album can be bought here.