Rainbow Chaser: Patrick Campbell-Lyons On (The Original) Nirvana
Long before Kurt Cobain's Nirvana, there was the London-based Nirvana, the cult symphonic duo who were the first group signed to Island Records.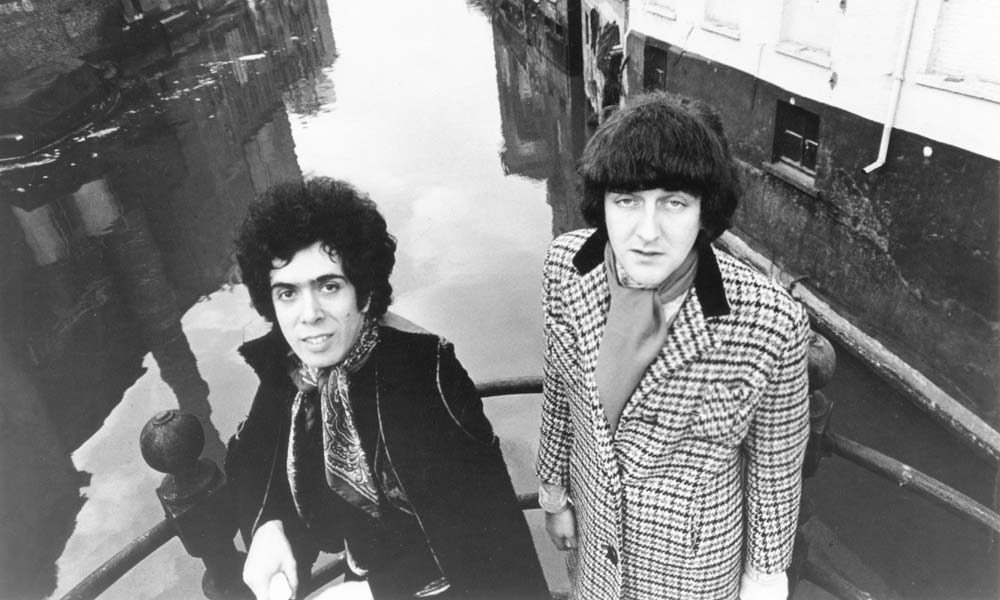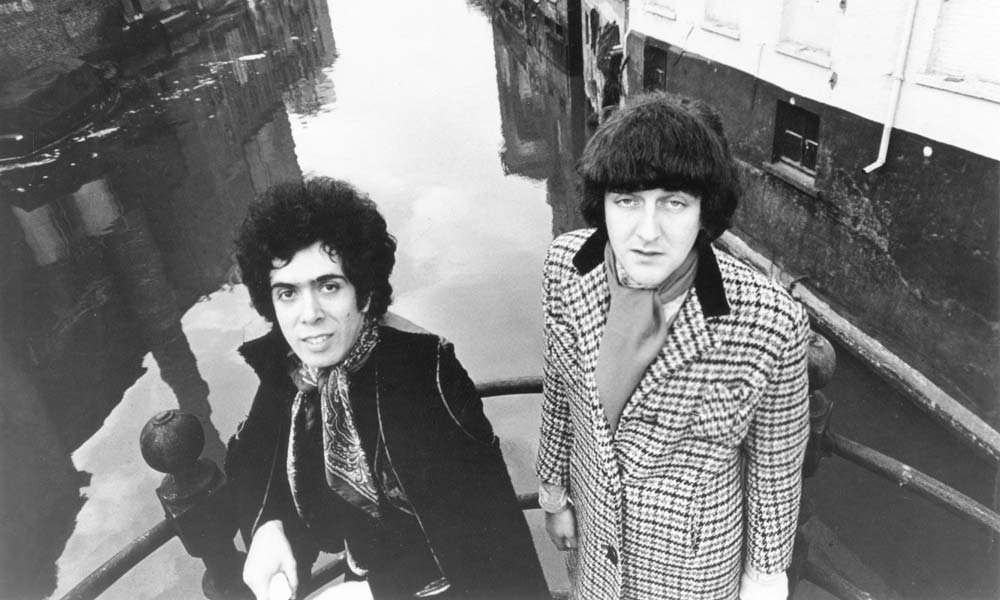 When they met at the height of London's Swinging 60s, Irishman Patrick Campbell-Lyons and Greek-born Alex Spyropoulos hit it off instantly and quickly decided that they wanted to make an album together. They needed a name for their band. The first suggestion, from a musician pal, was to call themselves Birth. Patrick Campbell-Lyons then proposed the name Karma, before Spyropoulos had a magical brainstorm.
Long before Kurt Cobain's Nirvana, there was the original London-based Nirvana, the cult symphonic duo who were the first group signed to Island Records. The band, who were ahead of their time in using a cellist on a rock record, are celebrated in the double-album Rainbow Chaser: The 60s Recordings (The Island Years), which covers the group's early career and is full of bonus tracks.
Listen to Rainbow Chaser: The 60s Recordings (The Island Years) now.
"It was a good moment of inspiration"
"Alex and I were enjoying songwriting together, but we said to each other at some point that we better get a name together for the band," Patrick Campbell-Lyons tells uDiscover Music. "I came up with the name Karma, which we both loved. But the next morning Alex called me said, 'I think I might have a better one.' I asked him what it was and he said, 'Nirvana.' I said, 'OK that's a good name, we'll be Nirvana.' It was a good moment of inspiration."
The pair signed to Chris Blackwell's Island Records in the UK as the psychedelic 60s were in full bloom. "We knew a bit about the Eastern philosophy. We had been listening to Ravi Shankar. I knew about music and Hindi philosophy and some Buddhism," adds the 75-year-old singer-songwriter. "A lot of people at that time in the 60s were going to Tibet. I knew the word 'nirvana' was about being on a higher level of meditation and almost being able to zone out mentally. Almost everything we did with our music and with the band was spontaneous. That was the beautiful thing of it – we didn't have to dig deep."
"Some people think Kurt Cobain sang with our band"
Twenty years later, in Seattle, a band co-formed by the late Kurt Cobain was looking for a name and chose the same one. When "Smells Like Teen Spirit" made the US Nirvana global stars in 1991, the news reached the ears of Patrick Campbell-Lyons and Alex Spyropolous. "We never really thought about the name much after the start of the band until all those years later we heard that it was the name of a band in America," recalls Campbell-Lyons.
"There was a court case that went on for about nine months. The presiding judge said that we should both be able to use the name… He said we could both continue to use the name without impeaching on each other's music. I suppose we weren't going to play grunge and they were not going to start suddenly playing baroque pop music. Two weeks after the case was settled, Cobain's band did an MTV show and they used two cellos in their concert. They probably had a dark sense of humor."
In the digital age, however, the doubling up has its benefits. "It may have helped us," says Campbell-Lyons. "Our fanbase has grown and people online find them and then they find some of our stuff and they like both Nirvanas. Some people even get confused and think Kurt Cobain sang with our band."
"We devoted our time to it like a nine-to-five job"
Patrick Campbell-Lyons, who was born on 13 July 1943, in Lismore, Waterford, made ends meet when he first came to London by working in a Wall's ice cream factory as he pursued a music career as part of the thriving West London scene of the 60s. One of his first breaks was as vocalist of R&B band Second Thoughts, whose line-up included future record producer Chris Thomas, who went on to work with The Beatles, Pink Floyd, Procol Harum, Roxy Music, and Elton John, among others.
Campbell-Lyons enjoyed his time playing gigs in noted London venues of the time – including The Ealing Jazz Club and Ken Colyer's Jazz Club near Leicester Square – before he tried his luck in Sweden and Germany. It was when he returned to the UK in 1966, looking for a new venture, that he had the good fortune to run into Spyropoulos. "When I bumped into Alex at La Gioconda café in Soho, he told me he was a student at the London Film School round the corner at St Martin's. We hit it off straight away. Both of us were unhappy at the collaborations we were involved in and we thought maybe we should work together and write a few songs. That's how Nirvana was born."
The musicians, who remained lifelong friends, were serious about their creative ambitions. They wrote five compositions in the next few months as they concentrated on mastering the craft of songwriting. The material became the basis for their debut album, The Story Of Simon Simopath. The album, released in October 1967, was originally called The Story Of Simon Sociopath. "We devoted our time to it like a nine-to-five job until we had material we liked. Then we made some phone calls to the top producers of the day," says Patrick Campbell-Lyons.
At the time, Steve Winwood's older brother, Muff, a bass guitarist, was in the process of leaving The Spencer Davis Group to produce for Island Records. He had given Campbell-Lyons a business card and told him to call if he ever needed help. Winwood landed them an audition with Chris Blackwell and the boss of the record company was delighted with what he heard.
"A pantomime for grown-ups"
In 1967, Island were putting out records by Dave Mason, Free, Jimmy Cliff, Traffic, and Ken Boothe, among others, and they had just made folk singer John Martyn their first solo signing ahead of the release of his album London Conversation. "We knew John Martyn," says Campbell-Lyons. "He was in and around the offices in Oxford Street. At the time with Island, musicians had to play demos in an open room, open-mic type of situation. Other bands would be in there while you were playing and they would give you encouragement and sometimes suggest changes that would help a bit. Chris Blackwell liked what we played and the very next morning he gave us a contract for two albums. It was like that in those days. We became part of what we thought of as the Island family."
David Browning did the brilliant artwork for their debut album, which was described as "a pantomime for grown-ups" and is acclaimed as one of the first rock concept albums. The Rainbow Chaser compilation features 52 tracks, including 27 previously unreleased outtakes, demos, and alternative versions from the psychedelic trailblazers' debut and its 1968 successor, All Of Us, – or The Existence Of Chance Is Everything And Nothing While The Greatest Achievement Is The Living Of Life And So Say ALL OF US, to give the album its full name.
Blackwell released their song "Tiny Goddess" (a tune on which he played drums) as a single in 1967 and Nirvana had a breakthrough hit the following year with "Rainbow Chaser," which reached No.34 on the UK charts and was a hit in Europe. The track has since been used for adverts and on soundtracks, and was sampled in 2012 by UK hip-hop duo Rizzle Kicks for their track "Dreamers."
"A success that was not planned"
"'Rainbow Chaser' was fortunate for us and a success that was not planned," recalls Patrick Campbell-Lyons. "The single in May 1968 was going to be 'Girl In The Park' with 'Rainbow Chaser' on the B-side. In those days you gave your best and put something strong on both sides of a single, because you wanted to show you had good material. There was always the possibility, which was what happened in Germany and Scandinavia, that people would like the second song. 'Rainbow Chaser' had fantastic production by Brian Humphries and the quality still comes right out when you listen on nice speakers today. The song is a good one, and catchy, and still has a life. When we were recording the lyrics we were under time pressure and I told Chris Blackwell I didn't have a second verse written. He just said, 'Sing the first verse again.'"
Campbell-Lyons' love of music dates back to his childhood when his mother would play 78s on the old family gramophone. Mario Lanzo singing "Ava Maria" is the first recording he ever heard. He says that many Irish homes in the 40s and 50s were places of music and poetry, and he grew up in an environment where people learned how to tell a story and use words to create emotions.
He was 11 when he first picked up a guitar. "One of my friends had a father who was in an orchestra that played Glenn Miller songs at local dances. Me and his son both had guitars and were pretending to be The Everly Brothers," says Campbell-Lyons. Little did he know at the time, but the boy imitating the famous American duo would later co-write the song "I'm Finding It Rough" (with Chris Thomas) that the world-famous singing duo recorded on their 1967 album The Everly Brothers Sing.
The young Patrick Campbell-Lyons was a boy with spirit (he was obsessed with circuses and ran away to join one until he was brought back) and said he realized at an early age that music would offer the opportunity to travel anywhere in the world. "Music opened so many doors. In my case, it was in the recording world. I made a life for myself," he says today.
Among his roaming has been a trip to Brazil with reggae singer Jimmy Cliff, who was performing the song "Waterfall" (composed by Spyropoulos and Campbell-Lyons) at The International Song Festival in Rio De Janeiro. "Jimmy took the place by storm representing Jamaica," says the Nirvana founder. "He went on to become an enormous star. He is a fabulous guy, very lively, and very spiritual. His whole thing was spirituality, and that comes across in songs such as 'Many Rivers To Cross'. I like the idea that an Irishman and a Greek wrote a Jamaican song that was a hit in Brazil," he says.
"Dalí came on pulling two baby tigers"
The highlight of Campbell-Lyons' own performing career was playing for the art genius Salvador Dalí. "He had always been a hero of mine. When I was 18 or 19 I saw his paintings and fell in love with them, and though I might have been impressionable then, his art has stayed with me always," he says. "My first ever trip abroad, in the so-called Magic Bus from London to Barcelona, was to try to meet him at his house on the beach. We found out later he had been in Paris the whole summer."
Two years later, in 1969, the success of "Rainbow Chaser" led to an invitation to appear on Dalí's TV show Improvisation On A Sunday Afternoon. The day was as strange as it was memorable. "We were booked to sing a couple of songs, including 'Pentecostal Hotel'," says Patrick Campbell-Lyons. "Dalí was dressed in a bright red velvet suit and wearing riding boots of dark red leather and he came on with two blondes on his arm and pulling two Bengalese baby tigers on a lead. It was mad, mad, mad."
Campbell-Lyons laughs as he recalls the famous painter's behavior. "Dalí didn't speak in any normal language. He spoke a mixture of Spanish, French and English together, and made up his own kind of language, which he elongated like gibberish, stretching out the word 'Daaaaaaaaliiiiiiiii', for example. There were glamorous models wandering around and cameras moving in and out of everything as we sang. We just had to keep up with what was going on. He did the most amazing things. He was painting murals on a big white sheet with long brushes and during one of our songs he sprayed black paint over our clothes and over the cello. I kept the jacket, but I wish I had asked him to sign it!"
The musician had one further contact with Dalí, when the artist's business manager invited him to a party in Spain. "It was a pretty wild party at his home and lasted the whole weekend," says Campbell-Lyons, whose autobiography is called Psychedelic Days. "Some people said he was there, some people said he wasn't, some people even said he used doubles. There were people from all over the world and everybody was so out of it."
This collection is no "nostalgic trip"
After living through such colorful experiences, the musician has concerns about a modern world where "technology keeps people in their rooms, hypnotized by screens." He believes that music has not really moved forward since the 60s, which is why there is so much referencing back to the great bands of that era. "Even counter-movements such as punk had no longevity compared with The Beatles," he says.
Patrick Campbell-Lyons has lived in Greece for six years (he recently recorded a solo album with local musicians called You're A Cloud, I'm A Comet) and still sees his old pal Spyropoulos. "Alex and I don't have plans for a new Nirvana album, but we do get together and keep looking at a few things that we wrote together in the 70s. One interesting project is a soundtrack that we did with some of the singers from the musical Hair. Who knows what might happen to it? Maybe it will come out as some sort of lost gem."
The Island collection includes the previously unreleased tracks "Goodbye Baby Bunting" and "City Of The South" from the … Simon Simopath sessions and three alternate takes from their third album, Dedicated To Markos III. Patrick Campbell-Lyons insists he is not into any "nostalgic trip" and says the reason he is so proud and excited by the new compilation album is that "we worked hard and produced something good that still has a life half a century after it was made."
Rainbow Chaser: The 60s Recordings (The Island Years) is out now. Listen here.