'It Was Such An Adventure': Brian May Recalls Captaining His 'Star Fleet Project'
They only existed for two days, yet the Queen legend's short-lived 'other' band left a mark on rock' n' roll.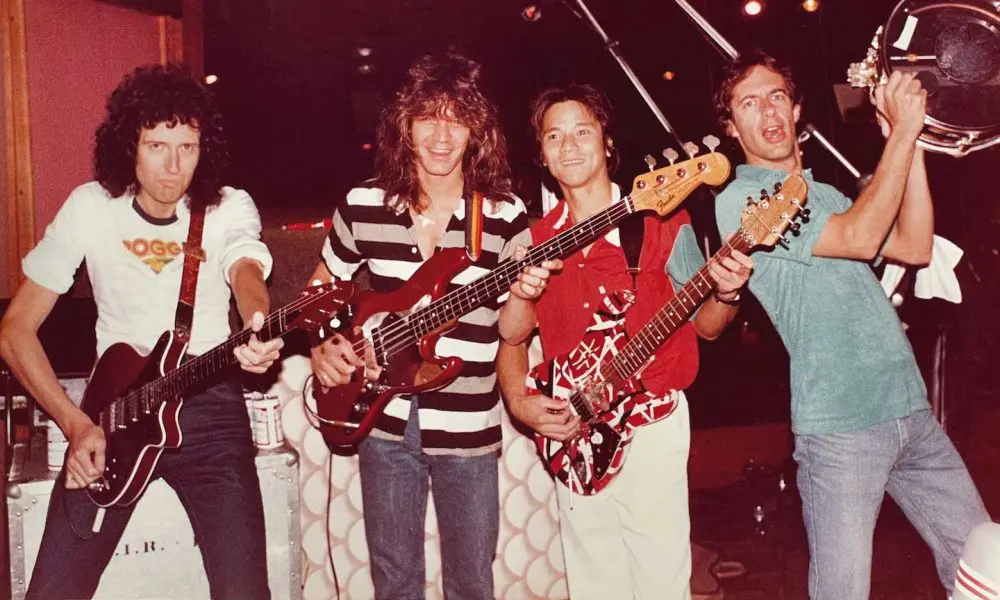 Being a rock' n' roll star might seem like a dream job, but it comes with its own set of pressures. Indeed, for the few who get to the very top, it can leave little space for a normal life – or even room for a holiday. However, when some unexpected downtime suddenly offers a busy artist the chance to get off the treadmill for a while, it might also refuel their creativity – which is how Brian May's brilliant, if short-lived Star Fleet Project got off the ground in the spring of 1983.
Brian May + Friends: Star Fleet Project – which is out now in a newly-expanded boxset edition through Capitol/UMe – briefly brought the legendary Queen guitarist together with an all-star band, including the much-missed Eddie Van Halen. Yet, it only fell into place because May's main band took a much-needed break following the conclusion of its "Hot Space" tour in Japan in November 1982.
"Yeah, it was incredibly full-on for so long," May shares. "We were basically touring nine months of the year and recording for the other three. We didn't have a life in any sense outside the band. It was incredibly intense and I guess deliberately so, because we were committed to it.
"After the "Hot Space" tour, we all felt we needed a break from Queen," he adds. "It wasn't planned; we just said, 'OK, let's just lay off for a while and take some time to think and regroup.' It was a wise decision because we came back refreshed after it and actually enjoyed each other's company again."
'Suddenly I had free time – I could do anything'
Embracing this unexpected freedom, Brian pitched up in L.A., where he was able to enjoy some quality family time. However, he also wrote a new song, "Let Me Out," which convinced him that "I could do anything, I could just ring someone up. I could ring [Edward] Van Halen up. I haven't spoken to him for ages. We could do something."
May first got to know the prodigiously talented Van Halen through another close friend and guitar hero, Black Sabbath's Tony Iommi, who first introduced the pair at a show in Munich, Germany in the late 1970s. Queen's guitarist was immediately impressed by Van Halen – the man and the musician.
"I was blown away him, really, but then how could you fail to be blown away by this kid who can suddenly do things you didn't even dream could be done with a guitar?" he asks rhetorically.
"It was just extraordinary; it was a bit like seeing Jimi Hendrix for the first time," he furthers. "And, he was such a lovely guy. He was such an innocent, such a joyful guy. He was always very complimentary to me, too. [Van Halen] used to play some of Queen's stuff; that's how they cut their teeth."
However, while Brian was itching to get on the phone to Van Halen, he also notes that "I'm not a very forceful, confident character, and I tend to be quite shy," so he was only able to proceed after some encouragement from another key player in the soon-to-be-formed Star Fleet Project.
'It all just felt right somehow'
"[REO Speedwagon drummer] Alan Gratzer had a lot to do with it," Brian admits. "He was my neighbor in L.A., and his kids and my kids got on. He even had a bowling alley in his place. He persuaded me, really, he was saying, 'Look, you could do anything you want here, you got time off, why don't you make some phone calls?' and of course, I told him, he would be the first person I called. He quickly agreed to get involved.
"But everyone was keen," he adds. "Ed was up for it, then I phoned up [bassist] Phil Chen, and he was in. Phil played with Rod Stewart, but he was just a mate to me. John Deacon introduced me to him originally, and he had so much energy, and he was a beautiful player. [Keyboard player] Fred Mandel I already knew very well as he'd played on some of Queen's stuff. They all came on board, and it all just felt right somehow."
Brian had the newly-written "Let Me Out" ready to go, but the song, which was also named the new outfit, was the primary focus of its two-day studio session. "Star Fleet" was effectively his hard rock reimagining of the signature tune from the Japanese-made kids' science fiction series of the same name. It was a show that became compulsory viewing in the May household.
"Yes, my son Jimmy, then aged four, and I used to get up every Saturday morning and tune in for each episode of this thrilling series," Brian recalls with affection. "It was very well done, and I still really rate it. It wasn't a cartoon, it was done with puppets, but it was a bit like the English Thunderbirds series. We were enthralled by it. The theme tune was written by English musician Paul Bliss, and I immediately liked it.
He continues: "I thought it was such an evocative tune, and I always felt I could do something with it. I felt like I could make it into a rock anthem. I would just enjoy playing it, so that was the thing which I spun this session around. I played it to all the guys, and they liked it. I played them a little demo with the arrangement I had in my head, which, sadly I don't have now. I've looked for it everywhere. I must have sent it on a cassette to all the guys. I think I just did it with an acoustic guitar and me singing. I'd played that to everyone before we were in the studio, so they had some idea of where I wanted to go, but I didn't want to lay down anything too rigid because I wanted just to be free to go in there – find the line between being prepared but not being over-prepared."
Brian May - Star Fleet Sessions: In The Studio (Episode 3)
'It was like going on a rollercoaster at a theme park'
Bearing in mind that this kind of spontaneous all-star session was a whole new thing for several of the participants – not least May himself – the two days' worth of sessions for the Star Fleet Project at the Record Plant, Los Angeles, on April 21 and 22, 1983 provoked a range of emotions for all concerned.
Brian remembers, "It was incredibly adrenalized. We were all nervous, I think, but also full of joy because it was such an adventure. It was like going on a rollercoaster at a theme park. We were all incredibly excited, too. The extra material in the new boxset edition allows you to hear how we are becoming a band for a moment in time.
He adds: "The chemistry is developing, and we're learning to play with each other. It was an extraordinary awakening, as we hadn't done a lot of this kind of thing before. I know REO Speedwagon was like Queen; they didn't usually play with other outside people, and neither did Van Halen. It was very unusual for us to step out of our respective bubbles."
The band completed a truly anthemic version of the "Star Fleet" them which headed up the release of the original Star Fleet Project mini-album in October 1983. The song gave all the musicians a chance to shine, though May was especially keen to ensure Van Halen could excel when it came to the solo.
"We're playing rhythm guitar together on "Star Fleet," so that came together quite easily, but in my head, I always wanted to set Ed up with his spot," he reveals. "I wanted to do what Michael Jackson had done with him on "Beat It." I wanted to give him his moment, where it would just be him, and he was set free. It's like you pull back this catapult and let it go. To be honest, that was a large part of the excitement I felt. I wanted to see what Ed was going to do in that spot."
May also encouraged Van Halen to come up with something remarkable on Star Fleet Project's final track "Blues Breaker," a 13-minute piece of completely spontaneous improvisation from all five of the musicians involved. As its title suggests, the song was influenced the British blues boom of the late 60s, and its creation allowed both master guitarists the chance to return to their bluesy roots.
'It was a real moment in time for me'
"[Van Halen] said to me, 'Brian, I haven't played like this in years, I'm not doing my typical Eddie Van Halen tapping stuff, I'm playing the way I came into music' and that was the same for me," May says. "We both knew that John Mayall's Bluesbreakers album (from 1966) very well, the one with Eric Clapton reading The Beano on the front.
"But [that track] wasn't planned in any way," he stresses. "There wasn't any preparation, we just launched into it, and I love it because, at that point, we're starting to relax with each other and just enjoy it. We're playing off each other and really listening to one other. It's my favorite track on there because it's so natural, and there's so much organic stuff happening. That's a real moment in time for me."
In the end, the Star Fleet Project remained a moment in time for all concerned, but then no one was under any illusions that this remarkable outfit would convene in the studio for a second time. As Brian now says, "It was just a one-off, I think it's one of those strange moments when the planets align…but after that, we all went back into the machines we were part of."
The wider world did, of course, get to hear Brian May + Friends: Star Fleet Project when it was released by Capitol on October 31, 1983 in its original mini-album form, featuring the full, 8-minute version of "Star Fleet," "Let Me Out" and "Blues Breaker." Yet May himself was never entirely happy with the record's original release.
He recalls he felt frustrated when the record's original mixes "were done in a hurry, not in the best situation, and it's always bothered me," which is why he was so keen to reissue Star Fleet Project – but this time in a much more comprehensive form.
Indeed, the album's new deluxe edition features a spectacular 23-track CD filled with previously unreleased material, including remixed takes of every version of the three main songs the band laid down at their historic 2-day session, in addition to fragments of conversations, out-takes, and all manner of musical experimentation.
"That's why I wanted to put Star Fleet Project out as a box set with everything we recorded," Brian reveals. "The whole two days, everything we recorded is in the new boxset edition, so you can hear how excited we are and how the songs developed – and you hear from the beginning that we're having fun with this project.
"[Engineers] Justin Shirley-Smith and Chris Frederickson, my little team, have worked miracles with the material," he adds passionately. "They are forensic in rescuing every morsel of the original and restoring it, but we don't change it; we just get the best out of it. Finally, I've been able to take it all out, remix it beautifully in a state-of-the-art fashion, and put it out in the world again, knowing I've done my best with it. It's like I've done justice to my baby at last."