Robbie Robertson Reflects On 'Music From Big Pink'
From being booed with Dylan to changing the course of music, The Band's Robbie Robertson recalls a unique "circle of creativity".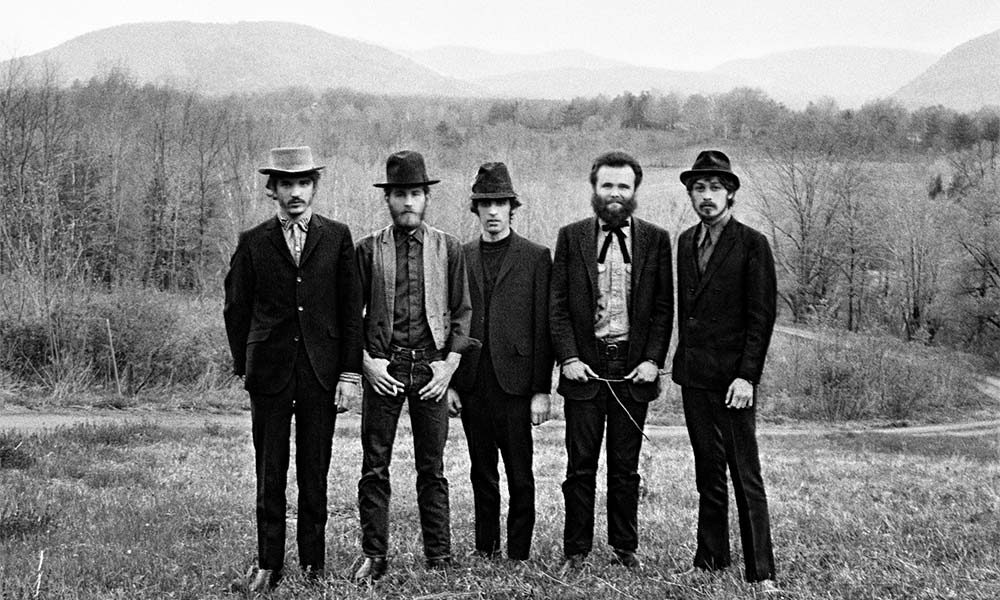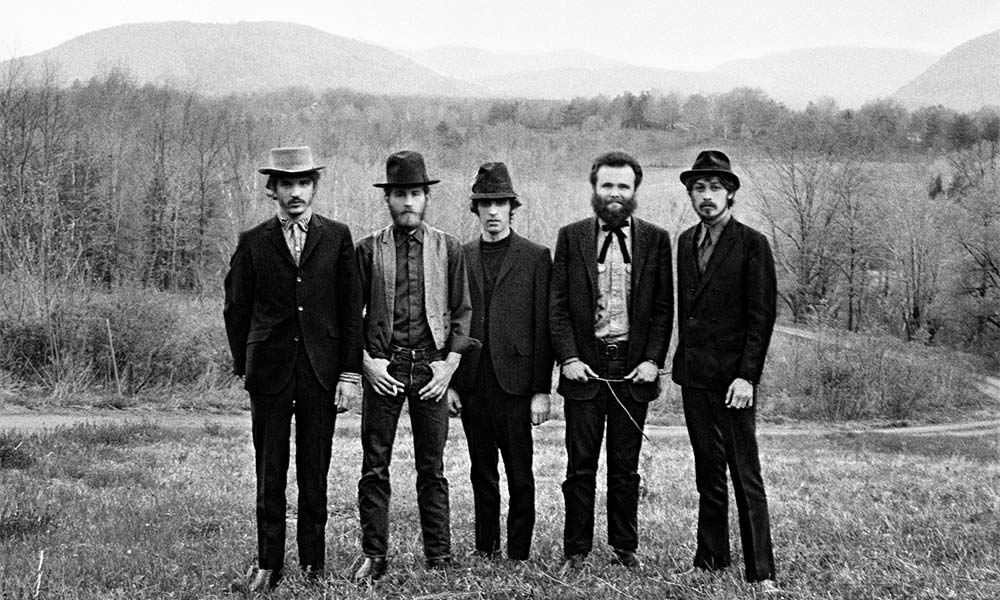 One of the defining albums of the 60s, truly encapsulating the cultural chaos and beautiful ruin of the decade, sprung from the basement of an aging summer home in upstate New York. "Big Pink", as it would be lovingly called, was the genesis from one of the greatest debut albums on record, The Band's Music From Big Pink released in July 1968.
Listen to Music From Big Pink right now.
Recorded during the famous sessions that birthed the songs later released as Bob Dylan's Basement Tapes, everything about Music From Big Pink is immersed in rock'n'roll mythology. From the enigmatic portrait of five mysterious men on the back cover, to the creative commune from which the songs poured out, it both confounded and enraptured audiences, and set the stage for the amorphous musical movement that followed: Americana.
With a new album on the way and the new documentary, Once Were Brothers: Robbie Robertson and The Band, opening the Toronto International Film Festival on 5 September, songwriter and multi-instrumentalist Robbie Robertson remembers how The Band finally stopped being background players and discovered their collective sound over 50 years later.
'Everywhere we played, people booed'
While Music From Big Pink was their debut record, by the time of its release The Band had collectively been playing together for seven years. But even these road veterans were not prepared for the vitriol they would face when joining Dylan on the 1966 world tour, when the folk hero plugged in and went electric.
As Robertson remembers, "To think now that we played all of these places and everywhere that we played, people booed and sometimes threw stuff at us. I had never heard of anybody that got booed all over the world and got through it in some kind of successful way."
After the tour concluded, Robertson joined by Rick Danko (bass, vocals, fiddle), Richard Manuel (keyboards, vocals, drums) and Garth Hudson (keyboards, horns) all decamped to a house in West Saugerties, New York, at Dylan's suggestion, while Levon Helm (disillusioned after the tour) temporarily left the group.
At the time, Dylan had been recuperating at nearby Woodstock from a motorcycling accident and would become a frequent fixture of Big Pink. Robertson envisioned a clubhouse/workshop where the band could write and create freely without distraction. Situated on over 100 acres, the house became a fertile testing ground for trying new ideas without encroachment from the outside world.
The Band - Music from Big Pink Webisode: Finding Big Pink
'Experimenting was going on'
Down in the basement, Robertson and the band had a lo-fi recording set-up complete with microphones, a mixer, and a little tape recorder that would capture the songs they worked up in this informal setting.
As Robertson explains, the songwriting process was collaborative, with typewriters set up upstairs for the band to compose on, and a bare-bones studio downstairs to work out ideas.
"Everybody was in this circle of creativity and experimenting was going on," says Robertson. "Garth Hudson, our amazing keyboard player, was building musical instruments and Richard Manuel was writing ideas, and he wrote 'Tears Of Rage' with Bob."
Meanwhile, Robertson was polishing his own songwriting abilities, penning future classics like 'Chest Fever' and the band's career-defining single, 'The Weight'.
"I wanted to be a storyteller", explains Robertson. "I didn't want to be a writer that says, 'I got up this morning and I had a cup of coffee and then I went outside.' Some people could do that quite well. It felt like if I could write fiction that you couldn't tell if that wasn't real, that would be interesting to me."
'This was a new dimension'
As things were progressing, The Band called Levon Helm back into the fold. Robertson and Helm went back to when Robertson was only 15 and the two played together with Canadian rockabilly fixture Ronnie Hawkins. For a Canadian like Robertson, Hawkins' band sounded like the song of the south, coming from the "holy land of rock'n'roll" and all those places he grew up hearing about. Hawkins took him under his wing, and soon Robertson and Helm were thick as thieves.
"[Helm] just had music running through his veins," says Robertson, "so I wanted to learn whatever I could from him and Ronnie [Hawkins] about music and about being in a rock'n'roll band."
When the group acquired more members and started to musically outgrow Hawkins', they struck out on their own, later hooking up with Dylan, with Robertson now 21 years old.
The way Robertson sees it, The Band is more of a collective than a group. With all their shared history, their hard-earned chemistry is what enabled them to play more dynamically on the record.
"We didn't get musical instruments for Christmas and say, 'Let's start a band!'" jokes Robertson.
Following the Big Pink sessions with Dylan, The Band encountered through a bit of an identity crisis, trying to find their own sound after spending so many years adapting themselves to fit another artist.
"At this time, we don't know what The Band sounds like," says Robertson. "Because what we were doing in the stage had nothing to do with the sound that we made playing with Ronnie Hawkins, or what we did with The Hawks, and nothing to do with the way we played with Bob Dylan. This was a new dimension."
When it came to finding a producer, the band hooked up with John Simon, who had produced Marshall McLuhan's iconic record The Medium Is The Message. Robertson remembers being struck by how bizarre and surreal the record was, and felt Simon could capture the rebellious spirit behind the Big Pink sessions, so they headed back to civilization to record at Phil Ramone's studio in New York.
The Band - Music from Big Pink Webisode: A Big Pink House
'In that moment, we knew who we were and what we sounded like'
Back in the city, the traditional studio recording felt awkward and alien. Without the communal playing set-up they had at Big Pink, the band struggled to record. "If we don't see one another, don't have the eye contact and we're not communicating musically by gestures of a movement of the guitar neck, that means there's a break coming up," explains Robertson.
They did their best to recreate the recording environment of their beloved Big Pink, setting up in a circle and rigging microphones on everything from the drums to the cymbals, bass and singers. While the engineers were skeptical at first, the band launched into what would become the album's opener, 'Tears Of Rage', and had an epiphany.
"In that moment, we knew who we were and what we sounded like," says Robertson. That was a big breakthrough at that time, after all the trails and everything that we had been through over the years, this is what The Band sounds like."
'People had a look of shock on their face'
But forging entirely new musical styles does not happen overnight. The group cut their teeth playing the chitlin' circuit down South, absorbing each regional style like a roadside delicacy from a greasy-spoon diner: from gospel music to the blues, funk, and New Orleans soul, rockabilly and mountain music, and so on. Just as the music drew upon different folk traditions, Music From Big Pink's artwork also represented a type of rootsy imagery. Eschewing a typical cover shot, instead Dylan famously painted the art, depicting the five musicians, a roadie, and an elephant before ever hearing a note off the album.
No one quite knew what to make of Music From Big Pink upon its arrival. Released during the heyday of bad trips and social upheaval, the haunting harmonies and murder ballads felt foreign, untethered from any time or place.
"We would play it for people and they had a look of shock on their face and we wondered, Maybe it's not good?" recalls Robertson. "But I thought, I hope that's originality [laughs]. I hope it isn't just avant-garde, or whatever people would call music back then that was unusual. Because you want to share these feelings, these sounds, and these songs, and what we could do that nobody else was doing in that space."
Adding to their mystique, The Band neither toured or gave interviews following the album's release, partly due to their desire to continue to just make music instead of hitting the road, and also in part to a serious car accident involving Danko, which put him out of commission for a few months. This only stoked the public's curiosity further: Who are these people? What are they doing up there in those mountains? The group wouldn't perform live as "The Band" until 17 April 1969, at San Francisco's Winterland.
Fast-forward over 50 years and Robertson is still in awe of the original work. After hearing the new surround-sound mixes produced by Bob Clearmountain, he knew the album was in capable hands:
"When it glowed in the dark, you knew he [Clearmountain] had just aced it. I'd listen to it and you just wanted to swim in it."
Music From Big Pink can be bought here.