Roger Daltrey On 'Wonderful Day' Of 'The Who With Orchestra: Live At Wembley'
The frontman tells us about a concert in July 2019 that was so memorable, it demanded to be preserved on album.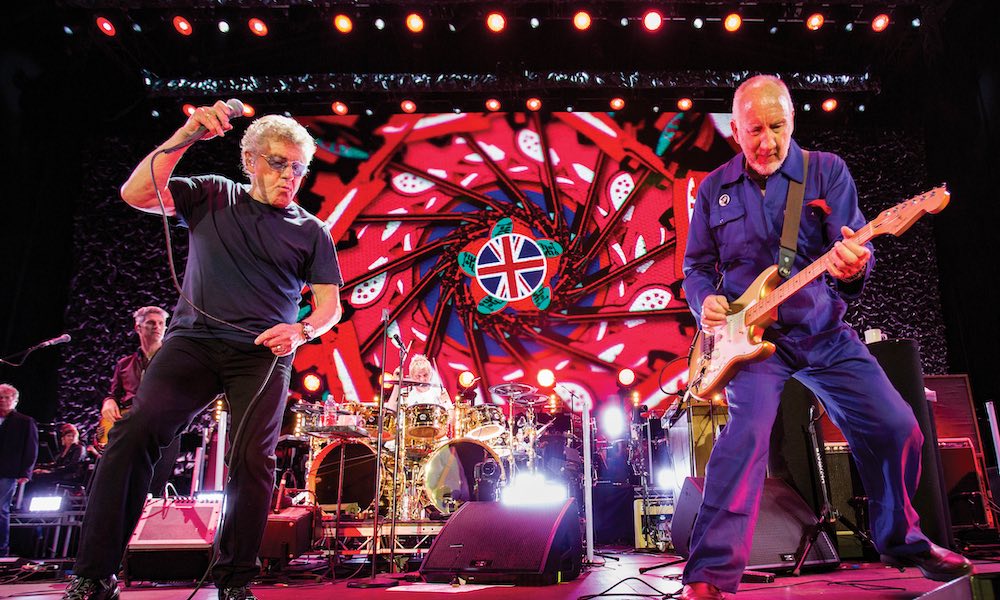 The fact that The Who's epic July 2019 gig at Wembley Stadium took place in a time before lockdown gives it an almost other-worldly place in the collective memory. But the way the stars aligned to make it one of the great highlights in the recent history of this storied band simply demanded that it be preserved on album. So says Roger Daltrey himself.
"When I listened to the live recordings of it, I thought this would just be great to get it down on record," he says of the newly-released, multi-format The Who With Orchestra: Live At Wembley. "It was an historical event for us, 40 years being away from Wembley, the old one, and playing it again at this stage of our career, to a full audience.
Love Reign O'er Me (Live At Wembley, UK / 2019)
"I'm very proud of the record, especially if you can hear it on vinyl," he continues of the one UK show on the band's Moving On tour that year. "It was a wonderful day. I don't usually like stadium venues but the sound on the stage that day was fabulous for us. The rain shower at the end in 'Love Reign O'er Me'…we only have the best effects! It was astonishing, wasn't it?"
The concert, and now the album, underlined how The Who's already mighty sound can be amplified both sonically and creatively by an orchestra. Indeed, its arrival at the top of Billboard's classical chart has given the band their first US No.1 in its entire 59-year American chart history. The orchestral connection will continue with their first European shows, outside of the UK, for seven years in June, in Barcelona, Florence, Berlin, and Paris. Then The Who Hits Back! lands in their home country for a ten-date itinerary, accompanied all the way by full orchestras every night.
"You really do start to understand the difference between the real power of instruments in an orchestra, and the sound of synthesized music," says Daltrey. "It's chalk and cheese, it's night and day. The way it affects the human body." He adds with a laugh: "Digital is dead, that's all I can say."
Daltrey has long known that Pete Townshend's music lends itself to such arrangements as happens in few other rock bands. "Pete writes in a classical form, he always did," he says. "When you listen to the voicings of the chords that he plays, they're not your normal major chords. They're always diminished, they're never what you quite think they are. He creates this kind of drone effect. I've always felt that an orchestra and his music would work because of the complexity of his music and the fact that he writes from an inner perspective. Very unusual songs compared with most rock music.
"I was doing this way back in 1994," he adds. "For my 50th birthday I did Daltrey Sings Townshend. I didn't quite have the arrangements right then, but it was an experiment to see where this could go. One of the problems I realised I would have for a band like The Who was that most Who fans want it to be loud and raucous, they want that Live At Leeds, raunchy, and all that stuff.
"It was trying to convince them to keep all that, keep all the volume and all the punch and everything else, but still have the quality of the music behind it coming from an orchestra, and it will make it even bigger. Most of the orchestrated rock bands that you go out and see, the stuff that the orchestra's playing, most of it can be played on a bloody synthesizer."
The Who, Isobel Griffiths Orchestra - Imagine A Man
As the album shows, when Daltrey stepped out at Wembley to lend his vocals to Townshend's creations, underpinned by both band and orchestra, the results were majestic. On "Imagine A Man," for example – a deep cut taken from The Who By Numbers – there is no hiding place for him as a vocalist, nor does he need one. "It's kind of wonderful," he notes. "I've always loved that song. Something about what it evokes in one's mind when you sing that song, it's just lovely. It's always a joy to sing, that's for sure."
The show also featured the live debut of two songs that were soon to arrive on record, on the WHO album, "Hero Ground Zero" and "Ball And Chain." Both are on the Wembley memento. "It was exciting," says Daltrey. "We hadn't played those two songs before and we ran them down at the soundcheck and went for it. And it worked, it was good."
The post-lockdown world has seen a resumption of workload for both Daltrey and Townshend that would shame those half their age. The frontman slotted in a twice-delayed solo tour of the UK last year, while Townshend recently released his first solo single for 29 years, "Can't Outrun The Truth." Then came this year's edition of the Teenage Cancer Trust fundraisers at the Royal Albert Hall, the series of all-star shows for the charity that owes so much to Daltrey's, and The Who's, patronage.
"That's our 21st year of doing shows now," says Roger. "23 years because of Covid, but it's been an incredible journey. We started off with the ambition of maybe getting 25 hospital wards around the country – which we had to build, incidentally, we had to pay for the structure, and they're quite expensive. We're at 29, and there's another one coming online. It's a pretty remarkable achievement and I'm very proud of what the charity does.
"My team had to sign a 22-year agreement with the Albert Hall to keep this week of shows available to us to do, all those years ago. So it was an incredible gamble, because our charity laws are quite complicated. We cannot be promoters. We can put events on like that but we have to state what we're going to make in the week. And of course when you're asking people to come and play for free, you don't know how many bums are going to be on seats, because in today's world, money's tight.
Hero Ground Zero (Live At Wembley, UK / 2019)
"So I can't tell them what we're going to make, and the whole thing's been, to say the least, a little nerve-wracking. But it's worked. We've got one more year to go, and let's see where we are after that. But the music business and the comedy guys, they've been so generous with their time. It never ceases to amaze me, and I owe it all to them. The charity's important to me, because it's the area of our lives where they're our formative years and the more we can get people coming out of those years with a balanced head on their shoulders, the better."
The road calls again this summer, and if Daltrey is under no illusions that The Who's final chapter may not be far off, it isn't yet. "We're coming to winding the whole thing up, I'm sure, but who knows? All the time I can do these notes and sing these songs with the energy they demand, and Pete can play the way he does, and he's still one of the most original guitar players out there, we'll carry on doing it. Whether everyone wants to carry on hearing it, I don't know.
"It's an acquired taste, it's not the most popular music out there," he reflects. "You wouldn't put Who music on at a party, it's not that kind of music. It's more music to fight to, in a barroom brawl! It's a weird kind of bunch, The Who audience, but they're wonderful people."
Buy or stream The Who With Orchestra Live At Wembley.