'Through The Looking Glass': How Siouxsie & The Banshees Became Cover Stars
Hardly typical of its genre, this Banshees covers album featured some of their most resonant music.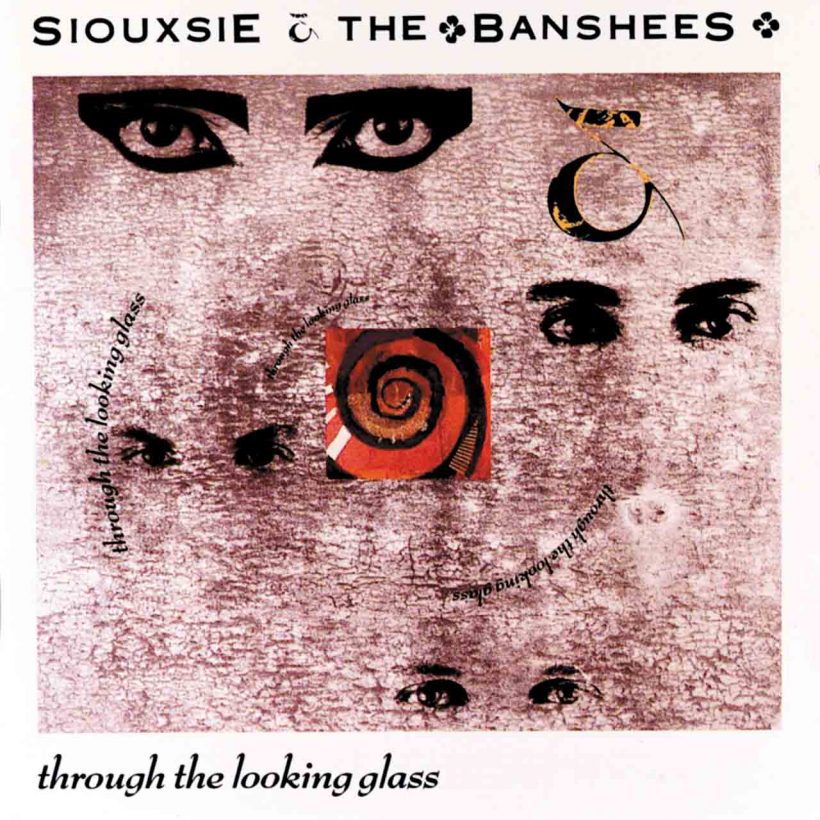 They were one of rock's most startlingly original acts, yet Siouxsie & The Banshees also had a penchant for covering other peoples' songs. Famously, the band performed a Velvet Underground-esque adaptation of "The Lord's Prayer" for their first gig in September 1976 before they deconstructed The Beatles' "Helter Skelter" for their debut album, The Scream. A notably more faithful cover of another Fab Four classic, "Dear Prudence," though, yielded a UK Top 5 hit in 1983 – and its success inspired the Banshees to record a full-length covers album, Through The Looking Glass.
Siouxsie and company envisaged the record as an homage of sorts to Pin Ups, David Bowie's 1973 covers album wherein he paid tribute to his early influences such as Pink Floyd, Van Morrison's Them, and Scott Walker. However, as they'd also compiled a glut of fine self-penned material, the Banshees ended up releasing two further studio albums, Hyaena and the excellent Tinderbox before they were able to fully commit to their covers project in the fall of 1986.
Listen to Siouxsie & The Banshees' Through The Looking Glass now.
The title Through The Looking Glass derived from one of Siouxsie's favorite books, Lewis Carroll's much-loved, children's fantasy novel, Alice's Adventures In Wonderland. It feels appropriate, for the album features some of the most playful – and otherworldly – music the Banshees ever committed to tape. To realize it, the band was – as ever – fully prepared to embrace change. In this case, they did so by reconvening with versatile Hyaena producer Mike Hedges, embracing a wider range of instrumentation and enlisting multi-instrumental alumnus Martin McCarrick, whose string arrangements proved integral to several of the album's most essential tracks.
The album
Through The Looking Glass was recorded at London's Abbey Road Studios, and for the most part the band stayed true to their Pin Ups ideal by choosing songs by other distinctive artists who directly influenced them, among them Roxy Music, John Cale, Sparks, Iggy Pop, Television, and The Doors. In some cases, the Banshees remained true to the originals. Certainly, their robust takes of Sparks' "This Town Ain't Big Enough for Both of Us," Bob Dylan and Rick Danko's "This Wheel's On Fire" (later a UK Top 5 hit for Julie Driscoll With Brian Auger & The Trinity), and Iggy Pop's Lust For Life classic "The Passenger" barely deviated from the blueprints, though in other cases, the band took delight in deconstruction.
For example, in its initial guise, Television's "Little Johnny Jewel" sounded lo-fi, but it took off on Through The Looking Glass, with McCarrick's staccato strings and the band's powerful performance imbuing it with depth and drama. Kraftwerk's "Hall Of Mirrors" was also transformed, with John Valentine Carruthers' baritone guitar adding a cinematic, John Barry-esque quality, while The Doors' "You're Lost Little Girl" was reimagined as a queasy fairground waltz.
The band struck gold, however, when they wandered even further off the beaten track. Most people may well have recalled Robert and Richard Sherman's "Trust In Me" as the song sung by Kaa the snake (voiced by Sterling Holloway) from the classic Walt Disney film, The Jungle Book, yet in the Banshees' hands, the track transitioned into a lush, harp-led lullaby, arguably only bettered here by their string-kissed, sorrow-soaked version of Lewis Allan's 1939 protest song "Strange Fruit." Unquestionably the album's apogee, the Banshees' estimable version even moved US music critic Terry Atkinson to declare that "only someone as brash as Siouxsie Sioux would re-record a song so strongly identified with Billie Holiday – and only someone as serious and sensitive could bring it off like this."
Release and reception
Through The Looking Glass also drew praise from some of the pioneering artists it heralded. Discussing Siouxsie and company's version of "The Passenger" in an MTV interview, Iggy Pop said "[Siouxsie] threw in a little note when she sings it that I wish I'd thought of – it kind of improves it." Elsewhere, Kraftwerk's Ralf Hütter commended the Banshees' version of "Hall Of Mirrors" in an interview with Italy's La Stampa, calling it "extraordinary."
First released on March 2, 1987, through Polydor in the UK and Geffen in the US, Through The Looking Glass quickly established itself as a mandatory addition to Siouxsie & The Banshees' already enviable catalog. It also performed well on the charts, peaking at No. 13 at home (where it was also certified silver). It was especially well-received abroad, with some of its most positive notices coming from US critics – many of whom recognized that the record was vastly superior to most "covers" records and would achieve longevity on its own terms. "These songs are superbly arranged," said the Los Angeles Times. "They retain enough of what was special about the originals, while adding just the right new twists."
Listen to Siouxsie & The Banshees' Through The Looking Glass now.