Stevie Wonder Ends 1973 In Style With 'Living For The City'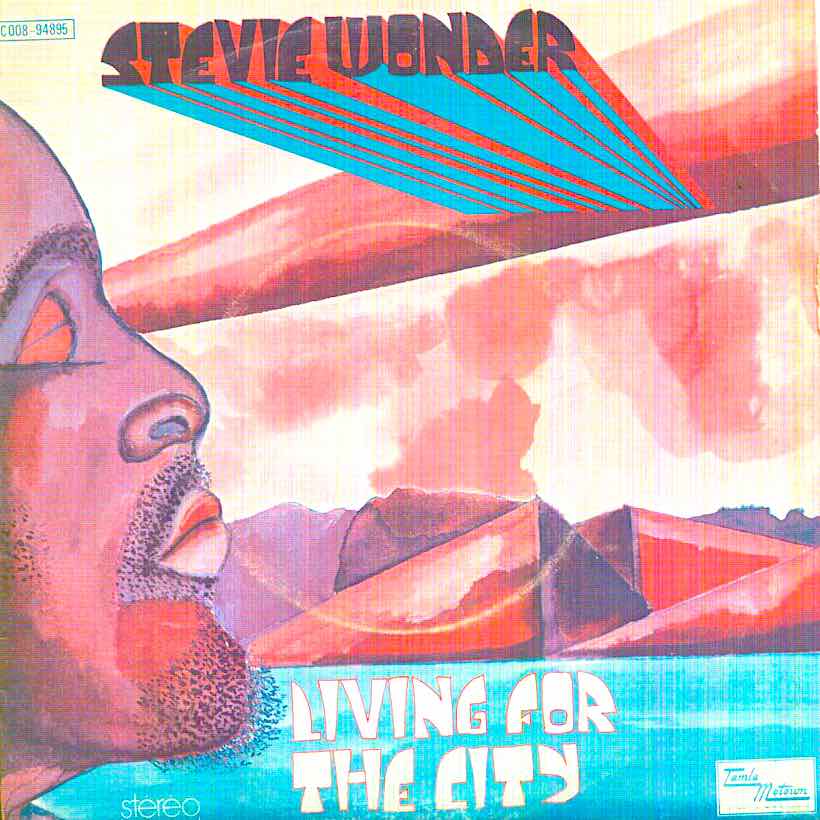 Stevie Wonder ended the calendar year of 1973 as he'd begun it: on top of the US R&B singles chart. In January, 'Superstition' spent three weeks at the top, then 'Higher Ground' served a week in September. On the final Billboard chart of the year, for December 29, he closed out 1973 in style, as 'Living For The City' reached No. 1.
Those two last-named Motown singles helped to make Innervisions another landmark Stevie Wonder album. While 'Higher Ground' had a spiritual theme, 'Living For The City' was a gritty street tale that spoke of the urban reality for many downtrodden black people of the day, who saw Stevie as a spokesman for their generation just as they did his labelmate Marvin Gaye. The LP also showcased the further indelible hits, 'He's Misstra Know-It-All' and 'Don't You Worry 'Bout A Thing' as well as all-time Stevie favourites such as 'Golden Lady' and the gorgeous ballad 'All In Love Is Fair.'
'Living For The City' hit the top as Wonder continued to stretch himself creatively in every possible direction. The press reported, for example, that one evening late in 1973, he appeared at Max's Kansas City night club to take part in a jam session with bluesmen Johnny Winter and John Hammond and the blues band of soul great Bobby 'Blue' Bland.
Every instrument you hear on 'Living For The City' was played by Stevie himself, brilliantly abetted by the studio wizardry of Malcolm Cecil and Robert Margouleff. British jazz man Cecil – often undervalued in his own country for his key role in Wonder's superb sequence of 1970s albums – joined forces with New Yorker Margouleff to work with Stevie, from 1972's Music Of My Mind album onwards. They proved to be the perfect foil for his inarguable genius, in the sequence of groundbreaking albums that also included Talking Book, Innervisions itself and Fulfillingness' First Finale.
"Stevie's voice soars and glides"
"Stevie's Innervisions LP produces this spectacular production," wrote Billboard, "of a country boy whose parents sacrifice themselves for him. Stevie's voice soars and glides with a gusty reality. Lots of catchy horn, background voices and cymbals in the picture also."
The story of a poor black boy from "hardtime Mississippi" – who goes to New York and experiences racism, pollution, corruption and imprisonment – rang all too true. Here was a song that combined an uncompromising lyric about systemic racism with an engrossing groove and melody. It was, as Rolling Stone later observed, "a bleak seven-minute narrative about the broken dreams of black America that was so powerful, Richard Pryor later recorded the lyrics delivered as a church sermon."
The results were irresistible. The song reached the top in its eighth week on the R&B chart; it was a pop No. 8 in America and a top 20 single in both the UK and Germany. As Stevie began a period of domination not just of the soul and pop scene but the Grammy Awards, Innervisions won Album of the Year and then, a year later because of its singles release date, 'Living For The City' went on to win Best Rhythm & Blues Song at the 1975 event. By then, he was also sweeping the board with the aforementioned follow-up, Fulfillingness' First Finale, which also won Album of the Year and Best Male Pop Vocal Performance.
'Living For The City' is on Innervisions, which can be bought here.
Follow the official Stevie Wonder Best Of playlist.
Format:
UK English