10 Hip-Hop Albums You Must Own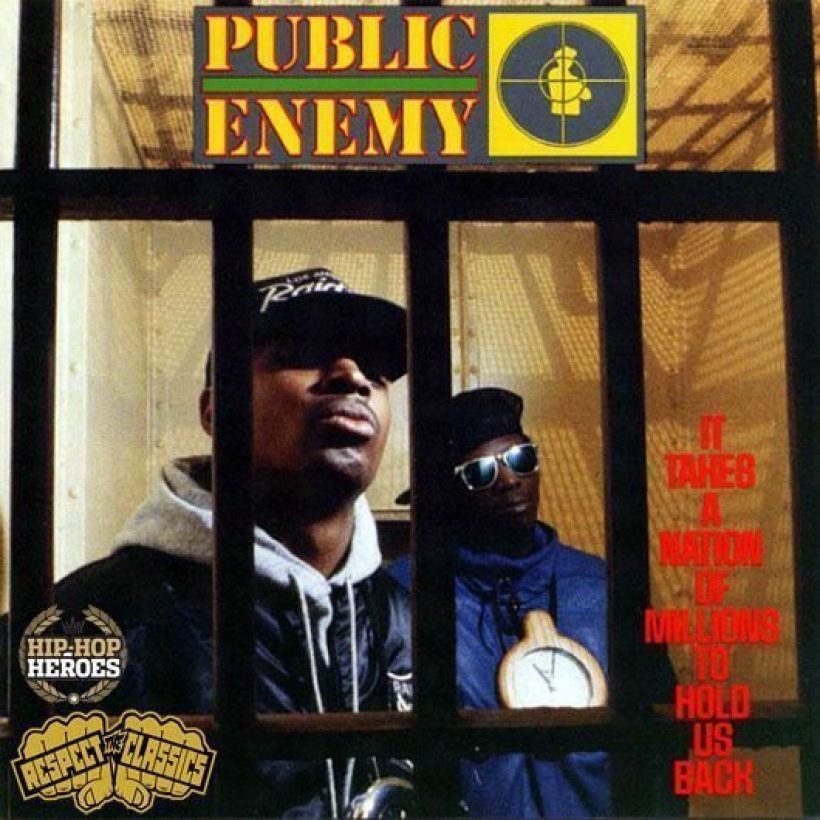 Over a decade after it was born, hip hop matured enough to be considered an 'albums' genre. Its finest Golden Age proponents issuing statements of intent that expanded both its musical and lyrical vocabulary, dropping ground-breaking albums on a weekly – almost daily – basis. By the turn of the millennium, the very definition of 'hip hop' had been rewritten thanks to a host of game-changing artists, who continued to test its boundaries and find further artistic freedoms.
By its very nature, a list of the top 10 hip-hop albums will exclude many classics that made their mark. However, what follows is not prescriptive, just more albums to add to your want list – if you've not heard them already. What it does assert, though, is that since its birth, almost forty years ago, hip hop remains one of the most inventive genres in music, and shows no sign of slowing down soon.
Here's our pick of the best hip-hop albums.
Public Enemy: It Takes A Nation Of Millions To Hold Us Back (1988)
A quantum leap from their debut, PE's Nation Of Millions proved frontman Chuck D's assertion that hip hop was "black America's CNN". With Terminator X and The Bomb Squad at the controls, they unleashed an aural assault that could barely be contained on two sides of wax, with Chuck strafing listeners with his invective on the likes of 'Bring The Noise', 'Louder Than A Bomb' and 'Black Steel In The Hour Of Chaos'. Assuming a court jester role in the group, Flavor Flav offered some relief with the likes of 'Cold Lampin' With Flavor', his playful slang providing a foil to Chuck's political lyrics.
Sample lyric: "I got a letter from the government the other day/I opened and read it, it said they were suckers" ('Night Of The Living Baseheads')
Public Enemy - Night Of The Living Baseheads (Dope Version) (Official Music Video)
Beastie Boys: Paul's Boutique (1989)
Having introduced themselves as hip hop's bratty punks with 1986's Licensed To Ill, Beastie Boys holed up with production duo The Dust Brothers, creating a dazzling follow-up whose patchwork of samples is ably matched by the wordplay – and interplay – of Mike D, MCA and Ad-Rock. Gleefully sampling everything from P-Funk to The Beatles, Pink Floyd and Johnny Cash, Paul's Boutique was a crate-digger's delight, reveling in the possibilities that hip hop's Golden Age had to offer. Following the 1989 sampling lawsuit against De La Soul, producers and DJs were forced to become more circumspect about their source material, making it virtually impossible for anyone to even try to top the dexterity on display on Paul's Boutique.
Sample lyric: "I've been dropping the new science and kicking the new k-nowledge/An MC to a degree that you can't get in college" ('Sounds Of Science')
Ice Cube: AmeriKKKa's Most Wanted (1990)
Ice Cube was one of the founding members of the seminal gangster rap group N.W.A, as well as their chief lyricist. However, contractual and royalty disputes led to an acrimonious split from the group. With newly found freedom he released his debut solo album, AmeriKKKa's Most Wanted, in 1990: an instant hit that went Gold in only two weeks. Besides Cube's unparalleled lyricism and The Bomb Squad's sample-driven sound, AmeriKKKa's Most Wanted delves deep into the social and political issues of the era: poverty, racism, and drug addiction. Cube comes out swinging with the utmost ease and style; it's unbelievable to consider he was only 20 when he recorded it.
Sample lyric: "Little boys and girls, they all love me/Come sit on the lap of I-C-E" ('A Gangsta's Fairytale')
Dr. Dre: The Chronic (1992)
Having defected from Eazy-E's Ruthless imprint, Dr Dre lay the foundations for Suge Knight's Death Row label, putting it on the map with an album that took gangsta rap to No.3 on the Billboard charts. Crystallizing the G-Funk production style that he'd edged towards with N.W.A's Efil4zaggin, The Chronic remains one of the most influential hip-hop albums of all time, Dre's high-pitched synth lines running on top of P-Funk samples and low-slung beats, laying the template for much of mainstream hip-hop for years to come. It also introduced the world to Snoop Dogg, whose laidback flow was the perfect accompaniment to the music.
Sample lyric: "One, two, three and to the fo'/Snoop Doggy Dogg and Dr Dre is at the do'/Ready to make an entrance, so back on up/'Cause you know we 'bout to rip s__t up." ('Nuthin' But A "G" Thang')
Wu-Tang Clan: Enter The Wu-Tang (36 Chambers) (1993)
With Dr Dre staking a claim for the West Coast's dominance in '92, Wu-Tang Clan's debut brought the focus back to hip-hop's New York City birthplace. Producer RZA's mutating of classic soul samples, mixed with dialogue from kung-fu films, created a sparse, ominous backing for the Wu's cadre of MCs – among them Method Man, Ol' Dirty Bastard, GZA and Raekwon – who approached their microphone battles with the discipline of martial arts masters. A posse in the truest sense, the Wu's members would go on to release highly individual solo albums, but their collective debut was the epitome of gritty urban hip-hop in the 90s: concerned less with grooves and more with reintroducing the menace – and twisted humor – back into the music.
Sample lyric: "The Wu is too slamming for these cold killin' labels/Some ain't had hits since I seen Aunt Mabel/Be doin' artists in like Cain did Abel/Now they money's getting stuck to the gum under the table" ('Protect Ya Neck')
Nas: Illmatic (1994)
Without question one of the greatest East Coast gangsta rap albums of all time – just one listen is enough to catch that raw, raucous and rowdy sound that permeates every track on Illmatic. The production sits somewhere between Wu-Tang Clan's rugged grit and A Tribe Called Quest's jazz-infused beats, while Nas' lyrics offer a personal and very realistic perspective on life in New York's projects, as opposed to the gangsta glorification coming out of the West Coast. What's more, its brevity (10 songs in just 40 minutes) offers a refreshing approach to the hip-hop album in the CD age. In essence, no one says it like Nas – and no one ever will.
Sample lyric: "It's like that, you know it's like that/I got it hemmed, now you never get the mic back/When I attack, there ain't an army that could strike back/So I react never calmly on a hype track" ('Halftime')
OutKast: Aquemini (1998)
Following the commercial success of ATLiens, OutKast were granted more artistic and creative freedom. The duo took full advantage of this, self-producing most of the tracks and employing a large number of musicians to feature on what would become Aquemini. Taking its name from a merging of both Big Boi and André 3000's zodiac signs, the album is an exercise in pure poetry and musicality, and would set the blueprint for hip-hop over the next 10 years. Indeed, the 70s funk and soul that runs deep throughout the record, paired with Dré's and Big Boi's lyrics, place it in the upper echelons of timeless hip-hop.
Sample lyric: "Even the sun goes down, heroes eventually die/Horoscopes often lie and sometimes 'y'/Nothin' is for sure, nothin' is for certain, nothing lasts forever/But until they close the curtain, it's him and I – Aquemini" ('Aquemini')
Eminem: The Marshall Mathers LP (2000)

Eminem's second full-length record followed his sudden rise to fame and notoriety off the back of the previous year's The Slim Shady LP. Indeed, Eminem addresses this newly found fame, his family relationships, and himself ('I'm Back', 'The Real Slim Shady') throughout. What's more, the album's timing couldn't have been better: released in 2000, at the zenith of CD sales, The Marshall Mathers LP would go on to sell in excess of 10 million copies and would put Eminem at the vanguard of modern-day hip-hop. Both the content and its delivery are certainly excessive, but that's part of its charm. Eminem's lyrics often blur the line between fiction and reality, effortlessly jumping from the horrible to the humorous.
Sample lyric: "They said I can't rap about being broke no more/They aint say I can't rap about coke no more/Slut, you think I won't choke no whore/'Til the vocal cords don't work in her throat no more?" ('Kill You')
Kanye West: Late Registration (2005)
Kanye has certainly been bolder, more influential, and more inventive than he was on his second album, but Late Registration contains the seeds of all that was to come. In hooking up with Jon Brion, a supremely talented multi-instrumentalist who, until that point, had been nowhere near a hip-hop recording session, West was making a clear statement that would inform his subsequent output: he respected no musical boundaries. The fact that Brion gave much of Late Registration a poppy hook didn't hurt either. Tracks such as 'Gold Digger' easily staked their claim among hip-hop's pantheon of instant classics. Elsewhere, Jay-Z bursting in on the 'Diamonds From Sierra Leone (Remix)' remains one of the most exciting moments in either artist's career, though Kanye's introspective lyrics ultimately steal the show: a sharp reminder that beneath the braggadocio there remains a thoughtful writer.
Sample lyric: "Though it's thousands of miles away/Sierra Leone connects to what we go through today/Over here it's a drug trade, we die from drugs/Over there they die from what we buy from drugs" 'Diamonds From Sierra Leone (Remix)'
Kendrick Lamar: To Pimp A Butterfly (2015)

To Pimp a Butterfly is a masterpiece, but that doesn't make it an easy, digestible listen. The record is meticulously crafted with a sound that transcends genres, sitting somewhere between rap, jazz, and funk. This, coupled with Kendrick's immaculate wordplay, gives rise to an incredibly layered and highly-textured record that's as much social commentary as it is the work of an auteur dealing with his own demons. A restless dissection of America, the album tackles issues such as depression, racism, and economic inequality in a damning, honest, and intense manner. Its frenetic energy contains a real sense of social urgency.
Sample lyric: "How much a dollar really cost?/The question is detrimental, paralyzin' my thoughts/Parasites in my stomach keep me with a gut feeling, y'all/Gotta see how I'm chillin' once I park this luxury car" ('How Much A Dollar Cost')
Follow uDiscover's Hip-Hop Heroes playlist here, and explore our vast range of hip-hop vinyl here:
Format:
UK English