Tin Pan Alley, Country Pop & The Indestructible 'Release Me': Engelbert Humperdinck Talks To uDiscover
Vocal stylist Engelbert Humperdinck talks to uDiscover about his remarkable body of work and how he crossed country music into the pop charts.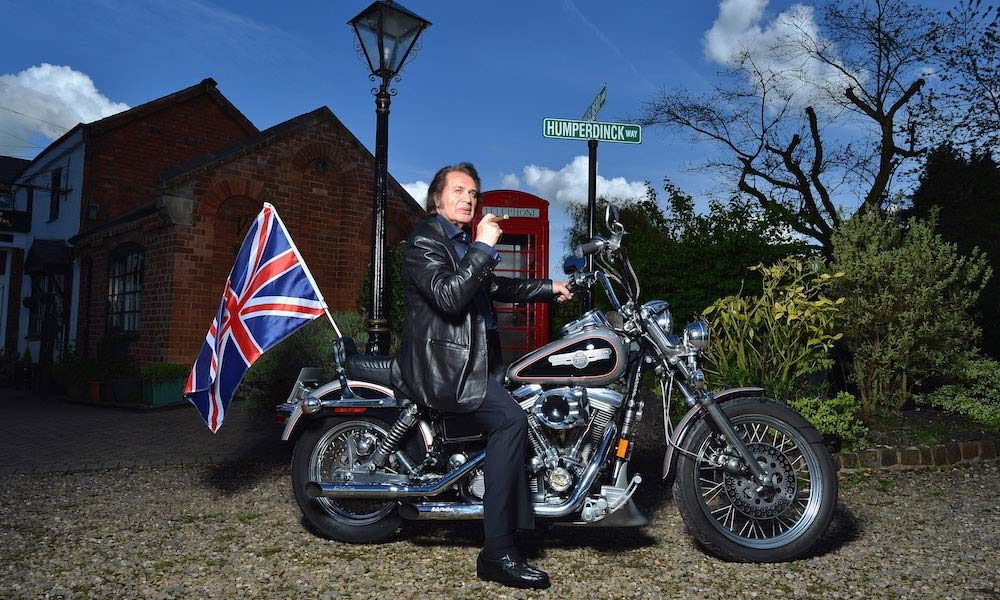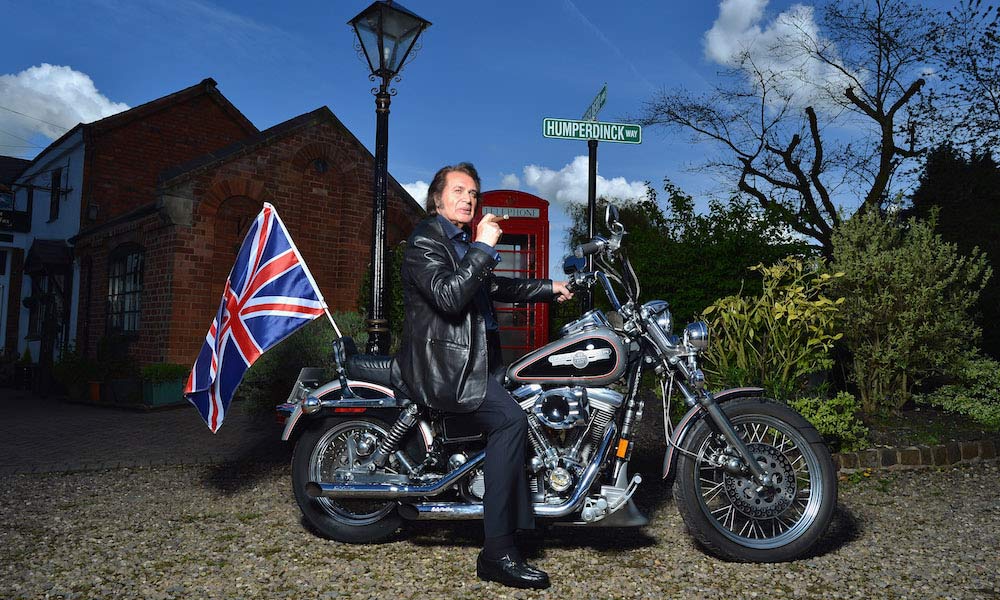 Vocal stylist Engelbert Humperdinck has been talking to uDiscover about the remarkable body of work that's celebrated by today's (19 May) release of the compilation Engelbert Humperdinck: 50 and the simultaneous The Complete Decca Studio Albums Collection. He discusses how he used to search for new material, how he crossed country music into the pop charts — and how there might be a new Engelbert studio album in the pipeline.
The 50 compilation, which you can order here, is a two-CD, 39-track retrospective featuring all of the Grammy-winning singer's biggest hits, in a career that has realised 150 million record sales worldwide. It also includes a new DBU Disco Remix of 'Release Me' and two brand new songs, 'I Don't Want To Call It Goodbye' and 'I Followed My Heart.'
"It's an amazing presentation, I think," says Humperdinck. "I can't believe how well it's been done, and we've got a couple of new songs on there, plus the remix of 'Release Me.' The new songs were just both a propos, so we put them both on the album, and they're great songs, well-written."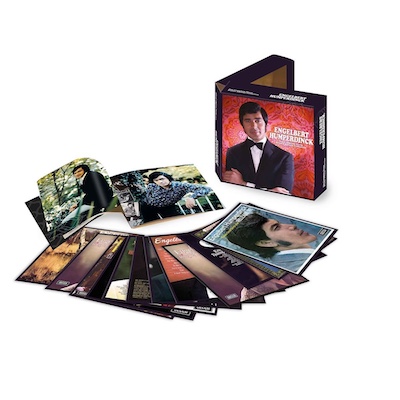 The 11-album box set (click here to order) is available physically but also makes these albums available digitally for the first time. "I like the idea of the vinyl covers remaining the same in digital form now,"he observes. "Not giving it a different face, giving it the same face, only packaging it in a very contemporary way. It's wonderful."
Musing on the remarkable history of 'Release Me,' he recalls the long history of the Eddie Miller/Robert Yount composition even before he got near it. Written in 1949, the song was successful for a number of artists before it transformed Engelbert's career in 1967. It became the UK's bestselling single of that year, famously preventing The Beatles' 'Penny Lane' and 'Strawberry Fields Forever' double A-side from reaching No. 1.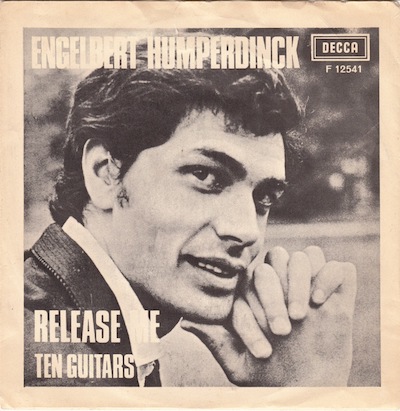 "It was a big hit before I got it, a country hit by Ray Price," says the vocalist. "On stage he said 'This was my song until Engelbert Humperdinck came along and made it a hit around the world.' I heard it as an instrumental by a gentleman called Frank Weir. I just heard the melody and I said to Gordon Mills, who was my manager at that time, 'That's a hit song.'
"When it was given to Charles Blackwell and he did that amazing arrangement that is so recognisable, even that introduction gives it meaning. Everybody knows it's 'Release Me' before it starts.
"My early years were very exciting for me," he continues. "Fortunately, I had Gordon beside me, guiding my career. He was a manager that was very musically-minded. He also wrote a lot of my b-sides. He was a great manager."
The album collection affords the opportunity to recall the wide range of material that Engelbert recorded beyond his well-known hits,. He would often interpret existing material, put his stamp on recent chart successes for others (from 'Wand'rin' Star' to 'Aquarius'), and put the spotlight on some songs of historical importance. 
"We all hung out in Tin Pan Alley, many times, looking for material for new albums," he recalls. "But then once you have a hit record, it changes the picture and people start to send you a lot of songs. You don't have to go looking anymore. That was one of the great things about having hit songs," he laughs. "It makes life a little bit easier."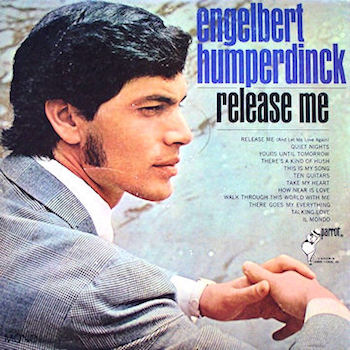 His first Decca album of 1967, also called Release Me, featured a version of 'Misty Blue,' which had recently been a country hit for Wilma Burgess but became better-known to later audiences from Dorothy Moore's soulful interpretation of 1976. "I love that song, it's a real Nashville song," enthuses Humperdinck.
"We didn't go totally country, we went country pop, which is the best way to go, if you're not a country singer yourself. Some of my hits, like 'Am I That Easy To Forget' and 'There Goes My Everything,' they were country material which was used before, but I took it and made them hits." Another fascinating country entry is his reading of the Bee Gees' song 'Sweetheart,' which became the title song of his 1971 Decca album.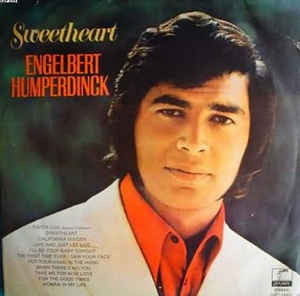 Humperdinck has fond memories of the recording techniques of this album era. "I like the method we used, because the arranger would come, you would routine it, then he'd take it away and the next time you see it, it's in the studio with all these wonderful musicians and singers.
"Then they went to another method where they just gave you a rhythm track, and you'd put your voice on that, but I never liked that method. I always liked the entire arrangement, the bed of music, to lie on, because it lends your voice to going in so many different directions, and I think that's one of the reasons that brought success to these albums in the early years."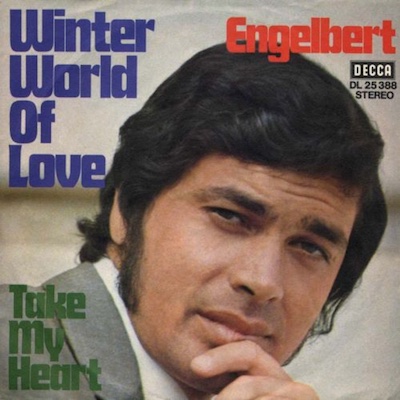 Arrangers were, and remain, key to his distinctively luxuriant sound. "Arrangers of the past, they were just brilliant musicians themselves," he says. "People like Les Reed, he wrote great songs for me like 'The Last Waltz,' 'Les Bicyclettes de Belsize,' 'Winter World Of Love,' some massive hits that came from him.
"I've started to work with an arranger I worked with about 50 years ago, his name is Johnny Harris. He did great stuff for me like 'Quando Quando Quando,' that's his arrangement. And he did the track for 'I Follow My Heart,' one of the new songs on the CD. It is harder to come by great songs [now], but I can honestly say that the two new ones are in this fashion."
At 81, Engelbert's diary continues to be packed. "A whole new album is in store, of new songs," he reveals, but before that, there are many more shows to fulfill in his datebook, starting in June in Bucharest, Romania. "I love it. There's not many places in the world I haven't been, but I'm going to Iceland, I haven't been there before, or Romania. But I've been everywhere else. 'I've been everywhere, man…'" he sings with a chuckle.
"You do get that little nervousness when you play countries like Russia, but the funny part — although I have to have an interpreter on stage to do my talking for me — but the songs themselves, they tend to sing them in some phonetical fashion, and they sing along with you, it's amazing."
Of the double CD and box set packages, he concludes: "For the people that haven't heard my music before, it's going to be quite an eye-opener, because it does lend itself to great compositions and great arrangements. The entire package is so well done."
Click here to order Engelbert Humperdinck: 50.
Click here to order The Complete Decca Studio Albums Collection.    
Format:
UK English