Watch 2 Chainz And Lil Baby Team Up For 'Kingpen Ghostwriter' Video
The song is featured on 2 Chainz's new album, 'Dope Don't Sell Itself.'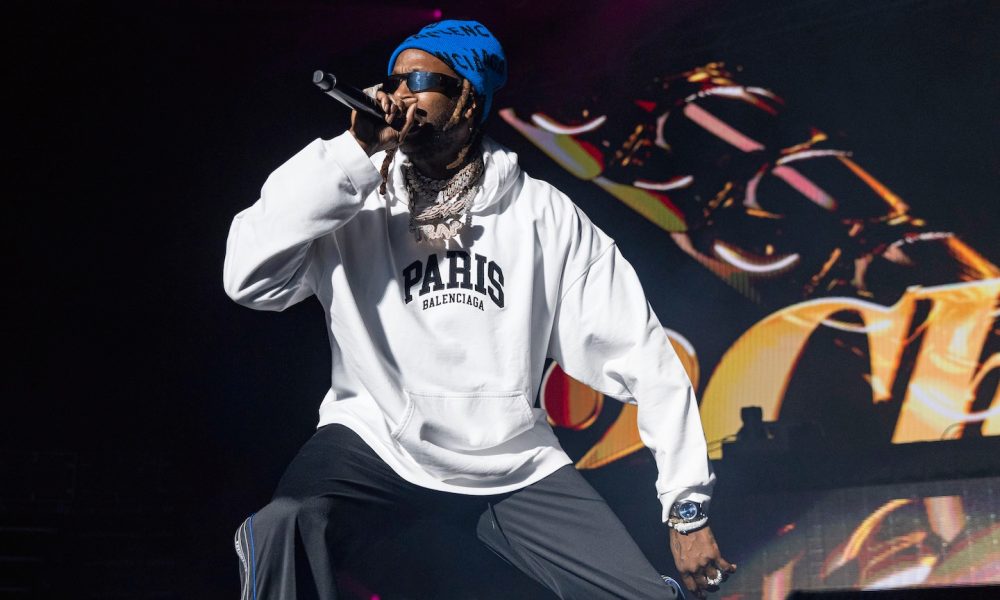 2 Chainz and Lil Baby have teamed up for a visual that accompanies their Dope Don't Sell Itself collaboration, "Kingpen Ghostwriter."
In the cinematic video, 2 Chainz and Lil Baby are in a warehouse with walls that resemble shipping containers, accompanied by a seductive woman who pours them drinks. The cars and jackets gleam with the jewelry, giving the duo undeniable swagger.
2 Chainz - Kingpen Ghostwriter ft. Lil Baby
2 Chainz has taken an innovative approach to promoting his new album. Before its release, he hosted an exclusive listening session, merch drop, and experiential album launch at a pop-up "Stash Box."
Powered by Amazon Music, The Stash Box – a larger than life replica of the album art for Dope Don't Sell Itself – is rumored to continue its tour across the country as fans get acquainted with the album.
The cover art for the record features a hand holding a blunt and a shoebox stuffed with cash. In typical 2 Chainz fashion, the wrist is glowing with jewels. The project includes a number of high flying singles, including "Pop Music," which features Moneybagg Yo and Beatking.
The project is highlighted by tracks such as "Million Dollars Worth of Game," which features 42 Dugg. On the track, 2 Chainz shows off some of his world famous wordplay, rapping, "Back on my pivot, kitchen, water whippin'/ All these turkey bags, they thought it was Thanksgiving/ Don't make me pull out all my cash/ I ain't trippin'/ Long ass nose on the sticks, got it pimpin'."
Exclusive Dope Don't Sell Itself merch, customizable lithographs, and limited edition autographed CDs are now available in the 2 Chainz official shop.
The album is 2 Chainz's first project since his critically acclaimed 2020 project, So Help Me God!, which featured contributions from Lil Wayne and more.
He recently wrapped up the nine day Legendz of The Streets tour, which featured 2 Chainz alongside Rick Ross, Lil Kim, Jeezy, and Gucci Mane.