Alt-Pop Darlings The Last Dinner Party Share Their New Single 'Sinner'
UK's most exciting new band shares their latest single.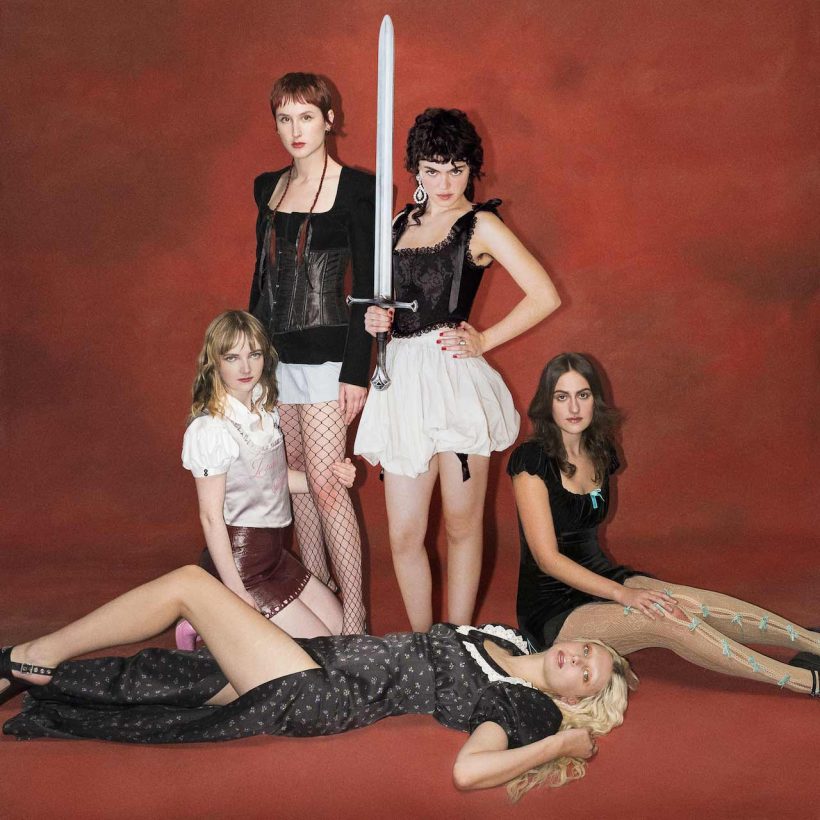 Riding high after their debut Glastonbury performance, U.K. five-piece The Last Dinner Party has shared its second single, "Sinner." Produced by frequent Arctic Monkeys collaborator James Ford, "Sinner" builds on the atmosphere the group introduced listeners to with their debut single, "Nothing Matters." With punctuated vocals and dramatic hooks, the band has already established a clear identity.
Guitarist Lizzie Mayland reflected on "Sinner," explaining: "'Sinner' is a story of self-acceptance, and the longing for the past and present self to become one. Born from a breakbeat drum sample, 'Sinner' is punctuated by ripping guitar lines and harmony-filled vocal breakdowns." The single is accompanied by a live video, which shows the group performing the song in a spotlit empty banquet hall, dressed to the nines with a historic flair.
The Last Dinner Party - Sinner (Live Performance)
Since their first single release, the band has spent much of its time on the road, where it'll continue to be for the rest of the year. Beyond Glastonbury, the group has performed opening slots for Florence and the Machine, and will continue its festival run with sets at Green Man, End of the Road, Latitude, and Reading & Leeds. By the time the summer season comes to an end, the baroque Brixton outfit will be heading out on a U.K. headlining tour, followed by an arena tour of the U.K. and Europe supporting Hozier.
Speaking to NME earlier this year, singer Abigail Morris reflected on their upcoming debut album; "It's coming, you know, it's alive. We did it in Church Studios in Crouch Hill, with James Ford, who's a fucking wonderful, kind, talented man, who really just understood us in a way that no one else has musically. It was just a complete dream come true. There's been so much intensity around us for so long, so it was nice to have that month of peace."
The Last Dinner Party Live Tour
3rd July – Montreux Jazz Festival, Montreux Switzerland
8th July – Bilbao BBK Live, Bilbao
20th July – Hare & Hounds, Birmingham SOLD OUT
21st July – Latitude Festival, Southwold
22nd July – Bodega Social, Nottingham SOLD OUT
23rd July – Truck Festival, Stevenage
27th July – Headrow House. Leeds SOLD OUT
28th July – The Deaf Institute, Manchester SOLD OUT
29th July – Y Not Festival, Derbyshire
4th August – Smukfest, Skanderborg
12th August – Boardmasters, Newquay
14th August – O2 Academy, Liverpool (w/ First Aid Kit)
15th August – O2 Academy, Liverpool (w/ First Aid Kit)
16th August – O2 Academy, Edinburgh (w/ First Aid Kit)
18th August – Paredes De Coura, Coura Portugal
20th August – Green Man, Brecon Beacons
25th August – Reading Festival
26th August – Leeds Festival
31st August – End of the Road Festival, Salisbury
1st September – 3rd September – Electric Picnic, Stradbelly
8th October – Blackpool Central Library
9th October – King Tut's, Glasgow
10th October – The Cluny, Newcastle
12th October – Academy 2, Manchester
14th October – Live at Leeds
15th October – The Welly, Hull
17th October – EartH, London
19th October – Portland Arms, Cambridge
20th – 22nd October – Sŵn Festival, Cardiff
22nd October – Fleece, Bristol
27th October – London Calling Festival, Amsterdam
26th November – Avicii Arena, Stockholm (w/ Hozier)
28th November – Ziggo Dome, Amsterdam (w/ Hozier)
29th November – Zenith, Paris (w/ Hozier)
2nd December – Velodrome, Berlin (w/ Hozier)
3rd December – Wiener Stadthalle, Vienna (w/ Hozier)
5th December – Sporthall, Hamburg (w/ Hozier)
6th December – Sportovni Hala Fortuna, Prague (w/ Hozier)
8th December – Forest National, Brussels (w/ Hozier)
10th December – M&S Bank Arena, Liverpool (w/ Hozier)
11th December – OVO Hydro, Glasgow (w/ Hozier)
13th December – Resorts World Arena, Birmingham (w/ Hozier)
15th December – OVO Wembley Arena, London (w/ Hozier)
17th December – SSE Arena, Belfast (w/ Hozier)
19th December – 3Arena, Dublin (w/ Hozier