Brothers Osborne Announce New Album, Share 'Sun Ain't Even Gone Down Yet'
Titled simply Brothers Osborne, the full-length will be released by EMI Records Nashville on September 15.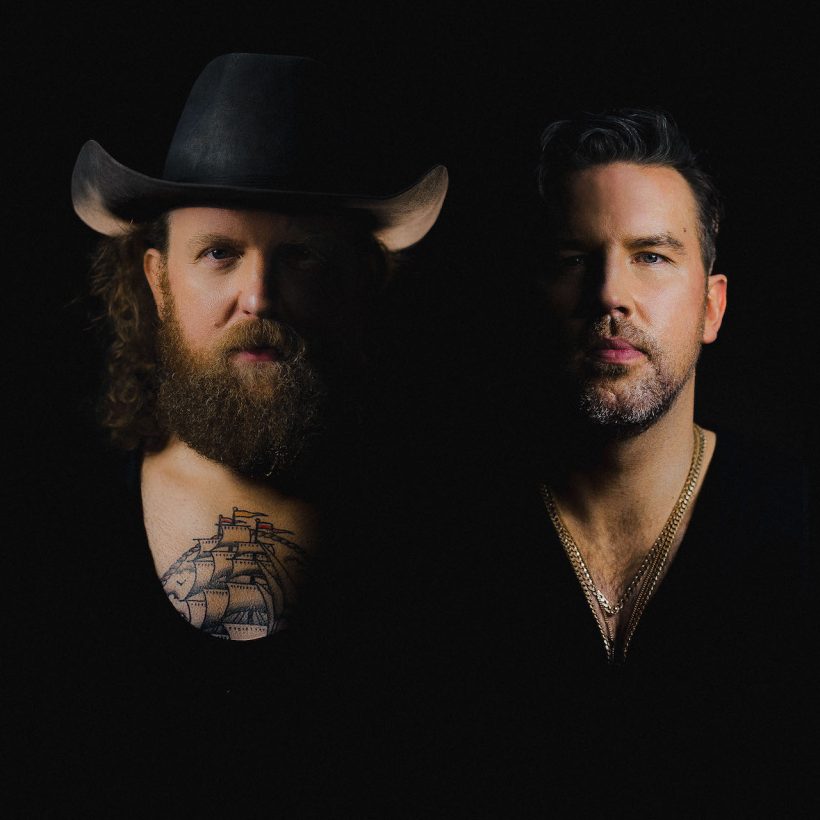 Brothers Osborne have unveiled the new song "Sun Ain't Even Gone Down Yet" as they announce details of their upcoming fourth studio album. Titled simply Brothers Osborne, it will be released by EMI Records Nashville on September 15.
"We've always had a lot of mystery intentionally around the things we have done, but with this album, we decided to be all in," says TJ Osborne. "And doing that reminded me of what it was like when I first started playing music, when it was an outlet for my angst or just a way to have fun."
Sun Ain't Even Gone Down Yet
Adds his brother John: "Since our last record [October 2020's Skeletons], we've been very forthcoming with who we are. By acknowledging TJ's personal life and my mental health struggles, we are more ourselves creatively and publicly than we've ever been."
The producer of the new set is Mike Elizondo, known for his work with Sheryl Crow, Turnstile, Dr. Dre, Twenty One Pilots, Lin-Manual Miranda, and others. He put together an A-list band of studio musicians, including Paul McCartney's drummer Abe Laboriel Jr. There's only one guest vocalist on the album, but it's one of great distinction: Miranda Lambert sings on "We Ain't Good at Breaking Up," which she co-wrote with Brothers Osborne and Jesse Frasure. The brothers co-wrote every song on the album, including the current single "Nobody's Nobody," the latter with Elizondo and Kendell Marvel.
Described as the duo's "most musically diverse yet," Brothers Osborne features synthesizers and a piano ballad. "We are always pushing ourselves, always evolving and not afraid to change," says John. "But at the end of the day, we are also who we are." Adds TJ: "This is a defining record at this point in our career, where we needed to put it all on our shoulders. And we did. Like it was when we were growing up, it's just John and me."
The duo have also announced four new tour dates for October, in New York City, Los Angeles, Washington D.C., and Nashville. "These four shows will be very special and all will be different, showcasing music from our new album, and of course some of your old favorites," say the brothers. Tickets for the New York and Los Angeles shows are on sale now, and those for Washington D.C. and Nashville will be available to the group's fan club, The Family, for exclusive presale next Tuesday (18) at 10am local time. Tickets go on general sale on July 21 at 10am.
Pre-order Brothers Osborne, which is released on September 15.
The full tracklist is:
1. "Who Says You Can't Have Everything" (John Osborne, TJ Osborne, Casey Beathard)
2. "Nobody's Nobody" (John Osborne, TJ Osborne, Mike Elizondo, Kendell Marvel)
3. "Might As Well Be Me" (John Osborne, TJ Osborne, Corey Crowder, Julian Bunetta)
4. "Sun Ain't Even Gone Down Yet" (John Osborne, TJ Osborne, Corey Crowder)
5. "Goodbye's Kickin' In" (John Osborne, TJ Osborne, Lee Miller, Mike Elizondo)
6. "Love You Too" (John Osborne, TJ Osborne, Jessie Jo Dillon, Jesse Frasure)
7. "New Bad Habit" (John Osborne, TJ Osborne, Lee Miller)
8. "We Ain't Good At Breaking Up" (John Osborne, TJ Osborne, Jesse Frasure, Miranda Lambert)
9. "Back Home" (John Osborne, TJ Osborne, Lee Miller)
10. "Ain't Nobody Got Time For That" (John Osborne, TJ Osborne, Jaren Johnston, Lee Miller)
11. "Rollercoaster (Forever And A Day)" (John Osborne, TJ Osborne, Jamie Hartman)