Def Leppard Star In Latest Episode Of 'Beyond The Bus'
Guitarist Phil Collen tells of a robbery in Florida.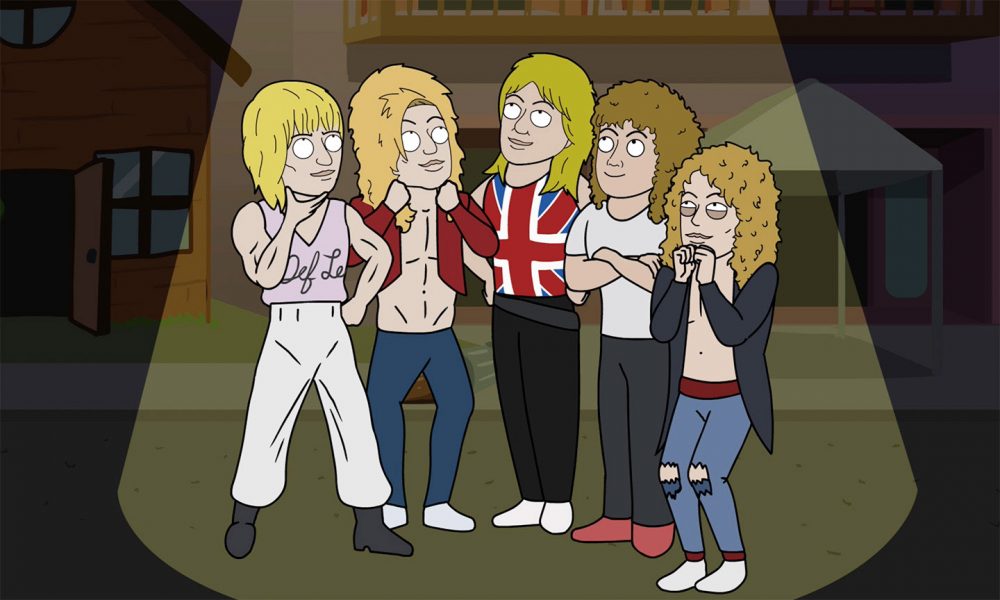 Def Leppard are no strangers to behind the scenes videos, having just released the fourth edition of their "Behind The Stadium Tour" video diary. To build off the success of that feature, the band has become the latest group to be featured on uDiscover Music's animated video series, Beyond The Bus.
The band are also promoting their latest album, Diamond Star Halos. Comprised of 15 tracks, Diamond Star Halos is the first new studio release from the rock icons since their 2015 self-titled collection. Award-winning bluegrass singer, and Robert Plant collaborator, Alison Krauss appears on two songs, "This Guitar" and "Lifeless", while David Bowie's long time pianist Mike Garson plays on "Goodbye For Good This Time" and "Angels (Can't Help You Now)."
Filmed exclusively for uDiscover Music, Beyond The Bus has already showcased tales of ribald rock' n' roll revelry from Billy F Gibbons, Eagles Of Death Metal's Jesse Hughes, irrepressible Aussie rockers Airbourne and blues-rock legend George Thorogood, and Scorpions, among others. Indeed, it's fair to say that only bands with an unquenchable thirst for the road and the more exotic fare available at rock's top table are likely to be immortalized in this series. This is where Scorpions come in, who have plenty of tales from their decades on the road.
Def Leppard | Beyond The Bus
In the video, the band tells the story of a trip to Florida gone wrong. "We're in Fort Myers, Florida. This is before fancy hotels, so we were still on a budget per se. We're still sharing rooms, and we were in a motel of sorts," guitarist Phil Collen explains.
"I've been strolling around the beaches, and I just had these tiny little shorts on, and someone broke into my room. All my s__t's gone: passport, clothes, suitcase, everything." Collen called the police, but he still had these teeny-tiny shorts on.
"I'm in Florida so I have flip-flops on. I asked the band to lend me some clothes, underwear and stuff for the next show. Afterwards, I found these kids, and I asked if they knew of an Army-Navy stores." The kids recognized Collen from MTV and they decided to help him get some camo clothes for their next show. "If you look at some of the photos from that tour, especially towards the end, I have new shoes but I'm wearing camo. I had an Air Force jumpsuit and camo shorts and that was my go-to stuff every day," Collen explains with a laugh. "And that would be my to go to stuff every day, because that's all I had for a while." The police finally managed to get some of the stuff back, but it took months. "I look back at some of the photos and it actually looked pretty cool," Collen concludes. "I may actually get another one of them."