FLO Teams Up With Missy Elliott On Empowering Single 'Fly Girl'
'Fly Girl' delivers the perfect fusion of old-school R&B meets modern-day R&B and girl group pop superstardom.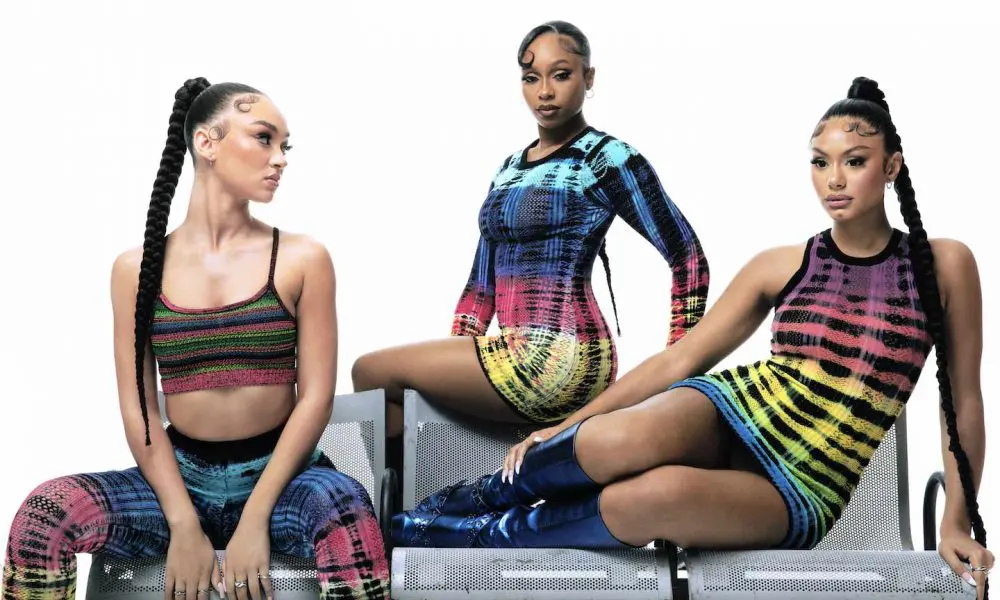 British girl group FLO has teamed up with iconic rapper Missy Elliott on its latest single, the empowering "Fly Girl," along with an eye-popping music video.
The BRIT Rising Star and BBC Sound Of 2023 winners reimagine the Fly Gal for their fans, first established in Missy's legendary song "Work It" in 2002.
"Fly Girl" continues FLO's strong approach, declaring: "If you a fly girl, get your nails done/Get a pedicure, get your hair did/See, you're telling me I'm pretty but it's obvious/I don't need no man to tell me where the party is."
FLO - Fly Girl ft. Missy Elliott
In the official video, directed by former dancer for Beyonce Tajana Tokyo (Ari Lennox, Channel Tres), Stella, Renée and Jorja invite their Fly Girls to come and party with them at the club of FLO, with the music video queen Missy making a formidable entrance.
The song also boasts a cameo from Missy Elliott, both in the opening sample of her hit 2002 single "Work It" and in a guest verse later in the track. "Missy and FLO came to rock," she raps. "We don't even need a guy to tell us we fly."
The track follows the trio's previous single, "Losing You," which was released in December and flipped the script on love songs, making independence and rebirth the focus.
Missy Elliott first co-signed FLO back in April 2022, when she heard their breakthrough single "Cardboard Box"' and shared the British girl group on Twitter well before the world knew their name. "I remember a few of their fans sent me clips of their performances, and I immediately felt the authentic 90s vibe. I loved the fact they all sang lead so well—great vocal control—so when I was asked to be a part of the 'Fly Girl' record, it was a no-brainer," says Missy.
FLO also added, "'Fly Girl' is all about confidence, good vibes, and feeling your best. It's a lively, feel-good song that still incorporates clever lyrics and fire vocals, if we do say so ourselves. It's quite literally a perfect fusion of old school meets modern day R&B, with a nod to and feature from the original fly girl Missy Elliott herself."
"Fly Girl" is the latest chapter in FLO's already brilliant story, which has seen them rack up over 330 million streams across all digital streaming platforms and secure over 1 million followers in just under a year. Last year, they were named the latest winner of the BRIT Awards' Rising Star category and followed that triumph by being placed top of the BBC's Sound Of… 2023 tips list.
The London-based girl group is set to embark on its debut UK and North American shows later this month and in April. Tickets for all the gigs on the run sold out in seconds. Straight after the North American leg of the tour wraps up, the trio will begin their first festival run, kicking off with Sol Blume in Sacramento alongside Kehlani, Dublin's Longitude festival, Glasgow's TRNSMT festival, and London's Wireless Festival in Finsbury Park, with two dates at Summersonic in Japan.
In January, FLO also teased its highly-anticipated debut album during an appearance on Elton John's Apple Music 1 show, Rocket Hour. When asked if the group has an album on the way, Renée Downer replied: "There sure is. It's going to be amazing."
Of the progress they've made so far, Jorja Douglas added: "[We're] not very far at all, but we had a camp–an amazing camp–and we've just got a bunch of songs that Uzo, MNEK, vocaled, so we are currently in the process of vocaling those.