James Taylor Posts Full 1979 Concert For One Week On YouTube Channel
The show featured several tracks from the then-new 'Flag' album, including his hit cover of 'Up On The Roof.'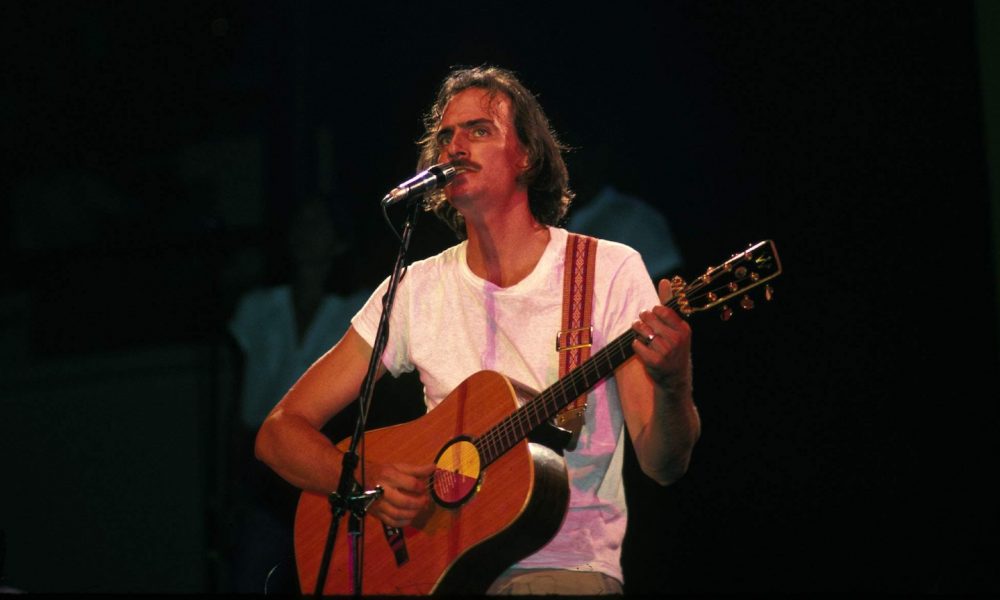 James Taylor has posted a full, vintage concert from 1979 on his YouTube channel. The show took place on July 18 at the Blossom Music Center in Cuyahoga Falls, Ohio as he toured his ninth studio album Flag, released that May.
Shop the best of James Taylor's discography on vinyl and more.
The full 85-minute performance is available to stream for one week only, from its premiere last Friday (10). A trailer is also available on the YouTube channel. The show was the first of two by Taylor and his band at the Ohio venue, and the video captures the revered singer-songwriter and a stellar band in top form.
The line-up featured many longtime associates accompanying JT on stage, with Waddy Wachtel and Danny Kortchmar on guitars, Don Grolnick on keyboards, David Sanborn on saxophone, Leland Sklar (bass), Russ Kunkel (drums), and background vocals by Arnold McCuller and David Lasley.
The set opened, appropriately, with the vintage "Blossom" from 1970's Sweet Baby James, and is of particular interest to Taylor aficionados for its inclusion of several tracks from Flag. These are "Millworker," "Brother Trucker," his hit cover of Goffin and King's "Up On The Roof," and "I Will Not Lie for You," which are interspersed among staples from an already rich catalog. These include "Carolina in My Mind," "Handy Man," "Don't Let Me Be Lonely Tonight," "Long Ago and Far Away," "Mexico," "Walking Man," "Sweet Baby James," "How Sweet It Is (To Be Loved by You)," and "Fire and Rain."
Before that signature song brings the set to a close, the band cuts loose on a version of Eddie Cochran's "Summertime Blues." Earlier, they deliver another favorite moment in Taylor's live shows to this day, the extended and always tongue-in-cheek version of "Steamroller," which also dates back to Sweet Baby James.
As reported, Taylor and his modern-day band have announced their An Evening With James Taylor and His All-Star Band tour of North America, to run from May 25 to July 1. During that run, they will travel to Nevada for a five-night residency in June at The Chelsea inside The Cosmopolitan of Las Vegas.
Buy or stream James Taylor's American Standard album.